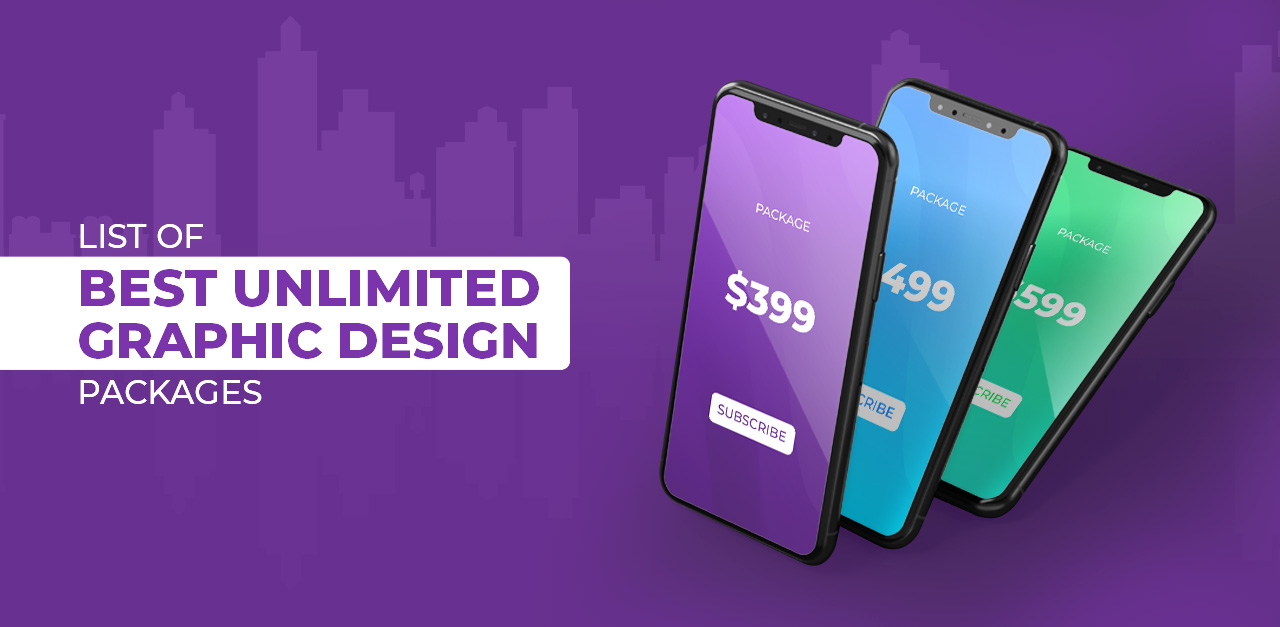 The need for graphic design for a small business cannot be overstated. In the overly saturated marketplace, it is hard to stand out solely on the quality of the product. Every business needs branding. And the most effective way to do it is through effective design.
73% of companies are spending money on design to stand out from the competition and around 94% of consumers say their first impressions of a company are visuals. 
But how do you find the right graphic designer for your business? Wouldn't it be costly considering you're just growing? You'd need a graphic designer for your logo, then for your website design, next for your ad banners, and so on. Finding a freelancer or design agency or hiring an in-house team becomes stressful and time-consuming. This is where unlimited graphic design services and packages come into play.
What is an unlimited graphic design service package & why should you subscribe to one?
Unlimited graphic design packages are subscriptions where the company takes care of all graphic design needs in exchange for a regular subscription fee.
These services are best suited for businesses that require designs regularly. You can get as many designs as you need and request as many revisions to get the perfect design for your business. Get the best designers specialized in their niches at an affordable price without spending time on interviews and scouring hundreds of portfolios.
Small businesses can save money, energy, and effort and maximize their returns on graphic requirements with a few clicks. Here are the best unlimited design service packages available in 2023 for you to see how you can utilize and integrate them. You can compare their features, pros and cons, and pricing to find the best one.
Best unlimited graphic design packages
Design Shifu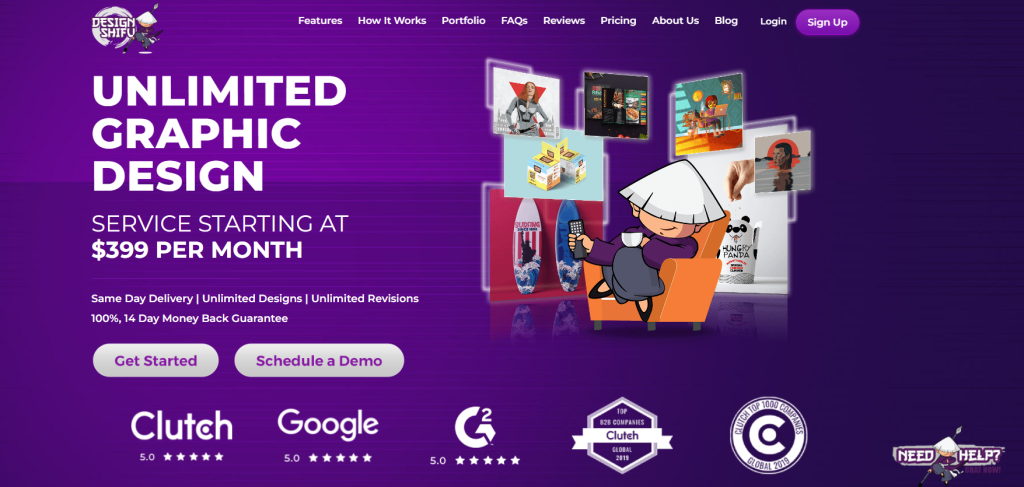 Over 1000+ business owners use Design Shifu as their design partners for unlimited graphic designs.
With Design Shifu, you can conveniently store all your designs and conversations in a private dashboard. Additionally, with every delivery, you receive all your designs in editable Adobe + JPG, PNG, and PDF formats. Design Shifu also offers a committed team to help you around the clock via live chat support.
Pros
Same Day Delivery
Unlimited Revisions
14-day Money-back guarantee
Cons
US Daytime turnaround is not available
Only english speaking designers are available
Pricing
Design Shifu offers 3 plans — Unlimited at $399, Unlimited Plus at $599, and Unlimited Pro at $1499 per month.
Click here to sign up for one of our paid plans with a 14-day 100% money-back guarantee.  
DesignPickle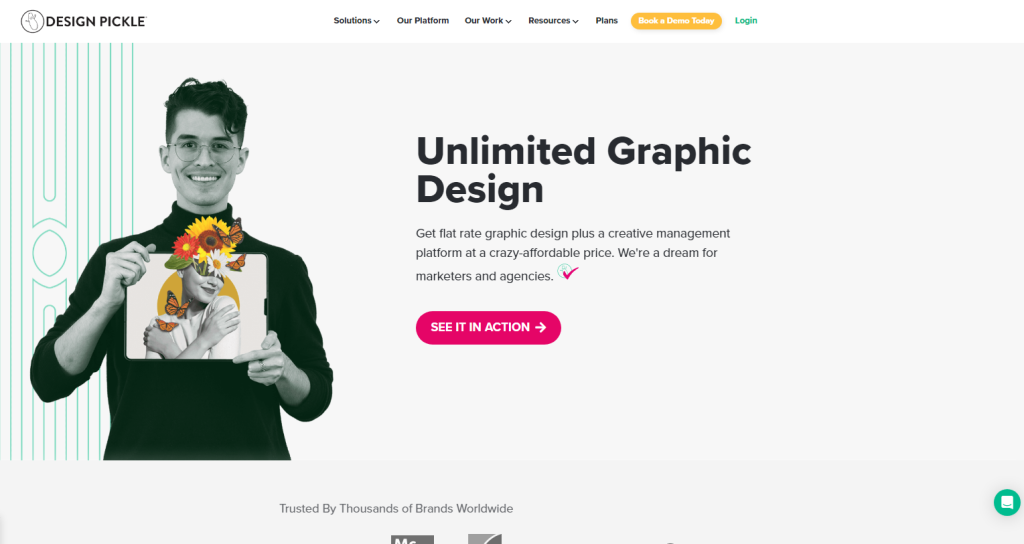 Powered by proprietary technology and a global subscription workforce of more than 500 creatives, Design Pickle is a subscription-based creative services company with clients like Yahoo! and Amazon.
Their services include graphic design, personalized illustrations, presentation design, and motion graphics. Enter the required information, submit it, and you will receive your design within 24-48 hours.
Pros
Dedicated designers, you can directly communicate with
Fast turnaround time (You may get your deliverable on the same day if the request is sent early)
Cons
Pricing is on the higher end.
The basic plan has very limited services.
Pricing
Design Pickle has 3 plans starting from $499:
$499/month for Graphics Plan, $955/month for a Graphics Pro subscription, and $1695/month for Graphics Premium
Graphically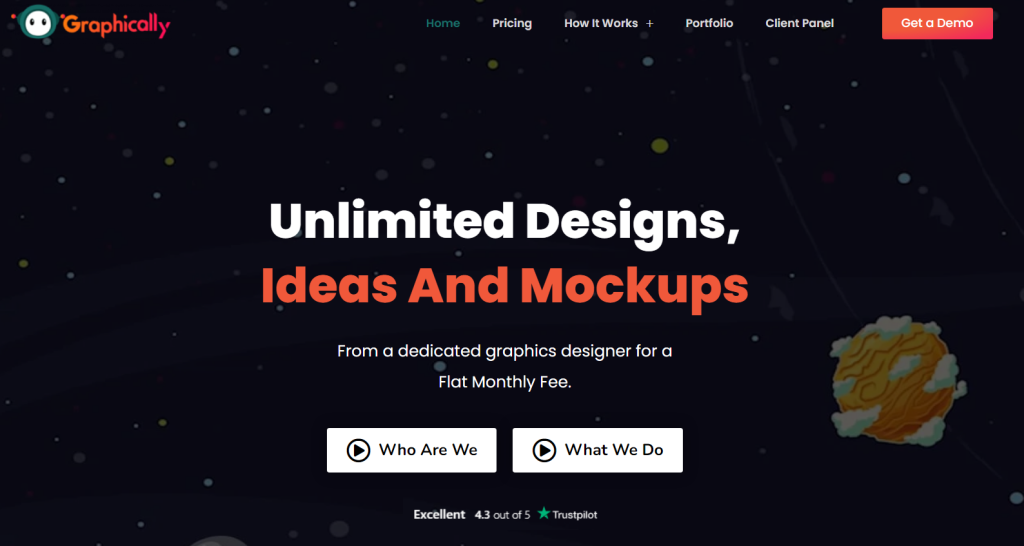 Forbes, BuzzFeed, and USA Today are just a few of the many companies that have hired Graphically for their design needs.
Influencers, bloggers, and SaaS businesses can benefit greatly from the standard membership, while media studios and digital marketing firms benefit most from Premium membership.
Graphically covers everything from brochures to infographics, illustrations, and social media. You can communicate directly with your designer using email, team collaboration, and a client portal.
Pros
7-day money-back guarantee
Sleek, user-friendly interface
Cons
Pricing
Graphically has 2 plans:
Standard plan at $299 per month and the Premium at $399 per month
No Limit Creatives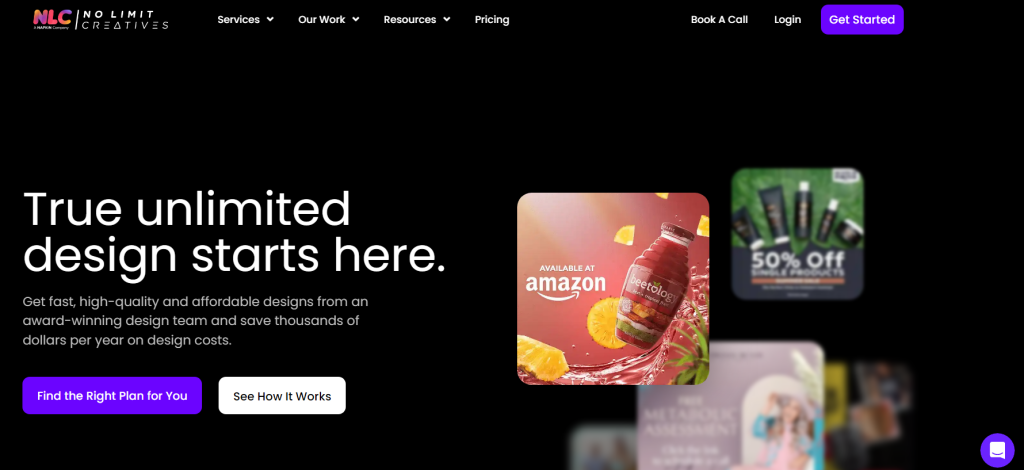 No Limit Creatives is excellent for small business owners and start-ups. Even large companies like KFC and Burger King, which require a lot of work volume, can find their space.
Even if you don't require unlimited requests, NLC has a plan for you. Their Start-Up Plan is better value for money, based on credit, and offers up to six projects in a month.
Pros
Unlimited active requests anytime
Expert social media managers
Cons
Unclear revision & feedback system
Pricing
NLC offers 3 monthly plans: Unlimited Graphic at $599, Unlimited Graphic + Video at $799, and NLC+ at $1199.
Penji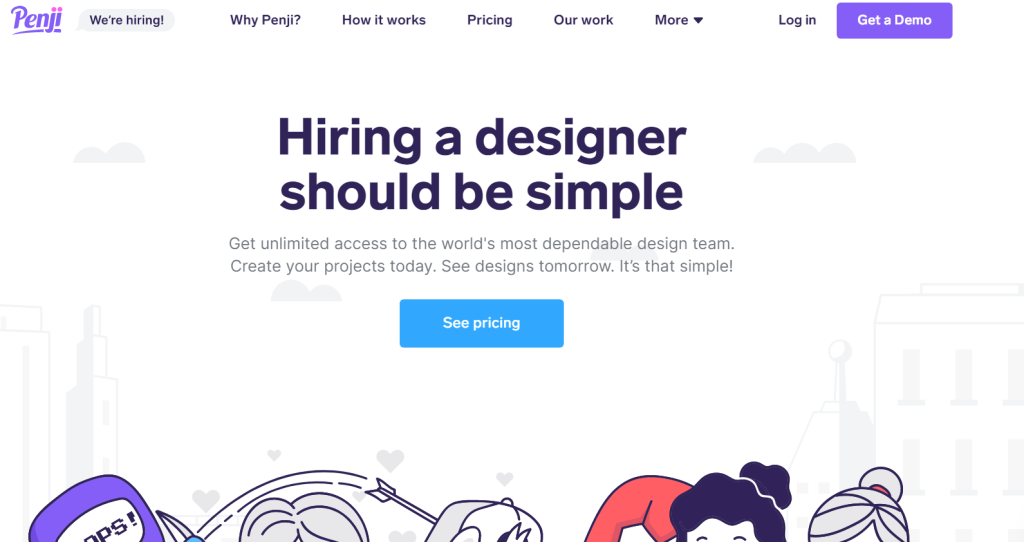 With a talented design team, responsive customer service, and a wide range of design formats, Penji is another outstanding unlimited graphic design service provider.
Switch designers or delegate your work to a specific designer if you believe they better understand your brand's design. You can submit your request through their online portal and will receive the deliverables within 24-48 hours.
Pros
A custom dashboard for your team
Dedicated and responsive account manager
Cons
Dedicated art director only in the Daytime plan
No option of getting a one-off request done
Pricing
Penji offers three subscription plans: Pro, Team, and Daytime, all of which come with a 30-day money-back guarantee.
DesignBuffs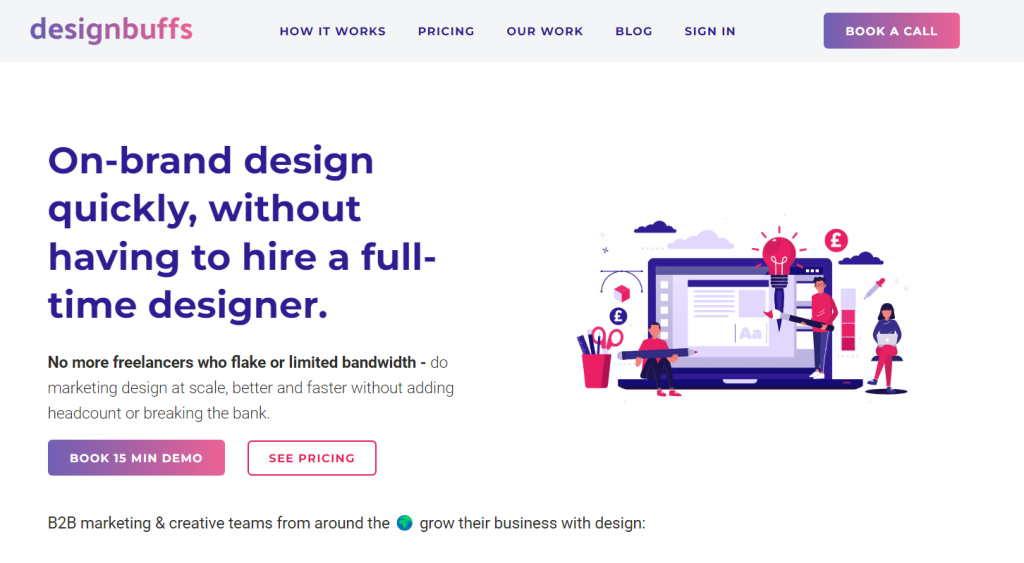 Design Buffs is an on-demand design subscription service with a team of hand-picked designers for your business. DesignBuffs allows you to differentiate yourself from the competition and elevate your designs by employing the best graphic designers accessible at a fraction of the cost. There are no contracts, and you can cancel your subscription at any time.
Pros
High-quality portfolio
Quick turnaround time
Cons
Comparatively expensive
Caters to a limited number of designs
Pricing
DesignBuffs offer two plans: $849 per month for the Essential package and $1499 for the Growth package.
DotYeti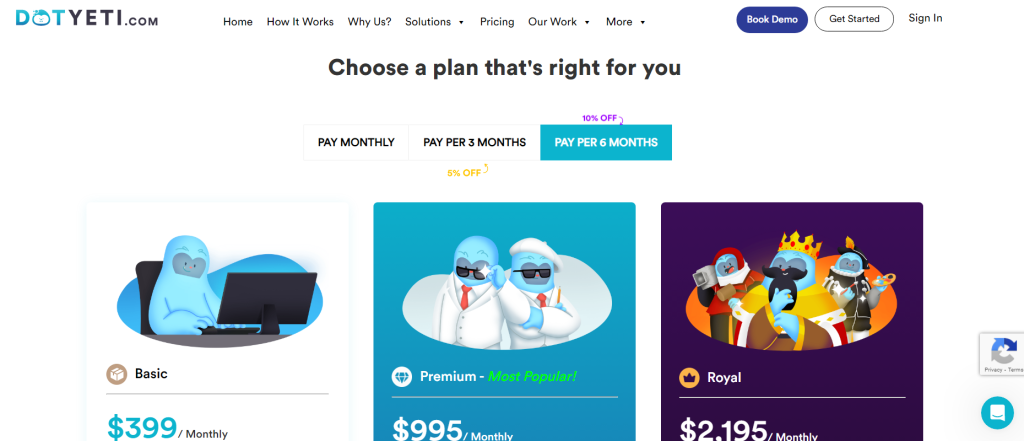 DotYeti has collaborated with well-known organizations such as WWF and global brands such as TikTok. Their extensive portfolios are available on their website, allowing you to see what you can expect from them. You also get a dedicated designer for your brand.
Pros
Upbeat and direct communication
14-day money-back guarantee
Fixed monthly pricing
Cons
Relatively expensive plans
Limited design services in basic plans
Pricing
DotYeti too offers three monthly plans: Basic Plan at $449, Premium Plan at $1,145, and Royal Plan at $2,395.
It's time to subscribe!
Managing an in-house design team, partnering with an agency or hiring a freelancer every time you need a different design can be a cumbersome process. Plus, you might not be able to get unlimited revisions and requests for the set price.
Working with an Unlimited graphic design service provider becomes a wiser option. A graphic design company that offers unlimited services can reduce overall marketing costs, increase conversions, and save you a lot of time and energy.
It is simpler, faster, more reliable, and produces better results. Use our list of the best unlimited graphic design packages available in 2023 to find the right match for you and your business.
Start exploring Design Shifu's plans that offer a 14-day 100% money-back guarantee.