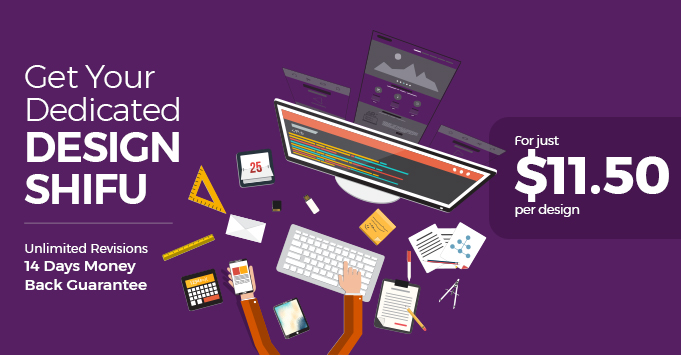 How many times have you put your graphic design requirements on the backburner simply because you thought it would end up burning a hole in your pocket or be substandard simply because you didn't have the budget to afford a good designer? Well, not any more…
Design Shifu is the perfect answer for individuals and businesses of all sizes, irrespective of whether it's a small or medium business where you struggle to get access to world-class designers on your payroll or hire a design agency; or a large enterprise that has never-ending design requirements but doesn't want to go through the hassle of recruiting a designer and filling up yet another desk, thus adding to the overheads. Even agencies of all sizes can opt for Design Shifu's subscription model and use it as an extended arm of their existing design team.
Here are some advantages of choosing our services:
Unlimited graphic design requests
Design Shifu is your one-stop-platform to get unlimited graphic designs for a wide variety of needs such as:
Digital Graphics

Online Ads
Direct Mail Pieces
Event graphics
Social Media Posts
Flyers Design
Banners Design
Blog Post Graphics
Brochures Design
T-shirts Print Design
The prime advantage of choosing Design Shifu as your design partner is that you can now make unlimited design requests each month. But remember, designers aka Shifus are humans too, so keep your expectations realistic! The requests will be entertained one-at-a-time and your work on a new request will start only once the previous one has been completed to your satisfaction.
Unlimited revisions
Unlike the scenario, wherein you have to pay more for revisions to design agencies or while working with freelancers through freelance portals, Design Shifu offers you unlimited revisions at no extra cost for our hot-selling unlimited monthly plan! Don't hesitate to tell us if you want a different font or a particular shade of pink or blue in your design. We'll figure it out for you without complaining!
Flat rate pricing
With our flat rate pricing options, you no longer have to worry about overshooting your marketing budget. Depending on your need, you can choose from the following plans:
$29 Pay Per Request Plan
– In case you have only limited and one-time design requirements, you can subscribe to our Pay Per Request plan. You will be entitled to 1 request at $29, which implies, within 48 hours, you will have your design request completed. But if you're not satisfied, we'd also entertain 2 revisions.
You can always top up your subscription with $29 when you need additional designs.
You design request will be fulfilled within a span of 48 hours under this plan.
$99 Limited Monthly Plan
– Under this plan, you can request 5 designs in a month. The flat rate ensures that your marketing budget remains in check without you having to compromise on your requirements! Here the turnaround time is 48 hours for each design and we entertain 2 revisions per design.
This plan is valid for a period of 1 year from the date of subscription, so you can use your credits anytime during the year. You can always top up your subscription with $99 when you need additional designs but you account is low on credits.
Your design will be delivered to you within 48 hours under this plan.
$299 Unlimited Monthly Plan
– Under this plan, you can request as many designs as you want per month without spending a bomb. The flat rate ensures that your marketing budget remains in check without you having to compromise on your requirements!
This plan is best suitable for SME's and agencies that typically see a lot of design requirements on a regular basis. Under this plan, you can make unlimited design requests and in order to serve you to our best ability, we also entertain unlimited revisions on each design.
Your design request will be delivered to you within 24 hours.
In-house team
With our team of expert in-house graphic designers, you can be certain of getting consistent quality every time you place a request with us. You needn't worry about your job getting outsourced to a third party.
No long-term commitment
Are your commitment phobic? Fret not, because we offer monthly plans that eliminate the hassle of a lock-in period normally associated with long-term contracts. Feel free to unsubscribe anytime you want!
Quick turnaround time
Looking for a prompt solution to your design needs? Trust our designers to fulfill your request within as little as 24 hours for most requests. But remember, the more detailed and specific your request is, the easier it will be for your designer to understand your expectations and complete it to your satisfaction with minimum iterations.
Get the source files with your requests
While we may have created the designs for you, you own them! So the editable Adobe +, JPG, PNG, PDF formats are sent to you along with the designs, should you feel the need to refer to them or make any changes in the future.
14-Day money back guarantee
Not sure about taking the risk of subscribing to our plans? What if we told you we offer 100% money back if you are not satisfied with our services! You have 14 whole days to decide whether or not our services are worth the buck! We offer 100% money back guarantee, with NO QUESTIONS ASKED!
With all this and more, if you still find a better solution then Design Shifu for your design requirements, feel free to sign up with them, but if not, remember, we are just a click away.
Click here to sign up for one of our paid plans with 14 day 100% money back guarantee.