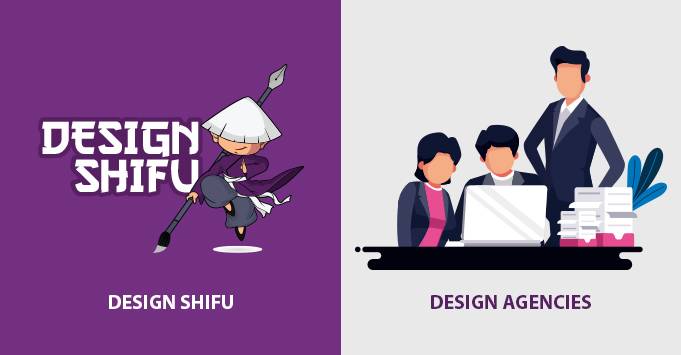 Have you been contemplating signing up with a creative design agency for your graphic design requirements, but have been wondering how to pick the best from the rest? Well, why choose a design agency at all when you have Design Shifu, an online unlimited graphic design platform, at your service to give you the best designs at irresistible rates!
However, let's not be biased. Here are some factors that you can keep in mind and decide for yourself which of the two to pick for your requirements – Design Shifu or other design agencies:
1. Cost
Design Shifu works out to be far more cost effective as compared to design agencies that charge exorbitant rates, particularly when it comes to unlimited graphic design requirements. So, it's an ideal solution for individuals, as well as businesses of all sizes, big and small, to get unlimited graphic designs from expert designers without having to worry about the budget.
Wondering how? Well, it's simple. Design Shifu follows a flat rate pricing, wherein you can subscribe to the $299 plan and place unlimited graphic design requests for a host of services every month, which include:
Digital Graphics
T-shirts Print Design
Event graphics
Flyers Design
Banners Design
Blog Post Graphics
Brochures Design
Online Ads
Direct Mail Pieces
Social Media Posts
But understandably, since our designers aka Shifus are only human, they can only work on one request at any given point in time! So, they can proceed with a fresh request only once the previous job has been completed to your satisfaction. But if you have more than one design requirements per day, you can opt for flexible plans under our $299 plan. This means, if you want your Shifu to work on one design per day, you go for $299 plan. However, if you need 2 designs per day, you can go for $549 plan. Similarly, for 3, 4, 5 active requests per day, you can sign up for $799, $999 and $1149 respectively. We promise a 24-hour turnaround time under this plan.
Alternatively, in case you have only limited design needs on an intermittent basis, you can subscribe to our $99 Pay Per Request plan. This plan is valid for a month from the date of subscription and entitles you to a total of 5 requests, which means, every time you place a new request, one credit is deducted from your 5 credits. The committed turnaround time under this plan is 48-hours.
So you now have a sure shot way to keep your marketing budgets in check without cutting back on your requirements!
2. Lock-in period
Design agencies usually mandate long-term commitment by way of fixed-term contracts, which can make it difficult for you to withdraw if your requirements are over or you are not satisfied with their services.
This is not the case with Design Shifu, as you are under no obligation to make long-term commitments to avail our services. You simply need to subscribe to the plan that best fits your requirement and get started with placing your requests. You are free to unsubscribe whenever you want without having to worry about any implications!
3. Money back guarantee
Rarely would you have heard of graphic design agencies offering money back if you are not satisfied with their services for any reason. So, whether or not their work meets your expectations, it makes a dent in your pocket anyway!
However, when it comes to unlimited graphic design platform – Design Shifu, we are so confident about our expertise and service standards that we are willing to take complete onus and offer 100% money back, NO QUESTIONS ASKED, if we fall short of your expectations in any way.  You can request for a refund anytime within 14 days of subscribing to our services.
4. Services offered
If there's one thing Design Shifu is clear about, it's the fact that we are in the business to address the ongoing graphic design needs of individuals and businesses where the requirements are clearly defined, no in-person meetings are required and the turnaround time is minimal. This model forms the basis for the cost advantage we offer over others in the market. Our focus is to get the mundane stuff out of your way quickly, irrespective of the volumes, so you can focus on the more important work.
Design agencies, on the other hand, may follow a more consultative approach, and therefore, take on a wider scope of work, albeit at hefty rates! To keep your budget in check, you can offload the regular work to Design Shifu, while keeping aside only selective work for design agencies to handle.
While there are now choices aplenty in the market when looking for graphic design solutions, the key is to find the right partner who is not only an expert in the field but can work within your budget to meet your unique needs. So the next time you need to decide on whom to pick for your graphic design needs, use the aforesaid tips to make the right choice.
Also, if you are considering hiring a freelancer for your graphic design requirements, our article on Freelancers Vs Design Shifu will help you weigh the pros and cons, so you can make the right decision.
To sign up with Design Shifu and get started, click here.