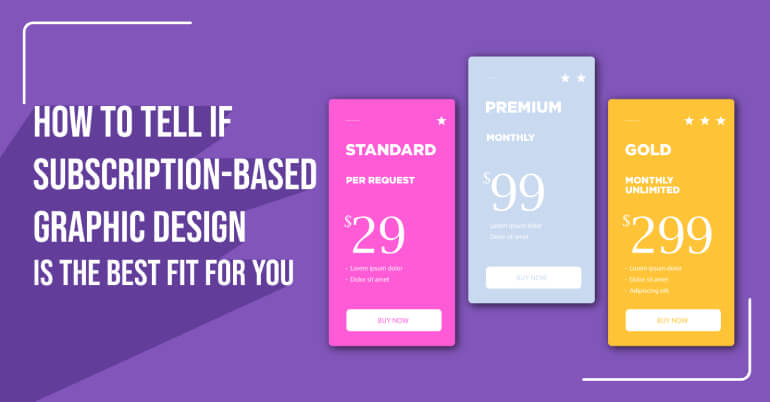 Graphic Design is an essential part of marketing and branding. If you think about it, it is through graphic design that your brand gets its identity, and becomes recognizable. So finding the right designer for your graphics is pretty important. But there are multiple ways to find yourself a designer. So how to choose among them? What's best for you, subscription-based graphic design services, design agencies, freelancers, or in-house designers?
Here's some insight into each situation to figure out what is the best option to go ahead with for your brand's design needs.
Understand your options well
Consider this
1) You hire an in-house Graphic Designer
You decide to hire a graphic designer. Now to find the right fit for your brand, you have to scour through chunks of portfolios, choose one applicant, interview them, offer them a competitive fixed salary, no matter how many graphics you get from them. You also have to offer them added benefits and hope they don't leave soon.

2) You choose to work with a Design Agency
Agencies on the other hand work on a per-project model. This is usually billed by the hour. While this does sort out your budget problem, it leaves you to the timetable that is feasible to the agency, rather than your schedule. If you need graphics with a tight turnaround, you might also have to pay your agency more. Design agencies usually mandate long-term commitment by way of fixed-term contracts, which can make it difficult for you to withdraw if your requirements are over or you are not satisfied with their services.

3) You choose to work with a Freelancer
Working with freelancers comes with its own set of challenges. You can either hire a graphic designer through a marketplace or individually. However, freelancers tend to work at their own pace given that they have so many clients. You probably have to sign a contract with the freelancer, depending on whether or not you have connected with them over a platform, or according to their individual preferences. Turnaround time for the graphics that you need, would depend on the freelancer's availability.
While a marketplace will help you connect with independent graphic designers and can help reduce the friction inherent in hiring freelancers, marketplaces also have their limitations.
Freelancers who use marketplaces want to accept as many projects as they can because they are charged high fees. Someone with more design experience will be more expensive in the marketplace, while somebody with less experience would probably not deliver the quality you need. There is no guarantee of the overall quality of the graphics delivered since they might be in a hurry to complete their projects at hand.

You can go through this hassle or you can avoid these complications and simply choose a Subscription-Based Graphic Design Service.
What is a Subscription-Based Graphic Design Service
A Subscription-Based Graphic Design Service is a service that caters to your daily design requirements. You choose a subscription plan, which usually is a flat monthly fee and you can get your graphics within a quick turnaround time that suits your goals. Subscription-Based models like Design Shifu offer you a combination of the perks of in-house designers, at a reasonable price, with a turnaround time that suits your needs.

Benefits of a Subscription-Based Graphic Design Service
You can work with experienced designers
With a Subscription-Based Graphic Design Service, you get to work with experienced designers who work for you as your in-house designers would, at a flat rate. This not only saves your budget but also allows you to get your graphics more efficiently since you don't have to go looking for designers by yourself.

At Design Shifu, our designers function like your in-house team and are available for your daily design needs. But remember, the more specific and detailed the brief is, the clearer the communication between you and our designers.
No long term commitment
As this is a subscription-based model, there is no added pressure of contracts, and other bindings. You can simply choose a plan that fits your needs and start adding requests to the so that the designers can start working on them for you. It is a hassle-free service in comparison to the commitment with an agency or with a freelancer.
Quick turnaround time
You don't have to wait for long. Subscription-Based models work around your schedule, therefore the turnaround time for your graphics is relatively quicker than freelancers, or design agencies. Such a prompt solution for your design needs is also dependent on how detailed your brief is. It is as simple as laying out a clear idea for the designers to work around so that they can deliver your designs quickly and efficiently.
Get your source files
You own the designs most Subscription-Based Graphic Design Services create for you! For example, with Design Shifu, you can get the editable Adobe +, JPG, PNG, PDF image file formats and are sent to you along with the designs, should you feel the need to refer to them or make any changes in the future accordingly.

We know the struggles that businesses undergo in the process of finding the right designers for their daily design requirements, and we hope this article helps you make an informed choice. If you're looking for a Subscription-Based Graphic Design Service, Design Shifu is a one-stop-shop for all your design needs. Design Shifu offers unlimited design requests and unlimited revisions for a flat monthly rate. You can check out our portfolio and our pricing page to know more about our service.