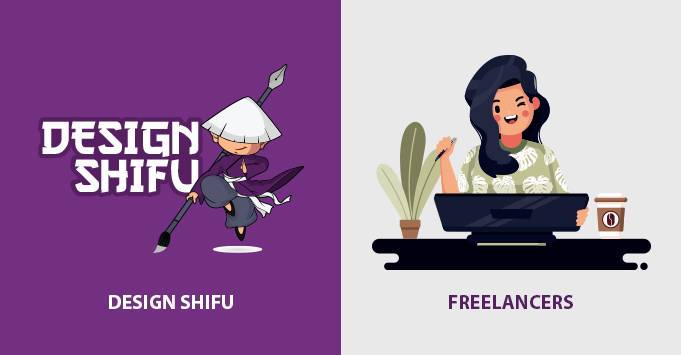 What's the first option that usually comes to your mind if you have a limited budget for your graphic design needs?…Most people would probably say, "a freelancer". But you might want to reconsider your decision if we told you that freelancers charge anywhere between $9 per hour to as high as $ 45 per hour, depending on their experience and country of residence! So clearly, the best freelancers don't come cheap!
But you needn't worry since you now have an even better option in the form of Design Shifu, an online platform that fulfills graphic design requests at only $11.5 per creative once you subscribe to our $299 unlimited plan that is valid for 30 days from the date of subscription and entitles you unlimited requests and unlimited revisions.
Here are some parameters that can help you decide whether to choose Design Shifu or freelancers to address your graphic design requirements
1. Capacity
Design Shifu has a large team of in-house experts who are equipped to handle large volumes. Freelancers, on the other hand, can handle only limited work at a time. So if you're planning to bank on a freelancer to handle a large volume of work, it may not be a good idea!
2. Pricing
What if we told you that you can now place unlimited graphic design requests at a flat rate of only $299 per month, thus allowing you to go full throttle without worrying about going overboard with your budget! And if you have only limited design requirements every now and then, then you can simply subscribe to our $99 Pay Per Request plan that entitles you to a total of 5 requests for 30 days from your subscription date and entitles you 2 revisions per request.
With freelancers, the rates will vary depending on the volume of work. Even if they agree to a monthly retainer model, remember they can only handle limited volumes, so you can't assign them more work beyond a point.
3. Turnaround time
Design Shifu commits a turnaround time of 24 hours if you have subscribed to the $299 monthly plan for unlimited graphic design requests, and 48 hours in case of the $99 Pay Per Request plan.
On the other hand, the turnaround time with freelancers depends on their workload and the priority assigned to your request. So, the turnaround will vary for each request.
4. Number of revisions
With Design Shifu, getting unlimited revisions is part of our commitment, that too at no extra charge, and above all, with no complaints! So don't hesitate to ask for another iteration until the design matches "just what you were looking for"!
Freelancers usually agree only to a fixed number of iterations to the design, and don't be surprised if they start fussing about it after the 3rd or 4th revision!
5. Contract
You may or may not need to sign a contract with freelancers, depending on whether you have connected with them through a platform or directly, and also depending on their individual preference.
With Design Shifu, you are free from any obligations, since there is absolutely no long term commitment. All you need to do is subscribe to one of our plans to start availing our services. Above all, disengaging with us is as simple as not renewing your subscription once your requirement is over!
6. Money back guarantee
Wondering why to risk your money by subscribing to our plans? Well, that's because there's ZERO RISK involved! If you are not satisfied with our services, simply let us know within 14 days of your subscription and you will get 100% refund, with absolutely no questions asked! We doubt any freelancer would offer you this advantage!
Do keep the aforesaid points in mind when you are looking for a partner for your design requirements. It's always better to do your research beforehand than have any regrets later!
Also, if you have high volume of graphic design requirements every month and are considering partnering with a design agency, then our article on Design Shifu Vs Design Agencies can offer vital insights to help you make the right decision.
Click here to get the Design Shifu advantage!