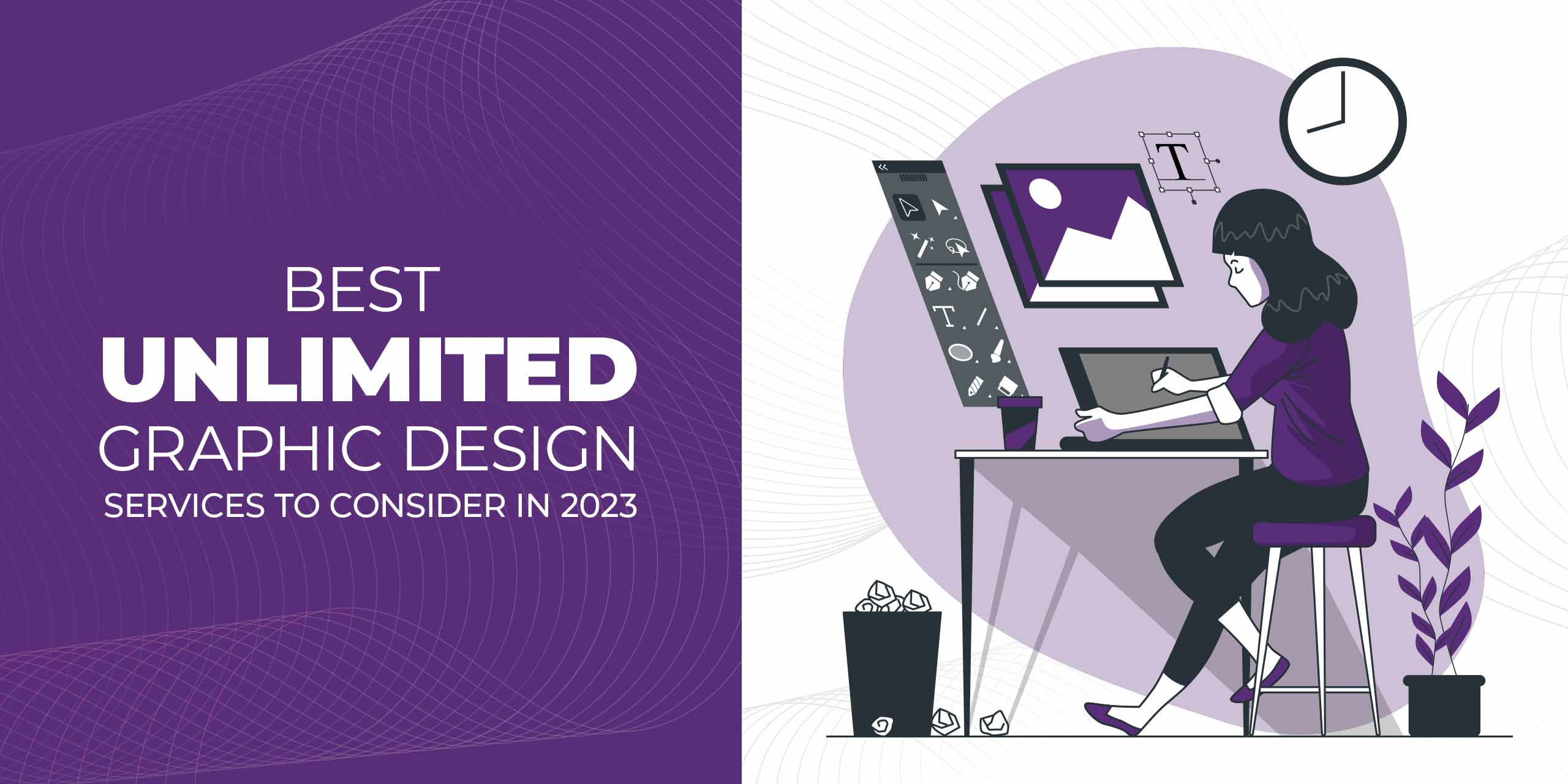 So you stumbled upon the term "unlimited graphic designs" and thought of giving it a try for your small business or a digital agency? If yes, you'll find all the answers to make the right decision here.
Unlimited graphic design services have grown substantially in recent years due to the convenience they offer to a variety of clients. With a monthly subscription, you can limit budget uncertainties and plan without worrying.
Let's discuss unlimited graphic design services and compare them to help you choose the best one.
What is Unlimited Graphic Design?
In essence, it means what it says, but there is one crucial catch. In a monthly subscription, you get unlimited designs for a month, but there's usually a cap on how many designs you can receive per day. Also, there are other factors like public holidays, and weekends; companies usually don't deliver any designs on holidays.
This means you can get a maximum of around 26 designs per month with one active request plan. It's unlimited, but with some limitations.
Unlimited Graphic Design Company vs Traditional Design Agency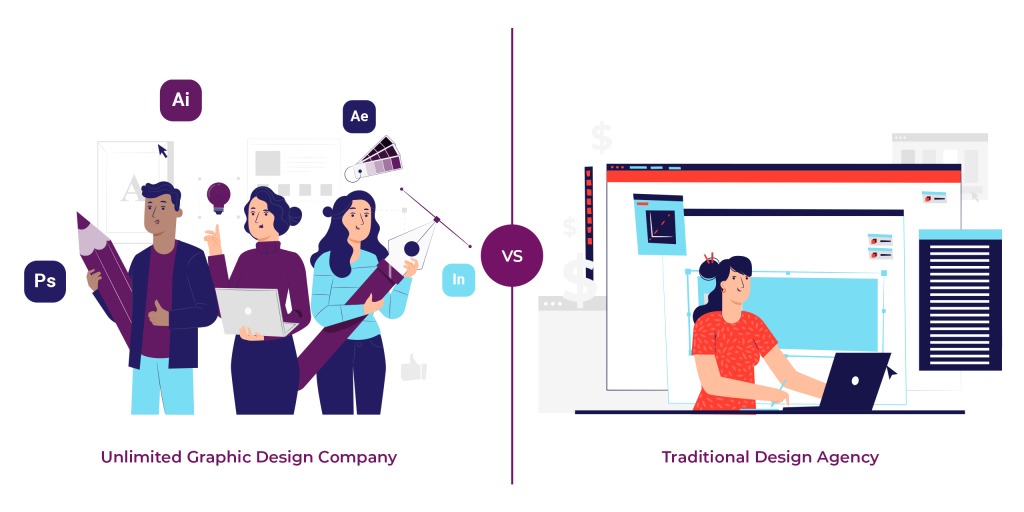 You should always choose unlimited graphic design over boutique agencies unless your design needs are very complex. Why are we saying this?
Traditional agencies have a lengthy feedback loop, making each task complicated and expensive. A subscription-based design company could cut your costs by less than half and deliver designs quickly if all you need is good graphic design consistently.
Yes, a subscription-based design agency will not offer you services, such as branding, mood boarding, copywriting, etc., but you may not need them at all times.

It would be best to get tasks like branding, and mood boarding done from a traditional agency and then move to a subscription-based design company for your regular, day-to-day design requirements.
Things to look for while Choosing an Unlimited Graphic Design Company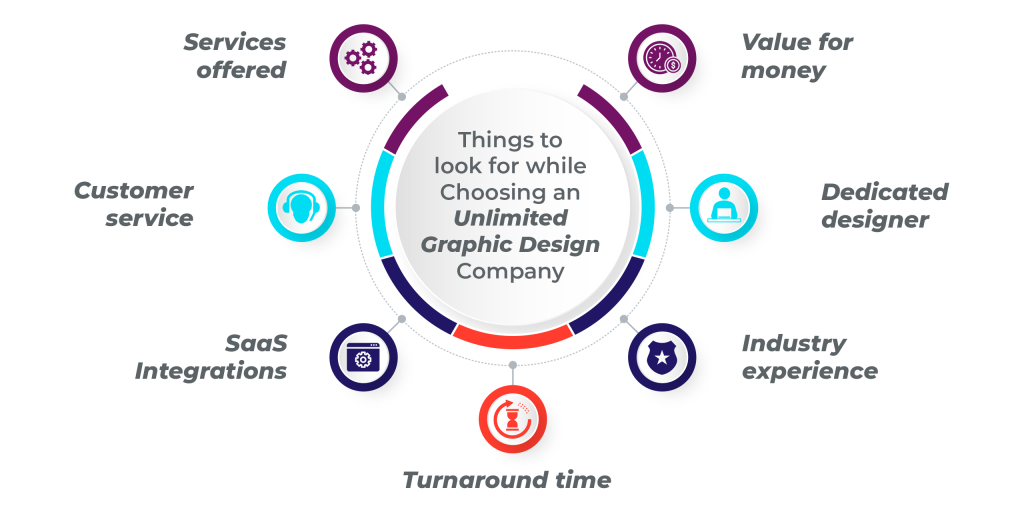 Unlimited graphic design services are great, but not every company meets the highest standards. Here's the checklist to help you decide which design subscription is best for you:
Services offered
Now, this depends on your requirements. If you are someone requiring graphic designs for your Instagram only, then any unlimited graphic design company would be able to help you with it.
When you need diverse services such as motion graphics, ppt design, landing pages, etc., you should visit the pricing page and decide based on their offerings. In case of questions, support is the best place to go.
Customer service
Customer service is crucial when it comes to graphic design. At times, the design outputs may be consistently unsatisfactory, so you need to get in touch with support. Follow-ups will be time-consuming if they do not respond on time or provide a resolution.
Generally, the companies that specify "24 hours Support" focus on customer service but you can always enquire to understand the TAT of response and resolution mechanism.
SaaS Integrations
Do you love convenience? Who wouldn't? SaaS integrations with project management tools and other tech stacks make it easier to collaborate, provide feedback and receive files while staying in your favorite app's ecosystem.
Many unlimited graphic design services companies are now bundling these add-ons for a few dollars with their current plans. You should always look for SaaS integration options while subscribing to a graphic design plan.
Turnaround time
The earlier the better, right? Yes, mostly but not always! Some tasks are too complex to complete in 24 hours, such as designing a PowerPoint presentation from scratch.
In most cases, companies have different TATs for different services, so you should enquire about the turnaround times for different services. Good work requires some patience, so that will give you an overview of the process.
Industry experience
This is the most crucial aspect when it comes to design, industry experience reduces the feedback loop and gets you designs that are in line with your branding and marketing.
There are 2 ways to know this:

1. Ask them directly: This is the best way here, book a demo or get in touch through their support to understand the past work. Previous experience in the same field is a great indicator that the company is a good fit. You should not miss out on this.
2. Check out their portfolio: If you don't like dealing with sales reps and support teams, you can just go to their portfolio and see if they have something that interests you. It is not only important to judge the creative quality of the designs here, but also their applicability and practicality.
There is a good chance they can do the same for your company if you find some interesting designs that catch your attention.
Dedicated designer
Let's first understand what is a dedicated designer in the flat-rate graphic design industry.
Here, only the assigned dedicated designers work on your designs until you request to swap them.
Many have the misconception that dedicated designers will only work for a single account and not work for any other client, which is not the case.
In addition to working on your designs, they also work on other client's projects at the same time, so you always get the same person working on yours as a dedicated designer but they do work for multiple accounts at the same time.
Now the question comes, why do you need a dedicated designer? To maintain consistency across all designs.
The company might not be able to deliver what you want without a dedicated designer. This leads to a big feedback loop and unnecessary delays.
A dedicated designer not only understands your brand but also gives you the comfort of working with an in-house designer. A subscription-based graphic design company without a dedicated designer should be a big no.
Value for money
If you value your money, you will never avoid this characteristic of any service. The best way to assess this is by doing a comparison. Open the pricing pages of each company and compare the services to price ratio. Remember, you don't want useless services (for you) but only the required services at the lowest cost.
Often, companies bundle services that you will never use. For instance, a motion graphics plan is useless if you only need static images.
You'll save money and get the best quality when you go for a company that offers only what your business needs because extra services either increase the cost or degrade the quality of designs.
Moreover, in the subscription-based graphic design industry, it is not always true that paying more means getting the best.
Best Unlimited Graphic Design Services to consider in 2023
The company best for you might be a bad fit for someone else so giving a verdict straightaway would be an injustice. To help you choose the best subscription-based design company, we have compared them on several crucial parameters:
1. Design Shifu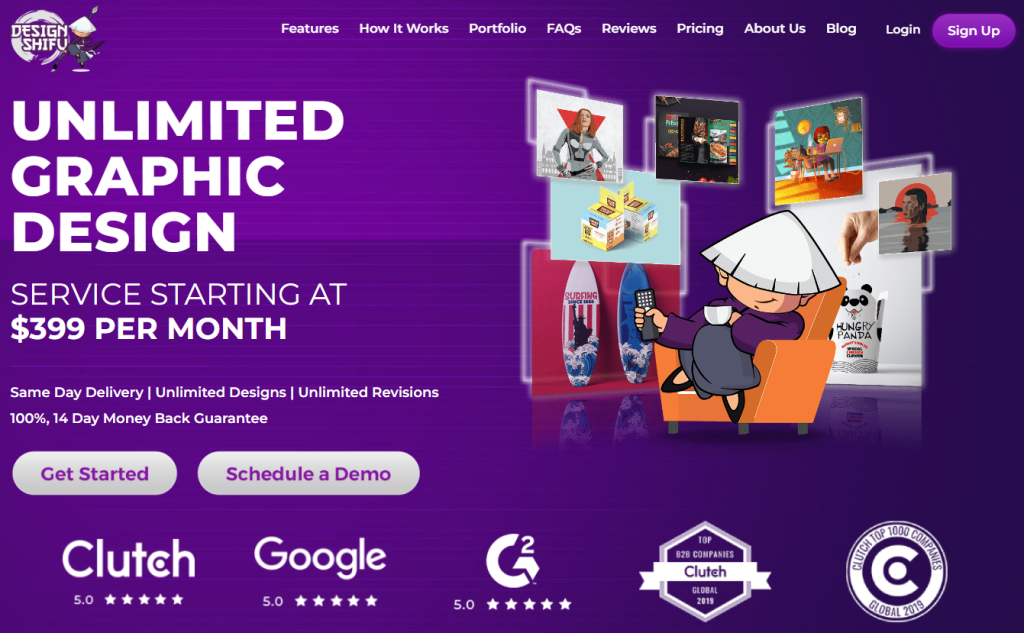 Design Shifu is a US-based flat-rate graphic design company that started in 2018. Thanks to the appreciation of their subscribers and the hard work of their team, they have seen massive growth in recent times.
Delivering great designs in record time and providing quick customer support is what they're known for.
Their subscribers rely on them for great designs without burning holes in their pockets. Recent platform upgrades and several SaaS integrations have made them a front-runner in the unlimited graphic design industry.
Top Features
Dedicated designer
24 hours turnaround
Unlimited brands, designs, and revisions
Real-time Slack communication
Integration with project management tools like Trello, Asana & ClickUp
Canva file delivery
Plans Breakdown
UNLIMITED (GRAPHICS)
This is a great plan for you if you require only graphic designs for your company. It has a monthly subscription fee of $399.
Design Shifu's marketplace also offers many add-ons. You can bundle SaaS integrations like Slack, Trello, Asan, Grab, and Canva in this plan.
Grab is a native tool built by Design Shifu that lets you record screens and annotate while you share feedback with designers.
UNLIMITED PLUS (GRAPHICS+ MULTIMEDIA)
This steps up in terms of offerings, in addition to the previous plan, this one adds GIF Design, Presentation Decks, and Landing Page Design for $599. If you don't need all this then the UNLIMITED (GRAPHICS) would be a great fit for you. This plan also offers the same marketplace integration options.
UNLIMITED PRO (GRAPHICS + MULTIMEDIA + MOTION GRAPHICS)
This is the motion graphics-specific plan, which also includes the offerings of every other plan. You will have to pay $1499 to get unlimited motion graphics delivered in a month after subscribing to this plan. This plan also offers the same marketplace integration options.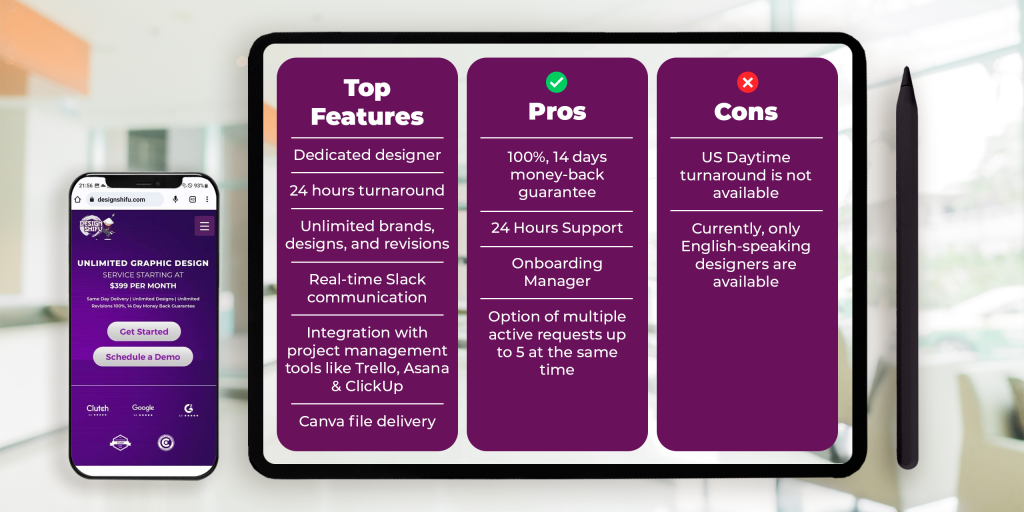 Pros
100%, 14 days money-back guarantee
24 Hours Support
Onboarding Manager
Option of multiple active requests up to 5 at the same time
Cons
US Daytime turnaround is not available
Currently, only English-speaking designers are available
2. Many Pixels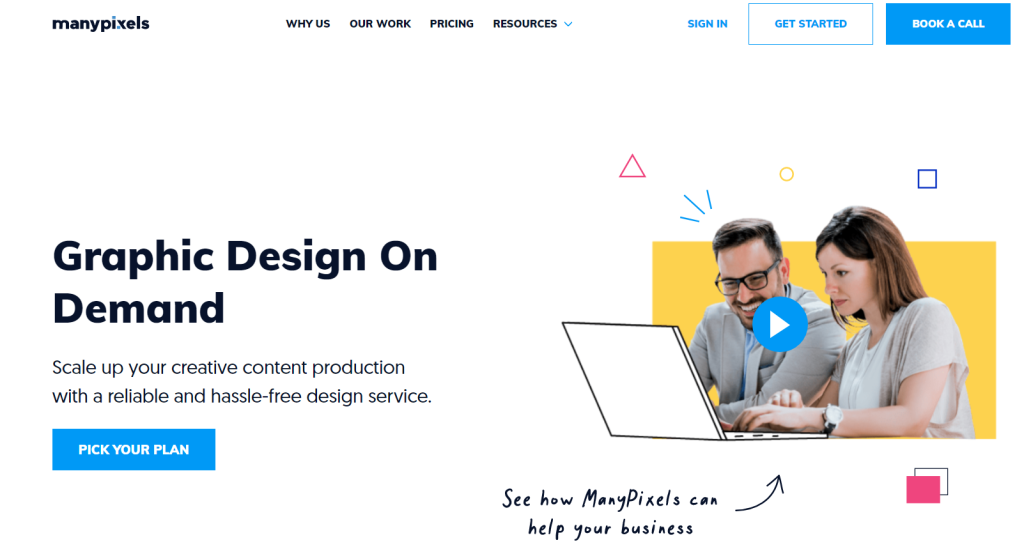 ManyPixels was launched in February 2018 by Robin Vander Heyden and Quentin Gilon.
In total, they employ more than 30 designers, each with expertise in a particular area of design, including illustration, web design, graphic design, etc.
Top Features
Dedicated designer (only in the top $1199 plan)
Options of getting 1 or 2 outputs per day
Real-Time Slack Communication (only in the top $1199 plan)
Plans Breakdown
Advanced
This $549/month plan offers unlimited graphic designs with a single output per day. They also guarantee a turnaround time of 1-2 days for completing your design.
Business
This $899/month plan offers unlimited graphic designs with 2 outputs per day. So you pay $300 more if you need quick results and more outputs per day. The delivery time still remains the same here.
Designated Designer
This $1199/month plan boasts a dedicated designer for every monthly subscription. It's a great addition as dedicated designers add a lot of value to your business.
Pros
Small feedback loop
Strong team
Quick turnaround
100%, 14 days money-back guarantee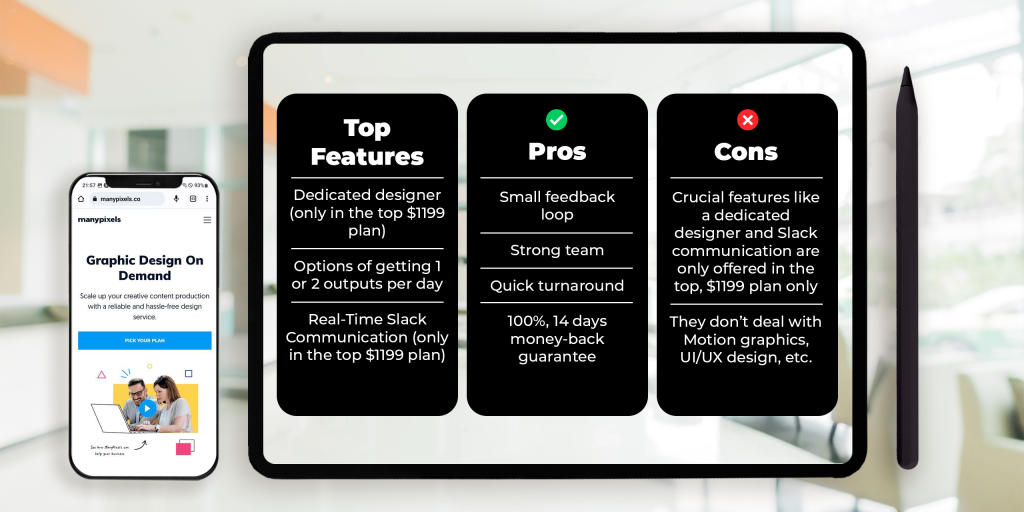 Cons
Crucial features like a dedicated designer and Slack communication are only offered in the top, $1199 plan only
They don't deal with Motion graphics, UI/UX design, etc.
3. Design Pickle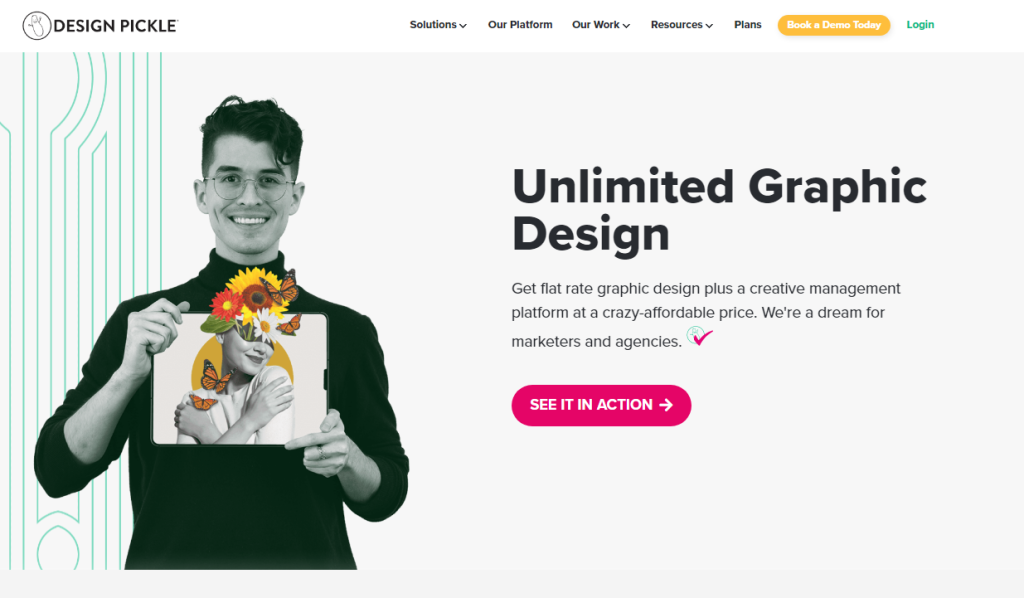 Design Pickle is one of the most popular unlimited graphic designs company Headquartered in Scottsdale, Arizona. They are known for the great quality of designs and hence you have to pay a premium to avail of their services.
Top Features
Spanish Speaking Designers
Slack Communication
All Design Services are covered
Plans Breakdown
Graphics
This $499 plan offers only limited services graphic design and custom illustrations. Go for this plan if you don't have any other design requirements.
Graphics Pro
This $995 plan is their most popular plan as this adds crucial features like designated designers, real-time slack collaboration, onboarding manager, etc. If your budget allows, you should go for this plan.
Graphics Premium
This is the top plan offered for $1695, adding motion graphics to the services and other features like Canva Delivery.
Pros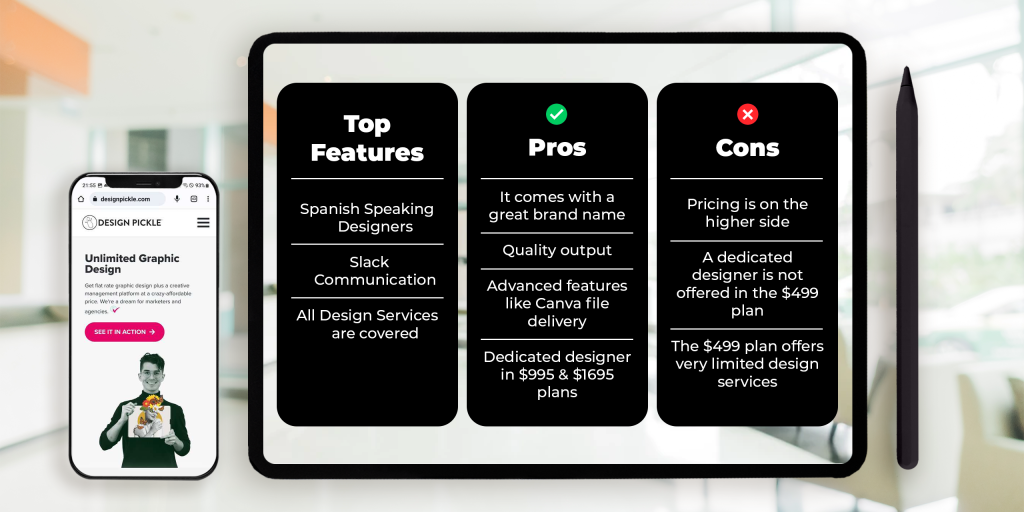 It comes with a great brand name
Quality output
Advanced features like Canva file delivery
Dedicated designer in $995 & $1695 plans
Cons
Pricing is on the higher side
A dedicated designer is not offered in the $499 plan
The $499 plan offers very limited design services
4. Penji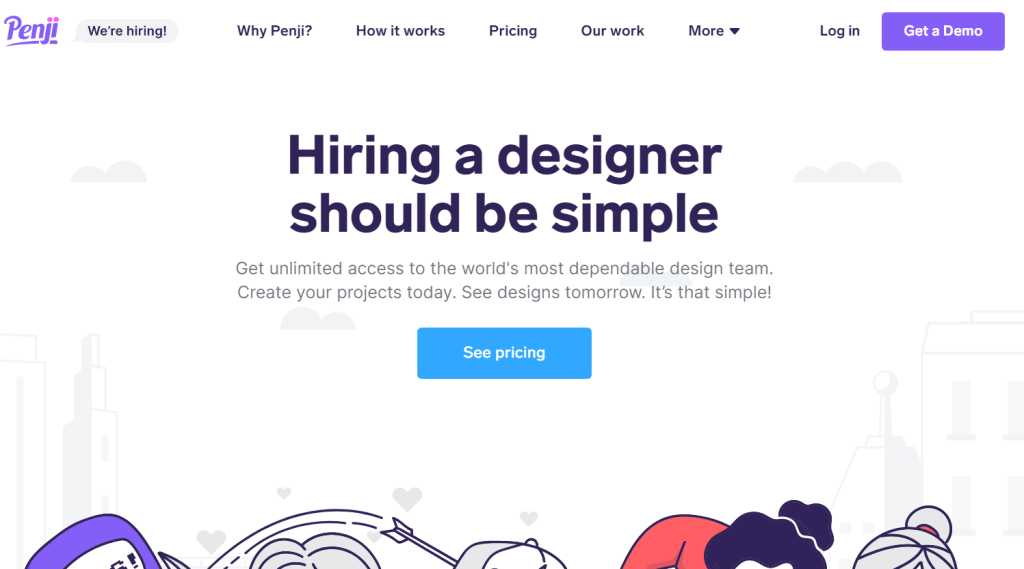 Penji is one of the fastest-growing subscription-based design services companies headquartered in Philadelphia, Pennsylvania. They boast about 120+ design Services in 1 Subscription and a dedicated designer you can swap any time.
Top Features
30-day moneyback guarantee
USA daytime designers (Only in the top $999/month plan)
Dedicated art director (Only in the top $999/month plan)
AI feature to choose the most appropriate designer according to your industry & needs
Plans Breakdown
Pro
This is a basic $499 plan with unlimited graphics & plans. If you have basic design requirements related to social media, newsletters, etc. this plan could be a good fit for you.
Team
For $200 more, this plan adds web design, app design, presentations, and animated graphics. You should only pay for this plan if you need such complex designs regularly for your business.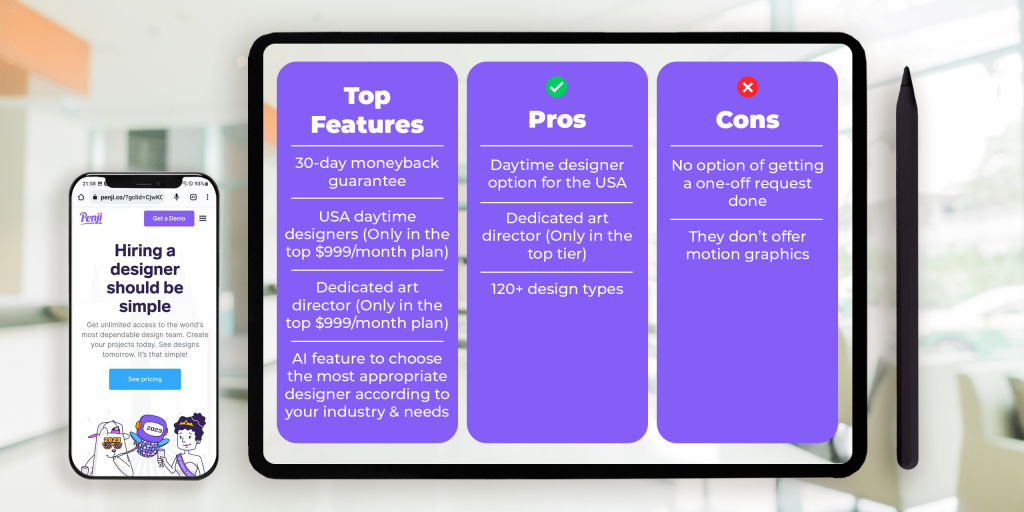 Daytime
By adding $300 you get a dedicated art director and daytime USA designers. Only go for this plan if you want a quick response from designers while staying in the USA.
Pros
Daytime designer option for the USA
Dedicated art director (Only in the top tier)
120+ design types
Cons
No option of getting a one-off request done
They don't offer motion graphics
5. Kimp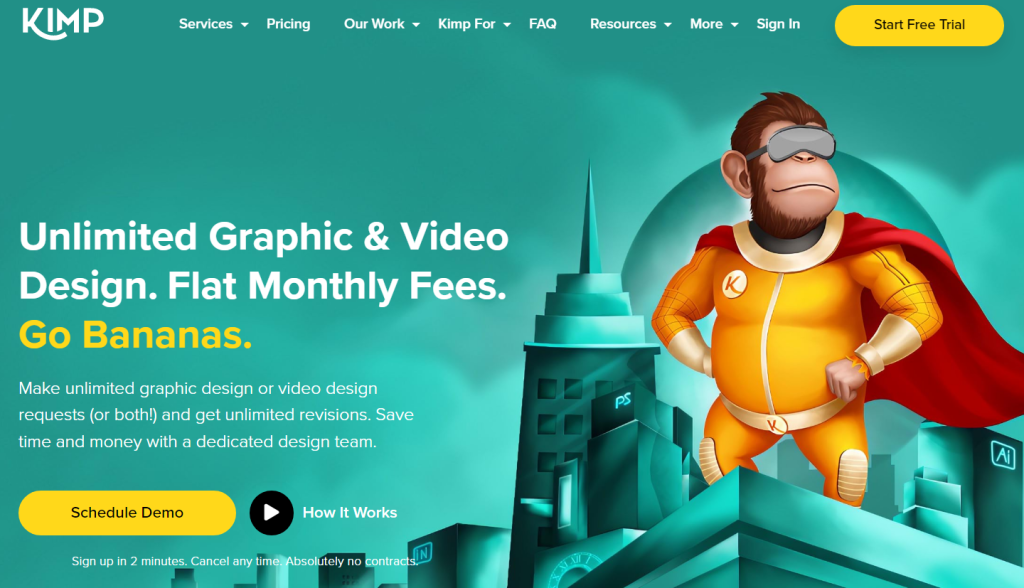 Launched in early 2019, Kimp began with a single unlimited graphic design subscription (Kimp Graphics). Now, they offer unlimited video design services as well. Kimp has a remote team of more than 250 people spread across the globe.
Top Features
2 Active Requests at a time
Dedicated Project Manager
Includes NFT Designs
Plans Breakdown
Graphics
This $599 plan would take care of most of your graphic needs and also comes with a dedicated designer adding the value factor.
Video
This $699 plan is the most value-for-money deal across all unlimited graphic design services companies if you only have a video requirement. You should move to the next plan if you require both video and graphics.
Graphics + Video
This $995 plan offers both video and graphics along with other crucial features like a dedicated designer, SaaS integrations, same-day delivery, etc.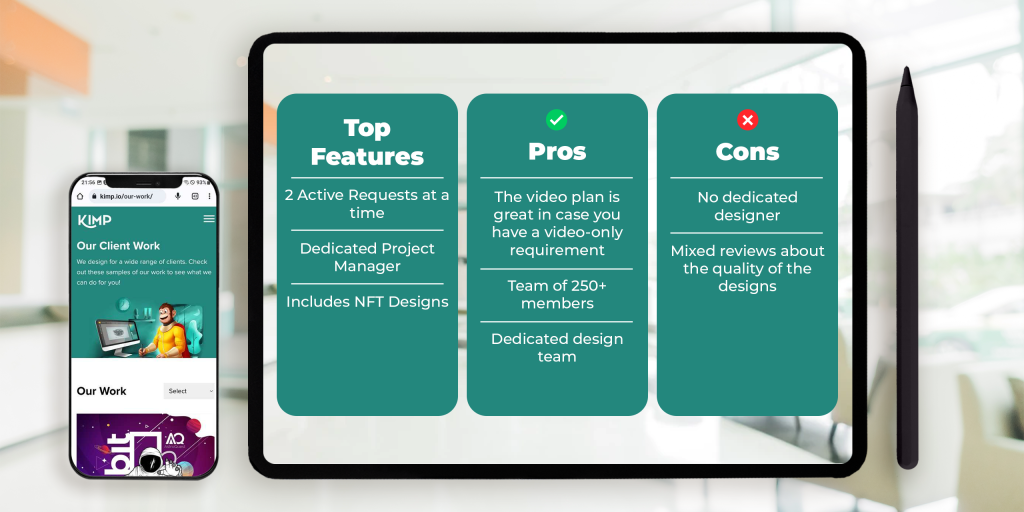 Pros
The video plan is great in case you have a video-only requirement
Team of 250+ members
Dedicated design team
Cons
No dedicated designer
Mixed reviews about the quality of the designs
When should you consider unlimited graphic design services?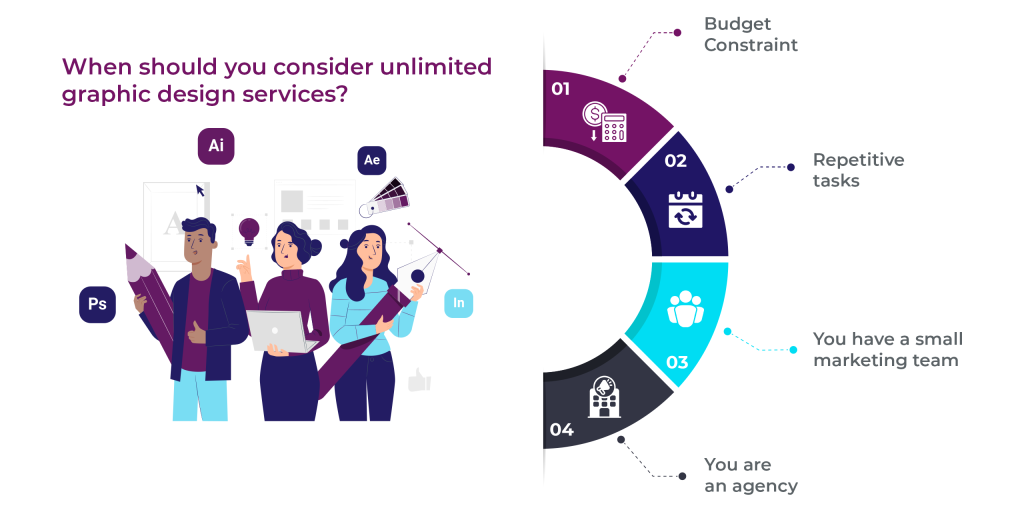 Unlimited graphic design services would be a great fit for you under the following circumstances:

Budget Constraint
In case, you have a limited budget, subscription-based graphic design services companies work wonders.
You lock your budget for each month while there is no long-term contract in case things go south.
You can then play around more with other marketing activities with this consistency and predictability.
Repetitive tasks
Do you have similar design requirements related to social media, newsletters, etc.? Flat-rate graphic designs become a great fit. As you pay way less here and also get your work done, this becomes a win-win situation for everyone.
You have a small marketing team
Small marketing teams are great with planning and ideating but often struggle to execute at scale.
If you do not have an in-house designer, you can use unlimited graphic design services as a helping hand.
You are an agency

Subscription-based graphic design companies are perfect if you get volumes you cannot handle and you do not wish to hire more employees.
With plans that allow you to add unlimited brands, it makes sense to outsource your design being an agency.
No no long-term contract and hassle of hiring people make unlimited graphic design ideal for you.
When should you consider traditional graphic design agencies over unlimited graphic designs service?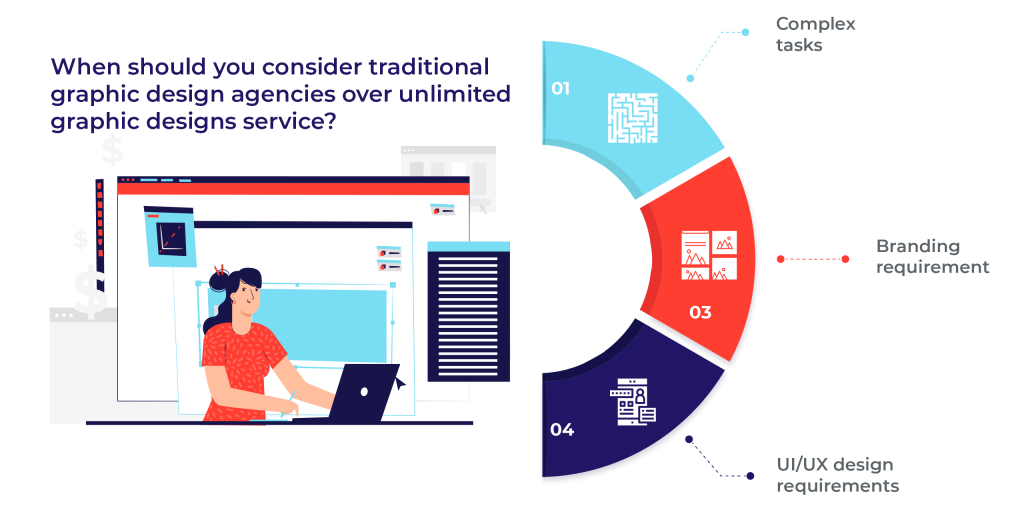 Traditional design agencies' services would be a great fit for you under the following circumstances:
Complex tasks
So your design requirements require excessive brainstorming and planning? An unlimited graphic design company would be a bad fit for you. They mostly take care of less creative tasks and won't be able to help you come up with "viral content" for your brand.
Branding requirement
Branding is what most subscription-based design services companies don't do. Why? As it has a huge feedback loop and the service is very difficult to be productized. As a result, a one-size-fits-all subscription plan is not possible for diverse branding needs.
UI/UX design requirements
Designing UI/UX for you would be a daunting challenge for a subscription-based graphic design firm. Why? Firstly, they don't have such expertise and secondly, it's difficult to justify the cost of a subscription here.
While most unlimited graphic design services companies don't offer UI/UX designs, those that do never deliver satisfactory results.
When should you consider freelancers for your design requirements?
The first challenge is finding a freelance designer who has industry experience and fits within your budget. If you have found one, the biggest challenge is over.
Next, you should check if the freelancer is reliable or not. For this, you can ask for testimonials, references, etc., and understand the experience of previous clients.
If these boxes are ticked, you can move ahead.
One more thing to look at is the cost incurred, it should be less than you pay to an unlimited graphic design company for a monthly plan. Why? As unlimited graphic design services companies have dashboards, support, diverse teams, SaaS integrations, etc that add incremental costs, going with a freelancer should ideally be more cost-effective.
Say, a graphic design subscription would give you 15 graphic designs per month for $399. Check if the freelancer can deliver more within the same budget while maintaining quality. If not, a freelancer should not be considered.
So when should you consider a freelancer here?
In case all these apply:
Industry experience
Reliability
Value for money

Final Verdict
The unlimited graphic design industry is growing tremendously as companies don't want to rush hiring and are willing to work only with small marketing teams. A little help from outside is great for such teams, and subscription-design services companies are solving that problem.
You now know if subscription-based graphic design services are a good fit for you. If so, you have a trusted list to choose from. Happy designing!