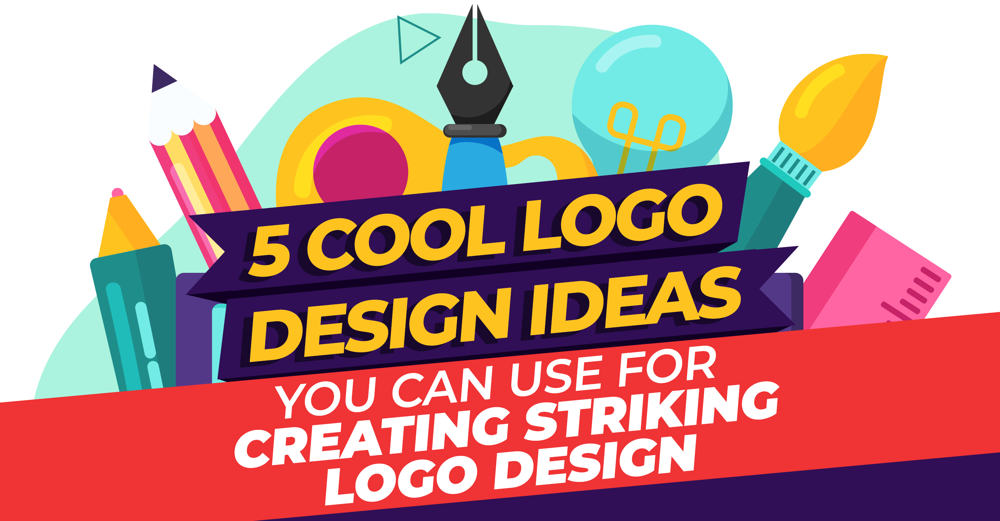 With time, businesses have realized how important it is to invest in branding for establishing trust and integrity with their customers. Visual components play a major role in creating a strong brand identity for your business. Having a cool logo for your brand is the starting point of a strong brand identity.
This is why you will see several marketing experts emphasizing the use of striking logo designs everywhere. Your business is defined by how well you represent it through your brand logo. So, ensure that it is unique and stands out among your competitors.
Here are some cool logo design ideas that you can use for creating a striking logo for your company.
1. Avoid excessive use of excessive visual effects
A striking logo needn't have many special effects. In fact, simple and cool logos are the ones that are perceived better by the target audience. If your brand logo needs a lot of special effects to look remotely decent, then the logo design is faulty.
When a logo is well designed, there is no need to rely on special effects to make it look impactful. As a rule, try making your logo look as amazing as possible in black and white colors. After this, you can add a few special effects here and there.
2. Incorporate vector graphics in your logo

Your brand logo needs to be designed keeping in mind the fact that it could be used online on your website, social media, etc., and also offline, on T-shirts, mugs, caps, brochures, and other print material. Your cool logo will, therefore, need to be resized from time to time, depending on the need. Most designers resort to using tools like Clipart or Photos for designing a logo.
However, these tools do not use vector graphics, as a result of which the dimensions of your brand logo may seem off when resized. When you opt for a professional logo design service from Design Shifu, we ensure that we use high-end software with vector graphic controls, making it easier for you to resize your brand logo, whenever necessary.
3. A cool logo refrains from visual cliches

When you see the brand logo of Nike, the first thing that you observe is the tick mark that swipes across the brand name. When Nike first introduced this cool logo, there was no other brand that used the tick mark symbol in their logo design. This is why it works perfectly well to build and maintain Nike's brand image.
However, several companies these days can be seen using this tick mark symbol in their brands in a variety of different ways. Although their brand logo may seem attractive, it won't make the same impact as Nike since such a design is already in use by a popular brand. Verizon is one such brand that has been criticized for using such a cliched design in its brand logo.
4. Use a simple color scheme
While designing a cool logo, you might be tempted to add several colors. However, you must refrain from doing so, since it makes the logo seem unappealing. Moreover, people will be unable to correlate a particular color with your brand.
You must first focus on the shape of your logo, and only after this step is complete, play around with the color scheme. Ensure that you stick to a color combination that is simple yet effective in terms of enhancing the brand appeal. The best example is the Samsung logo where only a single color is used to make the logo, yet it makes for a great logo design.
5. Say 'no' to copying logos

There are several brands whose logos seem very similar in design. For instance, the logos of Pepsi logo and Korean Air bear a striking resemblance. Although Korean Air might not have copied the logo, it still does not seem to exude originality.
If you wish to build a strong brand identity, stealing, copying or even borrowing the idea behind some other company's logo would be an unwise thing to do. Doing so will adversely impact your brand.

Conclusion

These tips are very effective in helping you create cool company logos that would define your brand appropriately. But remember, when it comes to well-made logos it is always better to hire an expert for the task.
Design Shifu is an on-demand flat-rate subscription-based graphic design agency that can help you with this. Design Shifu provides creative solutions that are custom-made to your specific design requirements. Pick any of the multiple subscription plans offered, at a flat rate. Still reluctant?… No worries! Design Shifu offers a 14-day money-back guarantee if you are not satisfied with the design services. Click here to get started!