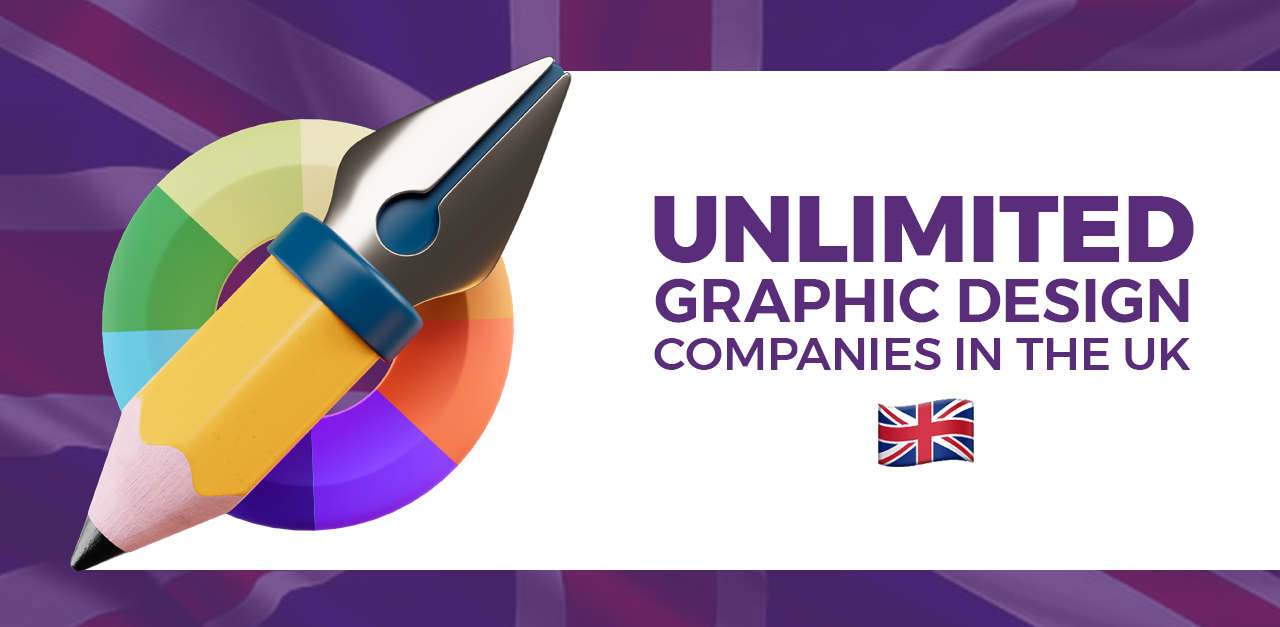 According to a study published by the University of Minnesota, the human brain processes visuals and images 60,000 times faster than text. Ever wondered how your competition is getting those extra revenue bucks even with a substandard product? It's probably because of a better marketing strategy and visual graphics.
And since you're here, you understand how important visual graphics can be when running an online enterprise or a small business. But gone are the days when you had to look for freelance graphic designers or agencies.
Unlimited graphic design companies have taken the market by storm, and they're here to stay. These no-commitment subscription-based business models offer much more flexibility, deliverability, and value than their traditional counterparts, and you'll see why.
Unlimited Graphic Design Company vs. Traditional Design Agency
An unlimited graphic design company and a traditional design agency aren't too far apart when comparing what they do, it's just the way they do it. While the former offers unlimited services (with a cap) for a fixed monthly cost, its traditional counterpart generally charges per project. So, how exactly do they differ?
Cost
Traditional Agencies
Since traditional agencies charge per project, the cost may vary between $1500 and $5000 when hiring a quality service. The services mostly include logo designs, flyers, blog banners, and more. Website design is a whole different story and costs even more.
Unlimited Graphic Design Services
These services usually charge between $400 and $1300 monthly and offer unlimited designing services and revisions. In most cases, there are no hidden charges for any other subscriptions, making them much more viable. 
Process
Traditional Agencies
Traditional services are… well, traditional. What we really mean is that businesses change with time, and to survive is to adapt. Project-based pricing, uncertain turnaround time, and limited revisions are facets that businesses have outgrown.
Unlimited Graphic Design Services
Catering to unlimited projects and brand profiles simultaneously at a fixed monthly price is like "making them an offer they cannot refuse." You get 24-hour customer support and a dedicated designer and illustrator for your project. Moreover, they have a quicker turnaround time.
Productivity, Deliverability, and Focus
Traditional Agencies
Generic graphic design services might be productive, but the deliverability isn't guaranteed. The more revisions you request, the more it costs you in both time and money. And there's nothing more distracting than unfinished business, diminishing your focus on the task at hand.
Unlimited Graphic Design Services
A fixed turn-around time ensures more focus on the current task. When you interact with a designer dedicated to YOUR work, the designs are more tailored to your specific needs.
We're pretty sure we've convinced you to try your hands at an unlimited graphic design service. But it's a big uncharted territory and it might be daunting to find a suitable subscription.
Lucky for you, we're listing some of the most trusted Unlimited Design Companies in the UK.
Best unlimited graphic design companies in the UK
As SMEs, you're always looking for the best fit, no matter the segment. So why cut corners when finding the right subscription?
Design Shifu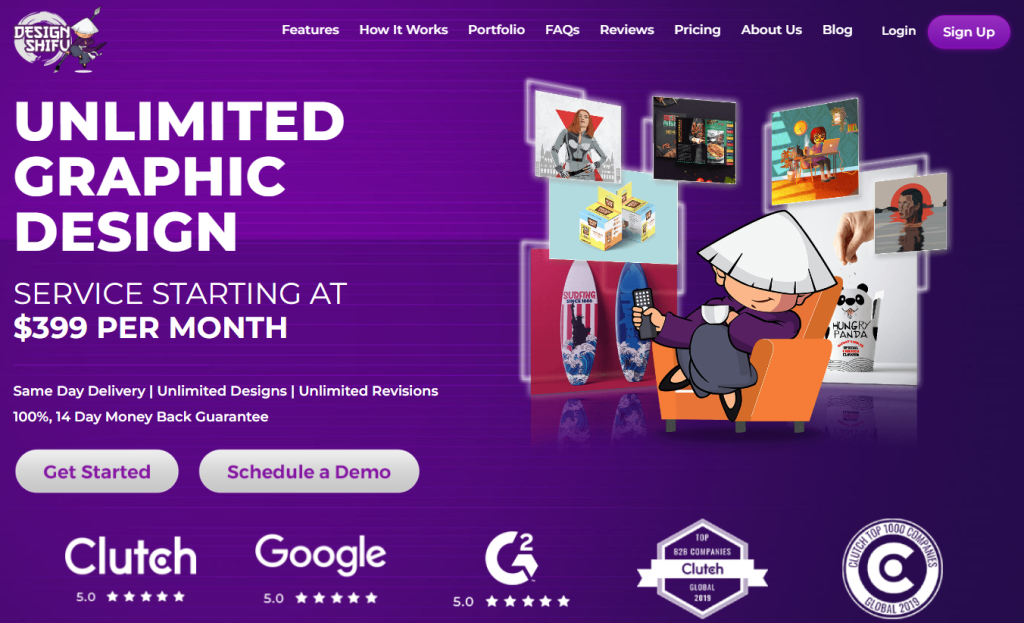 Not particularly based in the UK, Design Shifu is an excellent contender for your choice. It's not just us, but the many testimonials that affirm this. With a quick turnaround time of just 24 hours and dedicated professional designers, DesignShifu boasts unparalleled customer service. 
And that's not even half the fun; Design Shifu seamlessly integrates with your favorite apps. The plans cater to graphics, multimedia designs, and motion graphics with unlimited team members along with a dedicated designer.
Connect with Design Shifu's experts to experience the ease that it brings along. 
It offers three pricing plans based on business requirements — Unlimited, Unlimited Plus, and Unlimited Pro. They are priced at $399, $599, and $1399 respectively for a month's supply of unlimited designs with one active request at a time. All three subscriptions come with a project and an onboarding manager as well as a stock image license.
Click here to sign up for one of our paid plans with a 14-day 100% money-back guarantee.  
Design Cloud
Design Cloud is based in the UK and serves marketing and enterprise teams, helping you build a team of experienced UK-based graphic designers under a day's notice at a fixed monthly fee per designer.
Book a demo to understand the workflow, choose your plan and submit a request — that's all you need to get the designers of your choice to deliver you the work of your liking without going through the hassle.
Design Cloud offers three different monthly subscriptions — Essential at £549, Agency at £749, and Pro at £999.
While most unlimited design agencies allow you to cancel at any point, Design Cloud requires a 30-day prior notice. Additionally, they offer limited services in their Essential plan.
Hatchly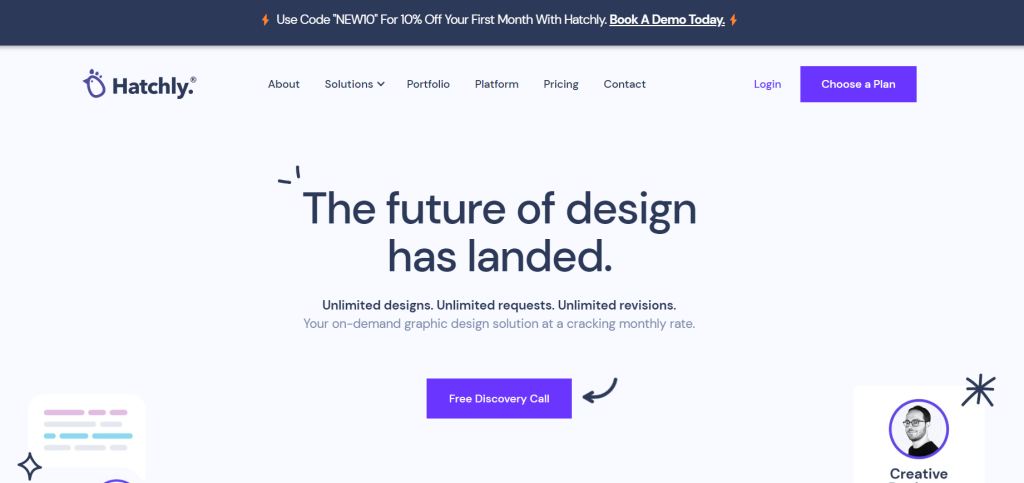 Having been through the painstaking process of being let down by the traditional designing industry despite exorbitant fees, Hatchly set out to help small business owners with their design expertise.
With a dedicated team and a quick turnaround time, Hatchly promises the most streamlined design experience you've had in a while, or maybe ever. It offers three different pricing plans — Standard, Standard Plus, and Pro that cost £795, £1195, and £1595 each.
While the Standard Plus plan allows for a single brand, the Pro plan does not set a limit on this number. The Standard plan excludes some advanced services like presentations, brochures, and GIF animation among others. Additionally, the pricing lies on the higher end.
Studiovine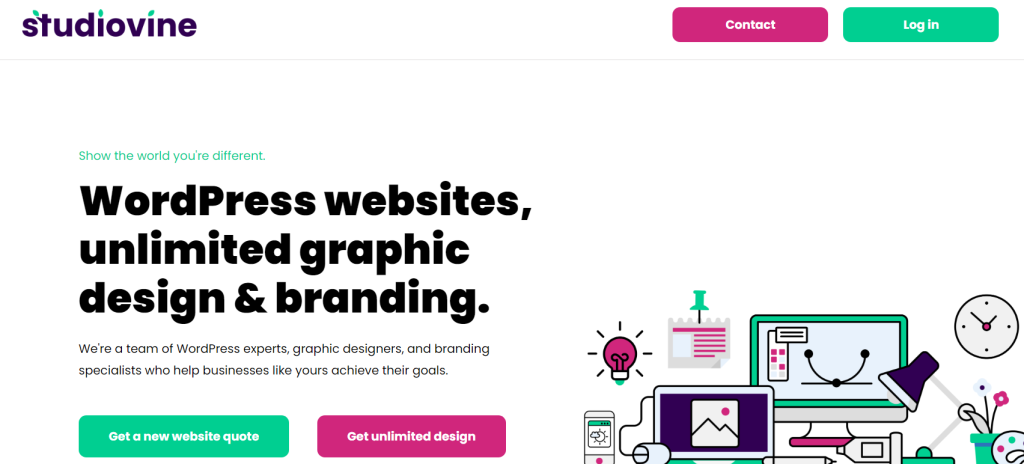 Primarily serving as a WordPress website builder, Studiovine also vaunts a team of experienced graphic designers and branding specialists to help you with your designs. The professionals there even cater to brand strategy should you need one.
Studiovine's Unlimited Design plans start with the Essential plan at £495 per month. This is followed by the Pro plan at £640 and the Elite plan at £860 per month. They offer one, two, and three designs per day each along with a 30-day money-back guarantee.
While the pricing is rational, Studiovine does not offer many integrations apart from a real-time WhatsApp collaboration, making it hard to integrate with your workflow. Plus, the unlimited graphic design plans do not include web design.
Design Buffs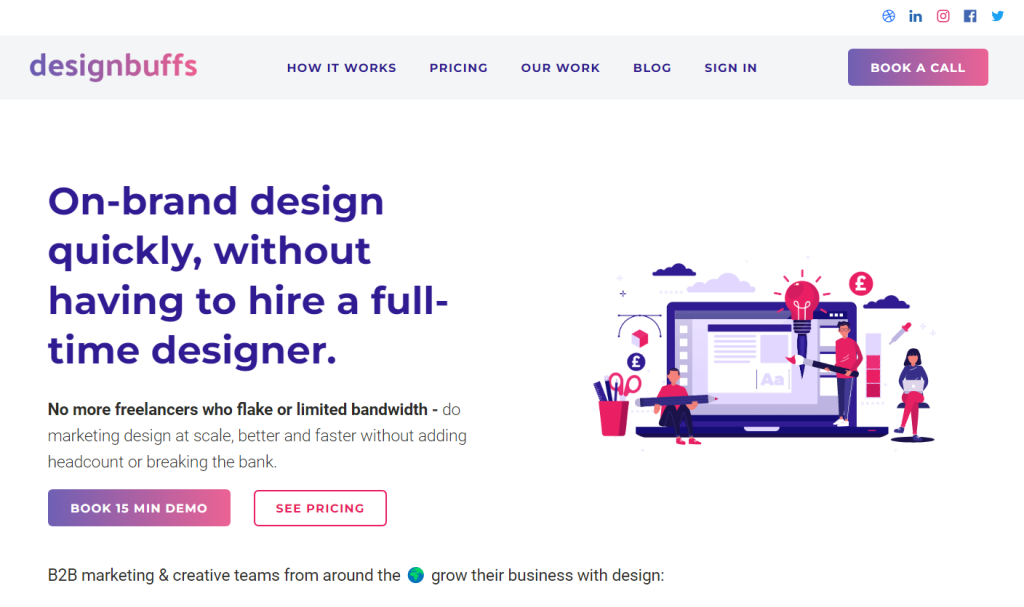 A flexible design solution for marketing and creative teams, Design Buffs offers you a dedicated team tailored to your specific needs. With its support team based in the UK< it simplifies the process of getting in touch with their team and resolving issues instantly. Schedule a consultation call, choose a plan, and request your first design; no rocket science there, right?
Design Buffs offer two different pricing plans — the Essential plan $1500 a month and the Growth plan costs $2800 a month.
While the Growth plan is more suited to scale-ups and incubators, the former is intended for individual marketers and small businesses. The turnaround time is a mere 12 hours. Design Buffs usually caters to a limited number of designs.
Limitless Graphic Design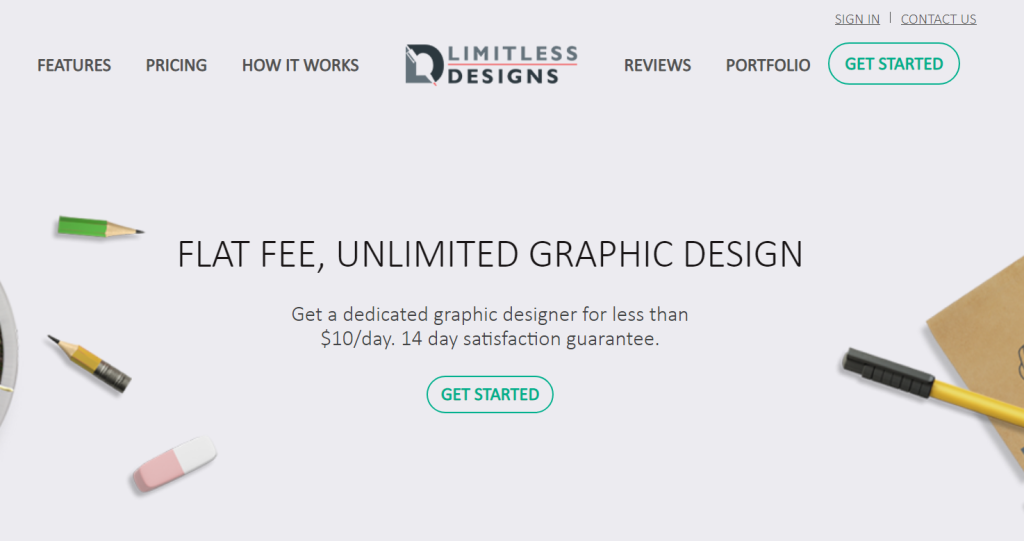 Limitless Graphic Design, much like its name, offers unlimited design tasks for a flat monthly fee. With experienced professionals at your disposal, you can request unlimited revisions with a dedicated designer to help with all your needs.
Limitless Graphic Design offers two subscription-based plans — the Starter plan and the Pro plan that cost $549 and $999 per month. The only aspect they differ in is the number of design requests. While the Starter plan offers 4 requests, the Pro plan caters to unlimited design requests.
Sprouto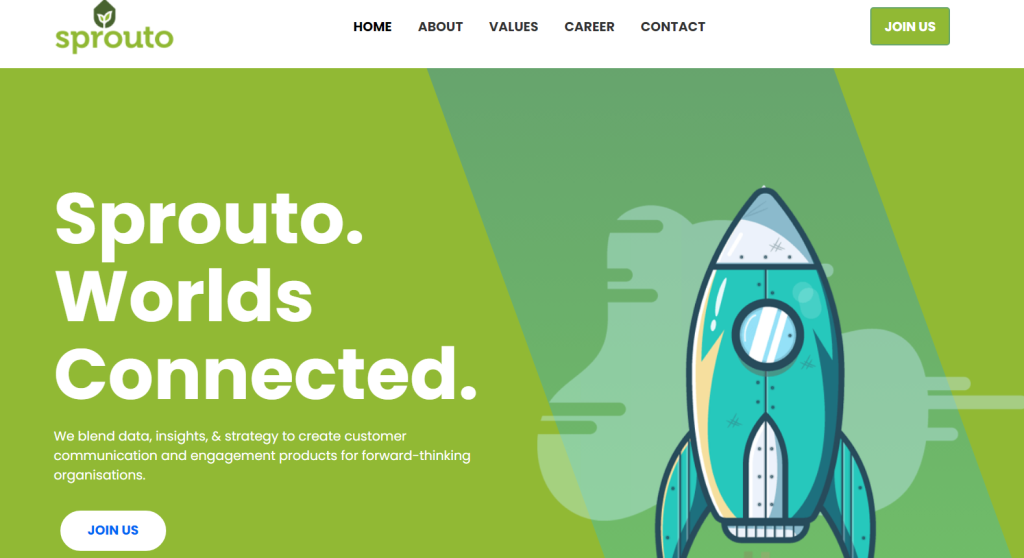 Based in the UK, Sprouto, an award-winning design agency, offers you a dedicated member to blend in your creative ecosystem, and cater to your graphic design needs as you deem fit at a flat monthly fee.
Sprouto offers three different pricing plans — Essential, Premium, and Platinum that set you back £699, £1299, and £1699 per month, billed quarterly. The services offered range from unlimited requests and revisions to UI to eCommerce store design. However, you can have one active request at a time.
How to identify the best service partners for your business?
With so many options, choosing your graphic design partner on a whim would be a mistake. So let's see what factors you need to consider while making the decision.
Make sure the subscription is based on your requirements. Try to find an industry-specific plan that suits your business. You wouldn't want to overspend on services you don't need.
Look out for the contractual terms and cancellation policy to ensure they align with your goals. Don't opt for a plan with a longer term if you have limited requirements.
Check out the cap on unlimited designs and revisions. You wouldn't want to settle for less if better options are available.
Consider platform integrations as well as workflow. A good fit will sneak into your workflow without you knowing and function effortlessly.
Ready to make the shift?
All in all, most of these services have something unique to offer. But you know what? So does your business. We've listed down the best unlimited graphic design service providers in the UK to help your small business maximize its marketing efforts within no time. Explore the services and compare the plans before subscribing to make the most out of your investment.
Start with Design Shifu's plans that offer a 14-day 100% money-back guarantee.