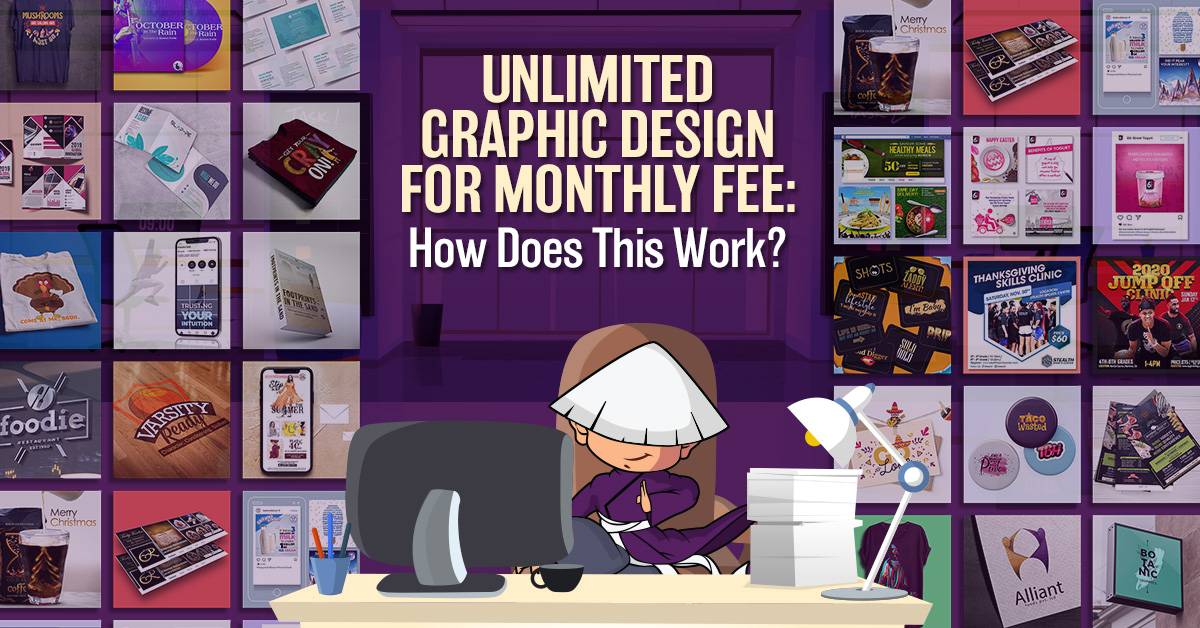 In today's digital world, no business can survive without professional graphic design. You can either learn the skill yourself and in consequence, see your other core tasks getting neglected; outsource it to a slow, expensive, white elephant of an old-school traditional agency; hire a designer in-house and splurge; or go for a freelance designer who is costly, not an establishment and driven by just one person, who may fall sick just when you need them the most. Or, you can subscribe to an unlimited graphic design service for a monthly fee and save the day.
What is an unlimited graphic design service?
Graphic designing as a service with a subscription model works like membership. Once you become a member, you are entitled to its range of services, like a movie streaming service or a gym membership. The way this model works is quite simple. You sign up for a flat monthly fee and access unlimited graphic designs around the clock.
Let's see how a typical service would ideally play out for you:
Assessment: You reach out to us about your design needs, duration, budget, and expected quantum of regular work. We assess your requirements and decide on the most suitable plan for your business.
Agreement: Once you subscribe, you get a personalized dashboard to add your team, send design requests, manage and track progress, communicate with the team, and send feedback.
Design Process: We start with the first requirement. The active request entails you sharing the design brief via the dashboard. We get back to you within 24-48 hours with design options for review and feedback.
Delivery: The final version of the design is delivered to you in the format required by you. You have access to stock image licenses and all source files.
Continued Support: Even after the final delivery of the designs, you may require support in terms of adaptations, resizing, revisions, etc. This will be seamlessly provided to you as and when required.
Are unlimited graphic design services really worth it?
The general unlimited graphic design subscription model is almost the same across companies offering it, with some unique value proposition in each plan and package. The workings are simple: you pay a flat monthly fee and in return can make unlimited design requests.
The benefits are many:
✅ Easy & free access to a team of design specialists with professional-level expertise.
✅ A premium service that is easy on the pockets🤑. The flat monthly subscription makes it more affordable than in-house designers, traditional design agencies, and even freelancers.
✅ Way faster turnaround time, generally, between 24-48 hours.
✅ Scalable & flexible as your design needs can be increased or reduced as per your requirement. Multiple revisions ensure more accurate output without paying extra, which is usually the case with traditional design agencies and freelancers.
✅ Unlock the power of creativity. With day-to-day tasks, keeping track of your in-house designer, chasing freelancers, or those big busy ad agencies can be tough. You get better output powered by expertise.
✅ With access to a well-established design team, backup is also around the corner, guaranteeing reliability. If one designer cannot complete a brief, another is on standby.
✅ With design work off your plate, you'll have more time for other aspects of business, like sales and managing customer relations.
Is unlimited graphic design service a good fit for my business?
You may wonder, after all, this will the unlimited graphic design for a monthly fee be a good fit for you. It is for most small businesses and agencies, but it is still not for everyone. 
Let me quickly list scenarios wherein it will NOT be a good fit. Unlimited graphic design services are not ideal for:
If you need help with just one project; but again, most times it has proven to be a cheaper alternative than availing the services of a freelancer. Do a cost-benefit analysis to conclude this conundrum.
In case what you want is not thought through, and you want to work on several projects on a per-project basis; this may work but wouldn't be ideal for you.
If your modus operandi includes meetings – lots of them; constant in-person interactions; this may be a dampener as speed and quantity are of the essence here, and within the larger scheme of things, this model may not fit in frequent meetings and discussions even though forming close relationships with clients is at the core of how we function.
If you want to work in person more than online, this may not be your go-to; instead, if you can give detailed instructions and wait for the magic to happen in color, we encourage you to try this out.
You should definitely get a graphic design subscription if…
You need loads of creatives…everyday…regularly. The amount of work you can get done through this is pretty unbelievable. 
If you have a wide range of design requests from custom illustrations, social media posts, posters, ads, videos, GIFs, vector emailers, or even more; this service is spot on for you. You don't have to pay varied rates for different design formats, which usually is the case with design agencies and freelancers.
Have fast turnaround times or need to shift workload for an urgent project. It can get as good as getting your creative needs fulfilled in a span of a few hours, depending on how complex your brief is, and cancel your subscription anytime.
You don't already have an in-house designer or a design team; suppose you have one designer but need more design support. This can happen in two ways:

We'll handle the day-to-day tasks so they can monitor these but focus on more important and/or complex tasks. 
We focus on quantity while you all sift out good quality work from what we deliver. 

You don't believe in incurring astronomical marketing costs. Unlimited graphic design services are agile and affordable.
Ready to subscribe to an unlimited graphic design plan?
Choosing your design partner can make or break your entire marketing effort, which will impact your business to a great extent.
If you dream big, want to achieve a lot, and are driven by getting a lot of impactful work done, an unlimited graphic design membership is ideal for you. When a service being offered is unlimited, the possibilities are confined to your to-do list. The benefits in terms of speed, quality, scalability, flexibility, consistency, and expertise are multi-faceted and will be much appreciated by someone who believes in good work on time. 
All this may seem too good to be true, but take our word for it — it has been in practice for a while, and why don't you try it, to believe it…make a smart choice..always!
Start exploring Design Shifu's plans with a 14-day 100% money-back guarantee.