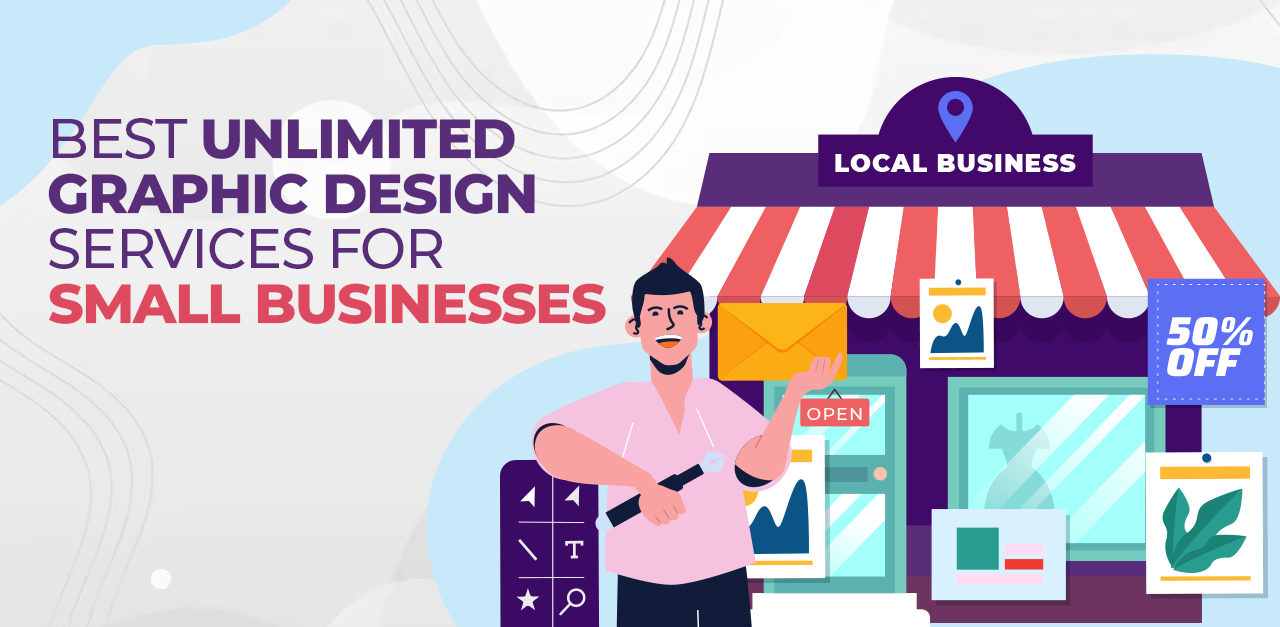 Do you still work with graphic design agencies and freelancers who charge hefty hourly rates or on a project basis? You cannot ask for many revisions because it costs more in terms of money and time. Besides that, you have to shell out a significant chunk of your budget for volumes of regular design requirements. Well, we're past that now.
No wonder they've been overshadowed by a more competitive and trustworthy business model — the unlimited graphic design services. Businesses, startups, and agencies can fulfill their design requirements through a subscription-based plan at a flat monthly fee. These are no-commitment services where most plans give you as many designs and revisions as you ask.
Why should you subscribe to unlimited graphic design services?
If you're thinking of subscribing to one, skip to the part where we compare some of the most popular Unlimited Graphic Design Services and their plans. However, if you're still not so sure of what they offer, read on to know what you've been missing:
Savings in both time and money 
When you want to scale your enterprise, you can't think uni-dimensionally. Besides the resources spent searching for a new designer, paying for individual projects is far more expensive.
Working with the same designers over a period helps them understand the ins and outs of your business needs, helping you build consistency across different marketing channels. Now imagine hiring a freelancer and going through the trouble of explaining to them the shenanigans over and over.
When you can't hire an in-house team, a subscription-based model can help you work with dedicated professional designers to maintain consistency every time you roll out a new creative.
Focus on the task at hand
Sometimes, there's so much to think about that it messes with the actual work. When you work with an unlimited graphic design service provider, you get a professional team of designers ready within a few minutes without worrying about turnaround time or quality.
Unlimited graphic design services are a great option for businesses that cannot afford to build an in-house team and get high-quality design work with minimal effort. There's so much more we could put down, but you get the point.
Now that we've covered the benefits, let's look at the best unlimited graphic design services available in 2023.
Best Unlimited Graphic Design Services for SMEs
We will compare some of the most sought-after unlimited graphic design services you could choose from. We'll look into their subscription-based plans and what makes them unique.
Design Shifu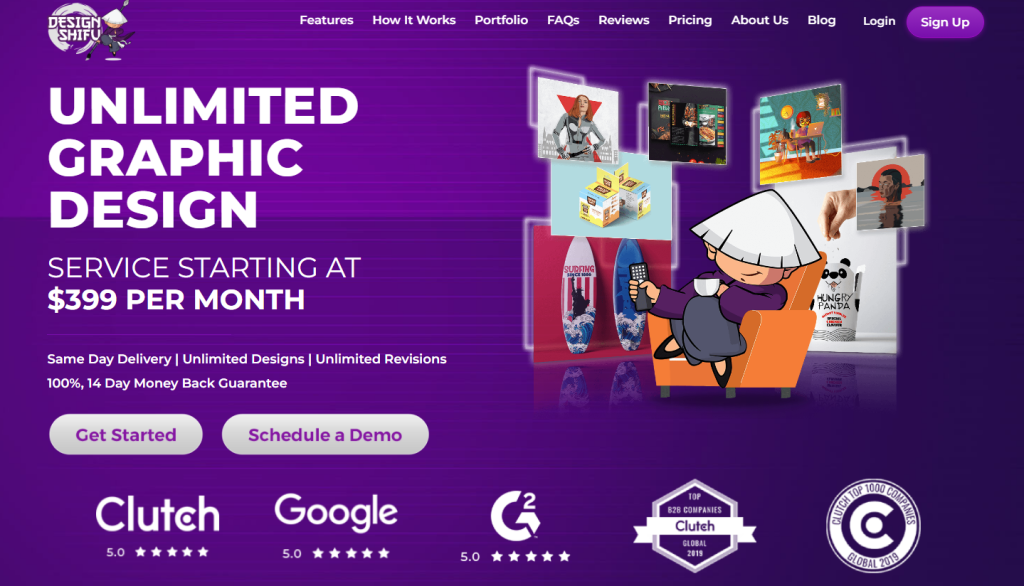 Boasting a team of creatives and professionals with years of graphic design experience, Design Shifu has emerged as a go-to solution for SMEs. It offers some of the most affordable and comprehensive subscriptions attested by thousands of reviews by industry giants and caters to a wide range of design services.
Design Shifu offers you an intuitive dashboard to send in your design requests, and manage and store all your designs and communication in one place for a lifetime. It also integrates with applications like Slack, Grab, and Trello among others. You can request unlimited revisions and get source files for approval.
Pricing plans
With three different subscription-based plans, Design Shifu caters to all your requirements, ranging from graphics to multimedia. Let's look at what's included:
Unlimited Plan
Suited to organizations that require only graphic designs, the Unlimited Plan costs $399 a month and offers unlimited designs and revisions. Vaunting a turnaround time of 24 hours, this plan offers you a dedicated project and onboarding manager.
Unlimited Plus Plan 
In addition to the features in the previous plan, Unlimited Plus caters to custom illustrations and GIF designs. At $599 a month, it also helps you create landing page designs and presentation decks.
Unlimited Pro 
In the bargain, this plan is more suited for organizations that require multimedia and motion graphics. At $1499 a month, the Unlimited Pro plan helps you create videos with a turnaround time of 72 hours.
Click here to sign up for one of our paid plans with a 14-day 100% money-back guarantee.
Kimp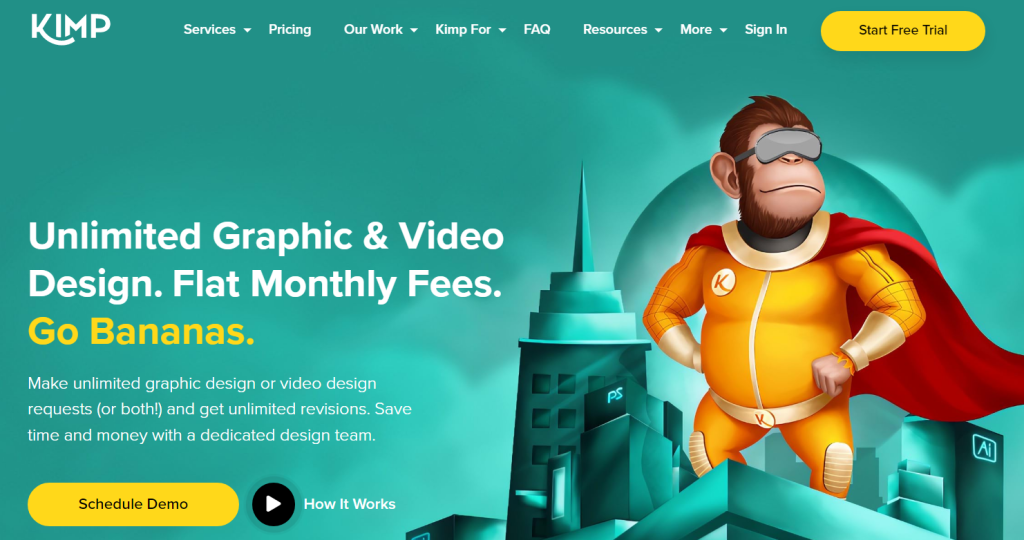 Serving agencies, individual entrepreneurs, and fitness brands, Kimp commits to delivering the best possible designs and customer service. Apart from the unlimited design and revision services, Kimp allows you to invite team members and clients with no hidden costs.
The workflow is as simple as submitting a design request and revision feedback if needed. In addition, Kimp boasts one of the most comprehensive design portfolios helping design eBook covers, print ads, flyers, posters, NFTs, company profiles and so much more.
Pricing
Kimp offers 3-tier pricing based on business requirements. These plans accommodate both graphics and video requirements, including a free trial.
Graphics Plan  
At $299.50 a month, the Graphics plan caters to just graphic design requirements. You get unlimited requests and revisions along with 2 active requests. They offer a dedicated design team and project manager, and it integrates with platforms like Trello and Zapier for a more streamlined workflow.
Video Plan 
This plan caters to video needs. At $349.50 a month, you get a dedicated video team along with a project manager. Access free stock images, videos, and audio, and accommodate as many brands as you want, with a turnaround time of 2-4 days.
Graphics + Video Plan
This combined subscription of $497.50 per month includes services included in the previous plans with 4 active requests. It offers custom illustrations, GIFs, landing page designs, and NFT designs with a turnaround time of 2-4 days. 
DesignOye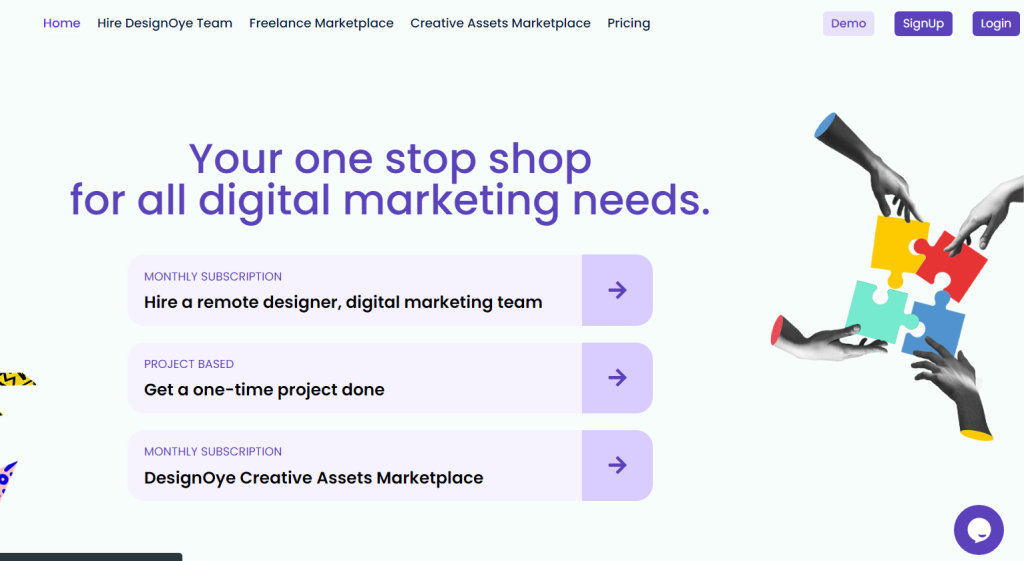 A one-stop solution for all your digital marketing needs, DesignOye specializes in graphic design and social media. The community of professionals at DesignOye is dedicated to creating the best designs, from marketing creatives to collateral templates.
Pricing
DesignOye has a 3-tier pricing based on the subscription duration.
Standard Plan 
This plan costs $499 per month and offers unlimited design projects with one active request. With a single active project, it offers unlimited revisions along with free stock photos and source files.
Premium Plan  
At $999 a month, this is more suited to agencies and SMEs. The Premium plan includes everything included in the Standard Plan, 2 active requests and a dedicated account manager. Additionally, you get Google Slides, decks, and website designs bolstered with email and virtual call support.
Elite Plan 
The Elite Plan costs $1499 a month and comes with all features of the Premium plan and a few of its own. Suited for large businesses, this plan caters to logo design and motion graphics as well. It also offers real-time Slack collaboration for a seamless workflow.
ManyPixels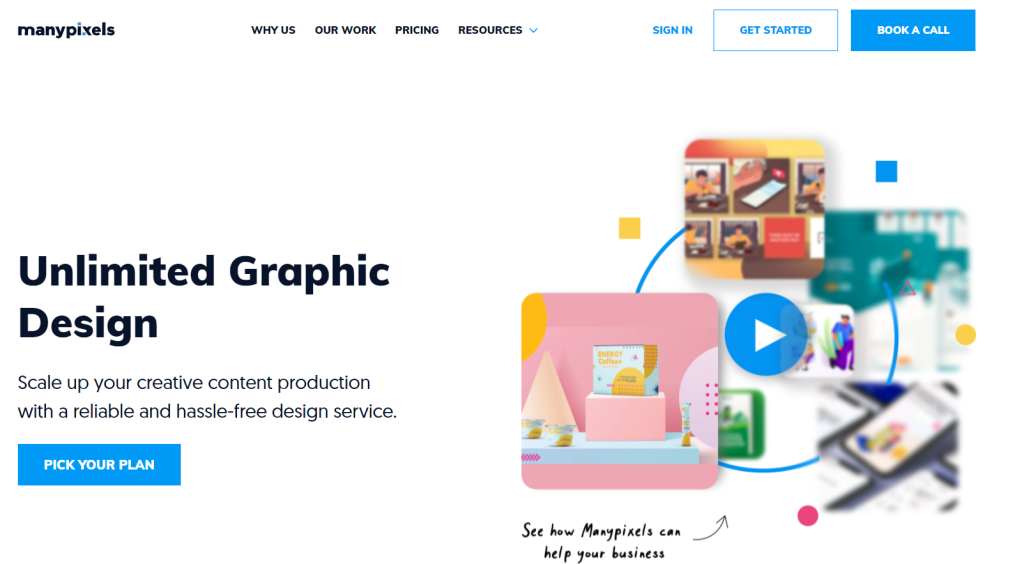 Having served over 3000 customers, ManyPixels's subscription-based design services range from social media graphics to illustrations to brand guides, tailored to your business needs, and delivered within 1-2 business days.
Pricing
Like many of its competitors, ManyPixels offers three plans- Advanced Plan at $549 a month, Business Plan at $899 a month, and Designated Designer Plan at $1199 a month.
While the Advanced and Business plans offer 1 and 2 daily outputs respectively, the final plan ensures same-day delivery along with real-time Slack communication. Even though the plan includes a dedicated designer, it is currently available for US Eastern and Central European Time only.
Concept Drop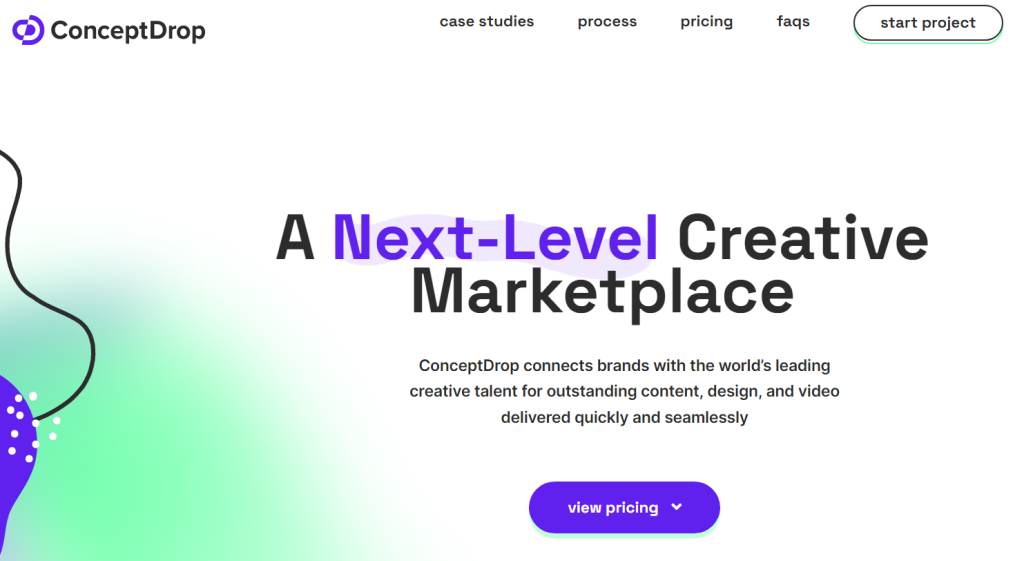 Concept Drop is an on-demand graphic design service and a creative marketplace. Ranging from business cards to PR to NFT illustrations, Concept Drop aims to offer great designs with minimal hassle.
Pricing
While most services we mentioned offer monthly subscriptions, Concept Drop allows you to choose between that and project-based pricing.
The project-based pricing starts at $150 per project and varies with the type of graphic designs you require. The solutions in the project-based plan include eBooks, posters, flyers, PR, and custom illustrations.
Unlike other service providers, Concept Drop offers a 3-tier monthly subscription plan with limited design requests — Starter Package, Basic Package, and the Gold Package at $1000, $2500, and $5000, respectively. These packages offer 2, 5, and 10 projects a month. You can also opt for the Gold Package, which offers 21 projects for $10000 per month.
How to decide the best agency for you?
Now that you know your options, it all comes down to the subscription that best meets your business requirements. Let's see what you should consider when choosing one of these services:
Determine your business goals, design needs, and frequency requirements. Plans on the higher end work better for digital agencies, who have a high volume of requirements regularly.
Make sure you have the number of requests and revisions your enterprise demands with a reasonable turnaround time.
Read reviews about customer support and feedback loop.
Be on the lookout for platform integrations you have been using to streamline your workflow. Zapier, Trello, and Slack are some of the most popular choices.
Look for more industry-specific options. Check out their portfolio to see if they have experience and expertise in the style, design, and industry you work in.
Make sure that the contractual terms comply with your business model. Make sure the subscription period isn't too extensive, and you can cancel any time you want.
Ready to take the leap?
All things considered, unlimited graphic design services are skyrocketing because of the high-quality designs with quick turnaround times at affordable rates with no strings attached. Businesses can subscribe and cancel their subscription anytime, which makes it a more lucrative decision than hiring an in-house team.
Finding your match might seem a challenge, but it's nothing a brief research won't solve. Additionally, most services offer a free trial or money-back guarantee that you shouldn't miss out on to make a more informed decision and get the most out of your expenses.
Start with Design Shifu's plans that offer a 14-day 100% money-back guarantee.