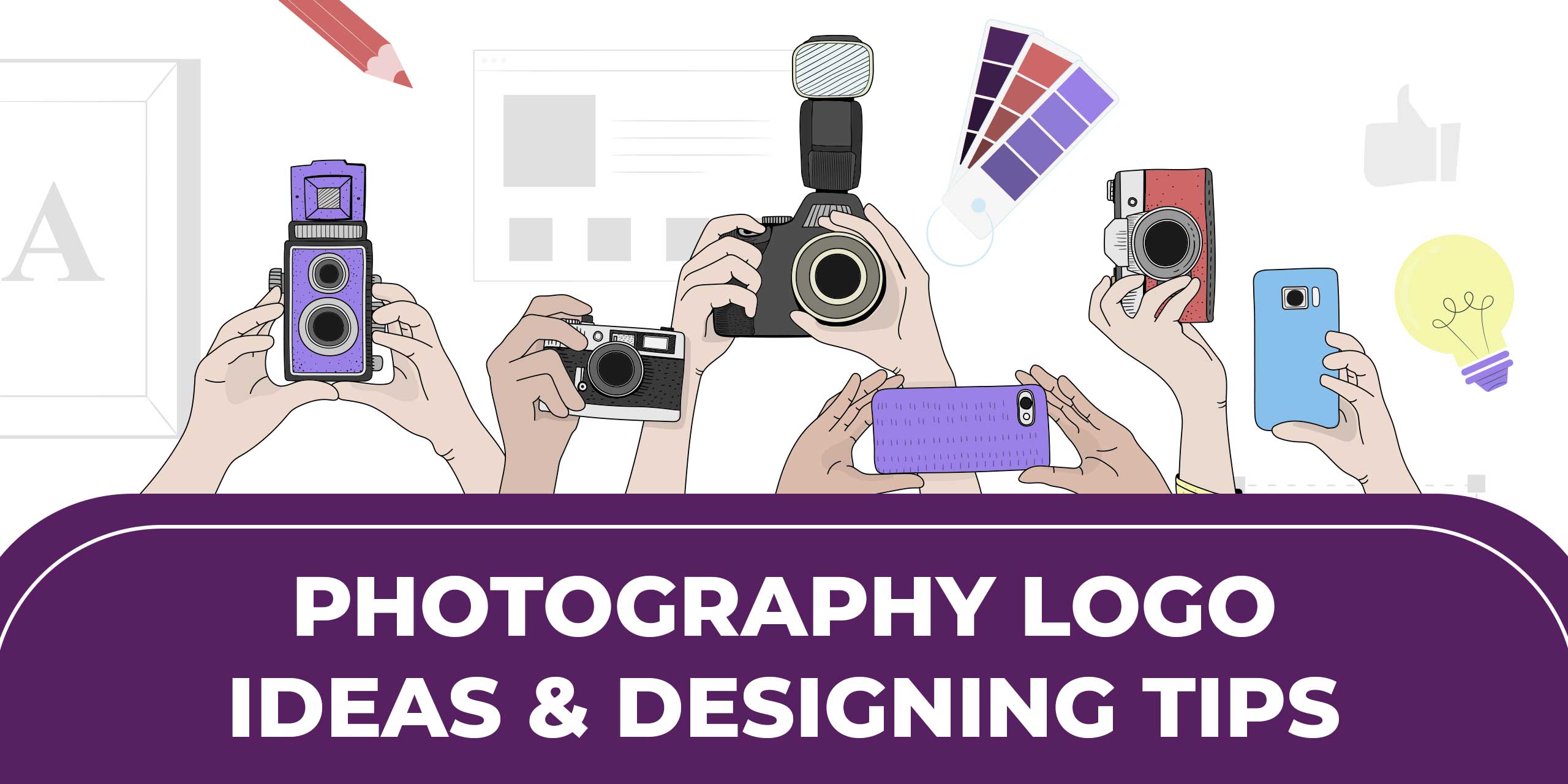 So you're in the photography business…
The logo is required, so people remember the face behind those awe-inspiring photographs. You were determined to stick with that logo forever; however, it doesn't speak to you anymore. Now, you are prompted to rebrand every few years because you're dubious about whether it does the trick. Or, you have just started out, assembled an excellent portfolio, and now need a logo to get started.
Either way, you're looking for a photography logo idea that bedazzles and stands out. You know that a camera icon doesn't make the cut. Isn't it what everyone is using? It's like paving your path to getting lost.
The thing is, you want to be remembered, and for that, you want something you can stick to in the long run. In addition, you want your viewers to identify it's you every time they see your work. This is why you need to design a logo that stands out from the noise, is memorable, and is easily identifiable.
Here's a good thing.
We've done the homework for you and curated a list of the best photography logo ideas, design tips, and tricks that will help you go beyond the same old cliche logos, so you create one that strikes your viewers without being obtrusive.
Also Read: How to Design a Logo: A Step by Step Guide
Let's get on to making them remember the face behind the camera!
But before we start, let's narrow down a few parameters. Why? Because it will help us eliminate the unnecessary and focus on the right elements saving us time and effort.
Take out a notebook or open a note-taking app and answer the following questions:
What is the name of your brand and studio?
What feelings do you want to inspire in your audience?
How do you want them to remember you? What do you want them to say about you when you're not around? Write down 3-5 words.
Remember, a museum is not about what's on the wall but more about what's not on the wall. It is a perfectly curated space to evoke a certain wave of emotions. Similarly, you need to eliminate and zero down on the essentials to create the perfect logo design you aspire to make. External factors do not distract you when you know what you want.
Now, it's time to explore some ideas to spark your inspiration.
Simple photography logo ideas
Since the dawn of time, photographers have used their names in handwriting as their watermarks and logos. If you like nice and simple, then the best photography logos are acronyms and handwritten name logos.
Think of ways to create a compelling visual with your initials or grab your tablet, scribble your name, and adjust a few lines. Bold, soften or tighten, as per your preference, and Voila! It's done.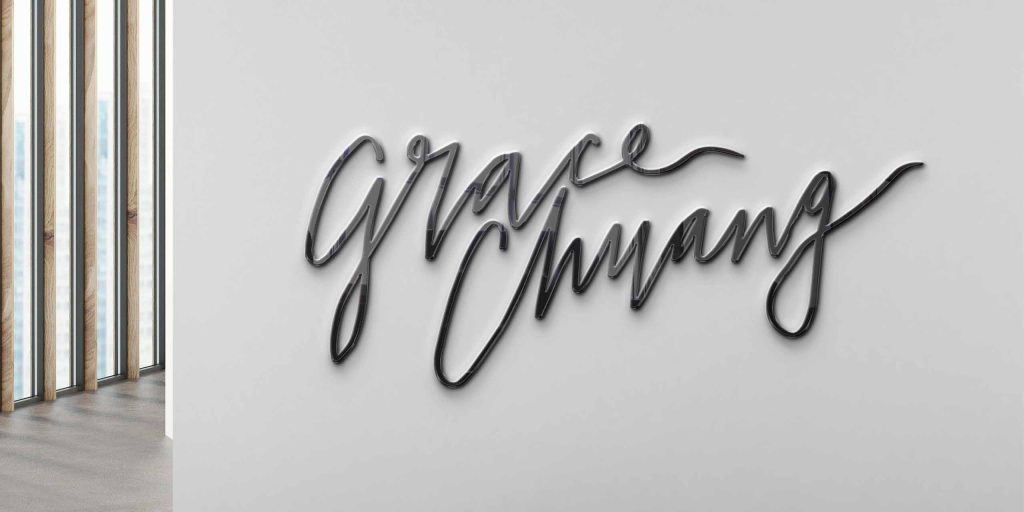 You can also use script fonts; however, they're not unique to you. In case you want to turn your handwriting into a font, but if it's too overwhelming a task for you or you're on time constraints, seek professional help.
Bordered photography logo ideas
Borders give a nice finished touch to the logos. A border plays with a viewer's perceptual priorities. It creates a sense of separation from other surrounding elements and increases the visual impact. In a way, borders offer a neat dedicated space to the logo and allow ease of interaction with the viewers.
Go for inorganic shapes like rectangles, triangles, and circles to add reliability and stability.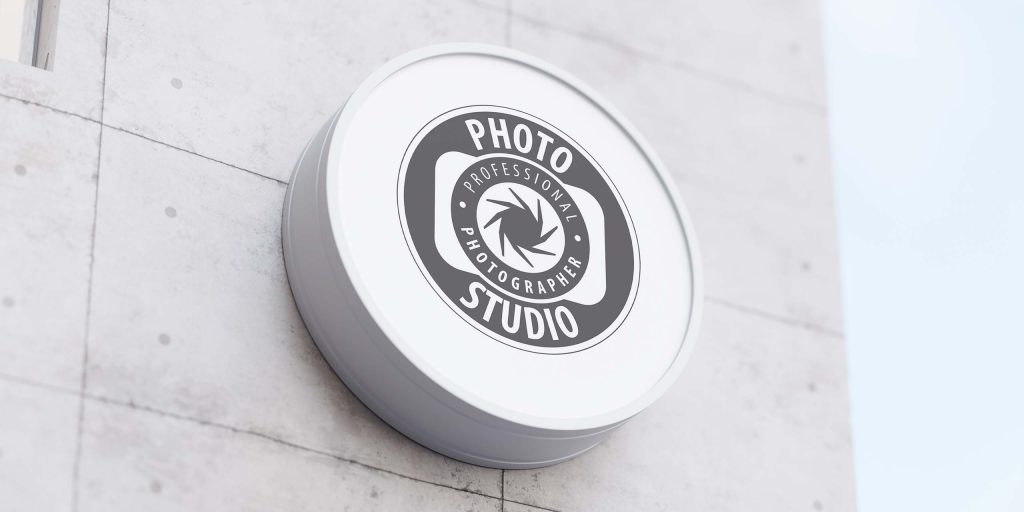 Nature-inspired photography logo ideas
Are you an outdoor photographer? Landscape photographer? Wildlife photographer? Or even a wedding photographer?
A nature-inspired logo truly captivates the essence and aesthetics of your business. It instantly communicates what you do. Think of branches, leaves, flowers and animal icons. For instance, logos that incorporate laureates, wreaths and rounded shapes enclose the enthusiasm and vibe of weddings.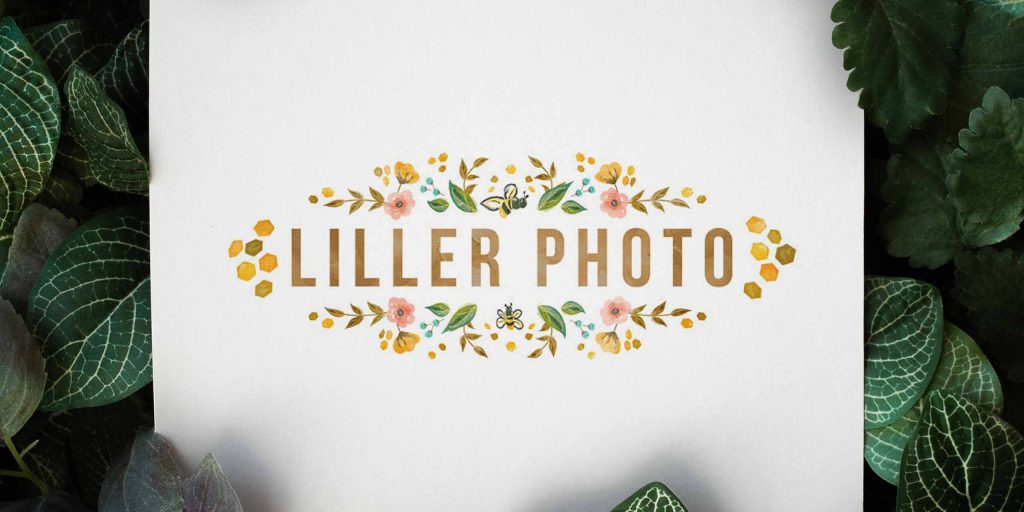 Industry-specific logo ideas
If you're a specialized photographer working in a niche-down industry, you can think of integrating the visuals that represent your industry. This helps you cut to the chase and attract the right prospects. Think of creative ways to combine photography and your industry to capture your elevator pitch.
You can also add a text or tagline to the visual. However, a visual representation is more memorable and creates a lasting impact.
Check out real estate photography logo ideas: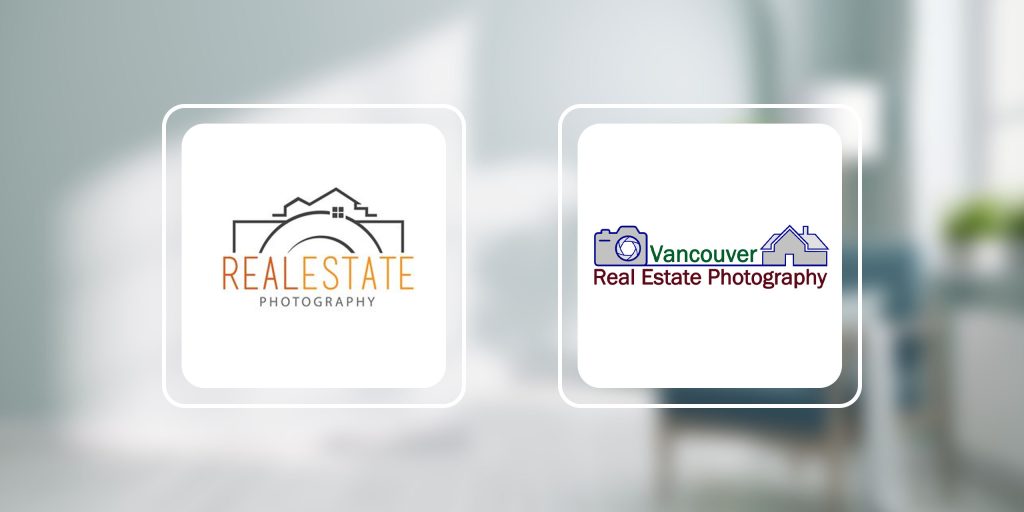 Here are some drone photography logo ideas: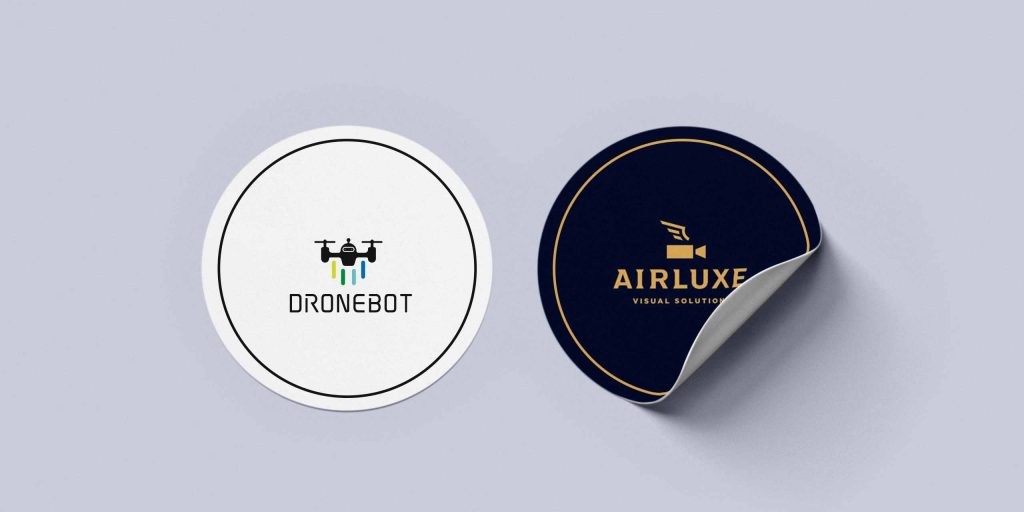 If you're a mobile photographer, look at these mobile photography logo ideas: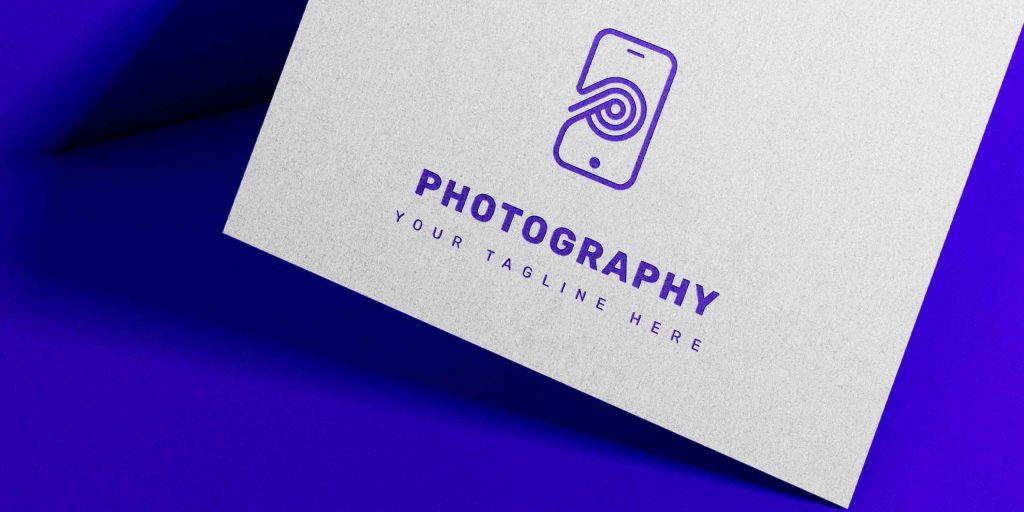 Some videography logo ideas: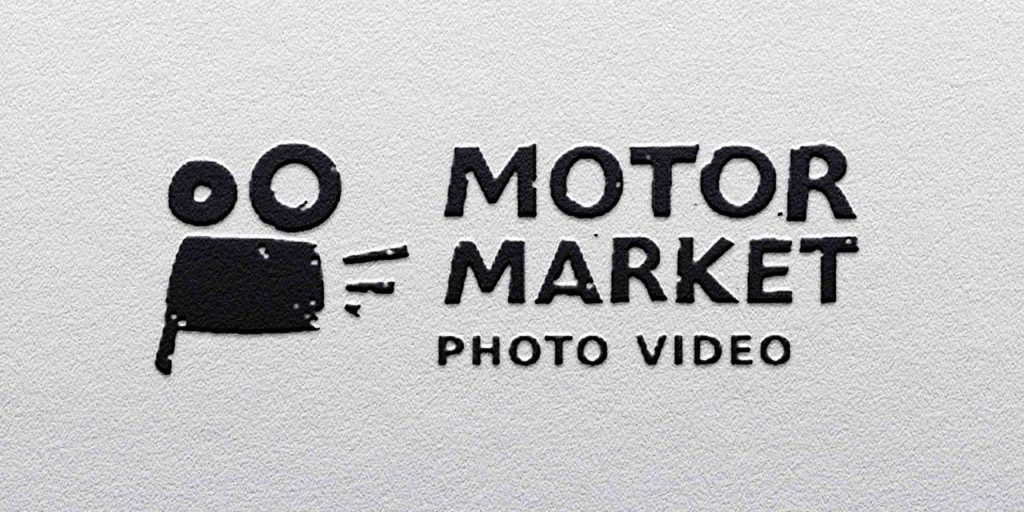 If you're a wedding photographer, see these logo ideas: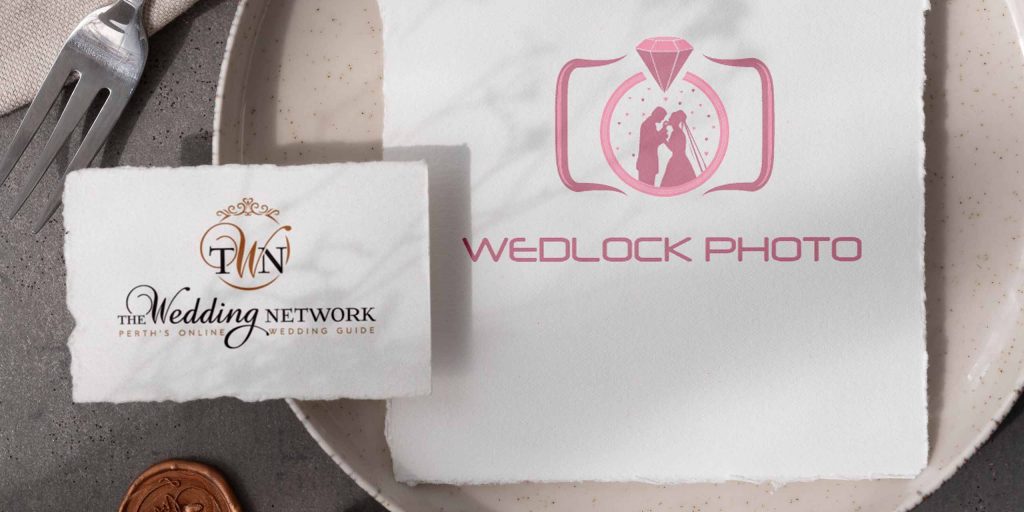 Creative photography logo ideas
A logo is the face of your brand. It is the representation of you and your business. So, you can mix 'n' match several ideas to create something completely unique. There are no blanket rules in design. So, if you have time and creative juices flowing, go crazy.
Also Read: Contemporary Logo: 10 Best Tips to Design a Creative and Professional Logo
See the Marnix Quint's logo – how it integrates the common camera symbol with his acronym to create an elevated design.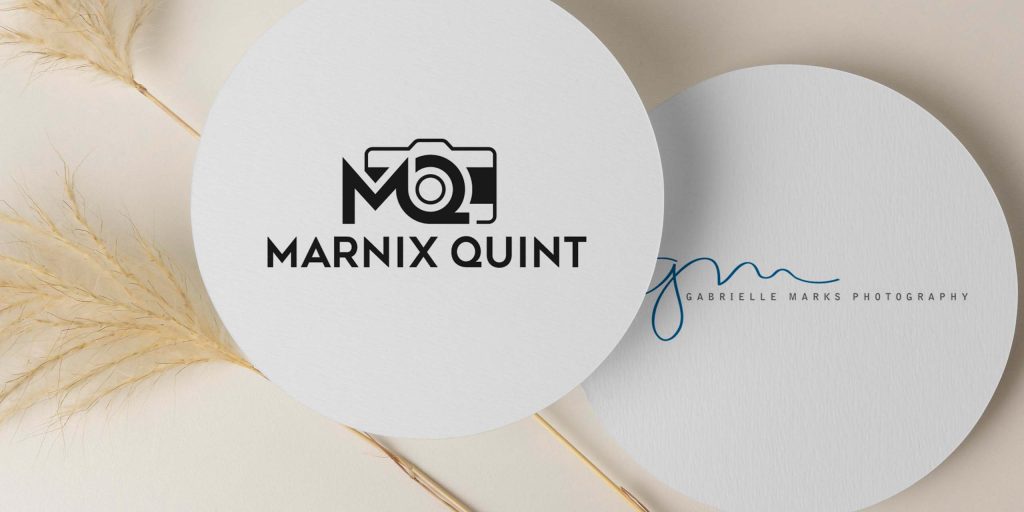 Now that we've looked at the ideas and designs, let's cover design principles that will elevate your photography logos.
Color of a photography logo
You'll use your logo as a watermark on photographs in print and digital media. It will be present everywhere, fighting for attention with your work. So your logo should be bedazzling, but at the same time, not obtrusive such that it deviates the viewer's attention. Instead, it should subtly bring attention to itself.
Therefore, a minimalist palette works the best. Stick to black and white and pair it with a striking color — drawing just enough amount of attention. When choosing the bold color, consider the emotions you want to convey. Then, select the color that aligns with your brand tone and voice.
Also Read: 5 Cool Logo Design Ideas You Can Use For Creating Striking Logos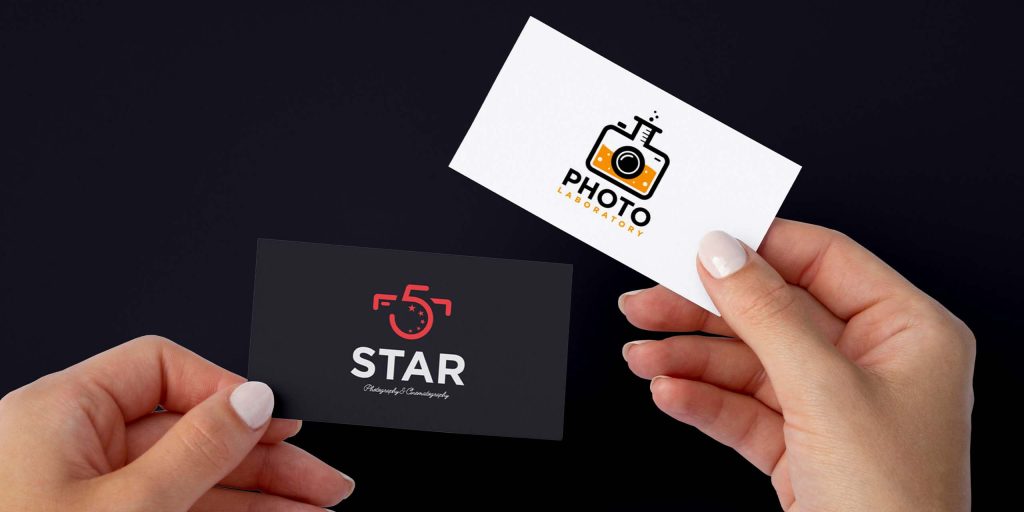 Typography of a photography logo
Photographers can select from a wide range of fonts. There is no one font style or typeface you have to stick to. Your work, industry and brand personality will determine the font for you. For example, decorative and serif fonts kindle beauty and work well for wedding photographers and agencies. Bold clean Sans serif fonts fit in with logos for wildlife photographers. Moreover, some photographs choose their own handwriting as a font.
Also Read: 10 Famous Cool Logo Designs And Their Hidden Messages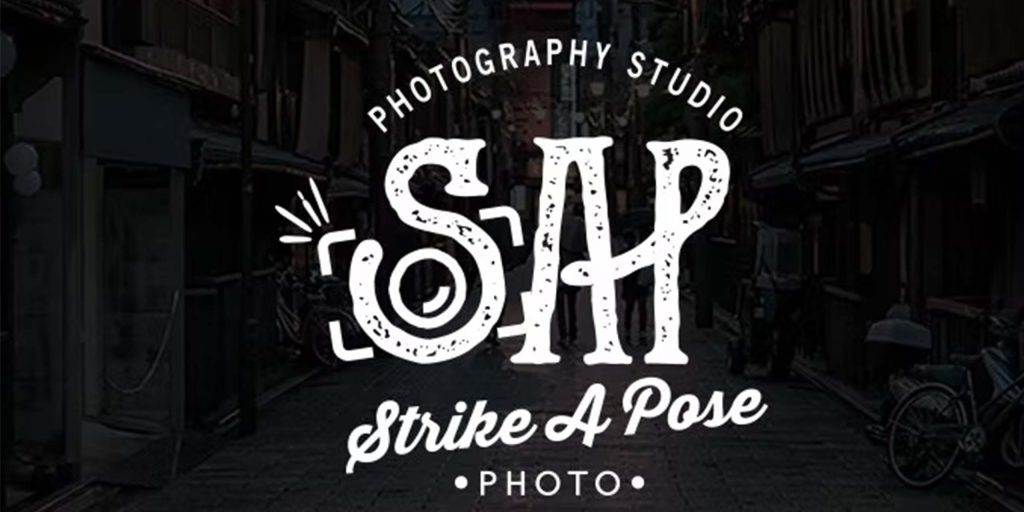 Symbols of a photography logo
Like any industry, the photography industry also has a set of overused icons and symbols. The most popular one that popped into your mind was the camera, wasn't it? Google "photography logo ideas", and you'd be bombarded with hundreds of logos with cameras. So your job is to go beyond the camera symbol. Avoid cliches at all costs. If you have seen it, hundreds of others have seen it too, and a few have incorporated it. So ditch the common and be creative. Think of ways you can tweak and twist an ordinary icon into an engaging visual
Look how Guitar studio uses negative space and letters to visualize a guitar in its logo. You can take a similar approach. Think of other common objects associated with photography, such as lens, shutter film, tripod stand, images, beams etc. See what fits the best.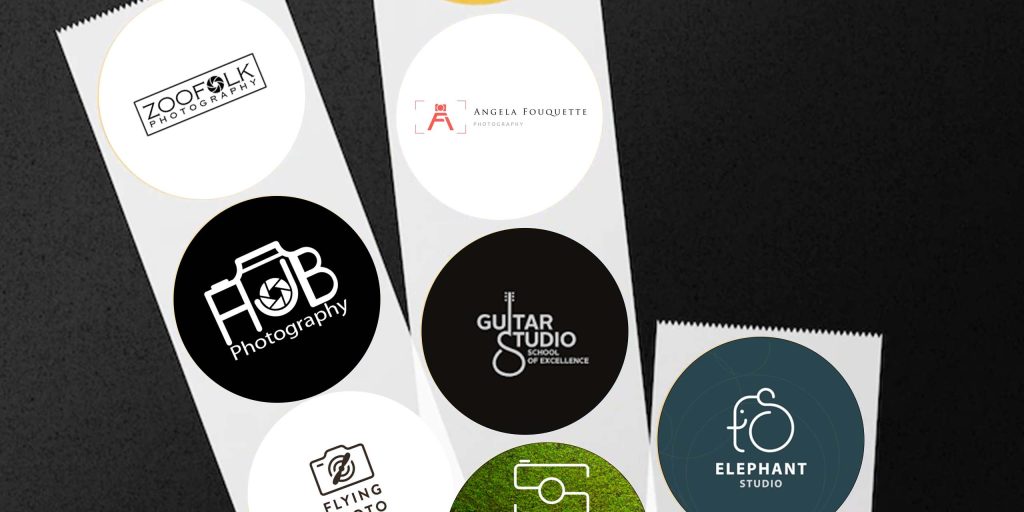 Shapes of a photography logo
Shapes are powerful visuals. They are versatile elements that evoke emotions in our minds. Go with inorganic shapes — circles, rectangles and triangles.
Circles indicate compassion, love and completeness. In addition, they work great as social media profile pictures. Rectangles and squares convey stability, professionalism and efficacy. Triangles imply creativity and power. What is the first emotion you want to incite in your prospects? Select the shape that aids you in fulfilling the goal.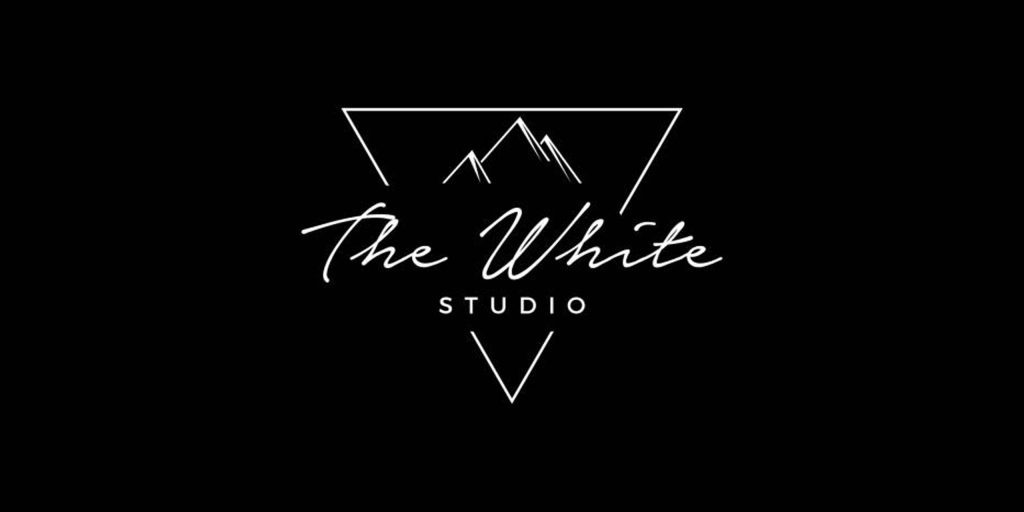 Important photography logo design tips
Make it scalable
You'll use the logo on many content formats and business documents — portfolio, photographs of varied sizes, social media accounts, website, business cards, and proposals. While designing, ensure that no details are lost in scaling. Also, it is good to have black and white versions of your logo.
Also Read: 10 Best Tips to Brainstorm Logo Design Ideas for a Startup Business
Keep it on-brand
Every brand asset, document and component of your business should convey the same emotions and message. While designing your logo, select elements like shapes, lines, icons and types that align with your brand voice. If it doesn't align, it invokes a sense of distrust among prospects. So keep it consistent throughout.
Avoid clutter
A good logo is not about too many tiny little details but its ability to communicate. So try to boil your logo down to its core components without stripping away the aesthetics and visual interest. In our modern design logo ideas, we discuss how to create a logo with minimal elements. Scrutinize every element. If you need it, keep it and don't, remove it. If you can twist it into something more creative, feel free to do so.
Also Read: 10 Best Types of Modern Logo Design for 2022
Avoid stock images and clip art
Never use stock images and clip art for your logo. It reflects how serious and dedicated you are to your work. As a creative, you should have a unique logo. If you need a designer for custom symbols, contact Design Shifu. We have designers available 24/7.
We hope we have sparked creativity with our list of photography logo ideas.
As they say, 'Inspiration is perishable.' So get your pen and paper out and flesh out your ideas.
Use design software to craft it. Many free and paid design tools are available online. Or you can also use a logo maker; however, it constrains you with limited elements, icons and typography. The best photography logos are not made with stock elements. So, an efficient option is to subscribe to a subscription design service like Design Shifu's, where you get prompt results from professionals.
Good luck designing!