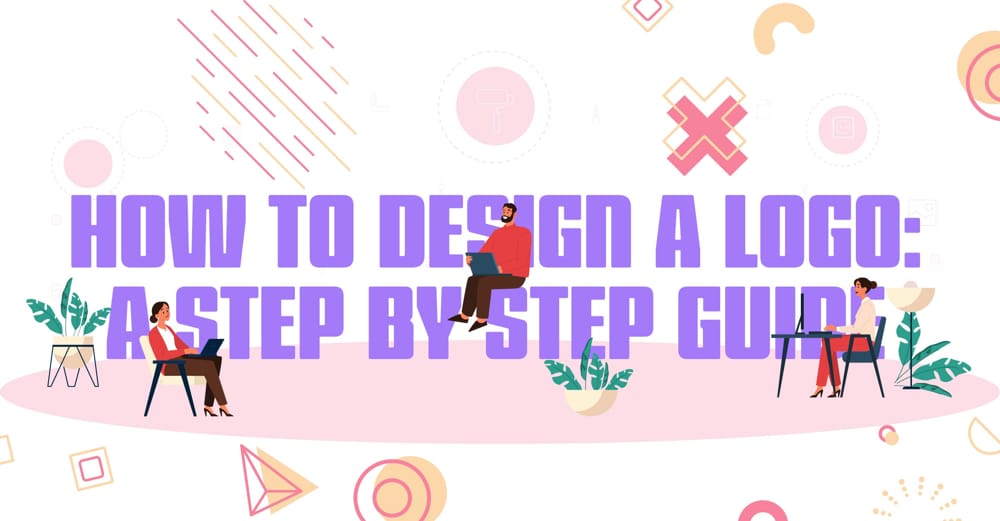 Logos are very crucial from the branding perspective for any business. When you are creating a logo on your own, there are many things that need to be considered including layouts, colors, symbols, and fonts. Wondering how to design a logo yourself? Let us help.
How to Design a Logo?
Designing logos is all about creating an iconic design by capturing the essence of your business and brand. Although it may seem like a lot of work, this step-by-step guide can help you create an impressive logo for your passion project, business, or side hustle.
Step 1: Understand and define your brand identity
Understanding and defining your brand's core personality is very crucial when it comes to communicating your brand's identity to your audience. To get to the bottom of this, you need to have the answers to the following questions.
Why did you start the business?
What values and beliefs does your brand represent?
What sets you apart from your competitors?
What are the three words that best describe your business or brand?
Step 2: Look for inspiration
Looking for logo inspiration can be a pretty tedious task. Don't worry! With the help of the tips below, you can learn how to design a logo. You can start with conceptualizing the logo by brainstorming inspirational ideas. Be mindful of the following pointers while doing so.
– Identify your ideal customers and the brands they like
When you figure out your target customers and their needs, it becomes easier for you to understand the vision of your logo. If you already have a few ideal customers, talk to them and know more about their buying decisions, lifestyle, favorite brands, and insights relevant to your services or products.
– Research the logos designs of competitors
Make a list of all your competitors and divide them into two groups based on the logos you like and the logos you dislike. This will not only help you understand how to begin designing your logo, but also how to design a unique logo that sets you apart from competitors.
– Decide where you would be using your logo the most
As a rule, keep your logo simple so it can be used both online as well as offline on marketing collaterals, T-shirts, business cards, packaging, etc.

Step 3: Pick the type of logo you wish to design
Once you are clear about your brand identity and have also looked through a few inspiring logos designing ideas, it is time to start translating this into your brand logo. One of the first things to do when you're wondering how to design a logo from scratch is, pick the type of logo that is ideal for representing your brand. Although there are many different types of logos, given below are the three most important logotypes you can choose from:
– Wordmark logo type
Such a logo will only have your business name and nothing else.

– Monogram logo type
This type of logo will have 1-3 letters as company initials along with the full name of the company below this.
– Combination logo type
Such logos are a combination of wordmark and monogram logos.
These are a few examples of the different styles of logos that you can experiment with. If you want more inspiration, you can take a look at our recent blog in which we talk about the top modern logo design trends of 2021. Click here to read
Step 4: Choose a suitable logo shape
The shape of your logo will play a major role in determining the aesthetics of your logo. These shapes could be in the form of symbols or containers.
A container element is used in a logo to keep your brand logo confined in a specific space.
The different logo types based on shape are listed below.
Circular logo design for businesses with short names, movement, and direction.
Rectangular and square-shaped logo design for corporations with larger names.
Triangular shapes can be used to represent "A" and "V" in a logo and are generally used to depict movement and direction.
Step 5: Finalize the layout of the logo
The layout of the logo also plays a crucial role in how it is perceived visually.
A popular layout option is the stacked text layout where the logo elements are stacked vertically
A symbol can also be used as an additional element in a logo design to bring out the best in a logo.
If your company has a slogan, you can consider including it in your logo design.
Step 6: Get creative ideas for font and color
Choose the right font
Each font type conveys a different meaning. Here are a few commonly used font types and how their visual differences can impact your final logo design.
For a modern and clean look in your logo, go for Sans-Serif font.
If you wish to attract a mature demographic, you must pick Serif fonts like the Times New Roman font.
To make your logo iconic, distinctive, and formal, Script fonts can be used.
Display fonts are more futuristic and edgy and can bring out your brand's personality to the fullest.
Pick the right color
Different colors in a logo tend to evoke a different and unique kind of feeling. To help you decide which colors would suit your brand logo, here are a few well-known colors with the emotions they evoke.
Warm colors like red, orange, yellow, and pink depict optimism, positivity, happiness, and joy.
Cold colors like blue and other pastel shades display success and professionalism.
For a more elegant vibe, go for colors like black and grey that ooze sophistication and class.
For serene vibes, different shades of green would be ideal.
Step 7: Make the logo and test it
Once you know how to design a logo from scratch, it is now time to design the logo. There are many different ways in which you can design your logo.
You can use software like Photoshop or Adobe Illustrator to design your logo.
You can purchase a premade logo template and customize it according to your likes.
You can make use of an online logo maker service.
If these options seem too time-consuming and tedious, and you want your logo designed quickly, you can try Design Shifu's graphic design service. You can get your logo in 24-48 hours!
Once you have designed the logo using the above guide for how to design a logo, it is now time to test the logo by asking yourself the following questions.
Is my brand logo scalable enough?
Is my logo visually appealing on all the applications or platforms where it would be used (online and offline)?
Will my logo look good in all white or all black?
Can I have different logo variations for different end uses?
If you're still worried about how to design a logo from scratch and you're finding it cumbersome, you can always try Design Shifu. Design Shifu offers graphic designs for both businesses as well as individuals, and delivers your designs in 24-48 hours, for a flat-monthly fee. There's absolutely nothing to lose because Design Shifu offers a 100% money-back guarantee if you aren't satisfied with the work. Simply choose a plan that best suits your requirements and get started with some of the best logo design ideas as the first step to build your brand identity. Sign up with Design Shifu today!