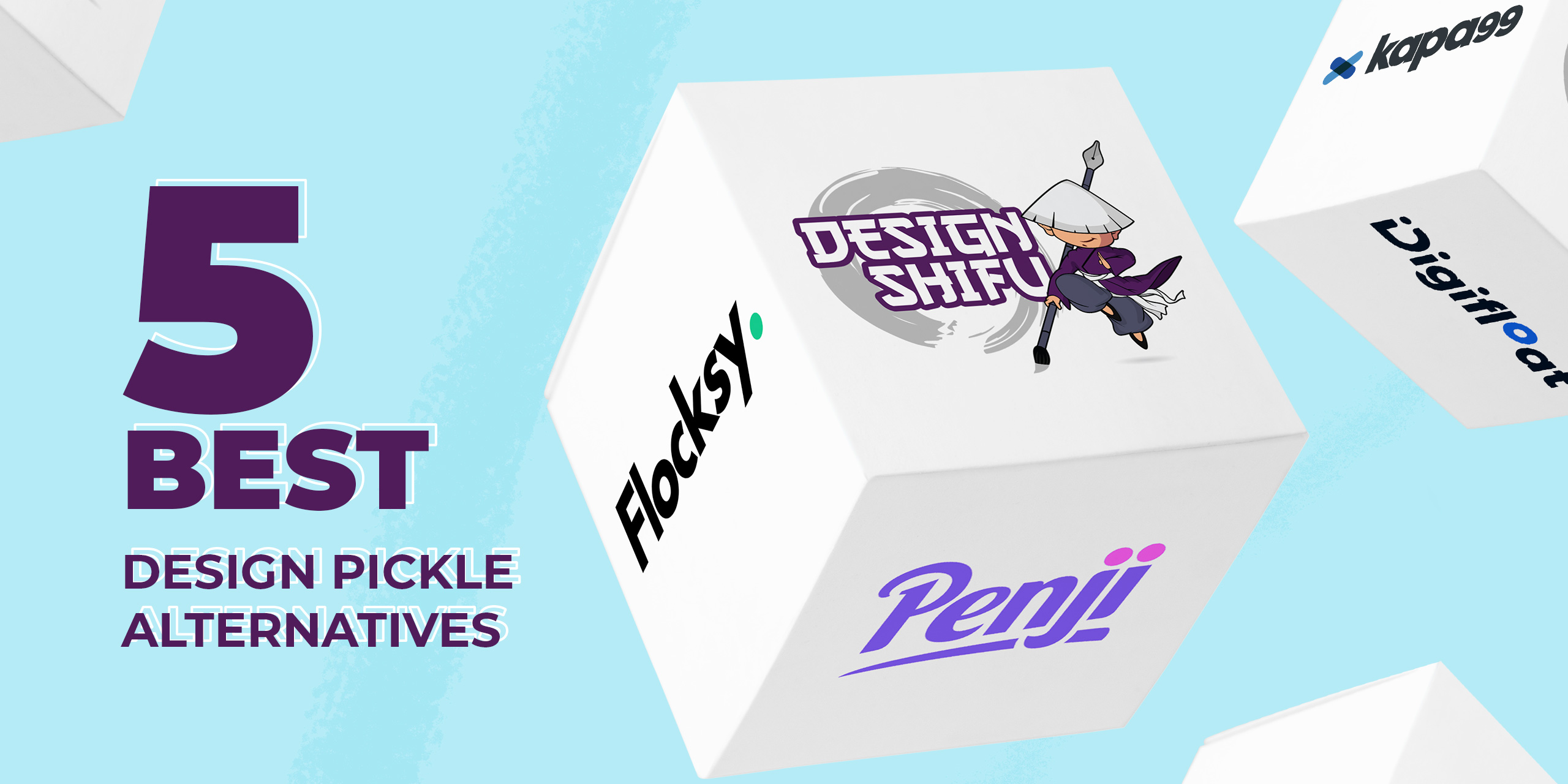 The need for design is never going to fade away. Whether it is a logo for your business, a banner for your blog, or a social media post for your marketing campaign, you cannot bring results without a great design. However, with the looming fear of recession, businesses have started to cut corners looking for sustainable and affordable alternatives to hiring in-house designers or agencies.
This is where unlimited graphic design service providers enter and disrupt the market by offering unlimited designs and revisions by professional designers for a flat monthly subscription fee. One of the popular unlimited graphic service providers in the industry is Design Pickle which helps small business owners and agencies with their consistent design requirements by charging them a flat monthly fee. However, Design Pickle is not the only pick in the market.
Several service providers have come up in recent years who have garnered the attention and admiration of reputed businesses. Read the blog to learn more about Design Pickle's alternatives to find the most suitable option for your business.
An overview of Design Pickle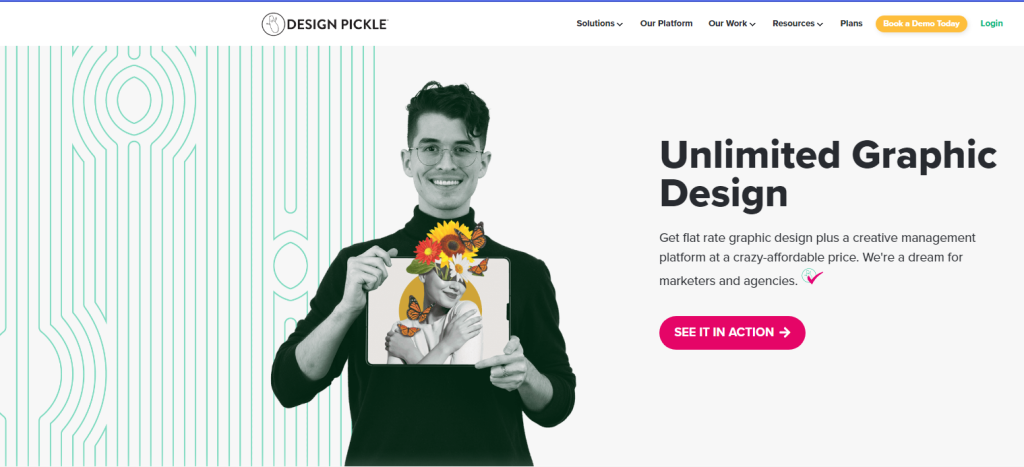 Design Pickle is a done-for-you design service that offers simple, scalable, and reliable plans to its clients, which is why many businesses rely on it for all things design.
They offer 2 plans:
Standard plan- $499/Month
Pro plan- $995/Month
Graphics premium – $1695/Month
There is, however, no free trial available.
You can email your design requirements or use their dashboard to make requests. Submit your design request by filling in basic info like your name, file size, dimension, reference, description of the design you're looking for, and file type. After that, you'll get an option to upload a demo photo or select one from their collection. Finally, you upload any assets you wish to use in your design.
You get updates on the process and design through the dashboard. However, many users complain about their interface. It is difficult to navigate, especially for first-time users. There is no flexibility to switch between designers. Only Pro plan subscribers can communicate and collaborate via the slack channel. The turnaround time is 24 hours, but if your designs are complex, they may take more time.
Several other service providers offer better user interfaces, more convenient mediums of communication, quicker turnaround times, and relatively cheaper plans than Design Pickle. We've put the top 5 alternatives to Design Pickle below. Scroll to find out.
5 Best Design Pickle alternatives
Design Shifu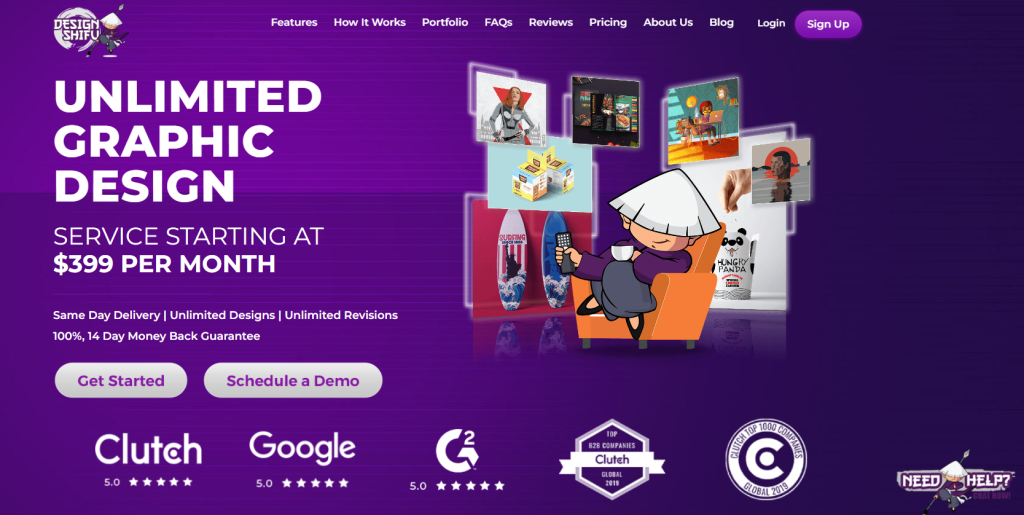 Established in 2018, Design Shifu is a US-based flat-rate graphic design company with a team of experienced in-house designers dedicated to providing consistent quality designs.
You can add multiple design requests (up to 5) at once. The turnaround time is 24 hours. Design Shifu's interactive dashboard saves all the requests, conversations, and designs in one place.
Design Shifu offers 3 plans:
Unlimited (graphics)- $399/month
Unlimited plus ( graphics+multimedia) – $599/month
Unlimited pro (graphics+multimedia+motion graphics) – $1499/month
Pros:
Get editable Adobe + JPG, PNG, and PDF for each file.
24/7 live chat support
Dedicated designer
A monthly rolling plan which you can cancel anytime
A 30-minute demo call
SaaS Integrations: Slack, Grab, Zapier, and Trello
Cons:
Design Shifu has a team of only English-speaking designers.
US Daytime turnaround is not available.
Click here to sign up for one of our plans with a 14-day 100% money-back guarantee.
Penji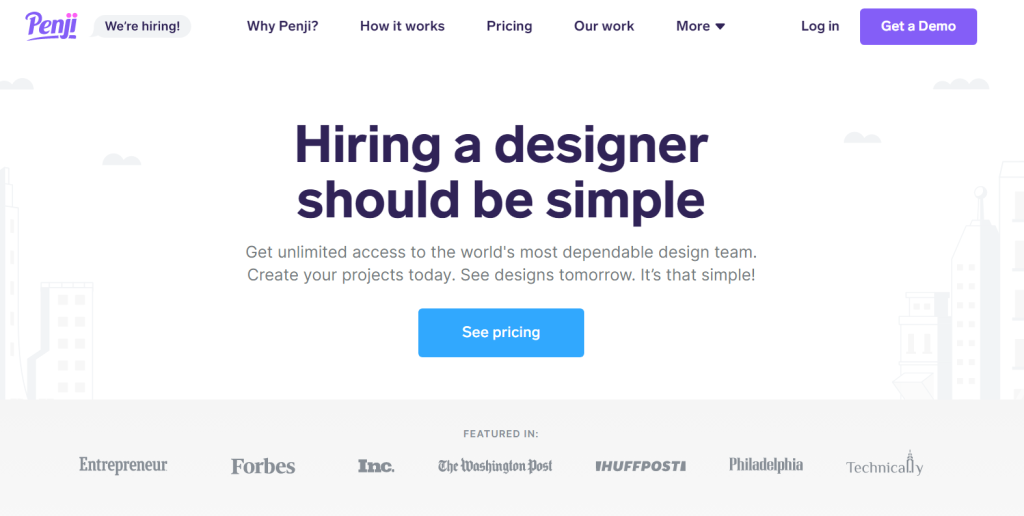 Penji is another fast-growing company in the industry that has worked with brands like Reebok, the University of Pennsylvania, express, Lyft, and Aweber.
Here's how their plans look:
Pro- $399/month
Team- $499/month
Agency- $899/month
You get unlimited design projects in all the plans. But, they do not offer any free trials.
Pros:
They offer more than 120 design services in one plan, including logos, print material, infographics, landing pages, illustrations, and more.
You can swap designers anytime.
Cons:
No committed account manager, unlike their competitors.
No motion graphics, website, and app design services.
No one-off design requests are accepted.
Flocksy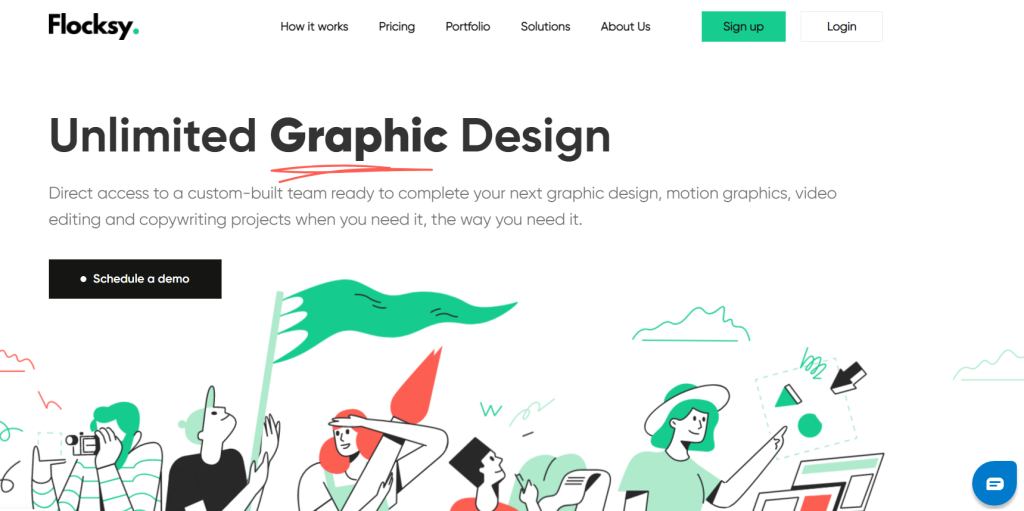 Flocksy was released to the public in 2017 to make creative services accessible to all businesses – big or small. Besides graphic designing, they offer copywriting, web development, and voice-over services.
They offer two plans:
Team plan: $420/month
All-access plan: $995/month
They don't offer any free trials.
You'll get a 24-hour turnaround and unlimited photos and projects in both plans.
In the team plan, you can add only 5 users while working on 1 active project with 5 brand buckets. You get access to a few other services — copywriting, video editing, and a graphic design team.
In the All-access plan, you'll have access to all its features. You can add 20 users and can activate 2 projects with an unlimited brand bucket. In addition, you get access to all its services — web development team, audio, and voiceover team, custom illustrations, and animated GIFs.
Pros:
Fast response time
Unlimited projects
Cons:
Accepts only one active project at a time in the team plan.
Even minor design requests may take more time than other providers.
Digi Float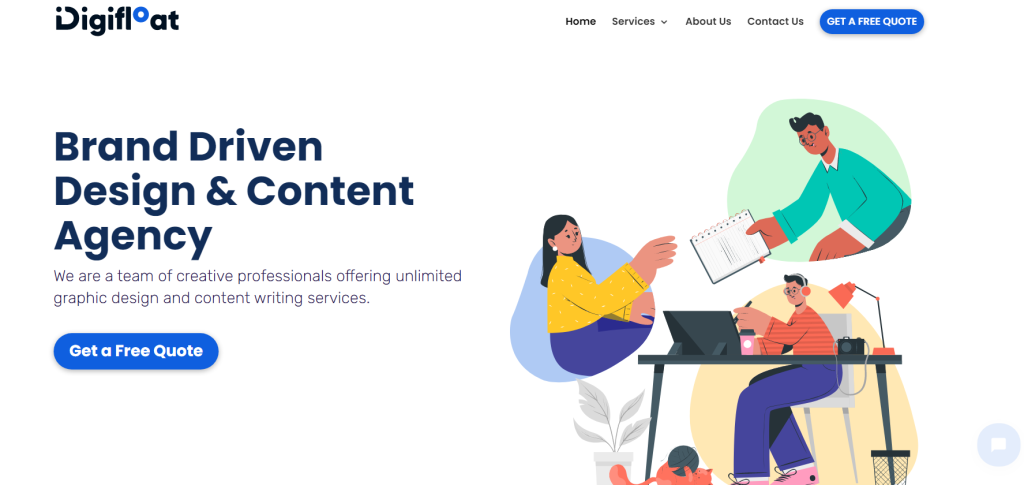 Founded in 2019, Digi Float is an India-based design firm that offers unlimited graphic design solutions, UI/UX development, video creation, and content writing services to businesses, agencies, and independent creators.
Digifloat has 3 pricing plans:
Standard- $399/month
Pro- $649/month
Agency- $999/month
Digifloat doesn't have any free trial.
Pros:
Get a committed account manager and designer.
Unlimited revisions.
Cons:
Standard Plan doesn't give access to all services.
Communication channels are restricted to Trello and email.
Kapa99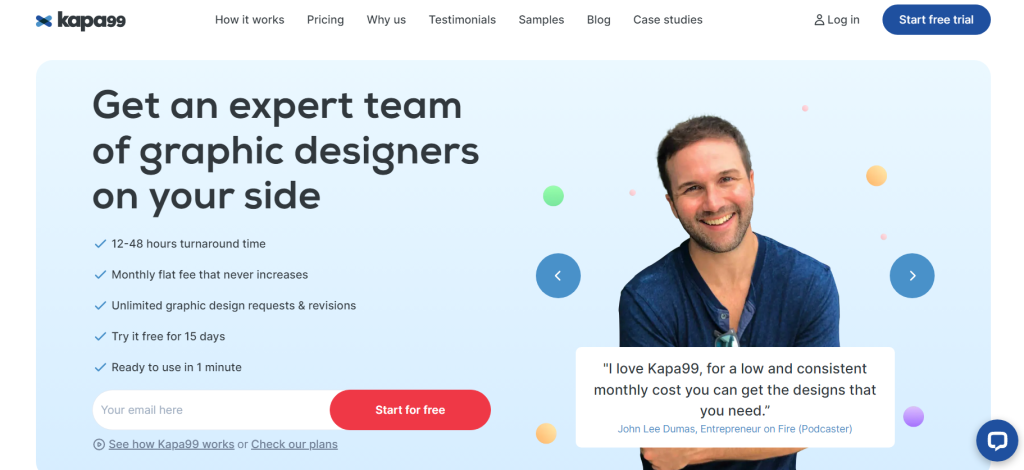 Kapa99 is another great Design Pickle alternative with affordable packages that offers a wide range of graphic design services, including logo designs, packaging, brochure, book covers, podcast covers, and illustrations.
Kapa99 has 2 plans:
Business: $299 for first 2 months
Business Express: $499 for first 2 months
The Business Plan delivers designs within 24-48 hours, whereas the Business Express delivers within 12-24 hours.
Both plans provide unlimited designs, unlimited revisions, and all source files. Unlike other Design Pickle alternatives, Kapa99 provides a 15-day free trial.
Pros:
Most likely same-day turnaround if the request is submitted early.
Free trial designs don't have watermarks.
Cons:
They don't offer HTML/CSS, and video graphics.
Their reviews say that they lack consistency in the quality of the designs.
What to look for when deciding on a Design Pickle alternative?
While the market is flourishing with new unlimited graphic design service providers, here's how you can determine the best fit for your business:
Services
Understand your company's needs. How many designs do you need in a day? Do you have consistent requirements? What kind of design requirements do you have? For instance, a basic plan would work if your design needs are limited to blog post banners and Instagram posts.
Portfolio
Go through their previous work and reviews to know how they have served their previous clients. You would subscribe to an experienced provider in your industry rather than someone completely new.
Customer Service
While you may not need constant support, the availability to reach out without countless follow-ups can help you speed up the feedback loop and get immediate updates on your project.
What's your pick?
There's no one-size fit for all. What seems suitable for one company may not be the best fit for another. Unlimited graphic design service providers act as an extension of your in-house team with no strings attached. If you wish to explore other providers beyond Design Pickle, determine your requirements and compare our top 5 Design Pickle alternatives to find the right partner for your business.
Start exploring Design Shifu's paid plans that offer a 14-day 100% money-back guarantee.