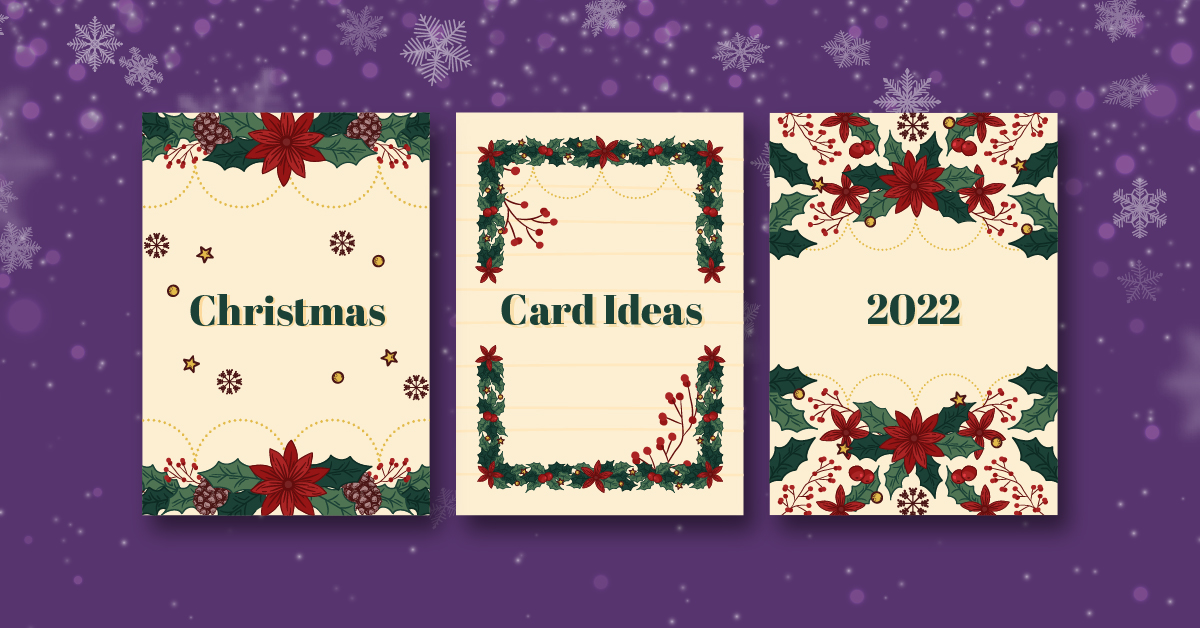 It is that time of the year! When you can smell cinnamon and baked products on every corner of your streets and the market is filled with buzz. Every shop around you, be it big or small, is pulling out its Christmas decorations. It is also that time of the year when you have to scratch your head to figure out unique ways to send holiday greetings.
Wishing your friends and family is a given, but you can use this opportunity to show appreciation to your employees and partners who collectively help your company grow and thrive. Don't shy away from using that group photo in your messages. Call it old-fashioned, but those photographs foster the spirit of the community during the holiday season. This time, personalize your greetings.
Let us explore more unique Christmas business card ideas that can restore the enthusiasm to celebrate with your team members.
Why Send Christmas Business Cards?
Holiday greetings should be sent to all your employees and business network contacts; it is a spectacular way of acknowledging their hard work, humanizing your relationship and strengthening the bond.
Industries these days allocate specific budgets for the holiday season to circulate gifts and greetings within the organization, which has been a long-standing tradition in the corporate work culture.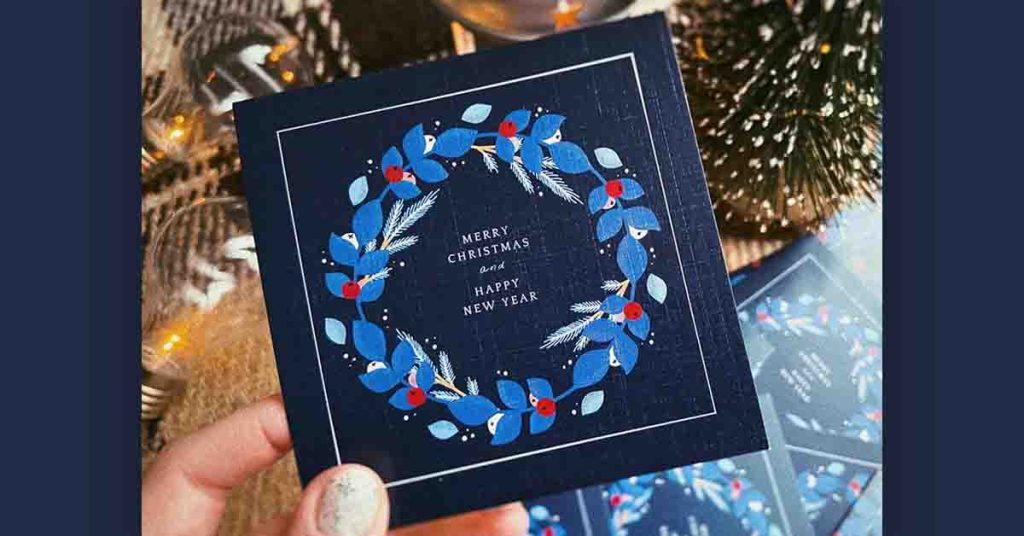 Your holiday cards remind prospective customers that the company appreciates their loyalty and creates a lasting impression on the employees as they feel recognized and appreciated. A warm, friendly card also indicates you have a strong marketing strategy for the season without pinching your pockets.
With so many fun and easy Christmas card ideas available, you don't have to allocate a huge budget to create a memorable remark.
Why Personalized Christmas Business Cards?
Customizing your business holiday cards as per the brand's aesthetics and design unites your interaction with your brand.
It creates a subtle recall in the minds of your customers and network. Pick attractive colors, textures and fonts for your holiday cards and synergize with your brand.
You can also find many industry-specific easy Christmas business card ideas in this blog and on the internet. Whether you are an F&B business, real estate firm, FMCG business, or operating in a service sector industry, design and send personalized cards to your colleagues and customers. 
Christmas Business Card Ideas for 2022
As we look ahead to the holiday season in 2022, it's never too early to start thinking about Christmas business cards! There are so many fun and festive ideas out there. We've rounded up our favorite Christmas business card ideas for 2022. 
From traditional designs to modern takes on the classic holiday greeting, there's something for everyone. So if you're looking for the perfect card to send to your loved ones, check out our list of favorite Christmas business cards to get inspired.
Folk Art cards
Give an edge to your holiday cards with folk art that ties back to your and the company's culture. These cards have a minimalistic look and have practical utility, hence being one of the best X-mas card ideas for your business.
For example, check out the card designed by Amy Louise Baker: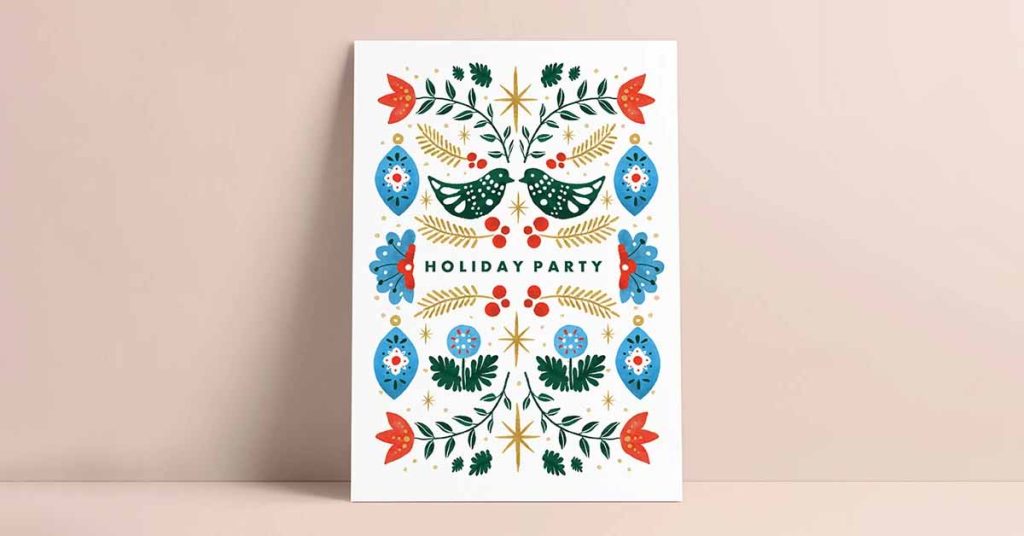 Photo Christmas Business card ideas
Pop-out a photo of your office celebration and let your clients know what a successful team you have. Photo cards are the best way to make and share memories.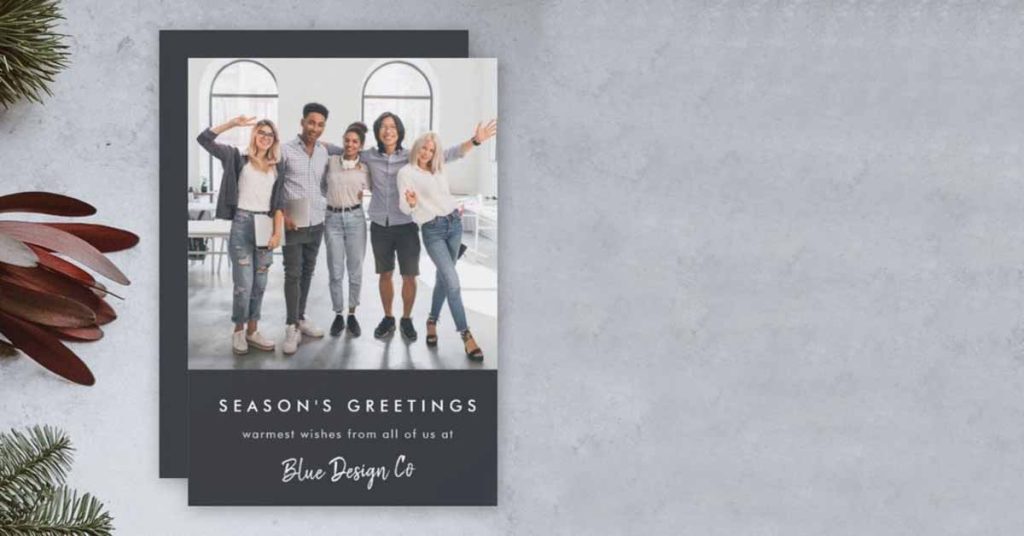 Handmade cards
Handmade greetings are the most popular Christmas card ideas. All you need is some craft paper, glue, and colored pens, and you are good to go!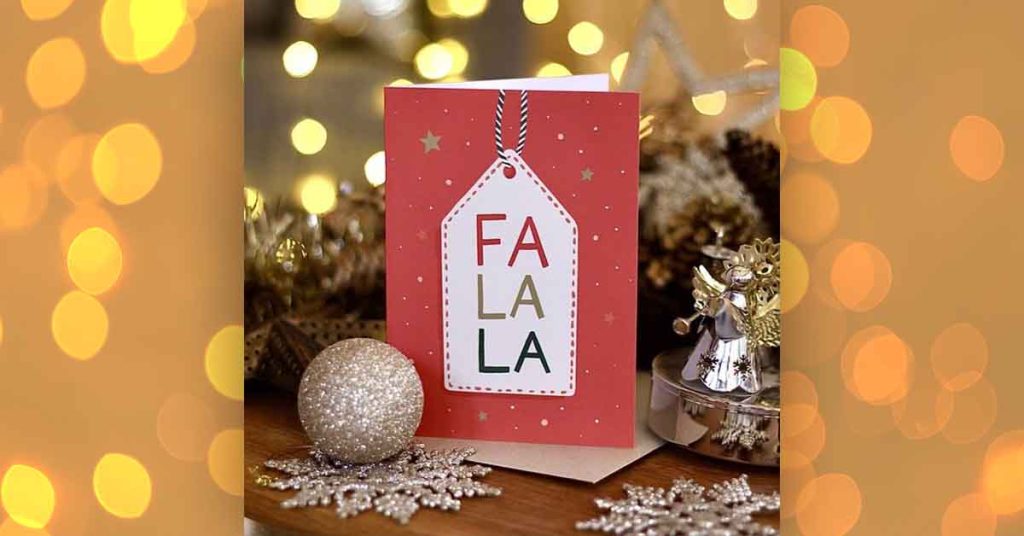 Cute and easy Christmas card ideas
Content Christmas card ideas
If you don't wish to use too much design and colors, consider sending out classic monochromatic cards with personalized messages.
This gives you the freedom to articulate different messages for different people. Do not forget to mention the receipt's name.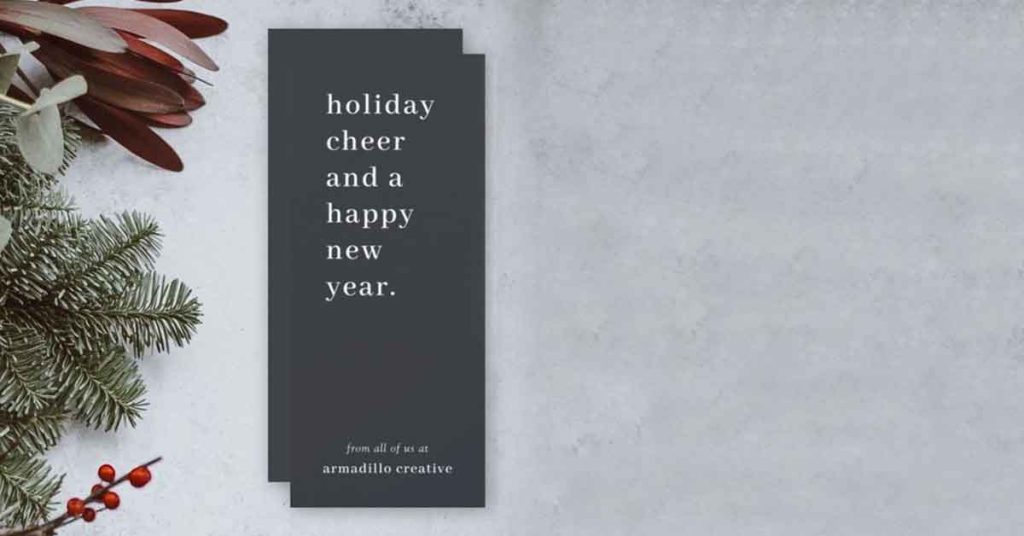 Typographical Christmas cards
Typographical cards emphasize typeface and can be elegant and quirky depending on your brand voice. These cards are simple to execute within tight budgets.
Search for unique decorative or block typefaces and try different angles and shapes.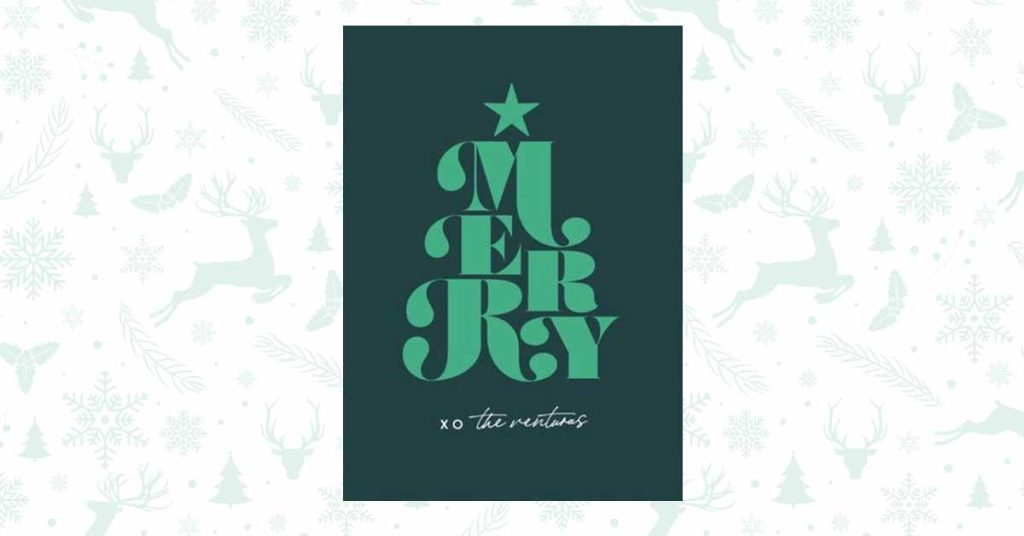 Offer alert card ideas
Share promo codes and announce business offers and collections along with your greeting. Combine the Christmas elements with your existing brand design.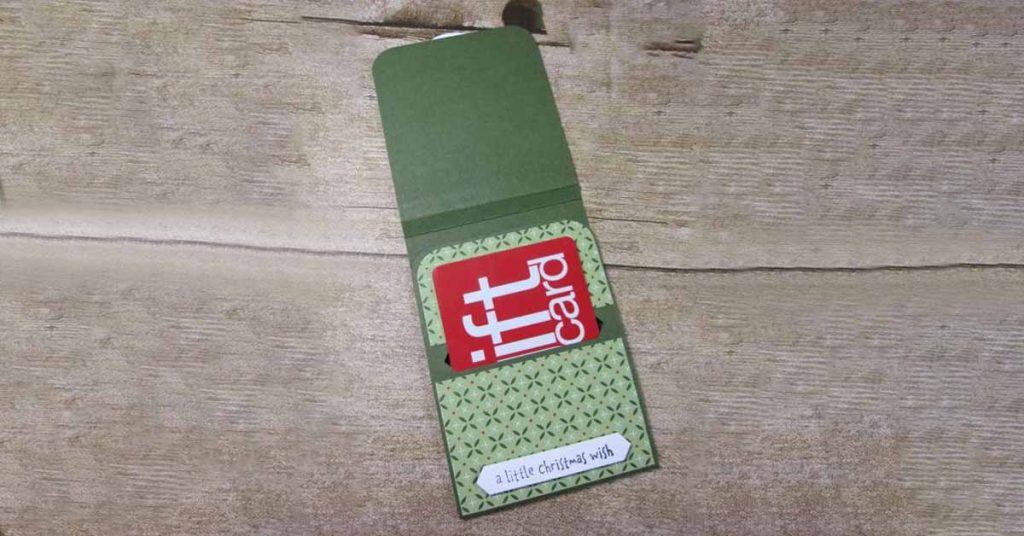 Image and text overlay cards
If you're running out of time, one of the simplest x-mas card ideas to execute is to select a good picture and add a textual overlay.
It's simple, personal and cute. Do not pick stock images. Instead, scroll through your events and find a cheery photograph. Or, make some time to click one.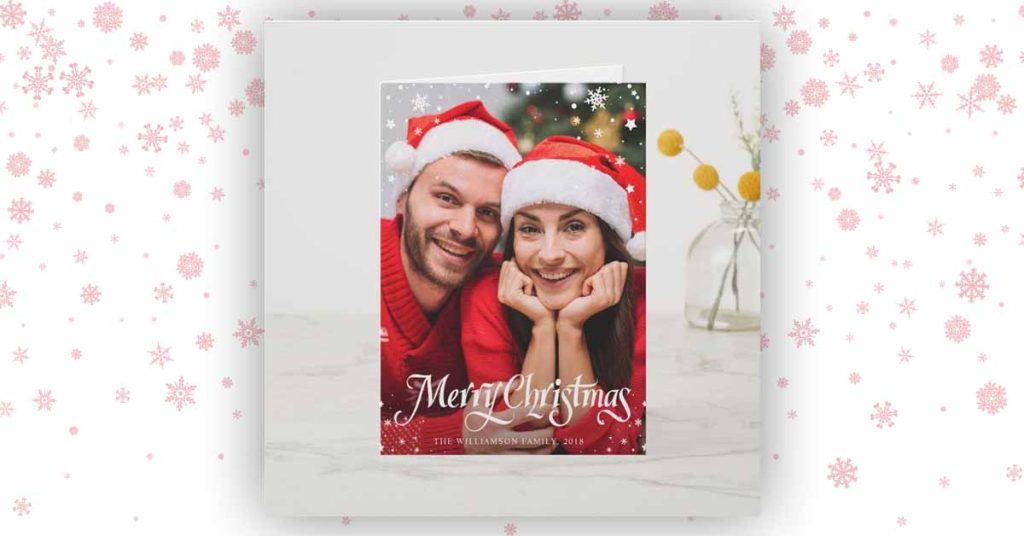 Minimalist Christmas business card ideas
Minimal cut-out cards
You can buy white and colored papers, preferably Christmas colors and make cute cut-outs on the white paper using a puncher. Then, stick it on the colored paper, and your card is ready!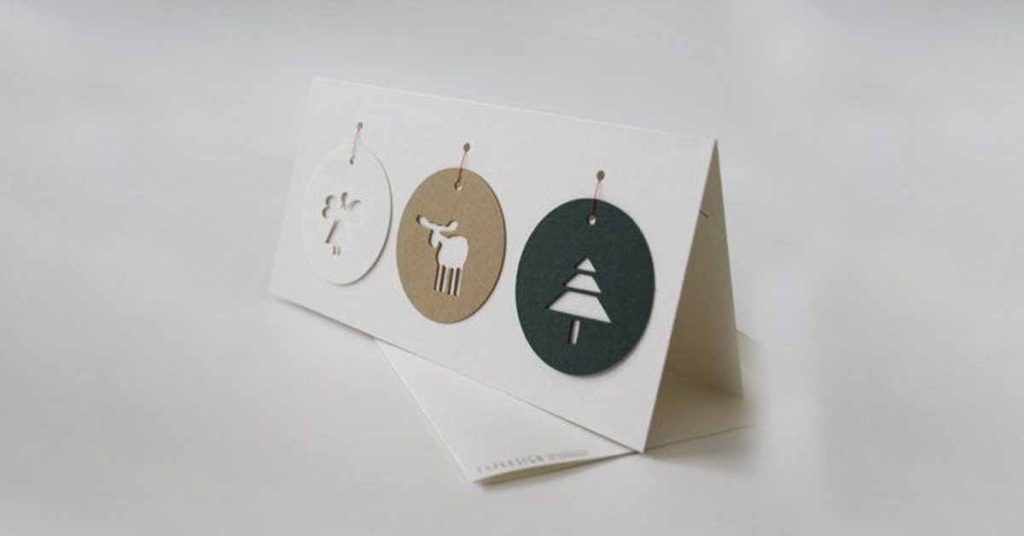 Doodle Xmas card ideas
Get on the minimalist trains by picking up sketch pens and doodle Christmas characters on the greeting card. Then, finalize the sketch, digitize it and send it out for bulk production.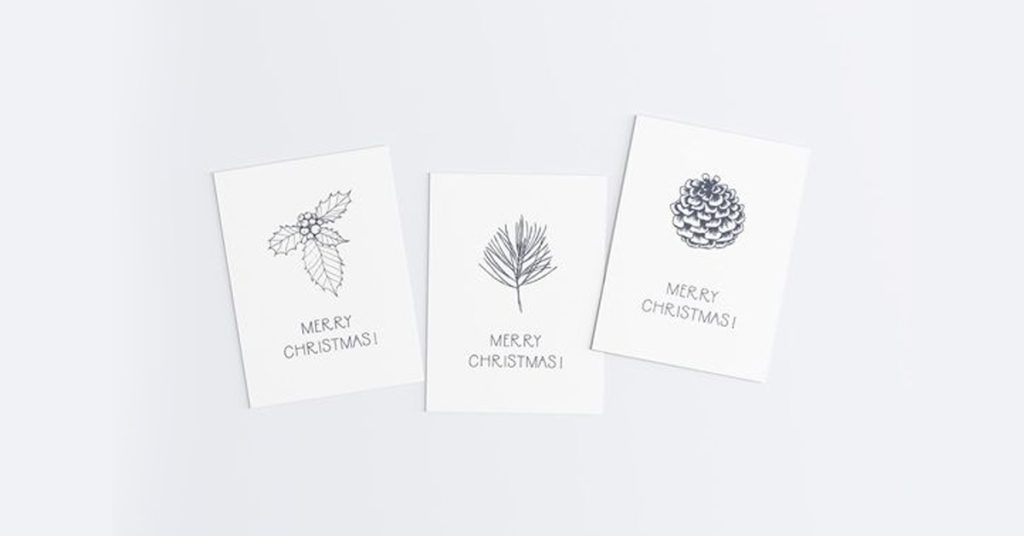 Minimally engraved invitations
Got a Christmas party? Create party invites with dates engraved at the center of the card in big fonts and a clean background for an appealing look with minimal effort.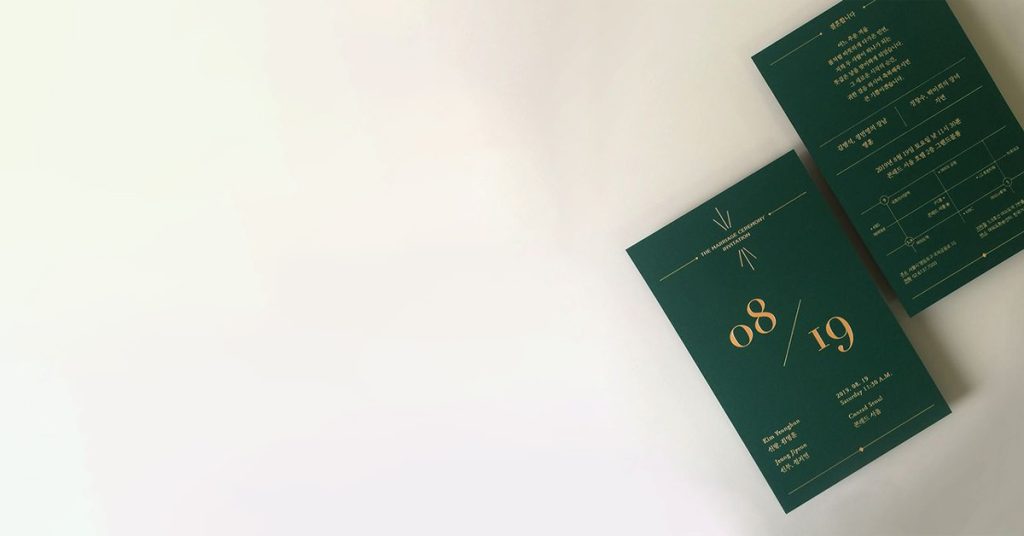 Sign only, please
Use fonts and punctuation to create Christmas symbols. These minimal designs need not have any text and work very well as business cards as well.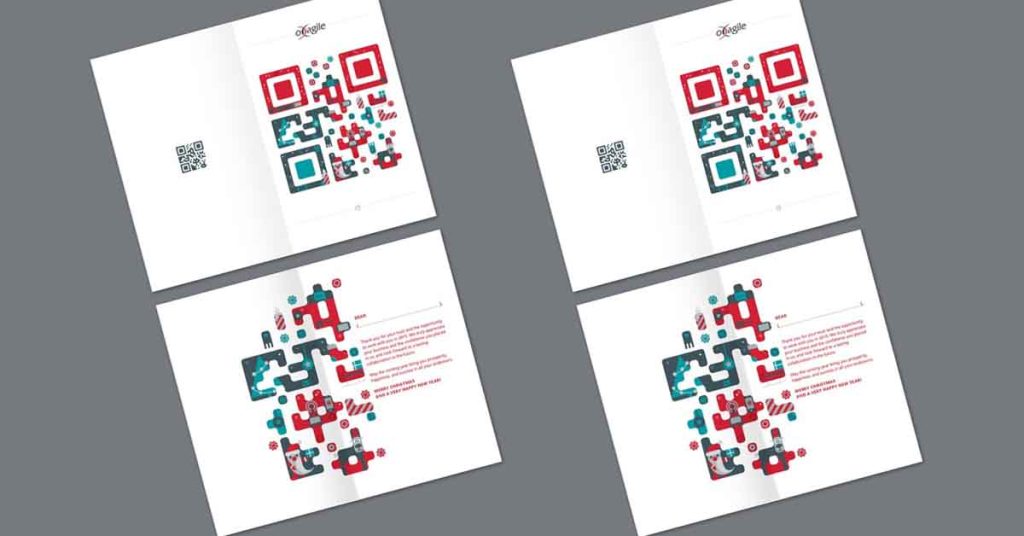 3D Christmas business card ideas
Em-BOSS it out
Color on color paper can be achieved with 3D embossing that adds texture to the Christmas business card. Emboss your logo or a Christmas element, and wing it like a boss!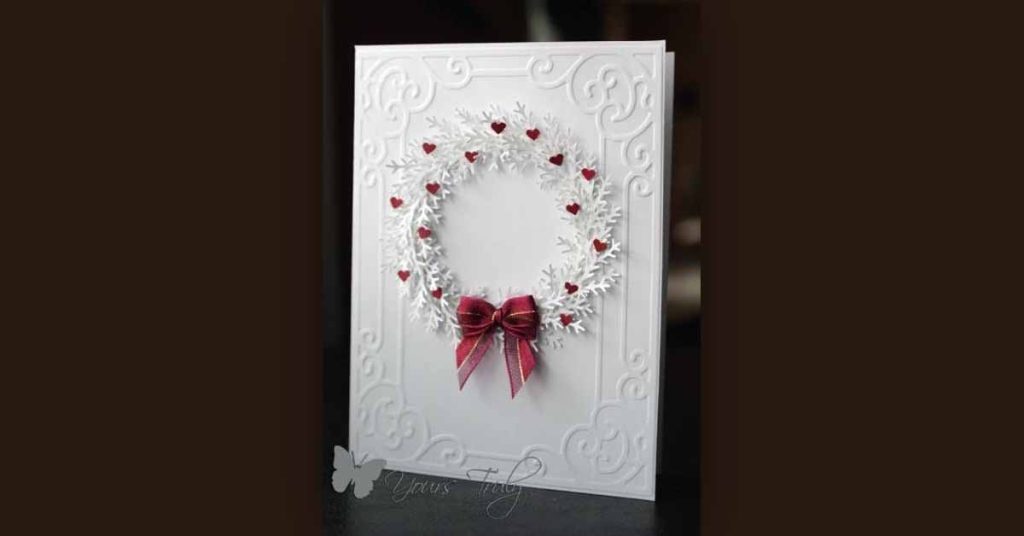 3D pop-out cards
One of the trendiest Christmas card ideas in town. It is super easy to make and adds a surprising element to the holiday car. Make an open and pop-out card or write hidden messages on the cover — you have unlimited ideas to try.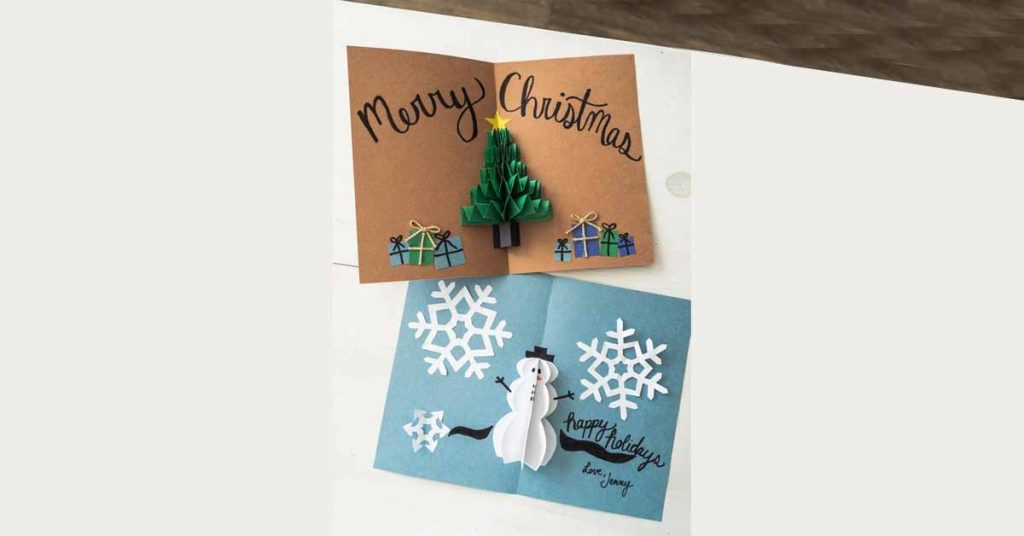 3D Art and craft Xmas card ideas
If you are a product-based brand, you can showcase your products in a fun way on gift cards. For example, make a reindeer out of beans, or use popcorn kernels to remind your customers to go to a movie. It will give your employees and customers a major craft class nostalgia.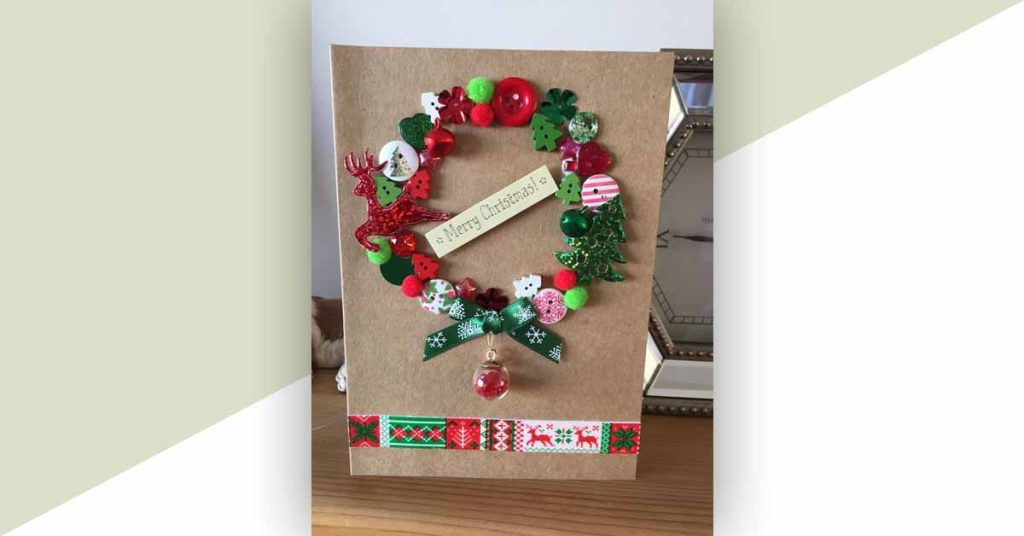 Linocut Christmas business card ideas
Graffiti-inspired Christmas card ideas
Give a pop of color to the greeting, and move away from the usual red to a graffiti-inspired lino print.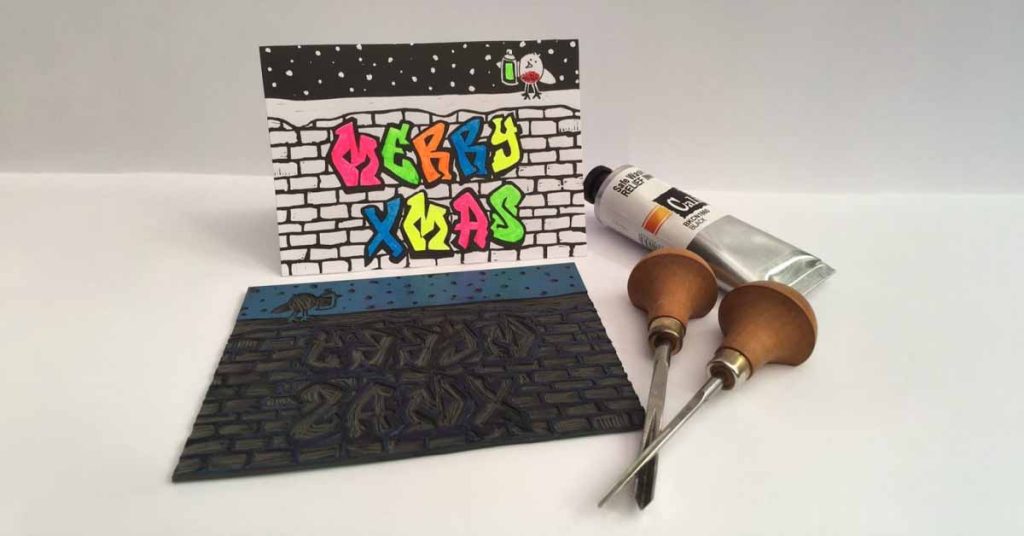 Linocut collage
Give a peppy look using the lino print for your Christmas card. Double the print to the front and back of the card and make a collage.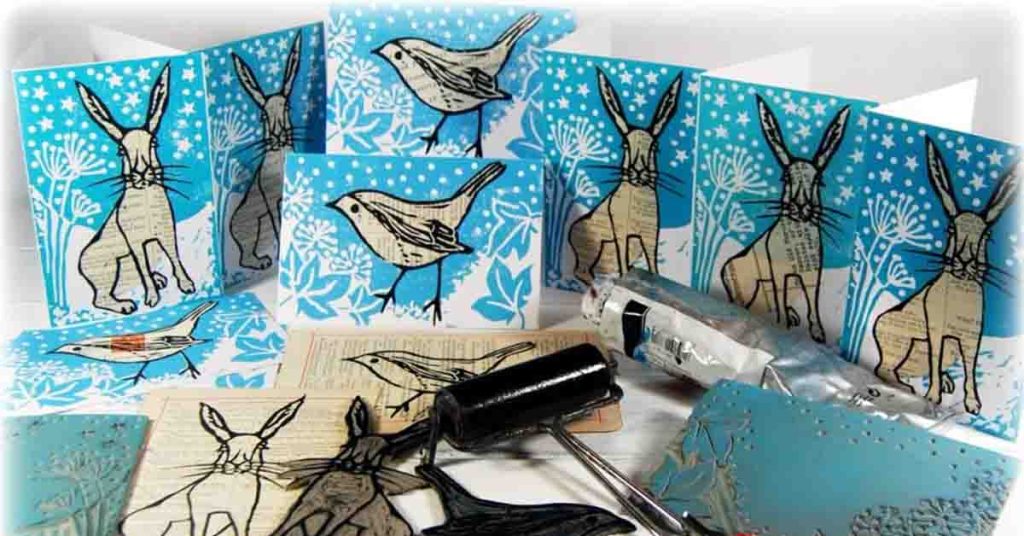 Christmas card handprint ideas
Team wreath handprint card
Use two shades of green and ask your team members to place their hand prints one by one and make a wreath. It's a great team exercise to enliven the holiday team spirit.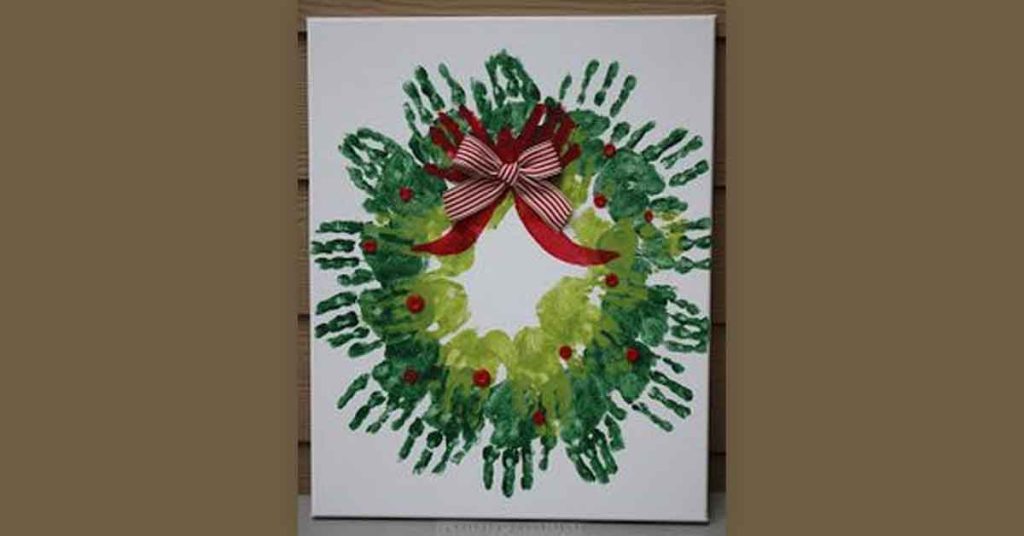 Handprint Santa
Use some white paint and make an upside-down handprint to make a beard. Sketch Santa's face and hat. Add any other detailing required to make a fun handmade Christmas card for your employees and customers. This works great for small, artsy businesses. Think of different ways to create handprints.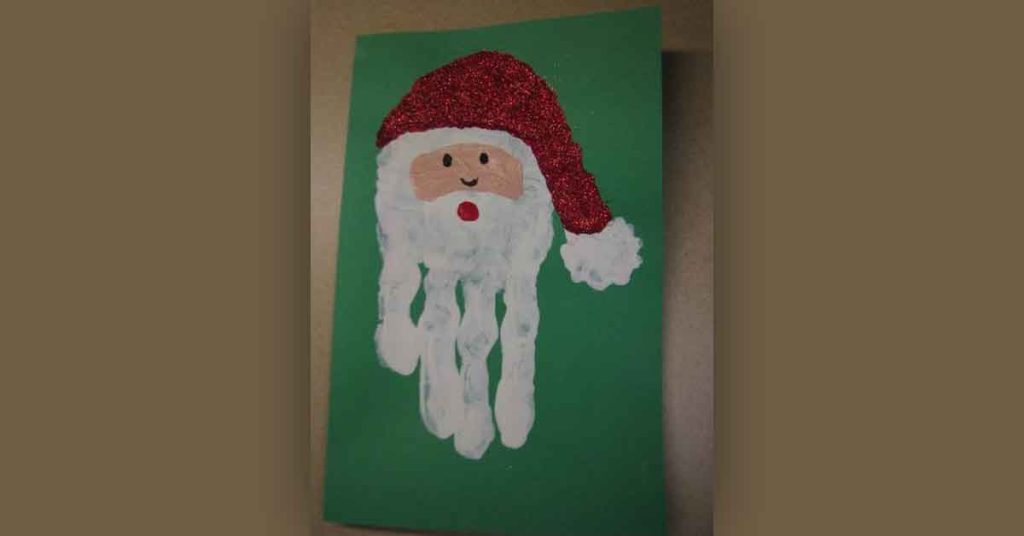 Funny Christmas card ideas
Xmas card ideas for drinkers
Do you have employees who always need an excuse to drink, or are you sending premium alcohol to your clientele? Send customized cards with graphics and alcohol puns to celebrate the Christmas spirit.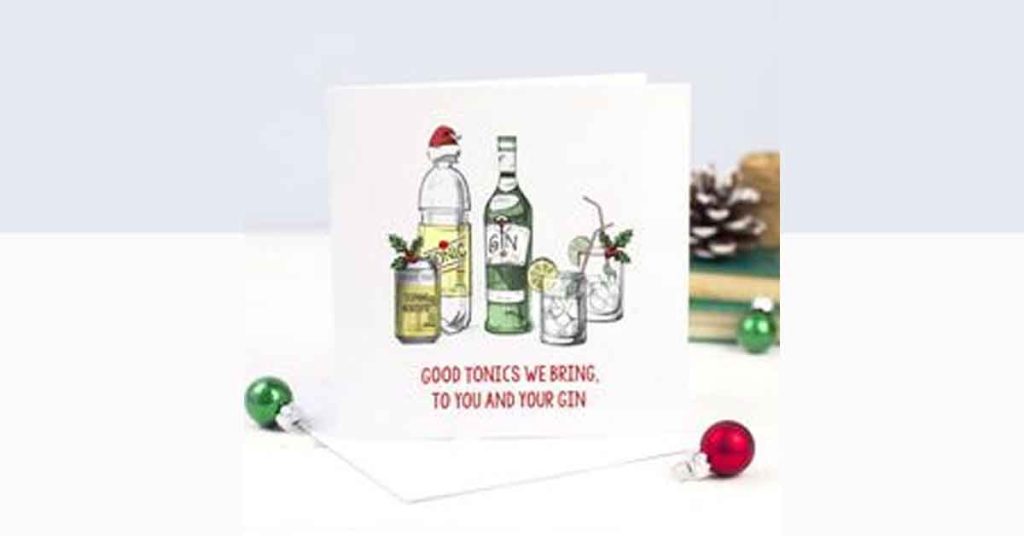 Pop culture references and memes
Have you all been discussing the same Netflix show in the office? Relatable memes and references are a great way to roll out Christmas card ideas this year.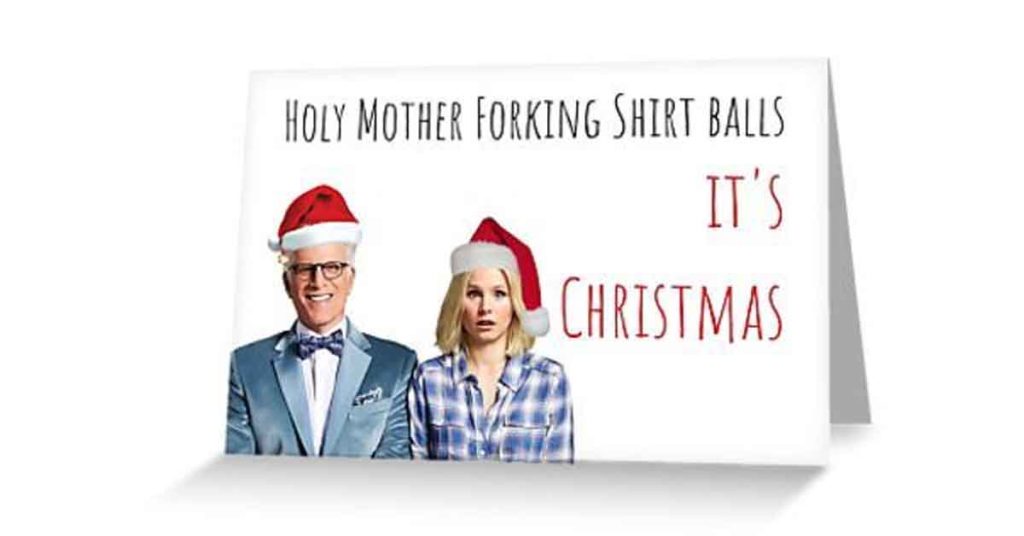 The millennial card
A lot of the budget can be saved in holiday greetings if you just pick out a simple template on Canva and put elements and use language for the millennials.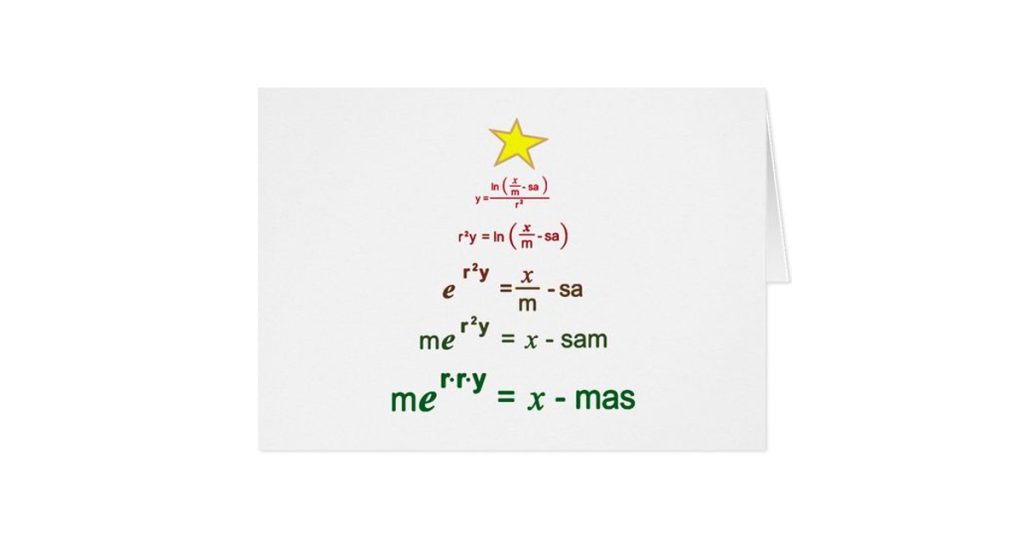 Types of employees Xmas cards
Every employee has a trait he/she is famous for. For example, someone is a picky eater, another is always on a diet, or one can't stop eating. Create a shoutout for your coworkers with a fun, personalized Christmas card.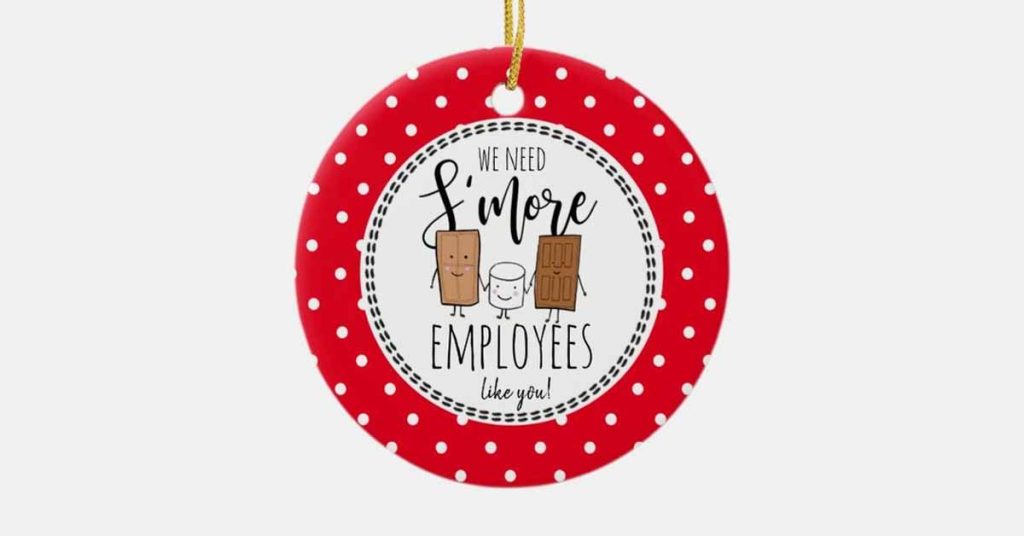 Christmas Puns
Who doesn't love a good old Christmas pun? Are you a workplace comedian? Then, go ahead and make everybody laugh at your lame Christmas jokes.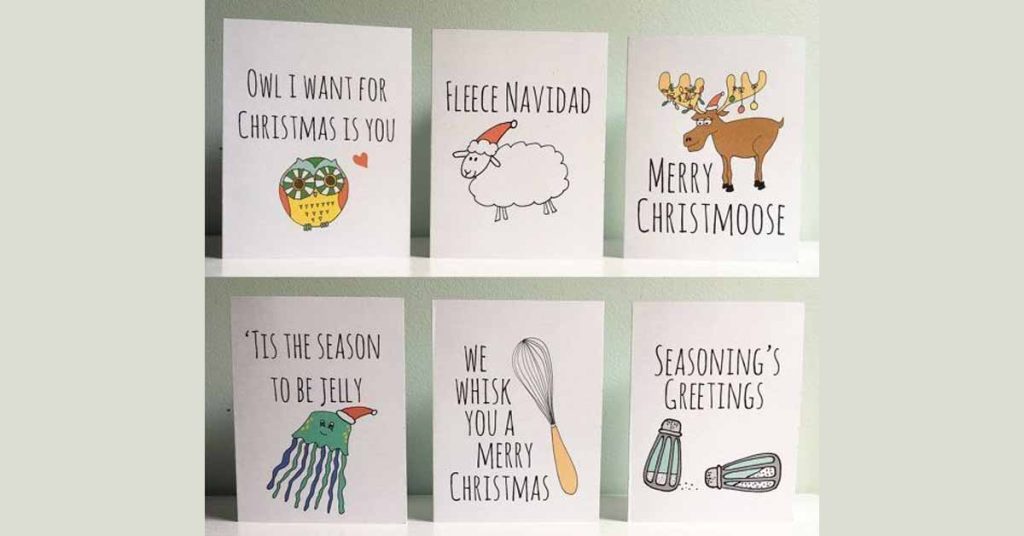 Creative Christmas cards
Send an Information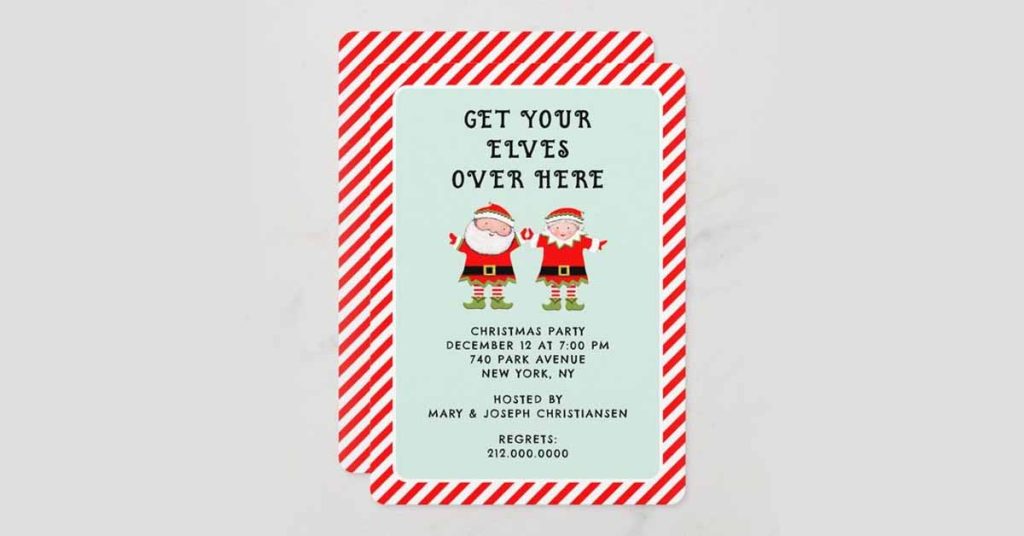 Hosting a Christmas potluck in the office? Send out creative invites with important information about the event, such as instructing to wear Joey pants for the turkey.
DIY Sustainable Christmas card ideas
Use any random scrap material, say cotton, paper, used pens or even tape and repurpose them to make a Christmas tree. It's called creativity and sustainability packed in one.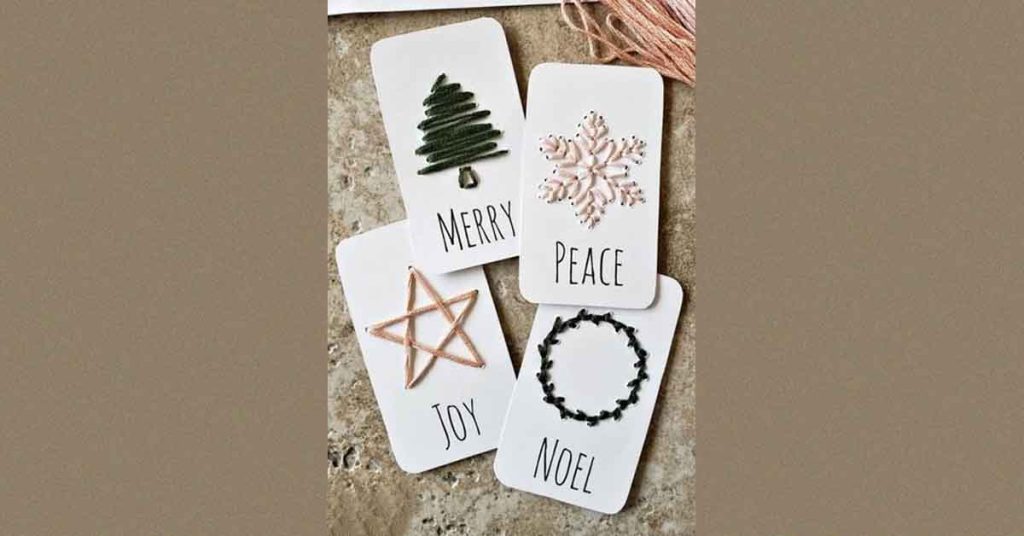 Caroling out Christmas cards
Are you a big fan of Christmas carols? Bring out the inner poet in you and invent fun and modern Christmas carols for your greeting card instead of a standard message.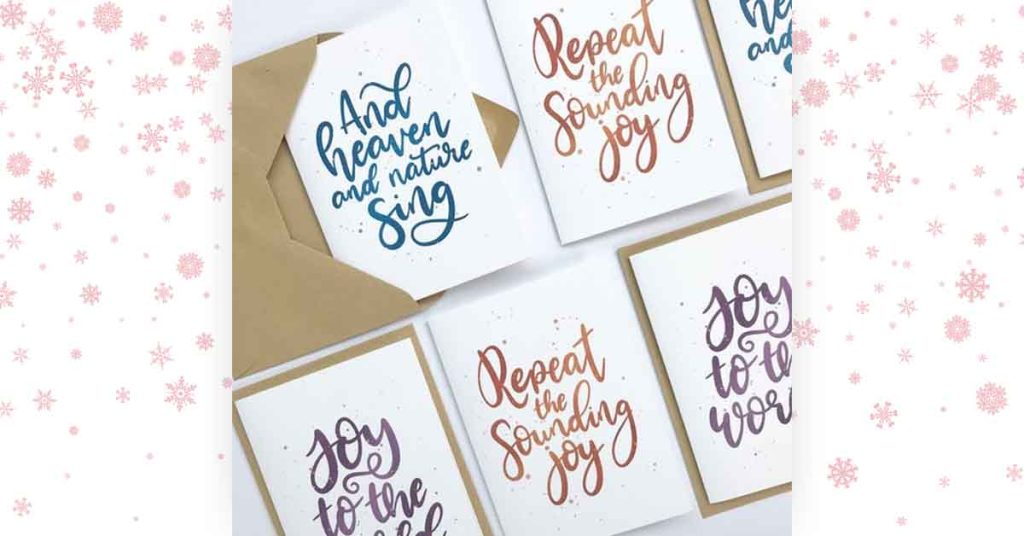 Gift card, Literally!
Integrate a small gift box, an actual Christmas card, or hide small presents inside your card. Is it a gift? Is it a card? Who knows?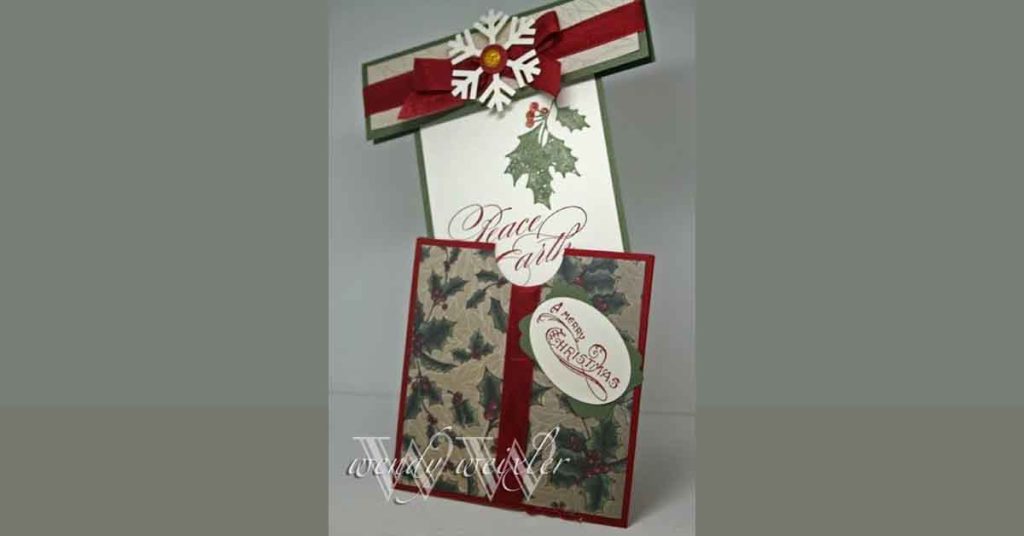 Junk Journal Christmas card
Obsessed with journaling and stickers? Use your office stationary, buy some stickers from the locals and give a vintage feel to the greeting cards.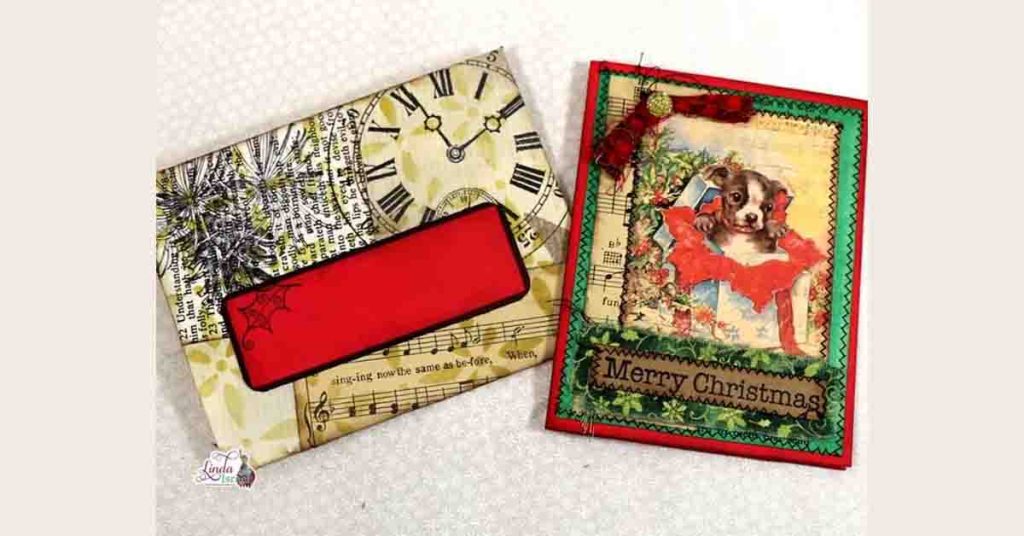 Ornamental Christmas cards
The Christmas tree is not the only place for ornaments; you can create a beautiful DIY Christmas greeting in the shape of a decoration or by adding small embellishments to the card.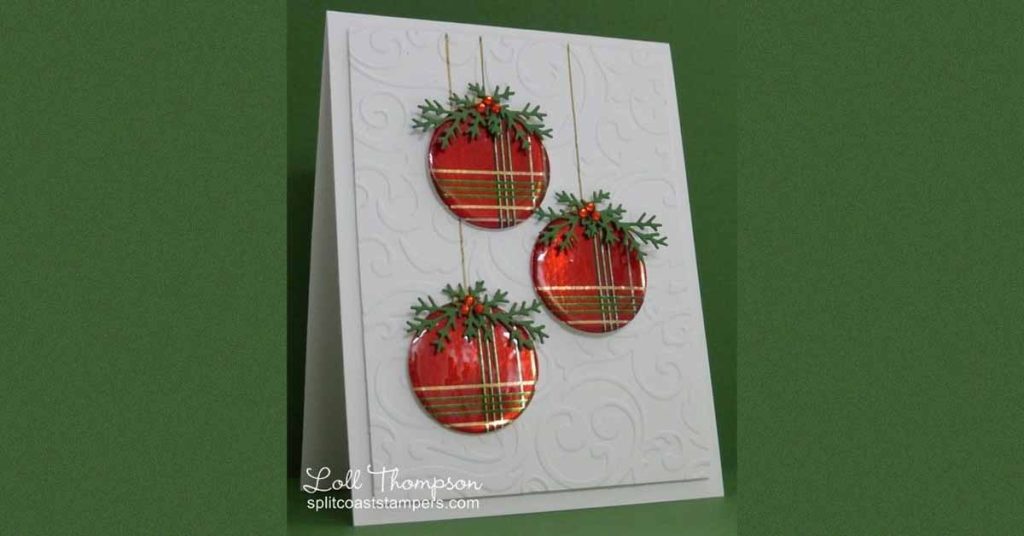 Christmas card illustration ideas
Angular Patterns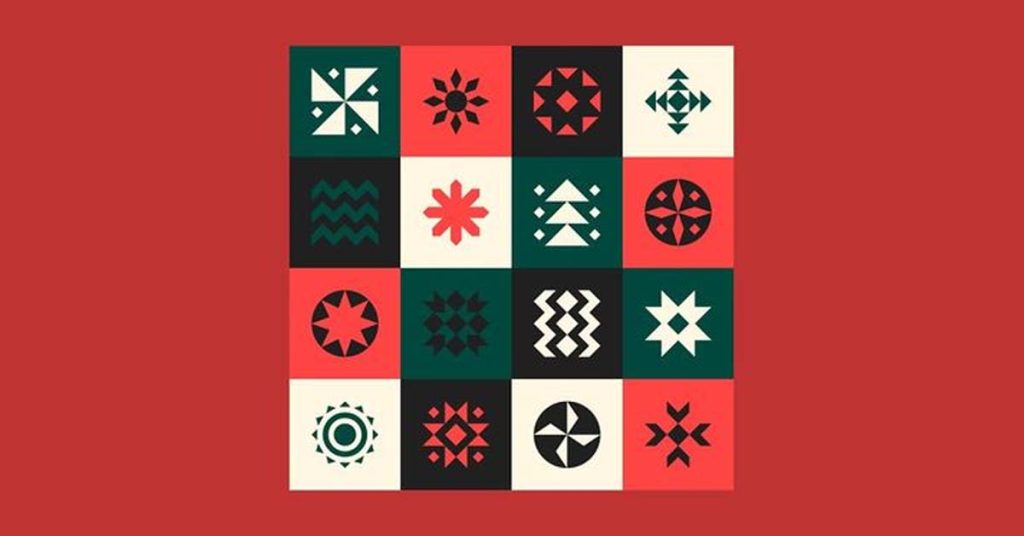 Patterns create a design harmony and add a graphical tint to cards. These patterns can easily make any shape, whether a Christmas tree or a snowflake. Adding multiple closures to the patterns accentuates the design even further.
Flat modern illustrations
Designers who prefer minimalistic illustrations prefer flat designs with bold colors and minimal details, much like this abstract Christmas girl illustration by Olga Semklo. Check out trending illustration styles of 2022 to find a style that aligns with your brand voice and is perfect for your Christmas greetings.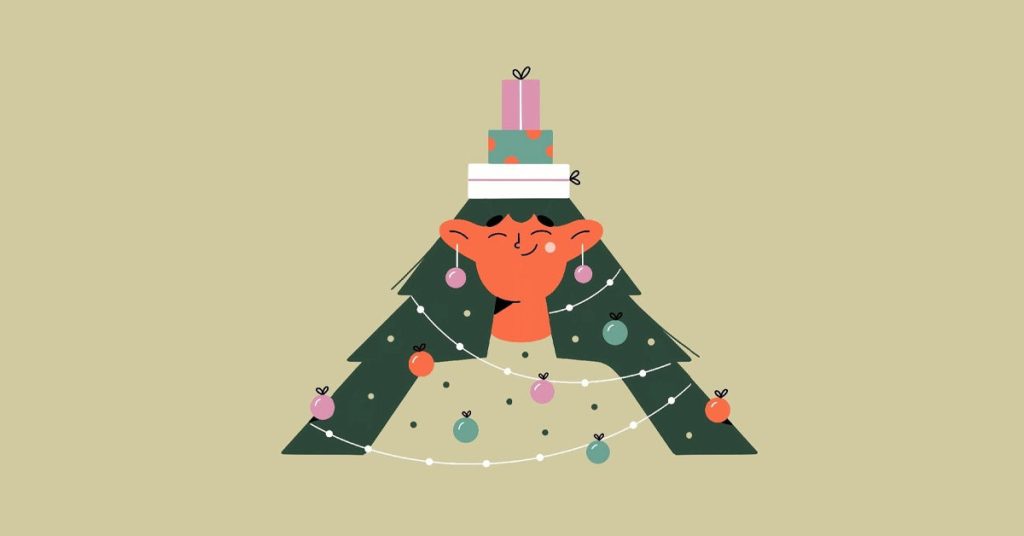 Pop art illustration
The pop-art culture uplifts the design, and contrasting colors add more fun elements to the art. You can try this illustration style on your Xmas cards.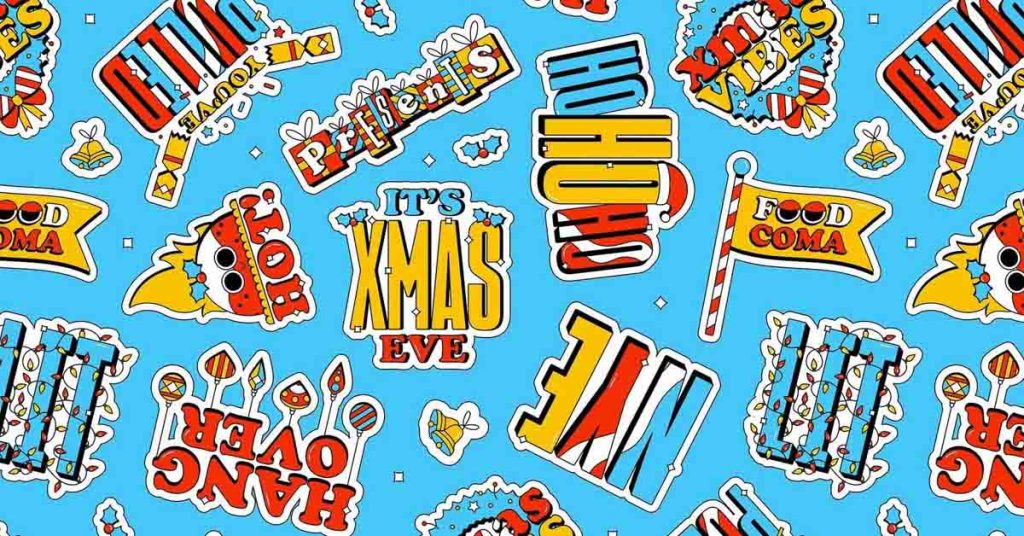 Cartoon style illustration
The design and facial features of the characters evoke a sense of deep affection within the readers. So if you are a fun brand that caters to a diverse niche, adding a friendly cartoon illustration to your greeting card is an excellent idea. You can even use this in festive product packaging as well. Or if you have a brand mascot, why not use them?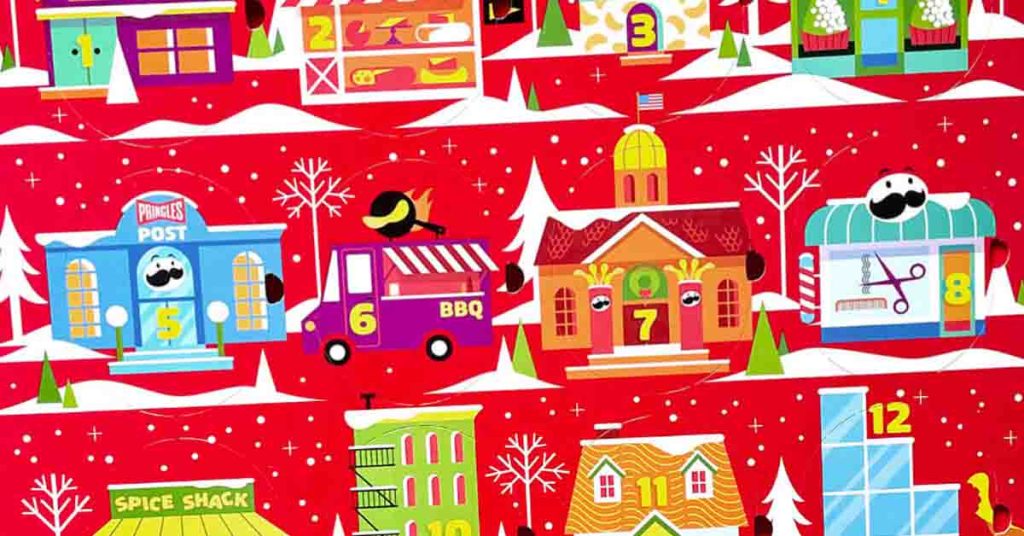 Abstract Christmas tree illustration
The Christmas spirit doesn't have to come through a traditional pine tree. Instead, you can demonstrate it through your wild imagination. Set your abstract meter depending on your brand identity.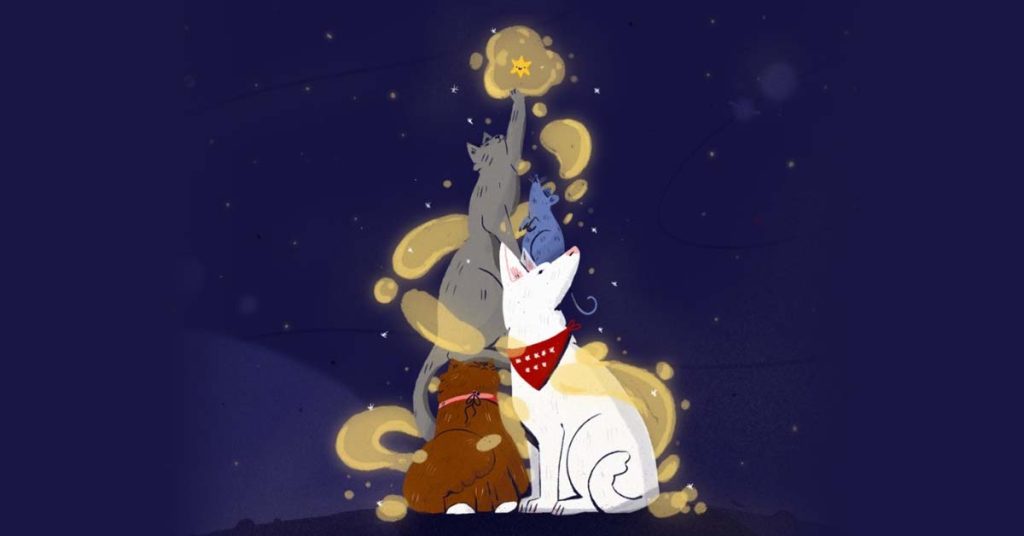 You can also consider professional help from Design Shifu for custom illustration and Christmas card design. Our subscription offers UNLIMITED GRAPHIC DESIGNS for just $399 for the entire month.
Cricut Christmas card ideas
Wooden cards
Got a Cricut machine? Use it to carve out shapes in pieces of wood, as well as print your message. It gives a very unique and sleek aesthetic to the cards.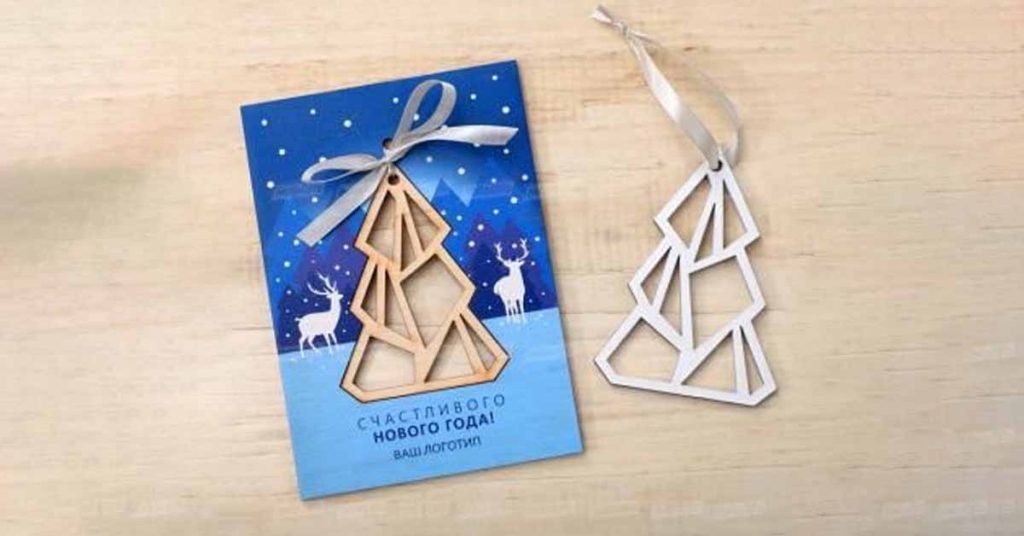 Paper cut Cards
Cricut products are precise and can be used to carve shapes and letters perfectly. So what is better than spreading love and joy with elegant messaging?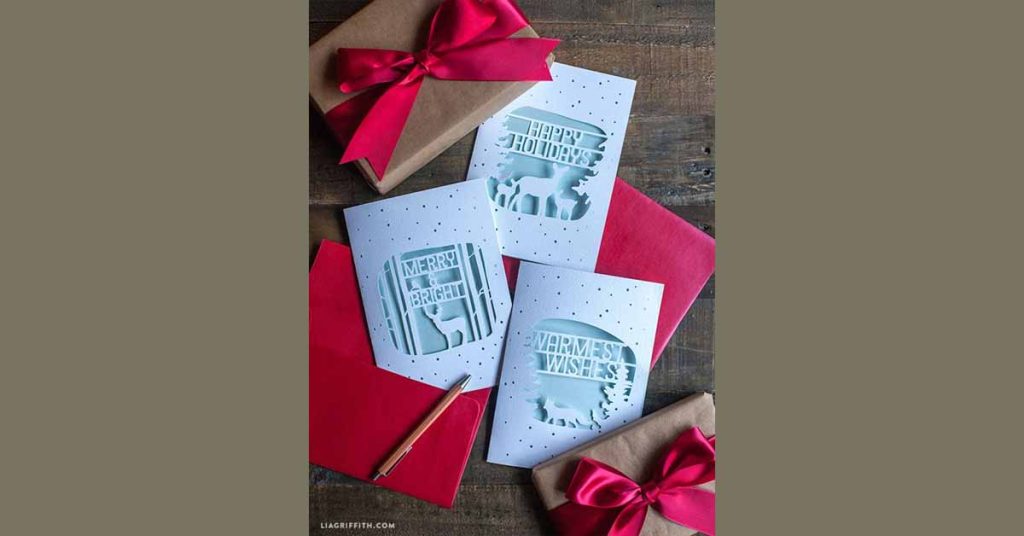 Hand lettered cards
Hand lettering cards are simple yet stylish. Add a Merry Christmas to the cover, and you're good to go with a spectacular DIY Christmas card using Cricut.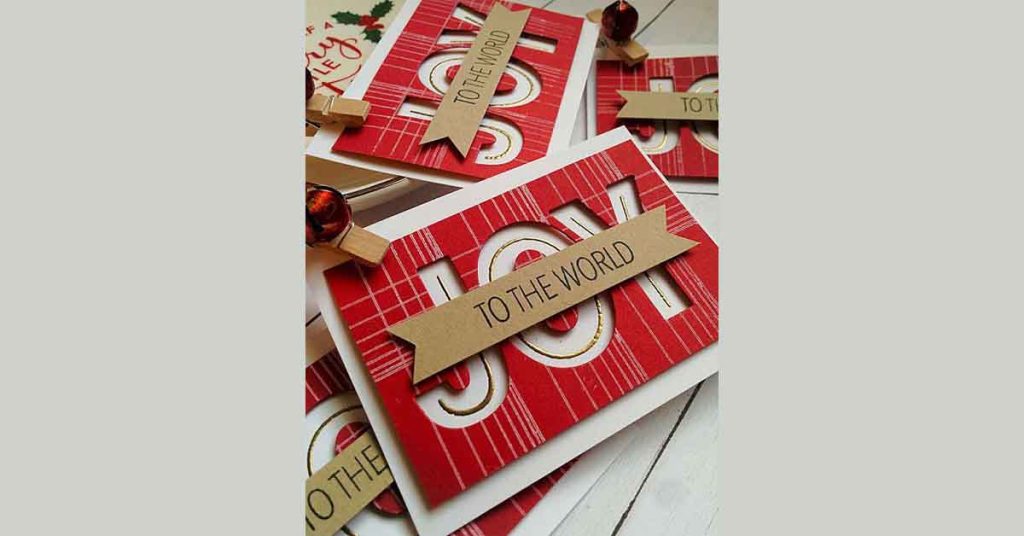 Layered paper cut cards
These cards have a depth of design and look complicated but are super easy to make, especially with the help of the Cricut machine.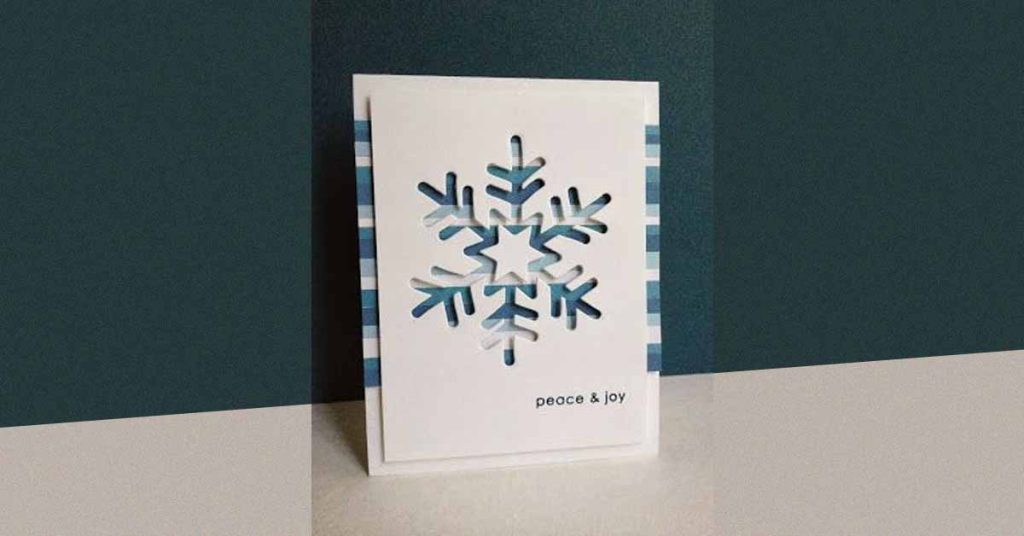 DIY Snowman Christmas cards
If you have time, love crafts and are looking for a fun and festive way to spread some holiday cheer, why not make your own snowman Christmas cards? This is a great project for kids and adults alike, and it's sure to put a smile on the faces of everyone who receives one.
You'll need some white cardstock, scissors, glue, and markers or crayons to get started. First, cut out two circles from the cardstock – these will be the snowman's head and body. Then, use markers or crayons to draw a face on the head circle.
Next, cut out three small circles from the cardstock – these will be the snowman's buttons. Glue them onto the body circle in a row.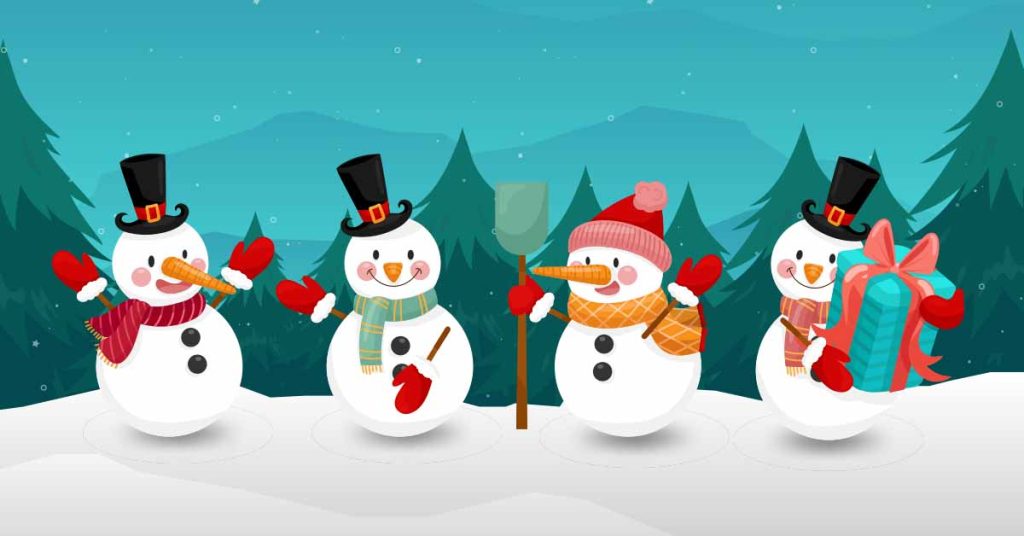 Now it's time to assemble your snowman! First, glue the head circle onto the body circle, lining up the bottom edges. Then, glue on the arms – we just used small strips of paper folded in half.
Finally, add any other finishing touches you like, for example, holly leaves, berries and a scarf using the scraps of leftover paper. Once your cards are complete, write a festive message and send them to friends and family!
Home-alone Christmas card ideas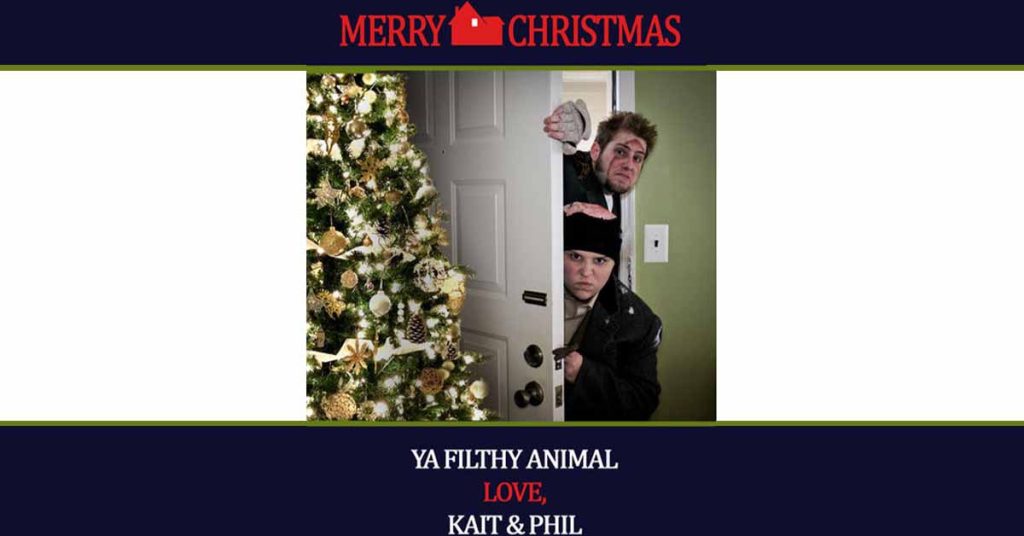 You can try something different this holiday season with home-alone Christmas cards for movie lovers. You can even go for other of your favorite Christmas movies. They are perfect for leaving a memorable impression on recipients.
Yard Christmas card ideas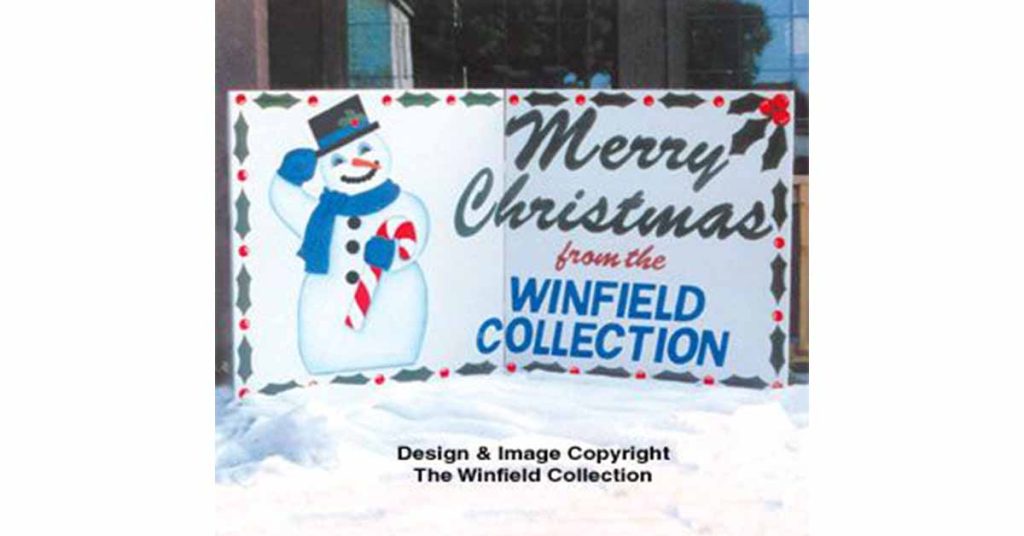 Use old recycled Christmas cards to make a fun and unique collage. Tie some yarn or string around the card, then add a button or other small decorations to create a mini snowman.
Turn a white sheet of paper into a snowy scene by adding cotton balls and other simple materials. Then, top it off with a cut-out snowman for a festive look.
Make your own photocopies of family or team photographs and turn them into adorable frozen moments by drawing on some extra frosty details.
Christmas tree handprint card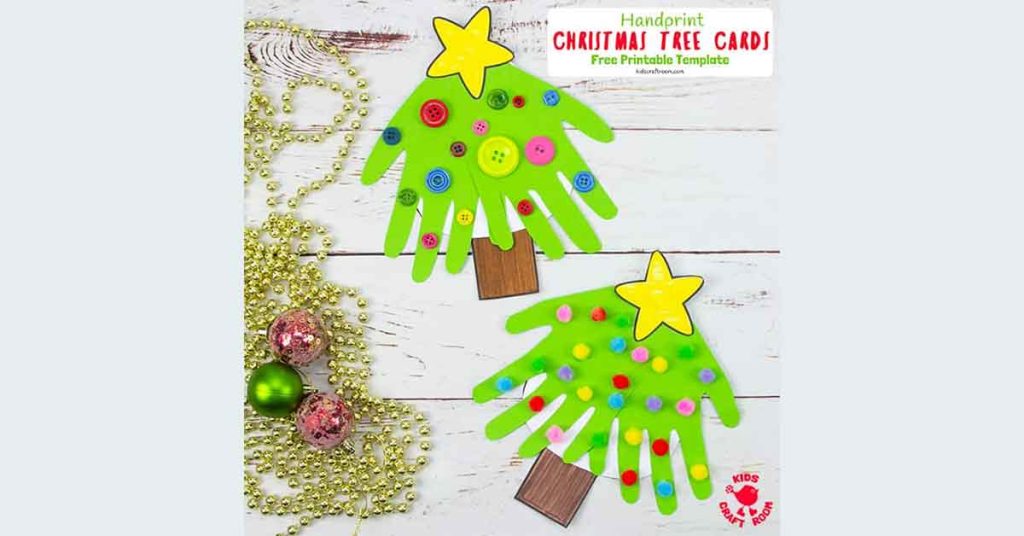 Making a handprint Christmas tree card is a fun and easy way to create a special Christmas card for your friends, family, colleagues and customers. All you need is some construction paper, scissors, glue, and markers.
To make the tree:
Start by tracing your hand with your thumb, and pointing to a piece of green construction paper.
Cut out the handprint.
Cut out a small triangle from the top of the handprint to be the tree's point.
Now you can decorate your tree!
Glue on some glitter or sequins for ornaments. You can also use markers or crayons to draw on decorations like presents under the tree or lights around the edge of the paper.
Once you're finished decorating, write a message on the back of the paper and sign your name. Then give your beautiful handprint Christmas tree card to someone special!
Making your Christmas cards is a great way to add a personal touch to your holiday greetings. Plus, it's a fun activity for the whole family to enjoy. With just a few simple supplies, you can create beautiful and festive cards that will bring smiles to the faces of your loved ones. So gather up your supplies and get creative! Or, open a design tool like Canva or Illustrator, and create custom illustrations and patterns to design personal digital cards that you can print later and send in your newsletters.
If you're running out of time, why not subscribe to Design Shifu to design customized Christmas Cards for you? You get unlimited graphic designs and a dedicated designer to take care of all your design needs.