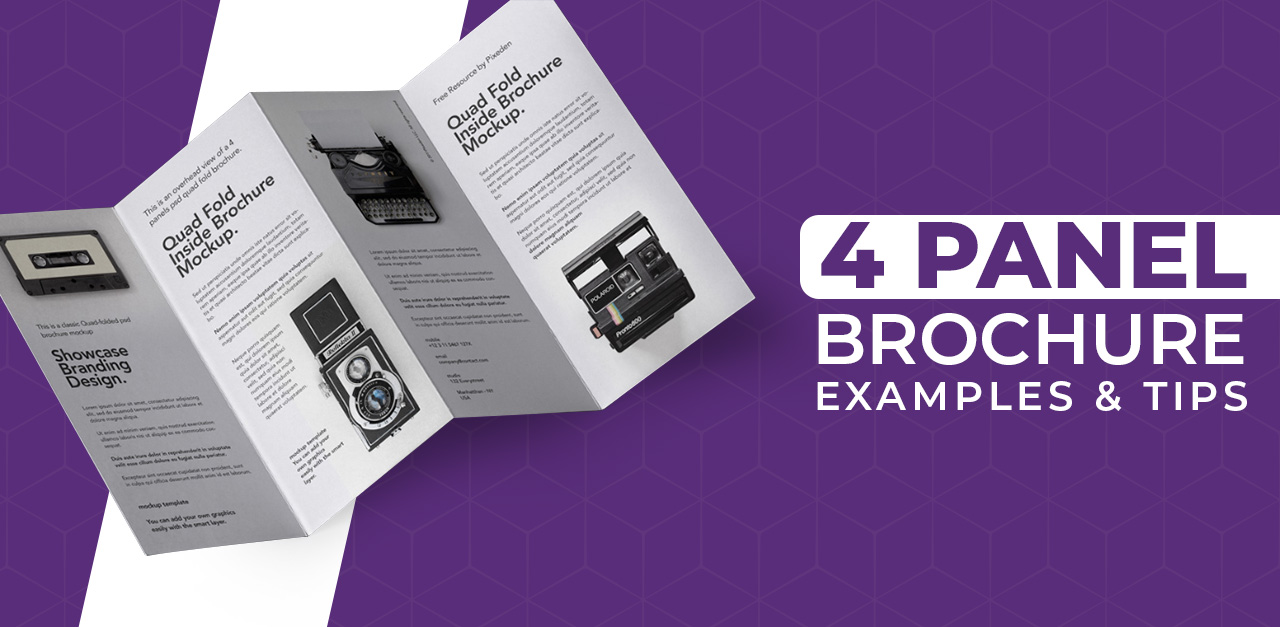 In this growing digital world, is a brochure still important? Yes, if you ask us. A brochure is an integral part of the company's branding process. It is a resume of the company if put in simple words. It should contain all the important information related to the company like services, details about founders, CTA, etc.
A 4-panel brochure is a good brochure size for a start-up to begin with. Since it is a fairly new business, not too much information would be available to put down in the brochure. Also, to acquire new clients, it is better to start by giving out only the necessary information. Know all about brochures here.
As per a quote, "Design should never say, Look at me; Design should say, Look at this." It is important to make the best-looking brochure. Since it is going to be the first impression about the company to a prospective customer, it has to tick all the boxes. What should the boxes be? Let's find out:
The brochure should not overstate information about your company.
The brochure should be made with high-quality images and should be grammatically accurate.
The brochure, if printed, should be printed on high-quality paper.
The brochure should be able to provide a solution to the prospective customer's current issues.
A simple design and less jazz is the key to a good brochure.
If all these points look overwhelming to you, why not reach out to Design Shifu for making your 4 panel brochure? We are convinced, you won't be disappointed.
Examples of 4 panel brochures:
Uniform colored 4 panel Brochure
A same colored 4 panel brochure is the simplest form of a brochure. The colors to be used should be brand colors or from the family of the brand color. Images and text can be used as per the design finalized by the brand. Like this.
This reference has examples of brochures with text and images and 1 with only images. The examples look clean and aesthetic with the pastel colors used in the brochure.
If you are a start-up that doesn't want to use too many images and would like to use illustrations in your brochure, these are some ideas that you can use for illustration-based designs. These are simple and doable and yet look very beautiful and classy.
Story-Telling 4 panel Brochure
What is a brochure without some good storytelling? We as humans have always loved stories and stories have been our comfort zone. And what if a business creates a good story in its brochure? Wouldn't it grab the eyeballs and interest of its prospective customers? Yes, we think it would. Like this.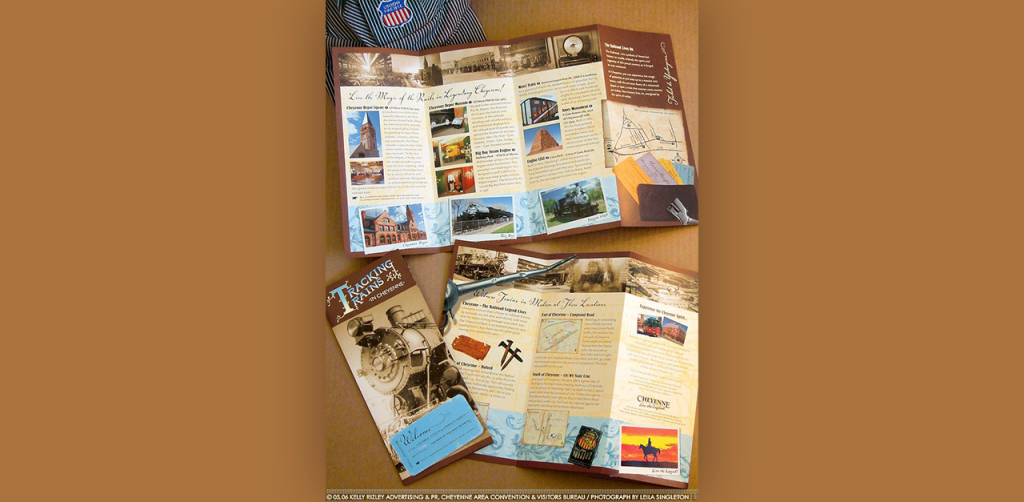 Though this is a bit text-heavy, not much to our liking, it has a story plastered all over the brochure. The colors and imagery used also adds to the interest of the reader and they would be keen to know what this business has to provide. And that's a job done well.
Another example of a storytelling brochure is this.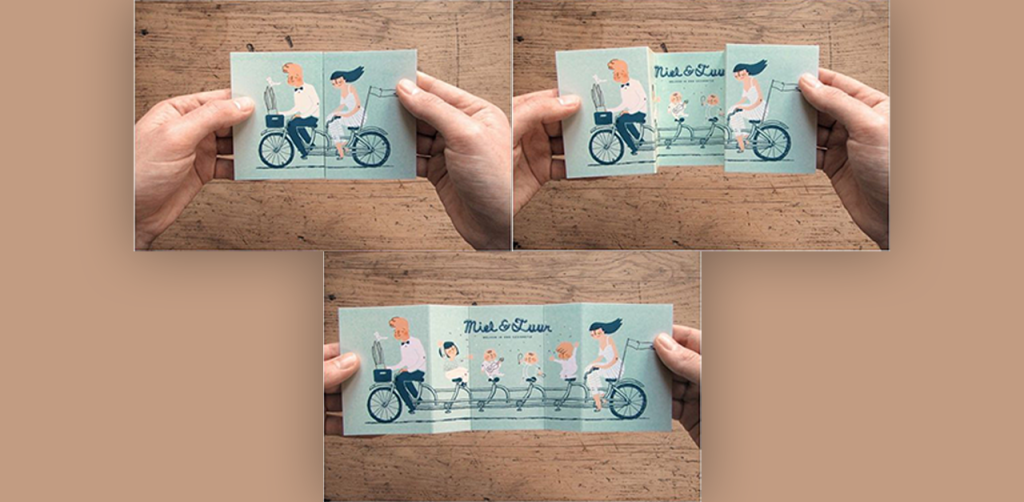 Using cute illustrations and a curiosity-driven cover, this brochure also serves as a good starting point for your prospective customer to know about you.
It requires a lot of skill and designing ability to make a good storytelling brochure. You need an expert like Design Shifu to create your story into beautiful designs. Get a dedicated designer and unlimited graphic designs for just $399 per month from Design Shifu.
Interested in a few custom illustrations for your brand? Then refer to this for some inspiration.
Text-Heavy 4 Panel Brochure
There are a lot of brochures that rely more on text than on images. Like this.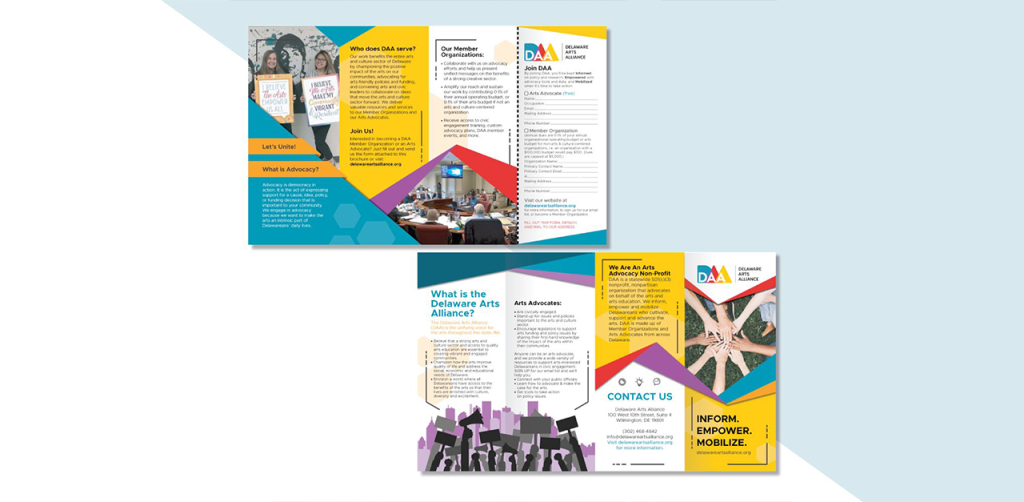 Such brochures are for businesses that rely on data and information more than pictures. Or where the end customer is looking to find a solution for a business problem. However, it can also be created by a museum, which invites patrons to visit their facility for sightseeing and learning. These brochures have information, which if not displayed properly could make it cumbersome for the reader to read. Hence, a lot of precision is required while the curation and arranging of the data in the brochure.
Another example of a text-heavy brochure is this.
Look how beautifully and aesthetically has the brand arranged the images and the text so that the design doesn't look cluttered and pleases the naked eye.
Tear Away 4 Panel Brochure
This type of brochure uses 4 panels, however, the last panel can be used as a form for prospective customers to fill out. Companies doing surveys, events, etc. use this type of brochure. Like this.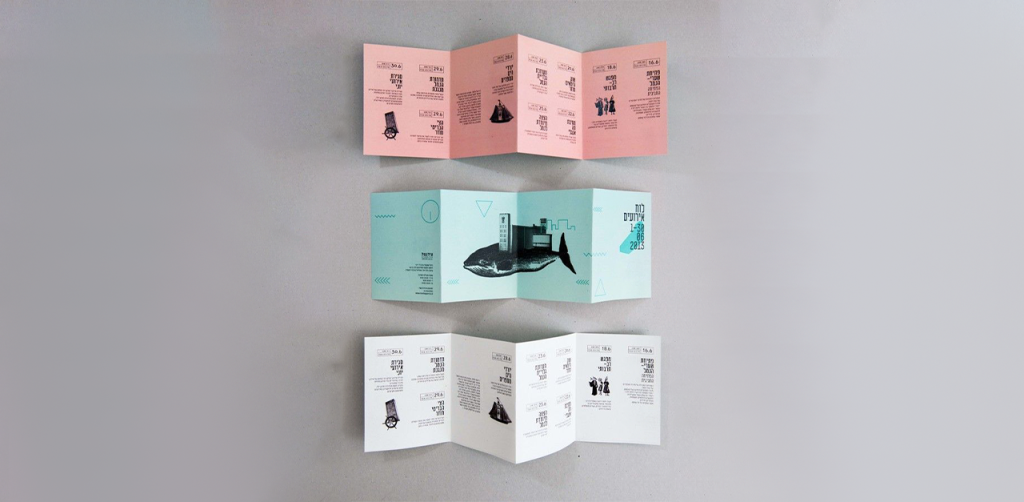 The company can add the form, social media icons, and a QR code to track the customer's interest in the brand. The 4th side can be torn from the brochure and can be either retained by the customer or filled details can be kept with the brand. The details filled in can be used by the brand to reach out to the prospective customer with their latest offerings and also follow-ups.
Are you still wondering whether Design Shifu is the best fit for your design needs? Have questions that need to be addressed. Let us help you. Refer to this article and get all your queries addressed. If still confused, reach out to us and we shall help you resolve your concerns.
Conclusion
In the above examples, you must have gained a lot of inspiration for creating your own four-panel brochure. Although creating a 4-panel brochure is not that tricky, it does require a certain amount of detail and skill to convey the necessary information. Otherwise, the whole exercise of creating a brochure will be futile.
Design Shifu's designers focus on every detail and make sure that information gets across effectively. If you want your brochures designed, Design Shifu would be a great choice. You get unlimited graphics and unlimited revisions for a flat monthly fee. And you get a 14-day money-back guarantee. So what's stopping you?