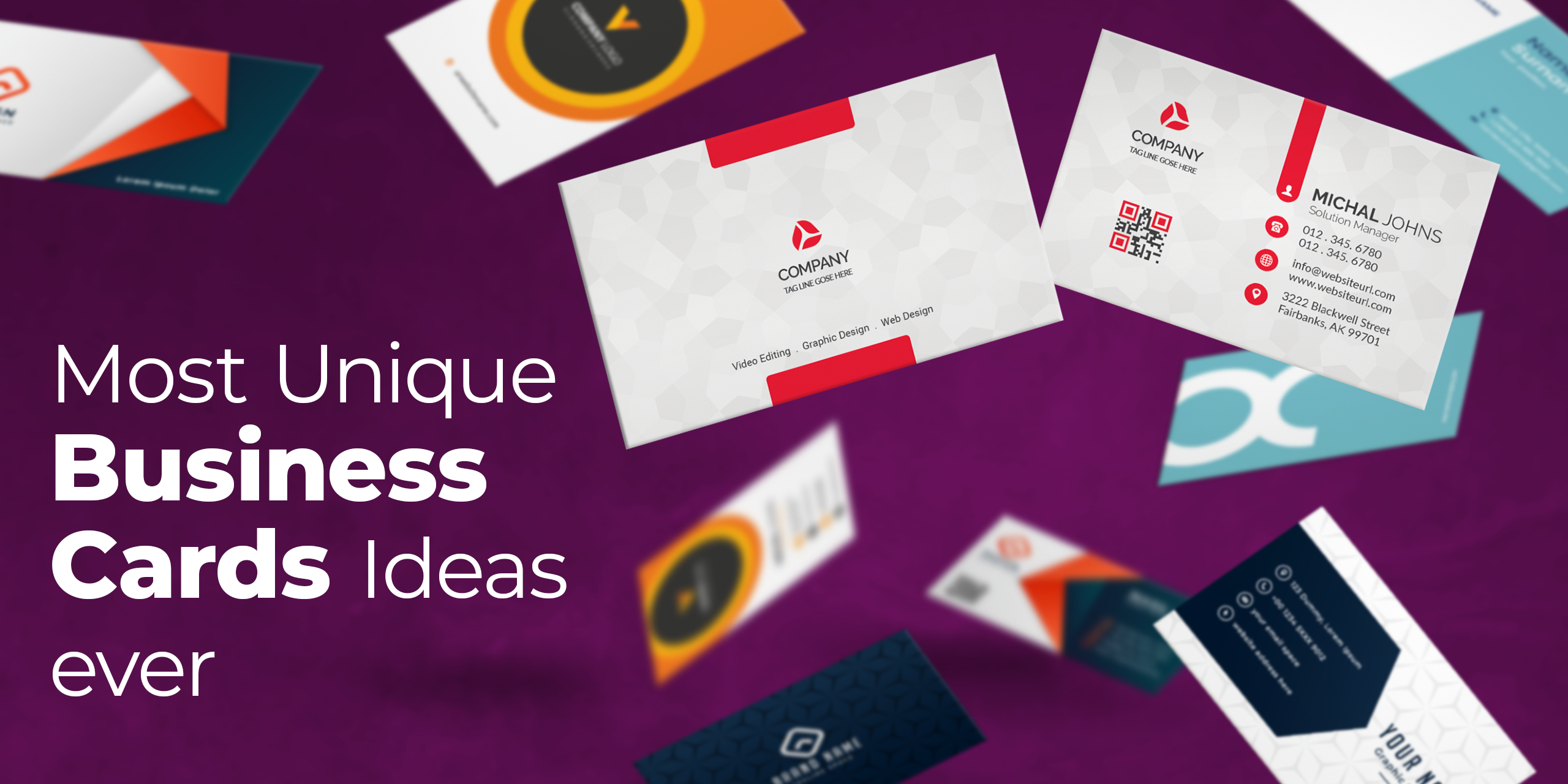 Before the digital era, people exchanged contact information through business cards to build professional relationships. A business card contains all the essential information about the person and their work — name, designation, phone number, e-mail address, company name, and office address. Many professionals keep their business cards in their wallets and exchange them when they see a business opportunity. It's the first point of contact with potential buyers.
Today, businesses don't rely on visiting cards like before. With so many companies and startups on the rise, a business card is no more just a tool to exchange information; it is instrumental in evoking curiosity in the receiver's mind and creating a memorable impression so they can recall the sender when the time comes. This is why business owners and professionals seek designers to get unique, customized visiting cards for themselves.
Do I need a custom business card?
A business card is probably the first step to strengthening your client relationship and closing deals. A thoughtfully designed business card with all the relevant information impresses the clients and simplifies their journey to reach out to you.
In the digital era, a business card is a way to humanize your relationship with a physical asset. Unfortunately, a fair chunk of opportunities may get lost when you can't exchange your information digitally or meet prospects who prefer to keep things offline. So investing time, energy and money in creating a custom business card is a wise decision for your brand.
But how do you create a business card that doesn't land in the trash can?
If you're a business owner or a professional looking to update or create a business card, we've curated a list of unique and creative business card ideas in 2022, popular trends, and hacks to fuel your inspiration.
Scroll on to find out.
Most unique business card ideas in 2022
Smart Business Cards Ideas
Unlike traditional cards, an innovative business card integrates modern technology. Professionals can create physical and digital cards using QR codes and NFC technology. Many embed the QR code on their card so their connections can easily add their contact information on their devices with a quick scan. You can add QR to your printed card and direct the receiver to your website, landing page or social profile.
To accelerate your sales funnel, you can also place QR codes on different business assets, especially the most frequent points of contact, like a menu card or reception counter. Then, your hot leads can scan the code to reach out to you instantly.
Smart business card idea:
Conversational Business Cards
You can have a standard message that speaks to your clients in your absence. If your brand voice is quirky, humorous or friendly, explore conversational business cards to extend your personality to your business assets. Check out the business cards with warm greetings or rhetorical questions.
For example, check out this card with the business tagline in front and CEO details at the back.
You can even add short and friendly greetings and CTAs.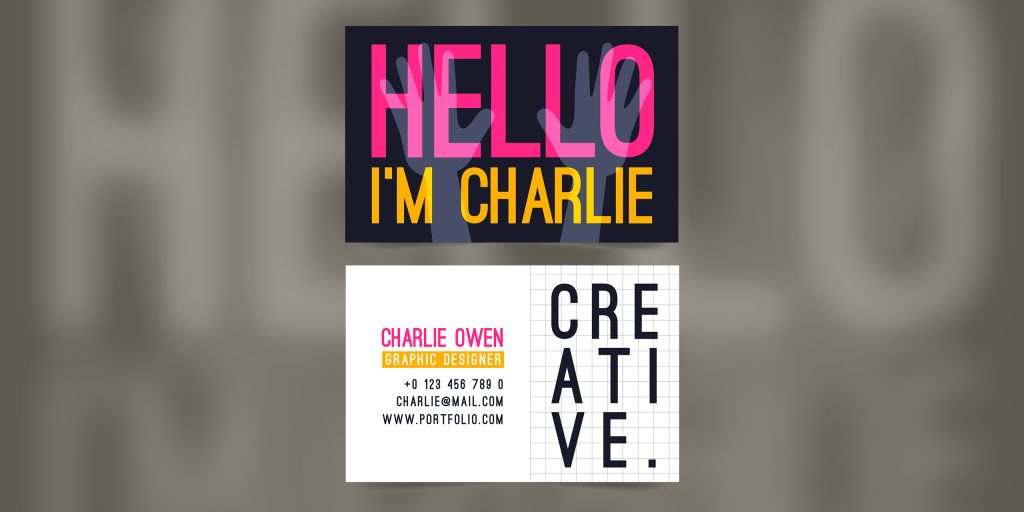 Multipurpose Business Cards
We all love freebies, even a small sticker. So, why not give your clients more than just a piece of card?
Think of ways to offer your prospects a glimpse of your service through your card. A perfect example would be this coaster business card for a communications expert. Or, check out this business card idea for a small business with plant seeds inside it. 
Experimental Business Cards Ideas in 2022
Who said you have to stick to paper?
To stand out from the crowd, brands are constantly experimenting even with the material of their business cards.
Edible business cards
The food industry has actively indulged in designing edible business cards, giving their visitors a taste of their brand through the cards. While these cards are expensive and may not stay long in their wallets or pockets, they are a great way to attract customers and leave an impact. From pasta to chocolates, no snack is left unturned for experimentation.
For example, check out the card for The Bombay Bakery.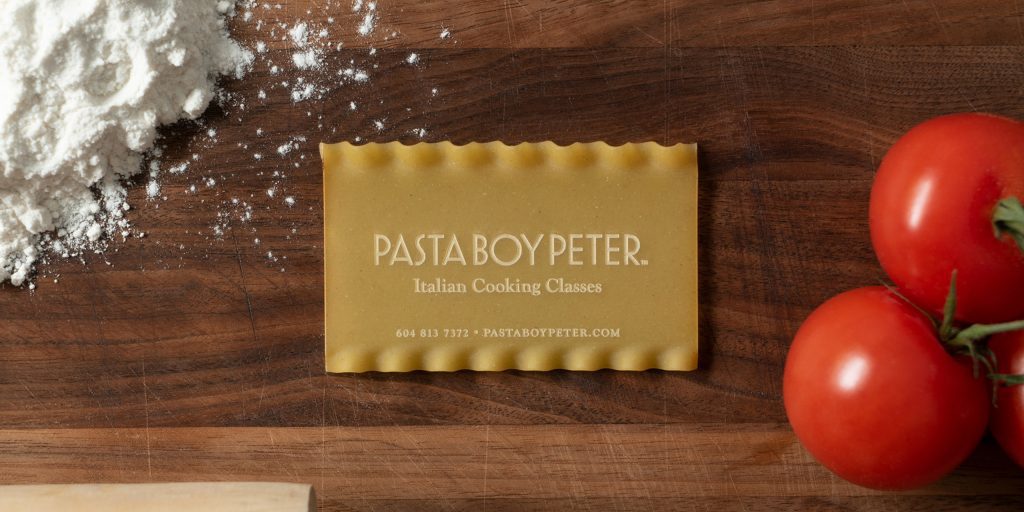 The biscuit has the business's name and logo on the front and contact details on the back. If you work in the food & beverage industry with enough budget to allocate, consider distributing edible business cards. It can be a great marketing strategy to raise brand awareness.
Here's another example of a card for a cooking class, sharing details on a pasta sheet.
Wooden business cards
Wooden cards have been the popular business cards idea in 2022 because of their aesthetics and durability. Businesses selling vintage items or working within vintage spaces should definitely explore this style.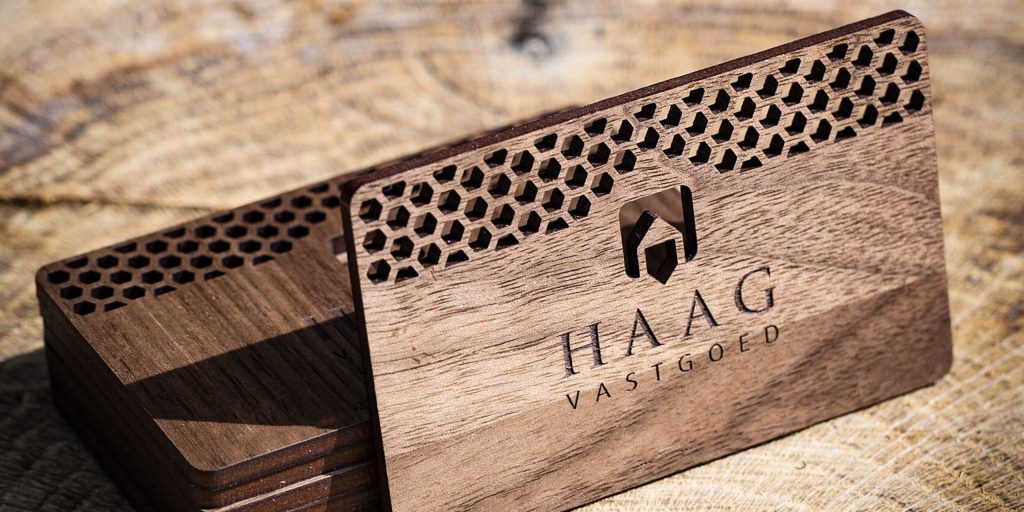 Fabric business cards
Are you working in the fashion industry? Then, consider playing with cloth scraps and fabrics.
Fabric business card idea: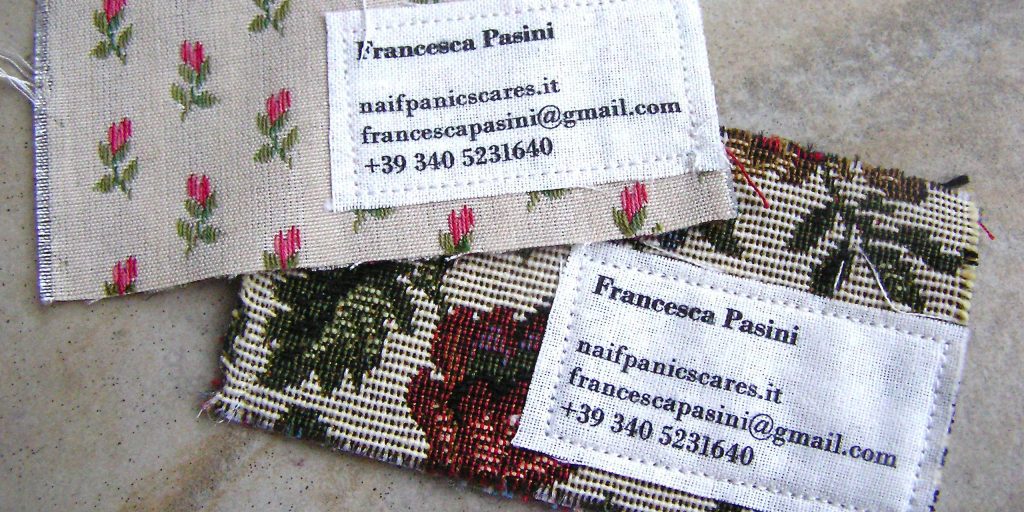 Explore different materials and select the material that aligns with your industry. As a result, you can increase your chances of building a connection with your customers using innovative materials.
Minimalist Business Cards
Minimalist cards are all about using fewer details to create maximum impact. You remove as many elements and details as possible, stick to minimal colors, fonts, and symbols, and play with the layout to create an interesting visual. The trick is to select powerful design elements.
Notice the use of colors, fonts and logos in the following cards: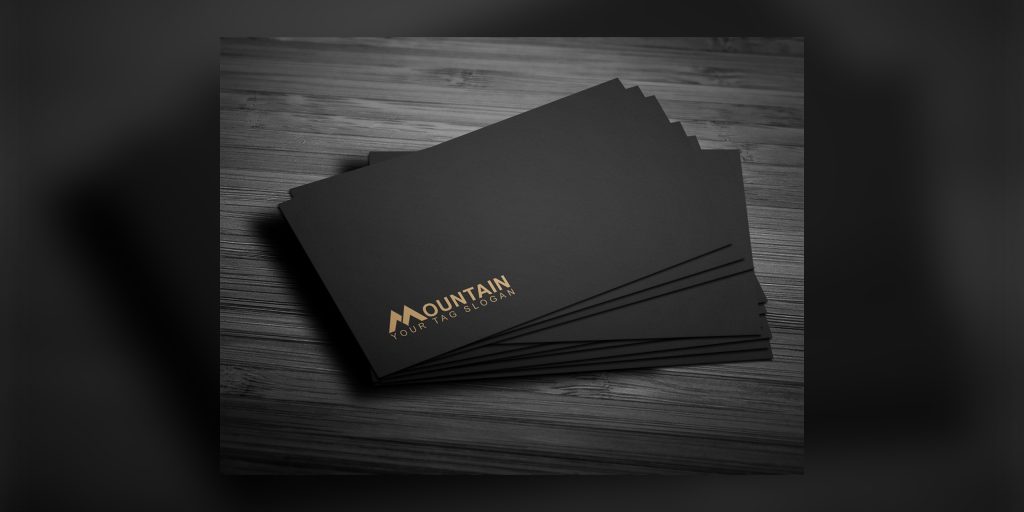 Maximalist Business Cards
Not all businesses love minimalism. You can go a little "extra" with bold, bright colors, high contrasts, and large typography. Maximalist cards exude boldness, fearlessness and confidence. If your brand's core values fall along those lines, play around with graphics and visuals.
Example of a Maximalist Business Card: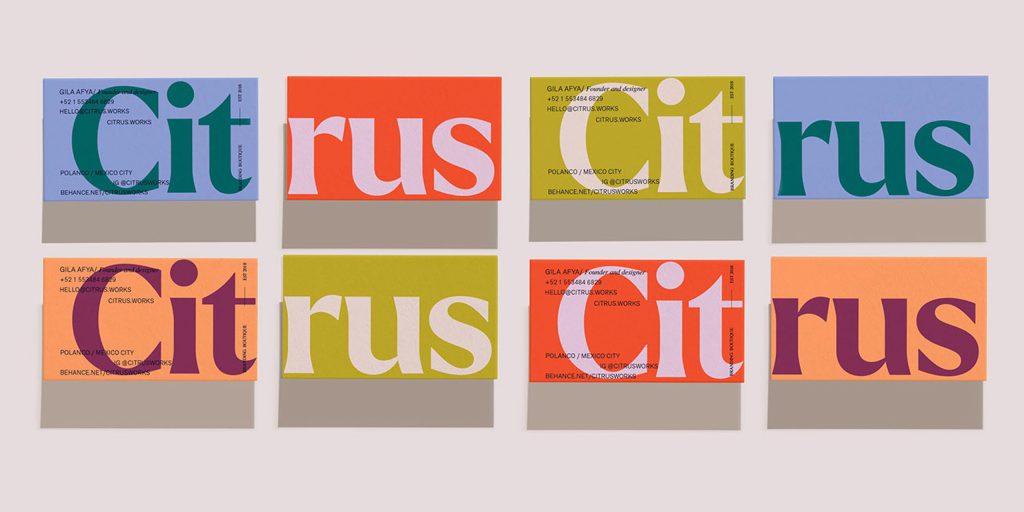 Artsy Business Card Ideas in 2022
Have you ever received a business card too pretty to be thrown out?
Creative professionals often play with illustrations and icons in their visiting cards. Use pictures, drawings, and colors in your cards.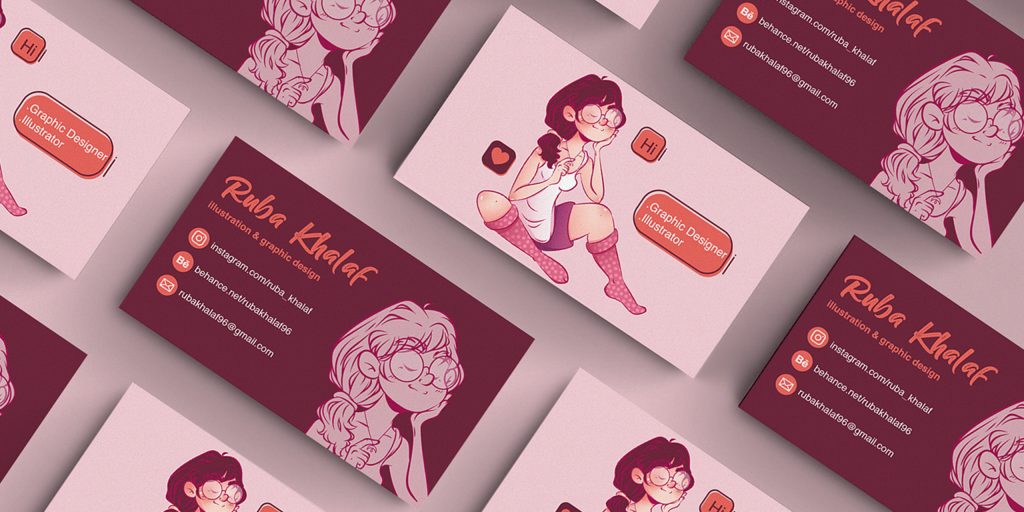 Use holographic foil
The holographic foil technique is trending because of its eye-catching appeal. Use it to design something that is admired at first glance.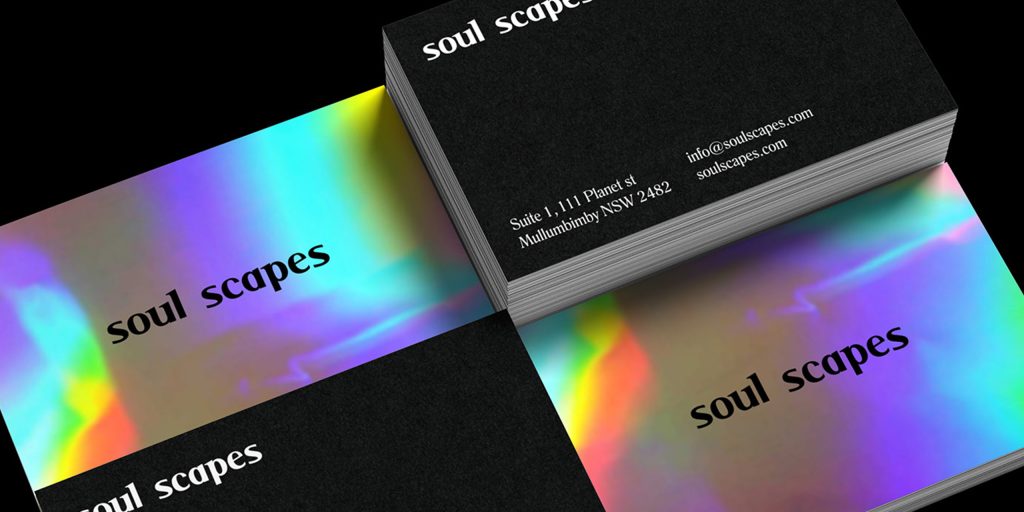 Include handmade illustrations
Cute little icons and illustrations have found their way on business cards to elevate the look and feel of the cards. You can find free vector illustrations and stock illustrations on hundreds of websites, but we suggest you create something unique to represent your brand. Draw icons and illustrations that signify what you do. Remember to choose the drawing style that fits your brand.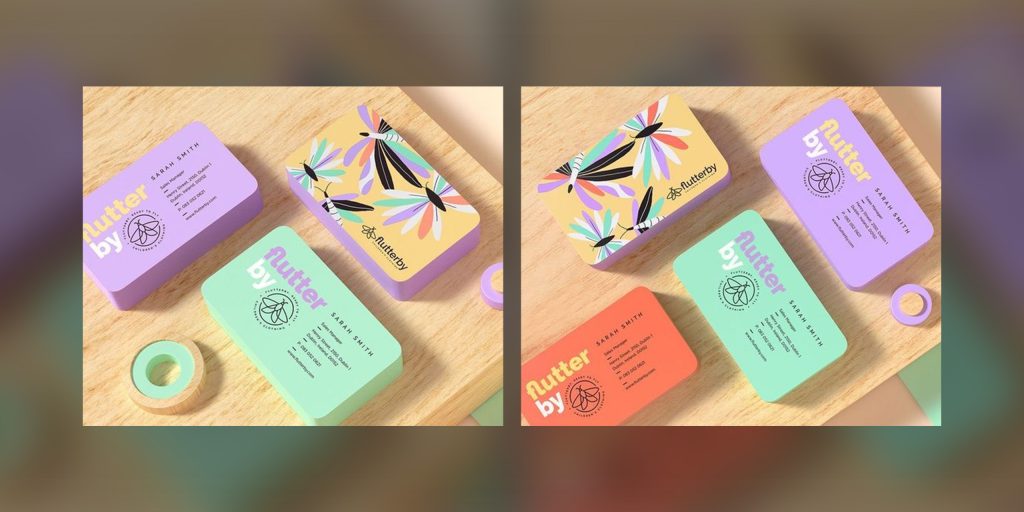 If you want to design illustrations-based business cards but don't know how to illustrate, reach out to us.
Retro-retrieved Business Cards
The retro styles are returning to trend — bold fonts, bright colors, gradients, and elliptic shapes. Check out the designs from the 70s, 80s and 90s to get inspiration.
Examples of Retro Retrieved Business Cards: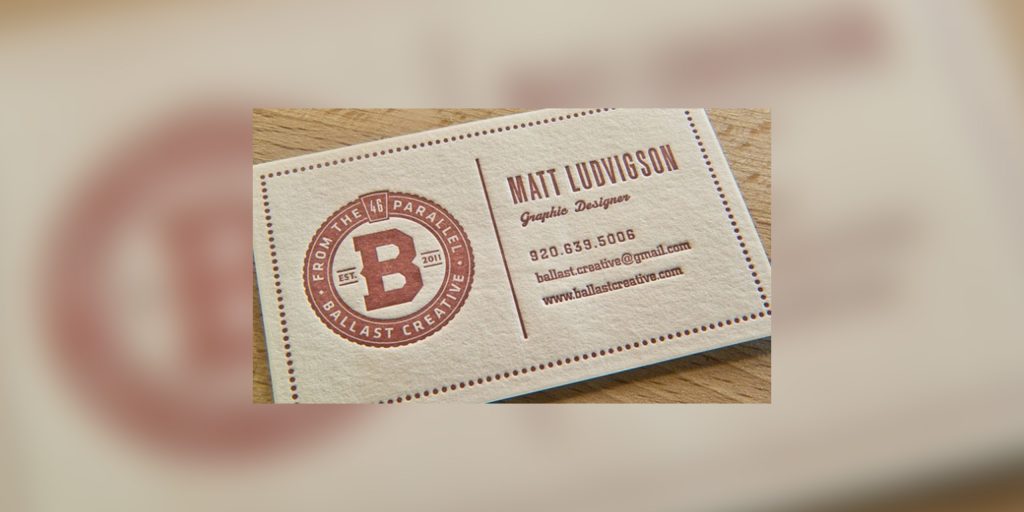 Die-cut Business Cards
The die-cut technique is booming in all industries — packaging design, business cards or greeting cards. Die cards allow you to add layers and dimensions to your object, even with conventional materials. You can play with shapes as well. No more plain, old rectangular cards! Design shapes that will best represent your business. For example, a pizza cut out if you run a pizza restaurant.
Die Cut Business Card Idea: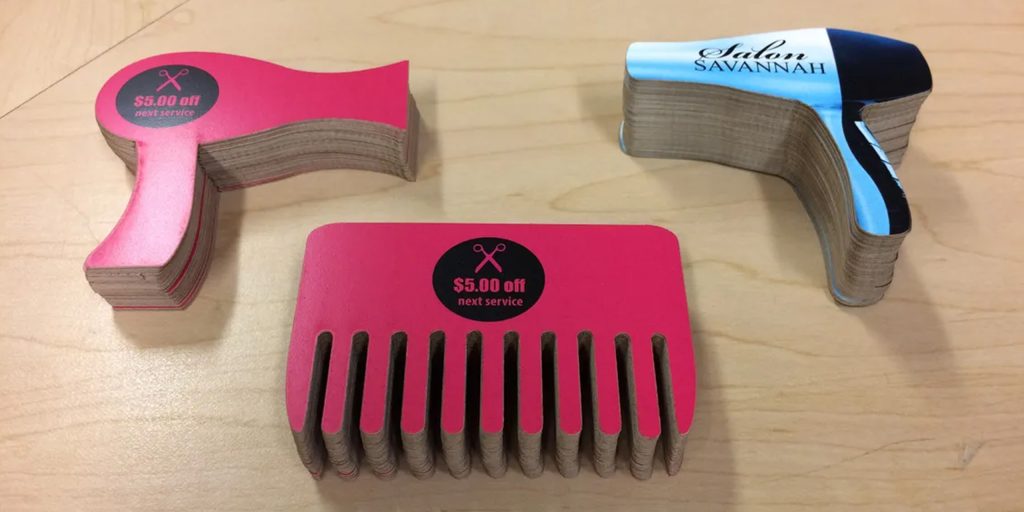 Image-centric business cards
Photographs have a powerful impact on viewers. You can add images to show a glimpse of your business on your visiting card. It will also clarify what your business is all about to your prospects.
For instance, a jewelry business card having images of pearls, jewels, or women wearing a necklace will attract more buyers.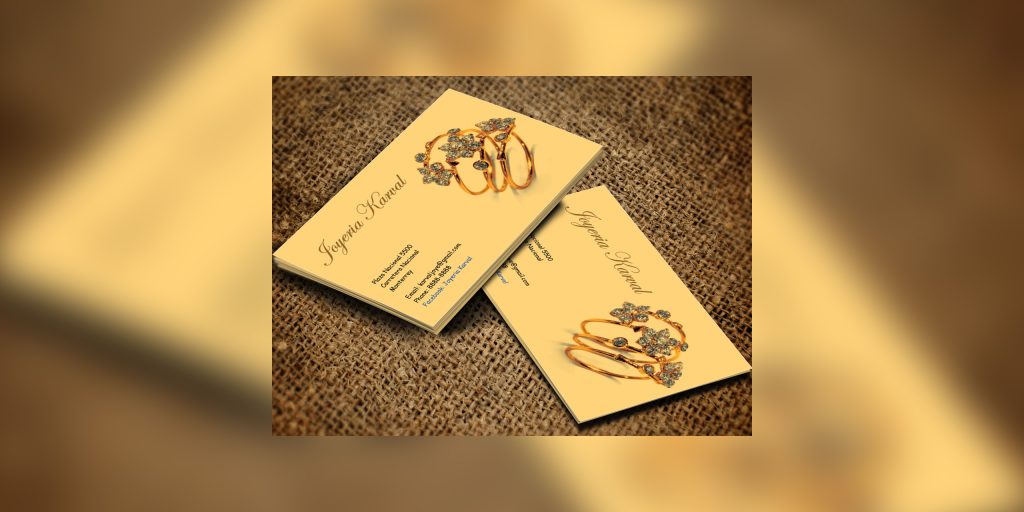 Remember not to use stock photos. It's an opportunity to show your potential buyers your business and products. If you're a solopreneur or an independent artist, you can add your professional image too. Always choose a high-resolution image.
3D Business Cards
Besides die-cut business cards, you can play with shapes and patterns to add an extra fun element. For example, you can arrange pieces into an entirely different 3d shape or movable form or incorporate embossed typography and raised texture to add another dimension to the card and enhance the physical sensation.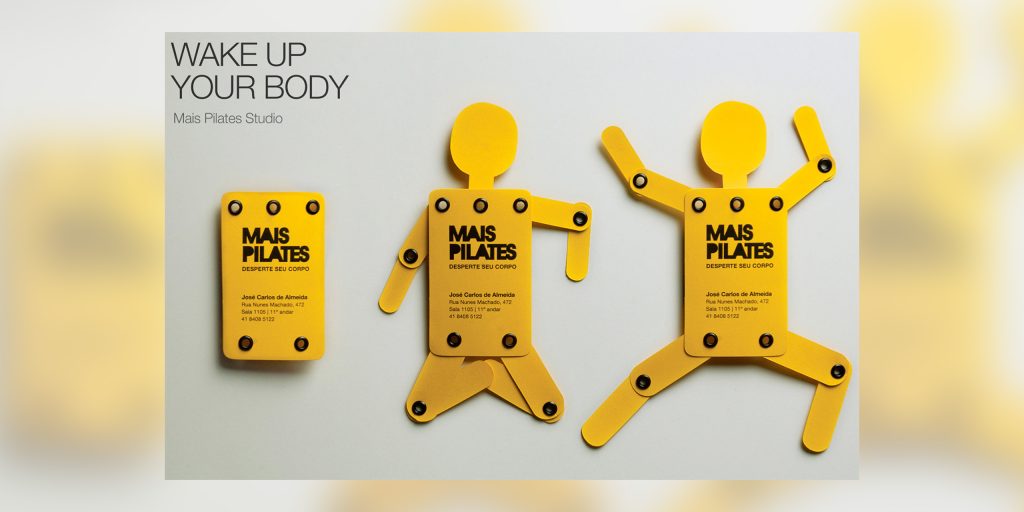 Popular business card trends to look out for in 2022!
There are several trends to follow while creating your business card. Here are a few trends that hold the potential to elevate your brand value and are unlikely to fade away:
Accessibility and Inclusivity
In the last few decades, we have made immense progress in diminishing discrimination. Thought leaders and influencers are fervently trying to build an inclusive community. You can contribute to the mission by creating a more accessible and inclusive card.
Use design elements that address all communities. For example, if you design a photo-centric card with human images, consider a way to include people from different communities. It is a great way to connect with a broader range of audience. Add a braille system to reach out to visually impaired prospects. Your prospects would appreciate your thoughtfulness and be more willing to work with you.
Look at this example: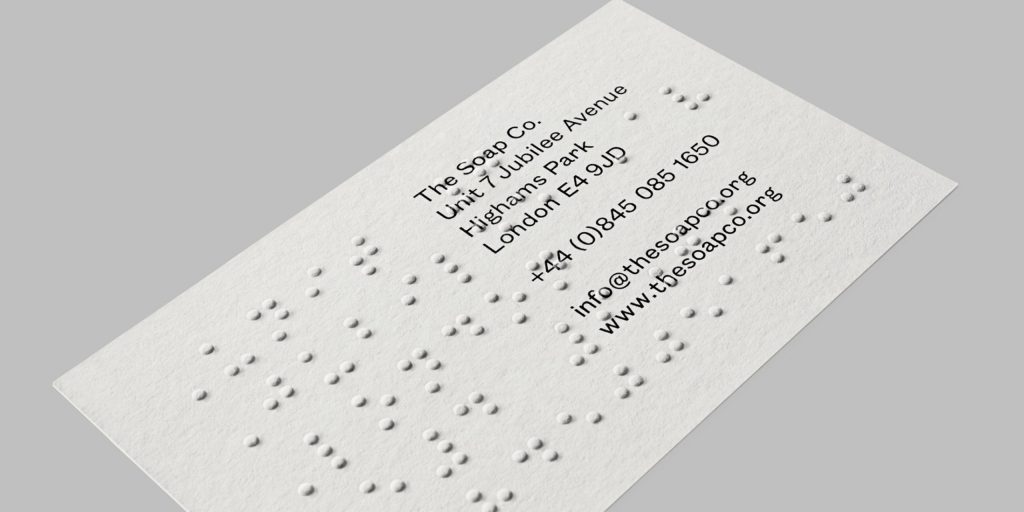 You can also opt for large fonts to meet accessibility standards so people with low vision can easily read.
Sustainability
We're constantly thinking about ways and strategies to shift toward sustainable practices. Consumers are becoming more conscious of their associations while buying and building professional relationships. Using a sustainable business card can help you instantly form a connection and solidify your relationship. Use eco-friendly materials like recyclable paper and non-toxic inks, distribute multipurpose business cards, or try edible ones. The goal is to minimize your carbon footprint.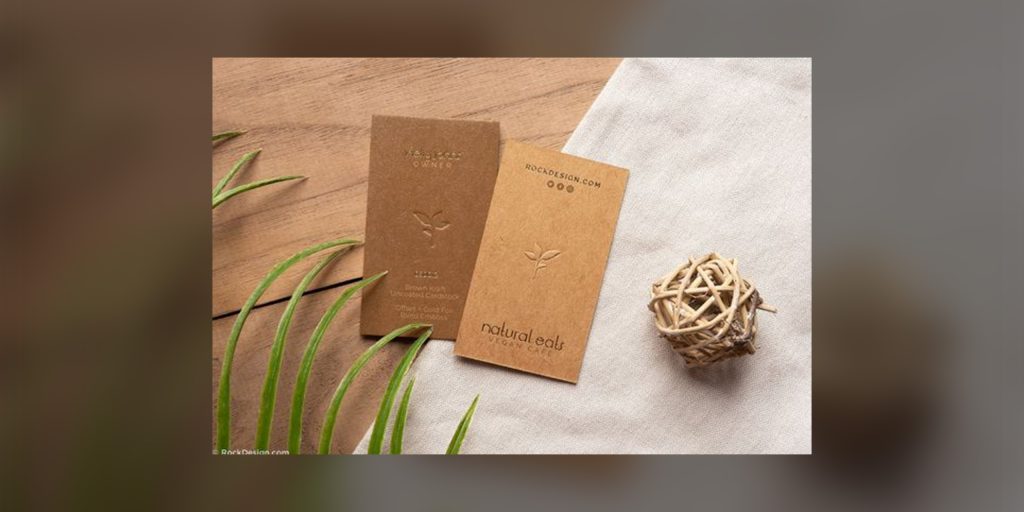 Embossing
Raised patterns, typography and iconography, are in high demand as they enhance the experience of physical touch. However, ensure you do not go overboard with raised patterns, so the card loses its charm.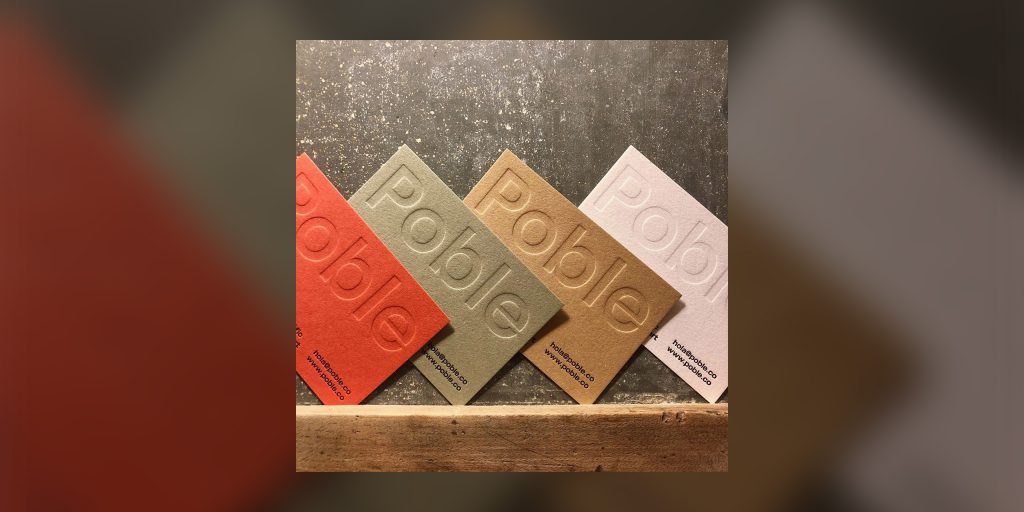 What should you include in a business card?
The purpose of distributing the business cards is to become memorable, book a call, or sell a product/service. So, you must keep the details brief, relevant and navigable.
Name & designation
Add your full name along with your designation on your business card. People often remember you by your designation while others by your name; mention both to inform your prospects who you are and what you do.
Contact Number
A contact number is the most crucial information on any business card. Add the number that you are active on. You can add an alternate number too.
E-mail Address
All business-related conversations are conducted through the means of e-mails. Therefore, mention the correct business e-mail id so that your clients can reach you over the mail.
Office address
How can your prospects reach out to you offline? Include the physical address of your business/office. If clients want to visit you for a meeting, they can easily find your location and pop by your office.
Website link
Sometimes, a prospect wants to explore your services before connecting with you. Add your business website link so they can independently search and explore your products and services.
Social handles
If you're active on social platforms or conduct your business on social media like Instagram or LinkedIn, provide social handles to your clients. You can simply add an icon and username to make it easier for them to search for you online.
Design elements of effective modern business cards
Colors
Understand the basics of color psychology to use color to convey emotion. If you have a dedicated color palette for your business, stick to your brand colors. For example, the food industry plays more on red and yellow colors because these colors evoke hunger.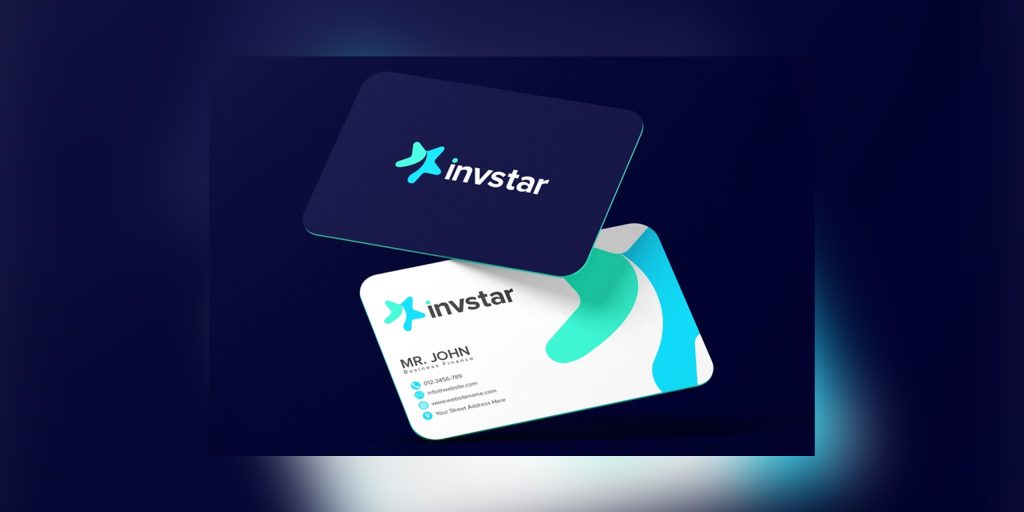 Select colors that work in your favor. If you're going for a minimalist approach, stick to 1-2 colors.
Typography
Whether the receiver would read the card information depends mainly upon the typography used while designing the business card. In most cases, the lettering you choose would occupy most of the space on the business card. So, be very careful while selecting the typeface and font size.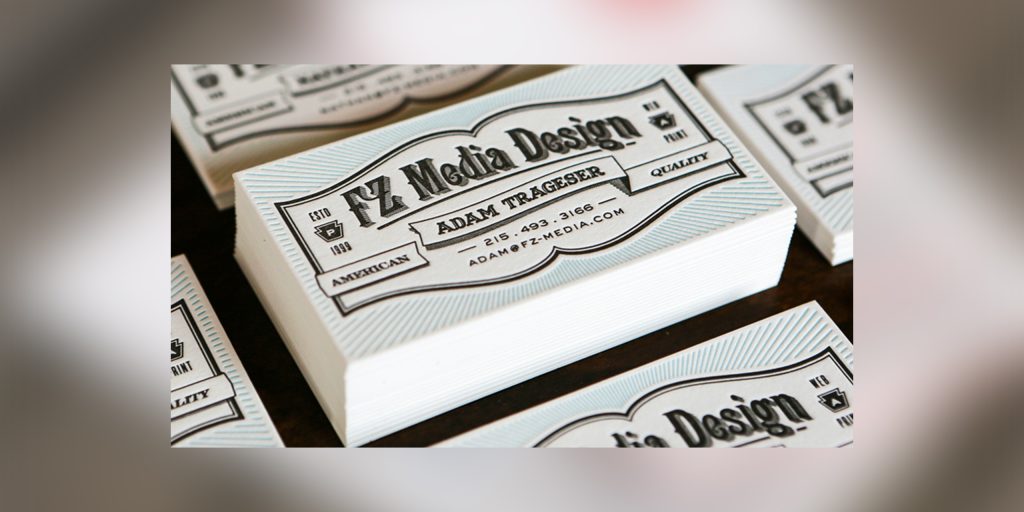 Logo
Your logo is one of the most crucial aspects of your branding. We often remember businesses through their logos. Think of Apple and Starbucks. Didn't you recall the bitten apple and the mermaid? So always add your logo to your visiting card. 
Some prefer to dedicate one side of the card to the logo and tagline, while others reserve a corner. Try different placements.
Icons, symbols & images
Besides your logo, you might add illustrations or photographs to your business card. Make sure they do not overshadow the information. The role of graphics is to add to the appeal and experience. Ensure that the size and visibility of the visuals do not distract the prospect.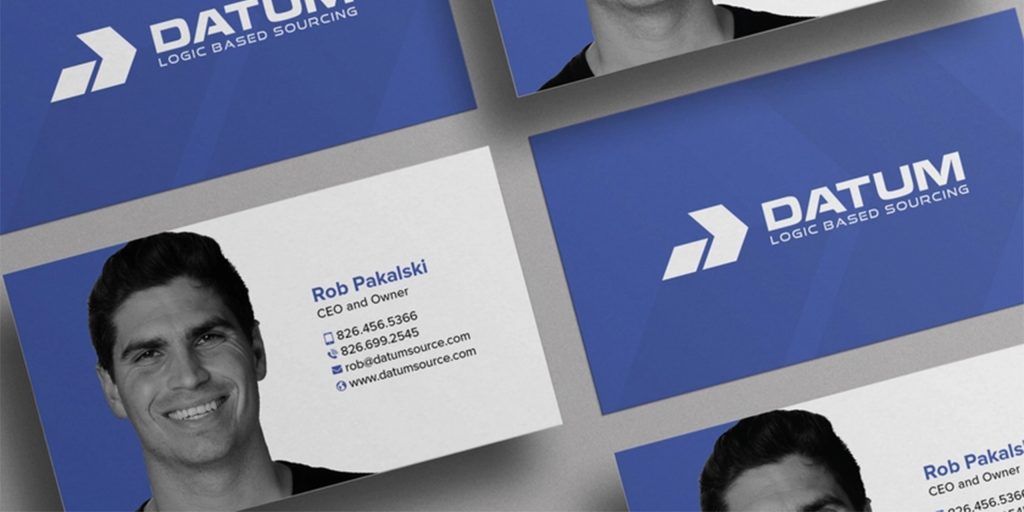 Layout
A business card layout has limited space for designers to play with. Use the rule of thirds to create a balanced layout. The goal is to keep it readable and soothing to the eyes. Do not clutter with information and design elements. Instead, choose a format that highlights the most critical information.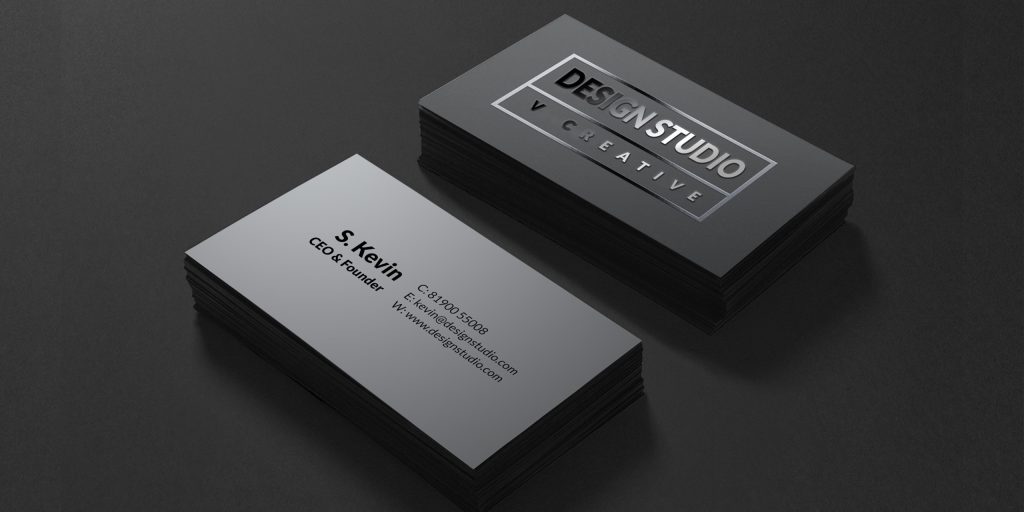 More tips
By now, you must have understood how to design your visiting card to attract more leads and close deals. Here's a list of additional tips to help you develop the perfect business card:
Keep it on brand. While selecting the layout, colors, fonts, and design, select elements that align with your brand. A slight disconnect can sow seeds of distrust.
Try to use the standard size. Even if you opt for a die-cut card, make sure its size is easy to carry and store for the receiver.
Select relevant information. You can add messages and greetings to your card as long as it doesn't overwhelm the reader. Make it appealing.
Double-check the information before sending it to print. A slight typo can lose you umpteen clients and money.
Wrap Up
We hope you have discovered the most effective design techniques, unique business card ideas in 2022 and the most popular trends to follow, along with examples, to create your business card that outshines your competitors. If you wish to discover more examples, explore our 11 most creative business card ideas. 
A business card is an opportunity for a business to connect and strengthen the first meeting and conversation with a potential prospect. Additionally, your business card can communicate your brand messaging and values to your customers. You can use online tools or design them manually.
Several tools and templates are available online to help you create your design within a few clicks. Just select the template, edit and download. However, a template dilutes your originality and uniqueness. So, we recommend you pull out your pen and paper or open a design software and start sketching your ideas. Follow the tips to preserve the functionality of your business card.
Or do you want help designing business cards for your business? Get a dedicated designer and unlimited graphic designs for just $399 per month from Design Shifu.