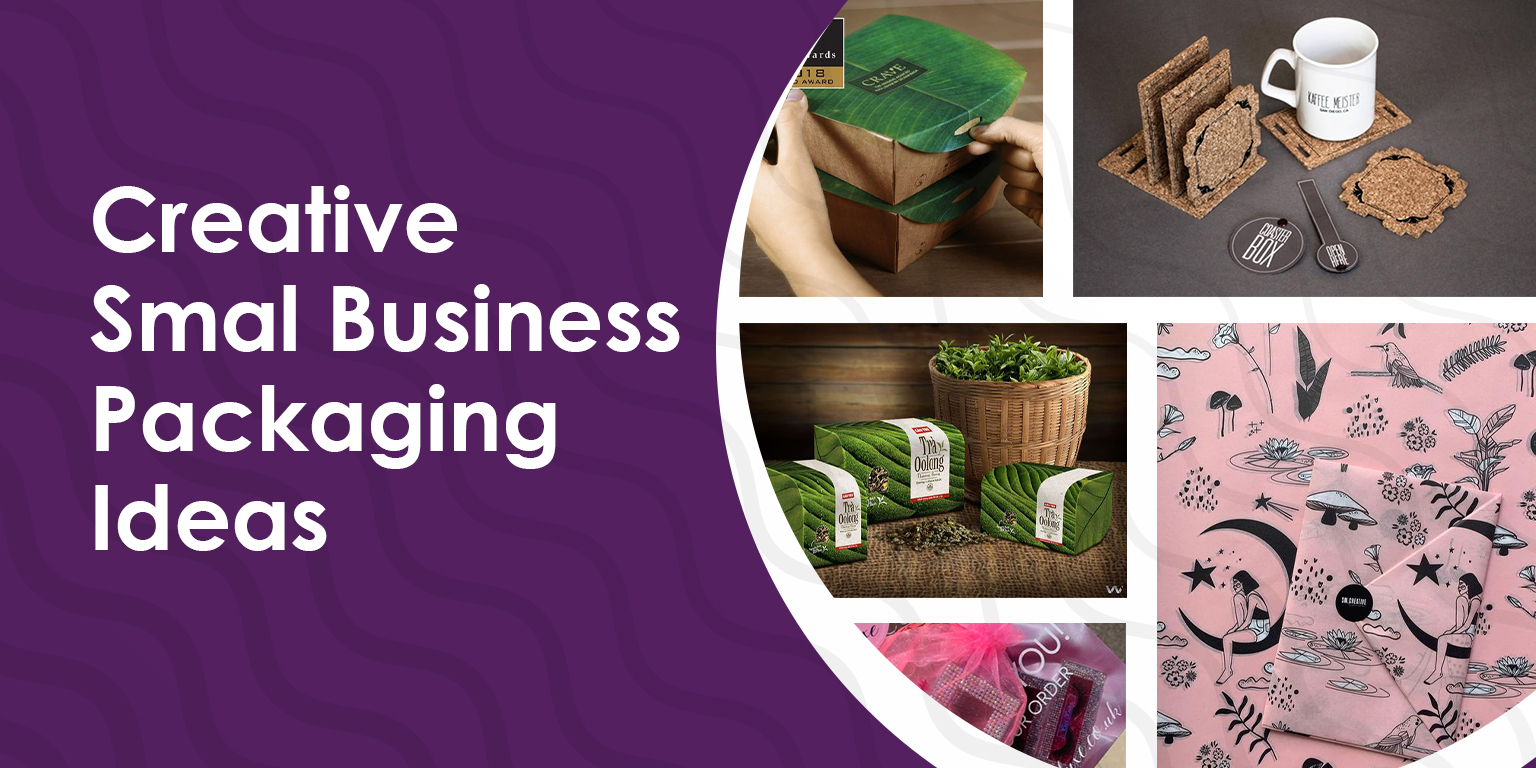 "[Packaging] helps to reinforce the perceived value of the product that's inside, and it really enhances the customer experience."
–Barbara Whitney, Marketing Director for Packaging Specialties.
Creative packaging is one way small businesses can gain a competitive edge over other big brands and companies. Especially when they are just starting out with limited resources.
As a small business, you don't have the budget to run high-budget advertisements or broadcast on billboards like big companies. You still aspire to make yourself stand out from the crowd and become recognizable. The good news is that it's possible! Check out how brands like Ethique, Hungryroot and Otherland became the talk of the town by reinventing their packaging.
Now, the question is
How can YOU do the same? How can you come up with a unique product packaging idea for your small business?
We have curated a list of small business packaging ideas across packaging types and industries to inspire you so you can create a memorable unboxing experience, win your audience and build a healthy rapport with them fast.
Eco-friendly packaging ideas for small business
If sustainability is one of the core values of your business, you must create eco-friendly packaging to reflect your commitment to your values. In addition, more and more consumers are becoming conscious of how they buy and consume products. With green packaging solutions, you can humanize the relationship with your customers and connect on a personal level by showing that you care for people and the environment on the other side of the receipts and invoices.
See how you can replace the materials of your packaging with more sustainable options, such as using containers made from recycled materials, replacing disposable carry bags with reusable/recyclable packaging materials, and wrapping products with biodegradable bubble wraps and tapes.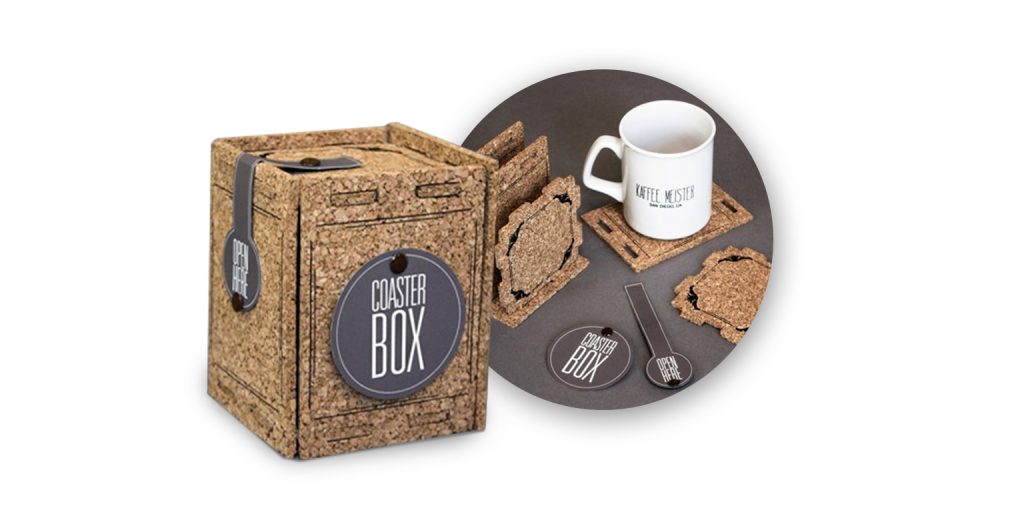 Explore creative packaging ideas by considering biodegradable materials to package your products. For example, a supermarket in Thailand uses banana leaves to package groceries. In fact, it's a traditional packaging material because it is hard, water-resistant, and readily available since the banana is one of the largest crops in the world. 
So, go green!
Cute packaging ideas for small business
Want to ship cute products with cute packaging? Add appealing elements like bow, stickers, colorful printing papers, glitters and cut-outs. Use bright colors and illustrations to evoke cheerful feelings.
You can also get creative and dive into die-cut packaging to turn your wrapping material into a new shape or design.
Die-cut packaging is a smart, effective and economical packaging technique that can save you time, effort and money in the long run. Die cut allows you to show a glimpse of your product to the customers, so customers know exactly what they'll get after the purchase. For offline sellers, it's a great technique to boost sales as customers usually pick up a product from the shelves, which they can see over something tightly packed.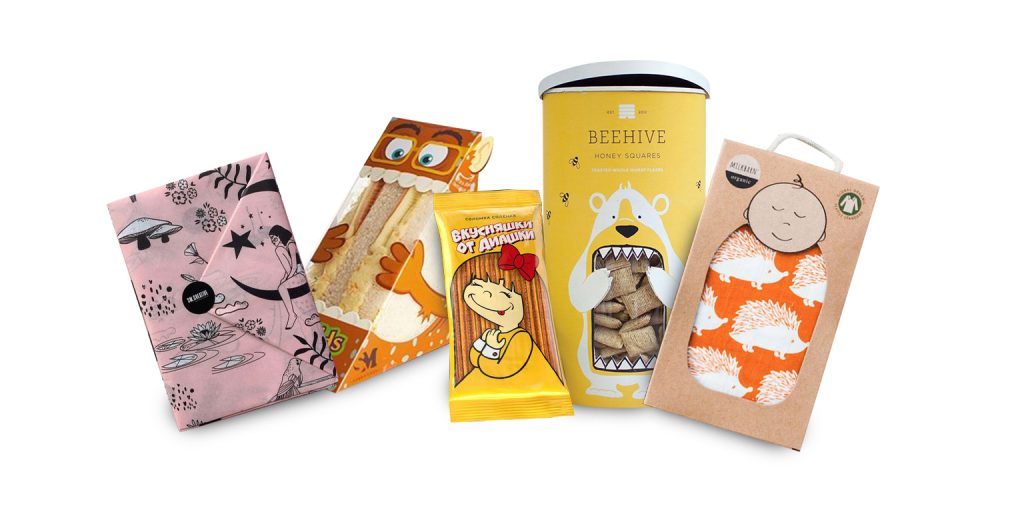 Be playful while designing your die-cut packaging. For example, think of ways to create a narrative using die cut or what kind of shape would best show your product in a good light. Check out these cute die-cut small business packaging ideas for creative inspiration:
Food packaging ideas for small business
Food packaging is not only about thinking of packaging food designs that reach safely to customers' doors, but also about enticing them with attractive visuals. From bags, wrappers, and boxes to plastic tubs, glass jars and tin cans, food brands and restaurants have a wide range of packaging styles to select from. If you're in the industry, there's a lot of opportunity to get creative, share compelling visuals and advertise your business.
Screen Print packaging is one popular technique among delivery restaurants. Instead of getting custom stickers, they use dies to print on the boxes themselves. Check out these delivery boxes:
If you run a cloud kitchen and need to pack meals, consider leak-proof containers like plastic tubs, styrofoam pouches etc. Explore different shapes and add a sticker on top of it.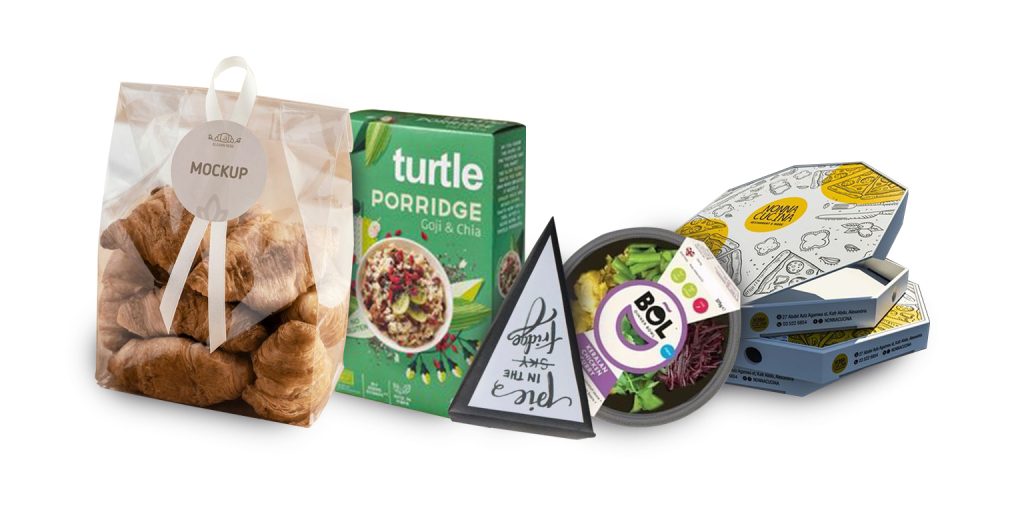 If you sell snacks and chocolates, look at these product packaging ideas.
Add little quotes, instructions and social handles in the interiors to make it enjoyable.
Do you offer takeaways? Takeaways don't have to be boring. Play with paper and card boxes but remember to keep them sturdy to carry.
Coffee packaging ideas
Brands in the food and beverage industry have been having fun with packaging for a while now because of the plethora of choices. Moreover, coffee lovers appreciate carefully crafted packaging.
Pouches, packs and bags are the most common packaging types for coffee. Most businesses use side fold pouches, quad seal bags, and flat bottom bags because they are foldable and reusable.
If you package your coffee in bags, check out these quirky coffee bag designs to get an idea.
Use the packaging to tell your story, build a narrative and create an experience from first sight. Coffee lovers are very particular about the experience and origins of their coffee. So, telling your story is a successful strategy for retail coffee stores. For example, observe how Manta and The Giving Cup use their packaging to talk to their customers.
When Alejandro Gavancho was asked to design packaging for Manta Coffee, he dug into its origin and culture to design illustrations and tell its story. Whereas The giving cup advocates its brand mission on the package and uses copy as a means of communication.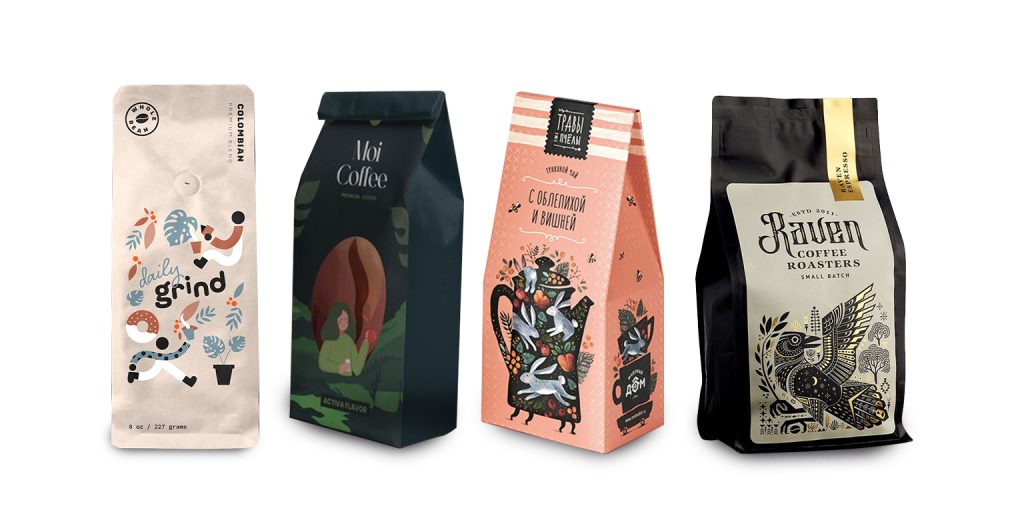 Luxury product packaging ideas
If you're selling luxury items or products to your customers, think of how you can deliver a premium feel at every point of contact. Of course, you must show extra effort. Many companies offer printing on both sides of the container or boxes, so use it to reflect your brand values in the interior and exterior of the packaging. If you want to make the most of printing then you should be aware of the design mistakes and ways to avoid them.
Most luxury brands and businesses adopt a minimalist approach with their packaging — a solid brand color with their logo placed inside a bag. If you don't have a logo for your small business yet, you might want to consider that first. Design Shifu can help you with logo design on a flat-rate so there's no contract to worry about.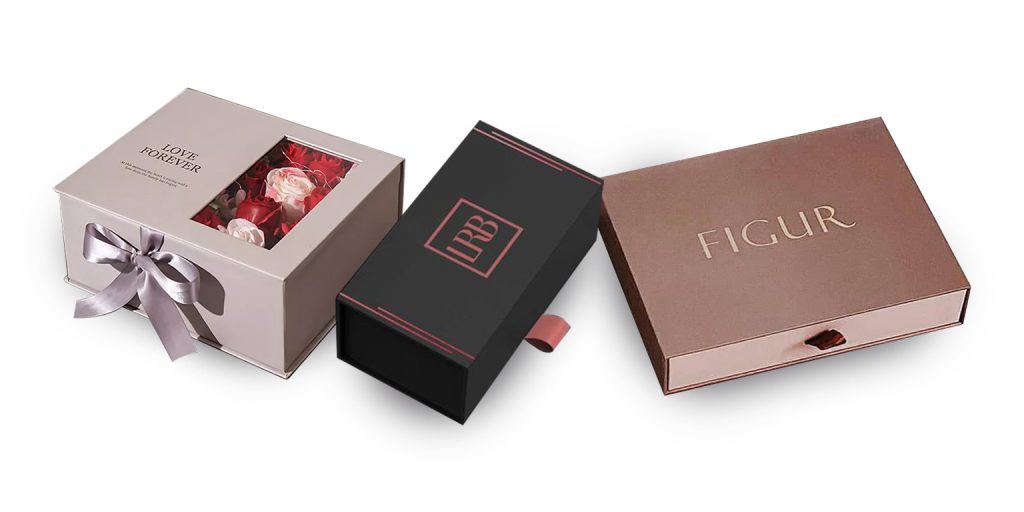 In addition, you can also design unique custom packaging for topical content and festive material to stand out from your competitors.
DIY packaging for small business ideas
Selling homemade products? What's better to advocate for your brand than DIY packaging? Even if you're not selling homemade products, DIY packaging is a great way to cut costs.
Customers are drawn to packaging that feels personalized—it's almost as if they're holding a handmade object. Use custom stickers, stamps, and ribbons for pennies per box. Or you can also wrap the product with kraft papers, wax, and string.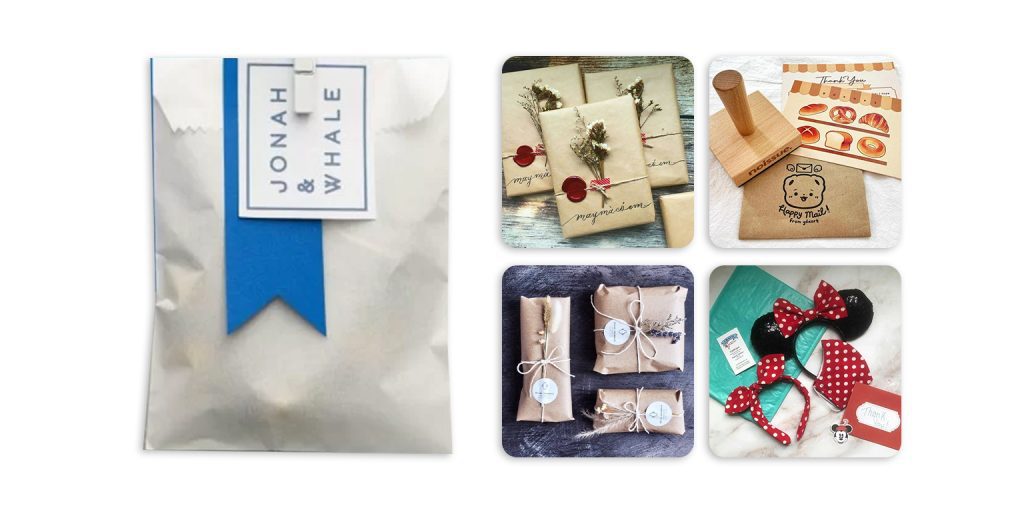 Best creative small business packaging ideas
The list doesn't end here. So if you didn't find the style you wanted for your business, mix and match our tips to create an entirely new theme for your business, just as the founders of Flying Goat Coffee found their style.
While most businesses package coffee in bags, Flying Goat Coffee went ahead with a paperboard box made from recycled materials. The labeling system on the boxes is carefully designed such that they can easily introduce new blends and offers throughout the year with minimal changes in packaging.
Your packaging can be engaging, functional or just outright quirky, but it should always be selling and catching eyeballs. Look at these packaging ideas for inspiration.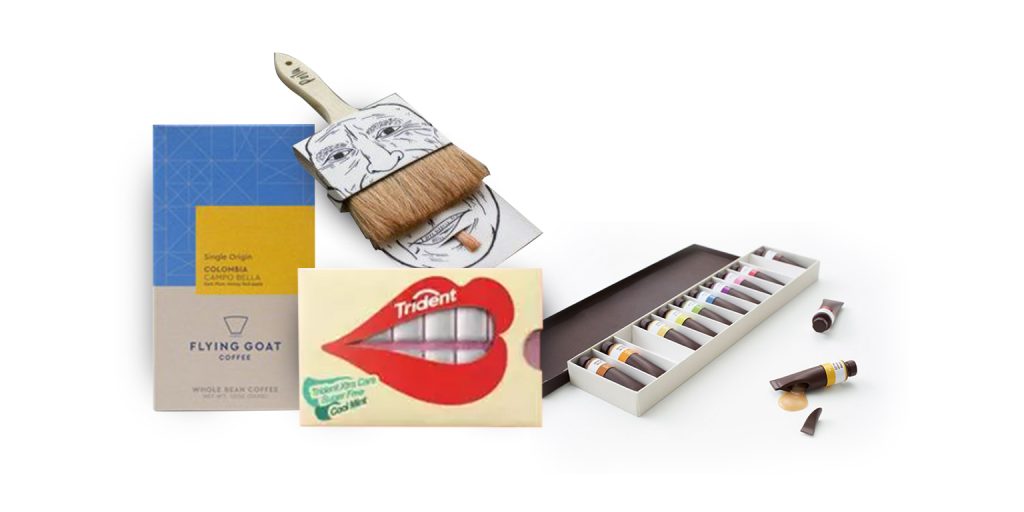 Think of how you can add value to your customers' purchases or put a smile on their faces. Create an immersive experience so they can distinguish your brand from others. With so many chocolate brands around every nook and cranny of the world, these businesses indeed make their place in buyers' minds with brilliant packaging. 
Serve another purpose.
Create packaging that can be reused for another purpose. For example, Tyto alba designed a wooden case for their product such that we can turn it into a birdhouse. 
Another beautiful example is these bottles by a Korean brand which can be turned into vases. Instead of regular plastic containers, they have designed unique eco-friendly porcelain bottles.
Interact with your packaging
Packaging is a medium to interact with your customers, so use it efficiently and creatively. Use it as an opportunity to make your customers feel special about shopping with you. While packaging always include:
Thank you cards
Appreciate and show gratitude to your customers for buying from you. A hand-written note goes a long way to build a personal connection and show that you took your time to pack and send this order to your customers. However, if you're tight on time or it does not fit your brand voice, look for customized printed cards.
Check out Design Shifu subscriptions to get custom cards throughout the year at a flat fee.
You can even add your social handles and ask them to follow you for updates.
Freebies
Because who doesn't love free stuff?
You can get a little strategic with your freebies. For example, including test products as freebies can be a great way to market your other products to your customers. You can also include stickers, checklists or manuals as freebies.
Coupons
Include special offers or discounts to encourage your customers to shop again from you. Add a reasonable validity to give them enough time to make a purchase.
You can even have different coupons for your loyal customers.
Small business packaging hacks
Be on-brand
Your branding should be visible and consistent through all extensions of your brand. While designing your packaging, keep it consistent with your brand colors, voice, logo and style. For example, many small businesses dealing in organic products use earthly tones and materials for packaging.
Be mindful of your buyers.
Who are you sending it to? Is it teenagers? Toddlers? Adults?
Keep it safe for them. For instance, if it's for children, use non-toxic and non-pointy materials and design for packaging.
Use a shredder
Instead of buying expensive filler material, collect old newspapers, leftover paper and waste papers and turn them into paper strips with a paper shredder. You can save money and reuse waste material effectively.
Select the packaging type carefully
Your products determine the kind of packaging you'd need. For example, glassware needs extra protection, whereas food needs leak-proof packaging. If you're shipping overseas, you'd need to wrap an extra layer of protection to ship without damage.
Check out the U.S. packaging library to learn about packaging types and determine the most suitable packaging for your product.
Tell your story
Let your packaging tell your product's story to your customers. Use it to build a narrative around your brand and create an immersive experience, just like Manta and The Giving UP.
Have different sizes
Have 2-3 sizes to package products so that you don't have to pack each item individually when a customer buys more products.
Happy product packaging!
Packaging is not just about wrapping your products and sending them off. It's a way to represent your brand, values, and customer service to your audience. You create an experience from the moment they focus on your product. So take some time off to understand how you want your customers to feel and experience, and explore our product packaging ideas. Then, create a story through your packaging.
We have covered the most effective, affordable, innovative small business packaging ideas and techniques to inspire you. However, take it for what it is — inspiration. See how you can use these different techniques and tricks to create your own custom packaging design.
If you need assistance with design and graphics, connect with Design Shifu on chat now and we will create a custom design for a flat fee.