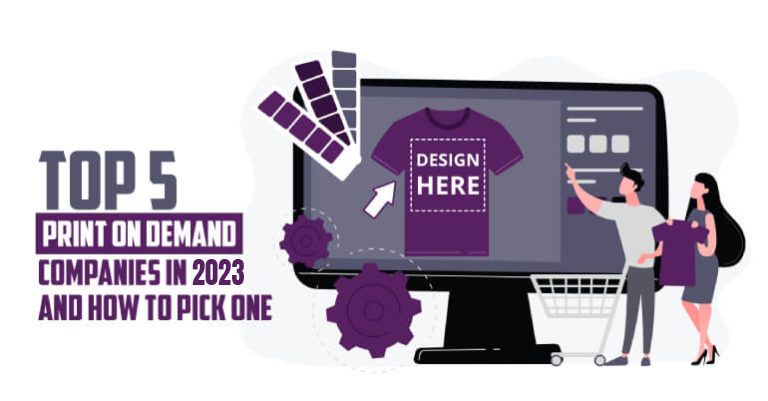 Creating your own store on a Print on demand site is mostly a cakewalk. The real task is choosing a Print on demand service provider. There is a plethora of POD companies and sites to choose from. Which one suits your needs the best? Let's take a look. Here are the top 5 print on demand companies in 2021, and how you can pick the right one to create your own merchandise.
But if you're yet unfamiliar with what Print on Demand is or what the service entails, don't worry, we have you covered. Read about it, and learn how to get started with your own POD business here.
Now that we have established the basics, let's compare some Print on demand companies, the product catalog, the features they offer, and more. We have put together these basic parameters so that it can help give you a starting point while deciding which POD service to choose from.
1. Redbubble
Redbubble is a very well known Print on demand company that offers you the option to have your designs printed on products and delivered to the end consumer or the buyer. Redbubble uses third party printers throughout the globe and fulfills orders at locations closest to the purchaser's location.
Product Catalog:
Clothing
Masks
Stickers
Stationery
Wall Art
Diaries
Notebooks
Postcards and more
Here are some advantages to choosing Redbubble as your POD service provider
Pros

Your designs can end up on Google searches because of Redbubbles huge organic reach and with the right keyword tags that you add to your product.
You can maintain your brand on Redbubble. Redbubble allows you to showcase your social media profiles, contact information such as emails, etc so that you can stay connected with your customers. It is more brand-centric as compared to, say for eg – Merch by Amazon. More on this ahead.
You can set your profit margin with each of your products while Redbubble only takes a base price and the shipping cost is based on the method of shipping and the location
Cons
You cannot integrate your Redbubble store with other website platforms.
The process of uploading your designs is not as smooth as it should be. Redbubble delivers high-quality products and designs but it means that you need to take some time to get used to the wee bit cumbersome upload process.
This is not exclusive to Redbubble and is a problem on almost every POD site, but Redbubble does not have an automatic system to alert you of similar designs or plagiarism.
2. Merch by Amazon
Merch by Amazon has been a Print on demand service provider since 2015, with their focus specifically on clothes. When you use Merch by Amazon, you're taking your designs and selling them through the Amazon website where they'll put them on t-shirts and sweatshirts for Amazon shoppers to buy.

Product catalog:
Offer short-sleeve shirts,
long-sleeve shirts,
hoodies, sweatshirts, and
PopSockets
With Merch by Amazon, you get the following set of advantages and disadvantages
Pros:
You get access to millions of customers via Amazon. Without a doubt, Amazon is the world's biggest online store, and the consistent organic traffic it brings would be a great start to sell your products.
Amazon prioritizes its sellers and ships their products via "prime." Your customers get faster shipping with Merch by Amazon.
You can set the royalty to every sale, and you also get bonuses from Amazon for every product you sell.
Cons:
You can't sign up and start selling right away. Merch by Amazon works on an invitation-only basis, that is, Invitations will be sent once space is available for new content creators, although one can request an invitation from Merch by Amazon. However, there is no time frame as for how long they will take to get back to you
The products on Merch by Amazon are limited as compared to other POD sites.
Your designs are prone to copycats. Given how huge Amazon's seller base is, it is hard to identify the copycats. However, you can always report the copyright infringement report with Amazon.
Amazon does not have a public profile system like Redbubble. It does not allow your social media links or even a header image.
Merch by Amazon does not allow you integration options
3. Printify
With over 500 thousand merchants, Printify is your All-In-One Print-On-Demand Drop Shipping service in the Shopify app store. You can sync with your online Shopify or Etsy store, process orders, and ship your products directly to your customers. eCommerce businesses can sell products on their own sites, without the hassle of going through other online marketplaces, through Printify.
Product catalog:
Accessories
Mugs
T-shirts
Phone cases
Hoodies
And other personalized products
Pros:
A large variety of products
Their printing partners are in over 90 locations, such as the USA, UK Australia, China, and Germany
Printify allows you to integrate your Etsy and WooCommerce store automatically
Profit margins and product prices are up to you, and Printify charges a small fee.
The Printify fee schedule is easy to understand and straight-forward. You have transparency about how much you will be paying upfront.
Printify also gives you a help center with articles on important topics like integrations, troubleshooting, products, payments, and mockup designs.
Cons:
Shipping solutions on Printify take longer to deliver international orders since they have fewer fulfillment centers. Printify is not as optimized for international orders.
Printify is not transparent about how long it takes to manufacture the product, however, Printify offers a faster solution for merchants using the Advanced Shopify plan.
Does not offer free samples
4. Printiful
Printiful is an on-demand service that allows you to access everything you need to start selling custom items and accessories online. Printful offers printing, order fulfillment, and shipping for your online store.

You can also gain access to helpful videos and tutorials on how it works, and other resources that can help you get started. It also has a mockup generator to put your designs on everything from phone cases to hats and t-shirts, to see how they look.
Product catalog:
Swimwear
Leggings
Clothing
Mugs
Posters
Backpacks
Blankets
Jewelry
Stickers, and more
Printiful allows you to integrate eCommerce platforms such as:

Squarespace
BigCommerce
Weebly
Ecwid
PrestaShop
Big Cartel
Gumroad
Magneto
3rdcart
Launch Cart.
Wix
And marketplaces such as:

Etsy
Amazon
eBay
Wish
Storenvy
Inktale
Your personal shopping website
Here are some of the advantages and disadvantages of Printiful
Pros:
Printiful has fulfillment centers in LA, California, Mexico, North Carolina, Barcelona, Tijuana, etc
There are no subscription costs and you can get a 20% discount on your samples
Printiful has a dedicated page that gives full disclosure on the whole shipping and fulfillment process.
Cons:
It can take between 2-7 business days to make apparel products and 2-5 business days for non-apparel products.
On average, Printful suggests that it might take about 4 business days, as the speed depends on the location where the product is to be shipped.
5. TeeSpring
TeeSpring is another such eCommerce platform that allows people to create and sell custom apparel. All of Teespring's products are produced on demand, which means you don't have to source inventory upfront. One of the cool things about TeeSpring is its easy-to-use design feature that even beginner designers or artists can use to make products to sell.
Product catalog:
Mugs
Accessories
Tote bags
Home decor
Socks and much more
Some of the advantages and disadvantages you get with TeeSpring are:
Pros:

Teespring's Boosted Network can get your products into major retailers like Walmart, eBay, Wish, Amazon, Etsy, and more. You might be required to meet a few requirements, and maintain a good score, which is assigned to each account after the first sale. Your designs must also comply with TeeSpring's design policies.
TeeSpring also allows you to integrate with YouTube Merch Shelf and Google Shopping. Twitch.
Cons:
You are going to be required to drive sales and create unique content. Teespring prioritizes products based on sales history. If you can generate sales on your product(s), then they will prioritize them and get them into the Boosted Network much faster.
So, there it is, the top 5 print on demand companies that you can choose from in 2021. It is important to understand that while all of these seem like good deals, there are always pros and cons of print on demand that need to be weighed.

There are many other factors that will help you determine which POD company to choose for your custom merchandise, but we hope the pointers mentioned above are a good starting point for comparison, and we hope this helps.

Stay tuned for more detailed articles on print on demand.

While we're talking about customized designs and merch, Design Shifu is a design service that works with various individual sellers trying to sell customized products on Merch by Amazon, Redbubble, etc, helping transform their creative ideas into designs. If you have a cool idea that you would want to turn into a design, you can get in touch with Design Shifu. To know more, write to us support@designshifu.com or take a look at our by clicking here.