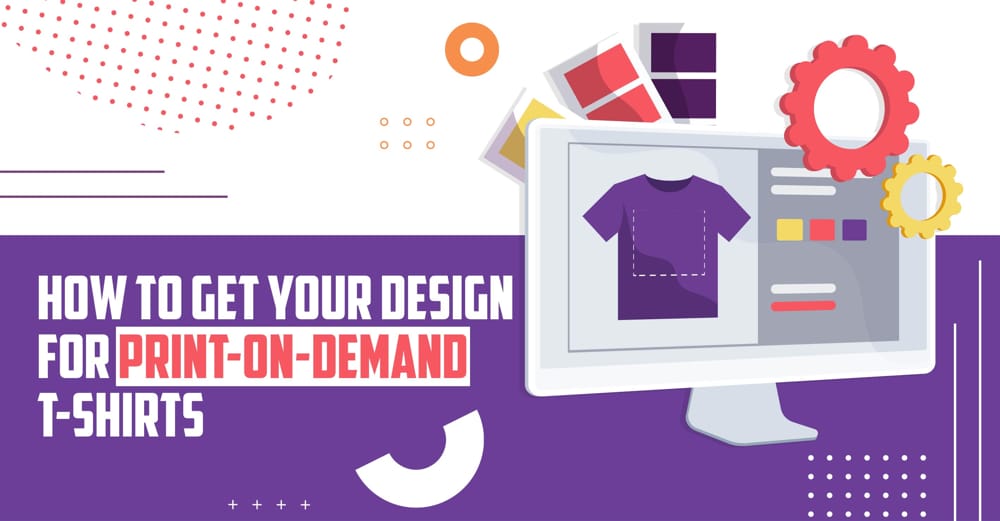 T-shirts are a staple of every wardrobe, and the t-shirts we choose to wear often show our personalities, interests, and our style. Some people like to pick up custom t-shirts based on their favorite fandom superhero, or some witty catchy line that they liked. There is a wide range of options that one can choose from when it comes to t-shirts, etc due to the popularity of such custom t-shirts on demand. This is why selling print on demand t-shirts online has become a popular business.

Needless to say, the market is competitive for something this popular, but we are here to help you understand how to build your brand for your specific audience so that you can sell t-shirts online successfully.

In this blog, we will walk you through the process of getting your designs for print on demand t-shirts, but also some other factors that you should consider if you want to take your print on demand t-shirt business to the next level.

But first, let's talk about print on demand.
How print on demand typically works
Print on demand is an e-commerce business model that allows you to sell your custom-made products online, but your merchandise only goes into production when an order has been placed by the buyer.

Companies like Merch by Amazon, Redbubble, Printify, etc offer to print designs on physical products for a fee for the cost of production, as they handle the production, shipping, and delivery of your customized product.

A lot of people have based their online stores on this model and have succeeded in building their brand of customized products online. The customized t-shirt market is booming and if you're looking to sell custom shirts on demand, let us take you through the basics of getting started.
Find your niche

One of the most important things in the graphic design industry and specially print on demand t-shirts is to stand out, which is where your niche comes in. The more specific you are, the better. Catering to a specific group or a target audience allows you to attract the audience that is interested in your product/design

Generalizing your design might seem like a good idea if you're going by the logic that the more generic your design, the more people it will attract because well, it's generic right? We assure you, it's quite the opposite. Don't you think people would rather google "t-shirts with Darth Vader dialogues" instead of "Star wars t-shirt"?

There are different ways of deciding your niche. Look at the popular trends on social media, the budding interests around your niche. Go through subreddits of the particular communities you want to build your niche around and check the level of engagement. A little bit of scouring through can help you decide, and build up your groundwork.
Design your t-shirt

Here's the actual work. You begin designing for your t-shirt. Keep in mind, your design does not need to be complex. It can be something simple and minimalistic if you choose to go down that path. What's more important is that your custom design needs to be unique.
Don't forget the technical bits. A design that is meant to be printed will generally at least need to be 300 DPI, will need to have a transparent background, and be large enough to cover the area of the t-shirt.
Validate your design

It's always great to have feedback. You can check with platforms like Reddit where discussions take place amongst designers, or communities looking to build similar business models. It is vital that you receive unbiased feedback in order to make significant improvements in your designs.
Source your products

It is very important that you maintain a standard of quality for your brand when you're selling print-on-demand t-shirts. No one wants to buy from a seller whose t-shirt prints chips off after a few washes, or whose t-shirt cloth material is very poor quality.

Read about your print on demand service providers quality of t-shirts, and even order a sample t-shirt to check the quality yourself. Your product quality is a major factor in the decision-making process of a buyer. You also have to consider the method of printing that your print on demand company chooses. Whether it is heat transfer, screen printing, or DTG, you have to ensure you are not only aware of these technicalities but how they bode for your design.
Print your designs
Like we said before, quality is of utmost importance. Getting your t-shirt designs printed is a process that is full of trial and error if you're working with local printing businesses. However, with print on demand service providers, the risk here is reduced, as you can almost always order a sample of your printed t-shirt and cross-check the quality, and even research the printing quality of the t-shirts with people who have used the service before.

There are various print on demand companies that offer their services, along with other features like integrations of different apps on one e-commerce platform, etc. We came up with a list of the top 10 print on demand companies for 2021, you can check it out here.

Setup your online presence

Once you've charted out the pros and cons of your print on demand company of choice and made your final decision, it is time to set-up your online presence. Starting a business online is a tricky business, but if you have your bases covered, you're good to go. Research your market, your audience, as well as your competition. This will ensure that you are present on the right platforms to target your desired audience.
Setup your store

Now that you have your designs created, and validated, and you have an idea of the market and your competition, it's time to set up your store. Create your store on the print on demand site that you choose. There is a wide range of service providers like Redbubble, Printiful, Printify.

Customers often want to see how the final product will look rather than just a design. Create mockups of your print on demand t-shirt designs, set your profit margin, and you're good to go. Some print-on-demand service providers allow you to create your mockup on the site itself. If Photoshop is not your best friend, you can use some of the following web-based software.
E-commerce platforms like Shopify also make it easily accessible to directly integrate your print on demand apps with their platform. These services will print and ship your t-shirts to the buyer on your behalf every time you receive an order. You get to avoid the hassle of shipping and inventory and the problem of excess stock. If you want to use your t-shirt designs on other printable products such as mugs, phone covers, etc, you can try that too. If you're interested, check out how to sell print on demand products on Shopify
If you're looking for someone to handle the design bit of your t-shirt printing business idea, we can be the brawn and you can be the brain. Design Shifu has worked with various independent print on demand t-shirt sellers and creators who work with Merch by Amazon, Printiful, Shopify, etc to help them materialize their ideas into printable designs that they require. If you're interested, take a look at our portfolio for our previous work, and our pricing page.