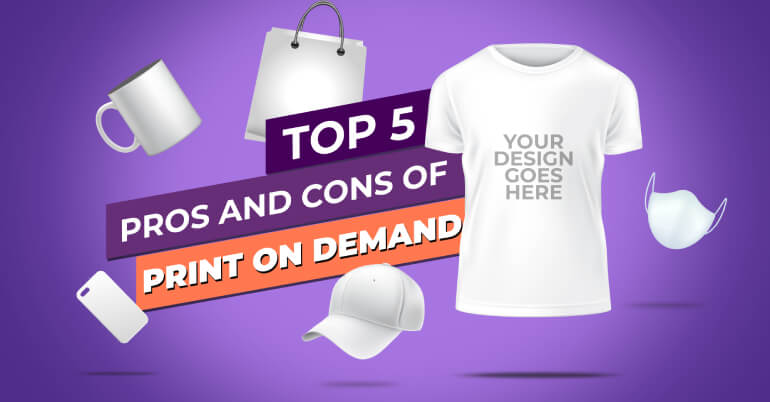 What is Print on Demand?
Print on demand is a service that allows you to customize white-label products, with your own designs, to sell them on a per-order basis.
It is an alternative way to save time and investment as well as avoid the tedious process of inventory management. So you can channel your creativity and simply sell your custom products at a fraction of the cost.
If you want to know about how print on demand works, how to set it up, etc click here.
There are essential pointers that one needs to evaluate before signing up for a print on demand service. In this article, we are going to talk about the pros and cons of Print on demand, for designers looking to set up their own store on POD services.
Pros of POD:
1. It's easy to set up
The majority of POD platforms are incredibly easy to use. It is mostly a simple process of signing up, creating a profile, and uploading your designs or products. This can be done in minutes.

While some of the sites offer a free setup, some charge a registration fee. On the other hand, sites like Merch by Amazon need you to get accepted into the POD program to begin selling your products.
2. Minimal inventory, no packaging or shipping trouble
One of the biggest pros of print on demand service is that the model gets rid of the biggest downside of inventory-based troubles such as stock costs, expenses, etc. It also eliminates the possibility of getting stuck with extra merchandise that you're unable to sell or stock-outs because the merchandise goes into production after an order is placed.
3. Allows you to focus on what you're good at
Since most of the technical, logistics and production bits are handled for you by the print-on-demand service, you can have the freedom to focus on what you're good at and spend your time producing more designs, and products that you want to sell.
4. It's easy to establish your brand
Print-on-demand services are white-labeled, which means you can customize your products and packaging with your branding so that when your customers receive their orders, there's no sign of the third party service.
5. No machinery needed. No excess or less stock
The fact that a third party handles the production for your designs, eliminates the need to have your own machinery needed to print your own stock. The technical part of the printing process is handled directly by your POD partner.
Cons of POD
1. Lower profit margins.
The cost of goods for an on-demand printing service will be higher as compared to buying wholesale. This means that your profit margins will be lower.
Because the print on demand companies handle the whole of the shipping, packaging, and selling, they are going to take a larger percentage of the profit, and pay you a commission for the product being sold.

Artists can either be paid through a percentage on each sale, that is through royalties, or markup from the bottom line cost of the product, where the artist can choose to finalize the retail price. Hence, depending on the product, the profit margin can be quite low.
2. Limited Data

While these print on demand companies handle the selling for you, they are following the market carefully and capturing buyer information, so they can market to them again and hopefully make more sales.
Because you're selling on their site, you won't ever get to know who loved your work and bought it. You won't get their information so you can make more sales unless they somehow reach out to you.
You might also miss the chance to stage your brand. Odds are, big POD companies package and ship products with their logo attached to them, not yours.
So while it may be helpful to you that they are facilitating the sale and delivery of the products, it is important to know the limitations of the service as well.
3. Quality and product types
While you create your art, your designs, and your products, make sure the print on demand service you are investing in holds quality as a priority. Some print on demand companies care about the bottom line and in the process, the quality is lost. This can reflect badly on your art business and affect your sales.
Do your research to see which companies have the highest quality printing. Check into the quality of their website and customer service department, too.
On the other hand, if you're a seller looking for extremely customized and specific products to sell, some print on demand companies might not have the option for you. Mainstream apparel or merchandise like T-shirts etc won't be an issue since they are common products.
However, if you wish to sell, for example, products only of a specific fabric, then you might find it difficult to sell through a print on demand service.
4. You depend on your printing partner for products and their availability.
POD companies work with different suppliers to source products or product materials, for example, fabric. This means there are a lot of moving parts, and sometimes products may go out of stock or become unavailable.
5. Order fulfillment takes longer.
Since every product is printed on-demand, it takes longer to fulfill orders than it would if you already had your products available in stock. While this may not be a con for the designer, it may be a con for the customer ordering your product.
Having said this…
… it is important to understand that there are challenges with the convenience that print on demand services offer. However, a deeper understanding and evaluation of the crucial elements of the POD company such as the quality of the product, the delivery time, your profit percentage of the sale, etc, can help you make the right decision for your artwork business.
So whether you decide to go ahead with a Print on Demand service or just sell your custom designed merchandise on your own e-commerce website or store, Design Shifu can create your designs for you. Design Shifu is an on-demand graphic design agency that designs merchandise and much more with a 24 to 48 hour turnaround time, for a flat monthly fee! Check out our portfolio and our pricing page.