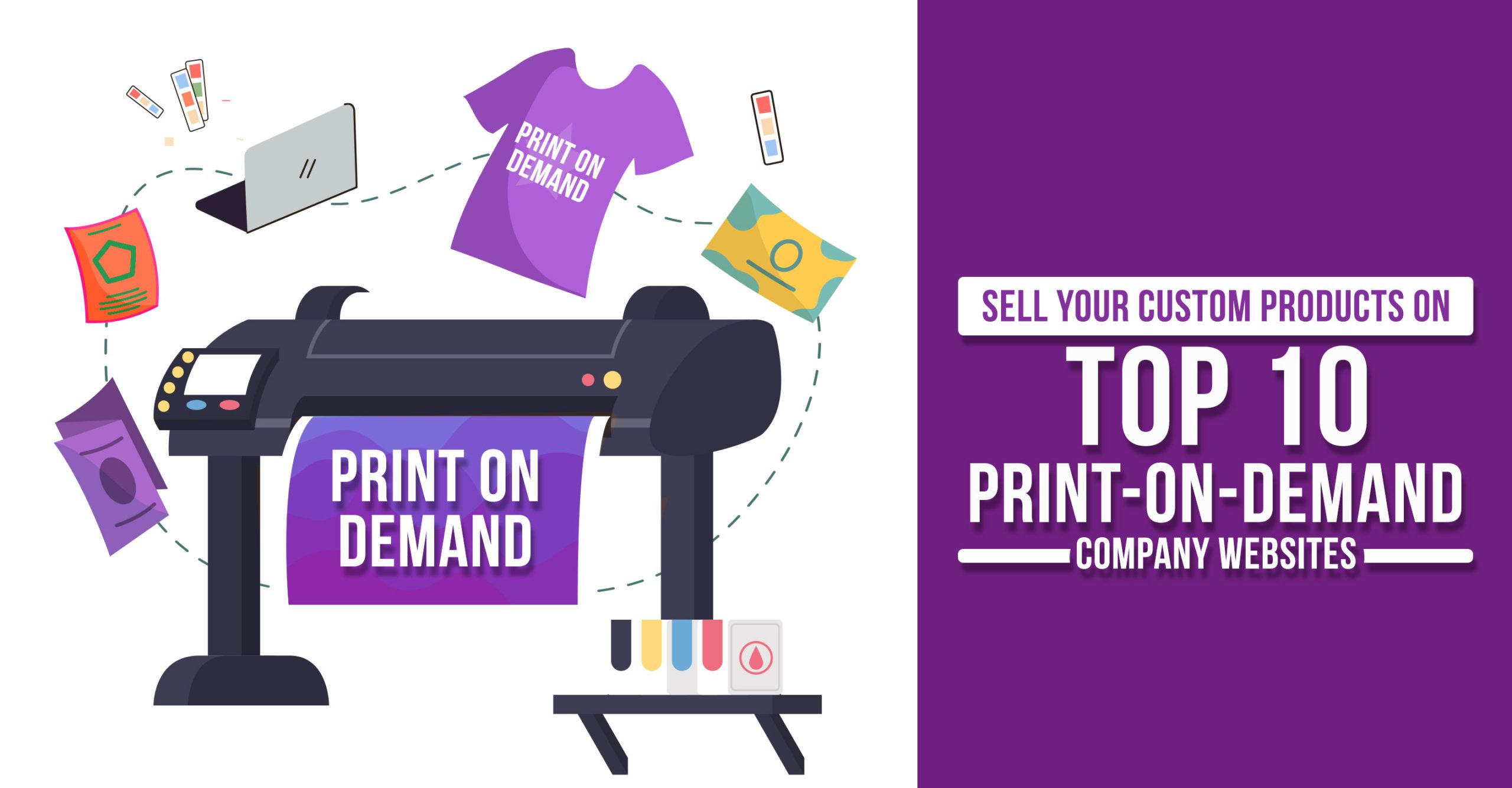 Are you a writer, artist, entrepreneur, or designer? If yes, you can monetize your creativity in the best way by making use of physical products. From posters to books and backpacks to T-shirts, you can use your own unique ideas on such products and sell them online by collaborating with a print-on-demand company.
However, if you are following the traditional process of buying and storing your product inventory, you can sometimes be left with a stack of products that are not sold. If you wish to bypass the investment, time, and risk that comes with managing a product inventory, print-on-demand services are the best bet.
Print on demand services basically offer you a way to collaborate with a supplier to get customized products and then sell them under your original brand name. This means that you do not have to pay for the customized product until it gets sold to the end-user.
This way you do not have to hoard customized products in your inventory and ultimately suffer a monetary loss when the products do not get sold. Also, with such a service, the entire process starting from printing the product to shipping it to the end-user is handled by your supplier.
Are you interested in exploring such a service from some of the most popular print on demand company websites?
Here are the top 10 print on demand company websites to partner with!
1. Printful – An Awesome Print On Demand Company!
If you want exceptional service and high-quality prints, you must approach Printful. This is one of the best print on demand company websites in the market that helps you create one-of-a-kind creative designs from scratch.
Not just this, but if you are new to creating customized products, you can even browse through the several sets of videos on this platform that show how you can print any kind of product.
2. Print Aura
Print Aura manages to stand out among its competitors since you can find an incredible collection of customizable products on their online database. It offers a huge range of products that include onesies, art prints, aprons, hoodies, t-shirts, phone cases, mugs, posters, pillows, child clothing, hats, and so much more!
If you wish to take your designing efforts one step further, Print Aura is the company to contact. Your customers can get their products delivered to them in just 3-5 days if you partner with Print Aura.
3. Lulu Xpress – Print On Demand Company For Self-Publishing
This is one of the slightly different kinds of print on demand company websites where you can self-publish your book or ebook and then print it and distribute it. This company lets you choose from a range of binding types, book sizes, and print quality.
Although a built-in designer is absent on this platform, you can still make use of the downloadable templates. When you order in bulk from here, you can get your hands on exciting offers and discounts.
4. Printify
With the incredible custom print choices, Printify can help you in livening up your brand. Printify can help you in selling products on your own site, without the need to rely on commercial marketplaces like Flipkart and Amazon.
This company works in collaboration with several designers, artists, and other design experts to make sure that you get the best-customized product for your brand.
5. Gooten
If you need a business that can offer essential services for selling your designed products online, Gooten offers the right platform for you. Here, you can customize an array of products including notebooks, journals, tote bags, canvasses, holiday decor, kids apparel, etc.
Once you partner with Gooten, you can not only sell your own unique creations but you can also sell somebody else's creations with their permission. In addition to this, Gooten also takes care of services like printing your customized products and shipping them to the concerned customer.
6. Spreadshirt
Spreadshirt is one of the leading print on demand company websites and the company is presently based in Germany. This company offers a wide range of POD products to choose from which can be then customized as per individual business needs.
The best part about partnering with Spreadshirt is that they offer eco-friendly solutions to product printing. The products that can be customized by teaming up with Spreadshirt include gifts, t-shirts, hoodies, sweaters, photo gifts, baby clothing, and tank tops.
7. TeeSpring
Originally, TeeSpring emerged as a company that sold customizable t-shirts. Later on, it evolved through the years and expanded its reach by offering multiple types of customizable products including socks, mugs, accessories, tote bags, and home decor.
If you are someone who is new to the concept of print on demand, TeeSpring is one of the ideal print on demand company websites to partner with. TeeSpring makes use of exceptional design components which makes it easier for you to design and print the selected product.
8. Zazzle
Zazzle has a tremendous reputation for offering outstanding selling experiences all over the world. This excellent marketplace features an array of customizable products that you can bring to life with your creative print designs.
Zazzle features highly advanced and unique customization tools which make it one of the best print on demand company websites. You can pick from more than 1300 items on Zazzle and customize them with your own unique design, suitable enough to gain the attention of your target customers.
9. Redbubble
Redbubble is counted amongst the best print on demand sites in Australia. It provides a creative platform for artists and designers to sell their creations online. The Redbubble marketplace is loaded abundantly with several products that can be printed with any design of your choice.
Irrespective of your creative background, at Redbubble you will always find an audience who is the most suitable for you. You can choose from over 60 products to customizeincluding scarves, notebooks, smartphone cases, t-shirts, stickers, duvet covers, etc.
10. SunFrog
SunFrog is a well-known company that specializes in providing print on demand services for clothing. They offer a 100% satisfaction guarantee, which is a testament to the quality of their service. Once you partner with SunFrog, you can create your designs or pick any of the pre-made templates.
You can choose to get your unique design printed on t-shirts, sweatshirts, tank tops, posters, hats, mugs, leggings, etc. At SunFrog marketplace, you can look through around 4 million items and pick something that would work the best with your target audience.
Conclusion
If you are ready to partner with a print on demand company website, you can pick from any of the above listed best print on demand company websites. If you need help with t-shirt designs or flyer and brochure designs, Design Shifu is your best bet to get a headstart. Check out the reasonably priced subscription plans now that come with a 14-day money-back guarantee!