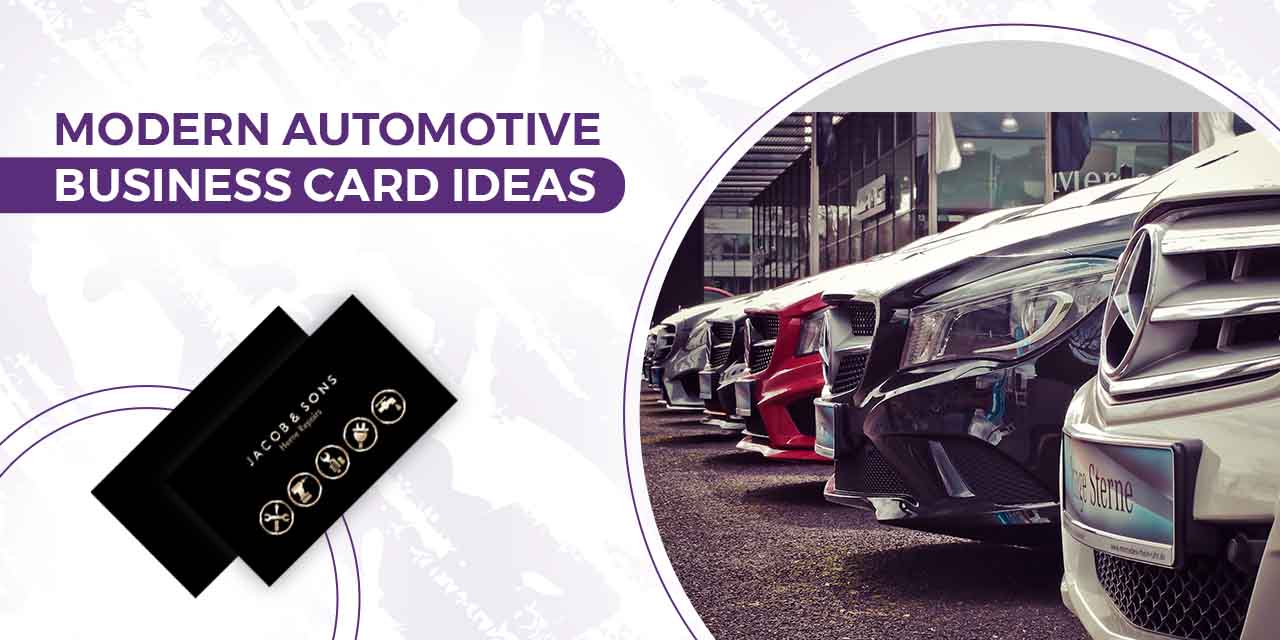 The US automotive industry ranks third in the world. Even though the overall sales have decreased, it contributes 3% to the GDP. 
Every interaction and every sale count in the automotive industry. Therefore, business owners and professionals willingly run the extra mile to secure business and client relationships. Designing a unique on-brand business card is one such run.
For an automotive business with a wide variety of services and selections, a business card or a visiting card offers an overview of your services to your potential customers. Apart from giving out your contact details, your business card reflects the persona of your automobile store, whether you are cool, bold, strong, or funky. Brands are constantly thinking out of the box in terms of design, colors, typography, and even material while developing their cards.
We have curated a list of modern and impactful design ideas for your automotive business cards that will work no matter what kind of business you own.
Automotive business cards design inspiration
Think of your business card as a medium to introduce yourself as a potential service provider and remind them continuously of your automotive business every time they have a requirement. Let's dive in.
Car Accessories Automotive Business Card Design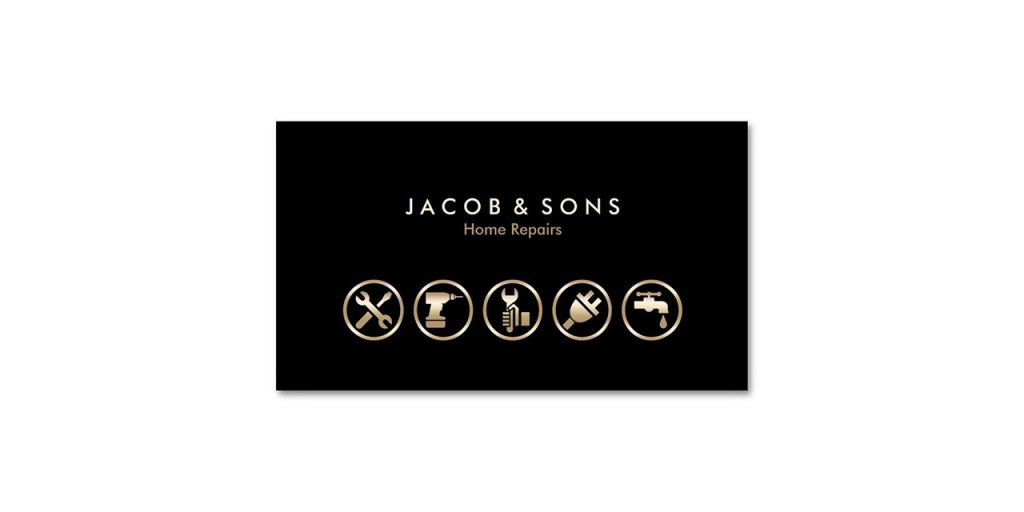 If you are a car accessories brand, mention your offerings on the business card. Make sure the visiting card highlights your areas of expertise. Add your logo, design elements, and text.
Since car accessories are mostly upgrades and customers tend to look for premium quality, go for a bold color palette, preferably lighter shades paired with black to reflect luxury. Include social media handles to direct your customer to your social portfolio. You can also add an email id and create an emailer database to send the portfolio to your existing customers and start your own newsletter. This establishes trust and credibility, increasing the chances of conversions.
Rent-a-car Automotive Business Card Design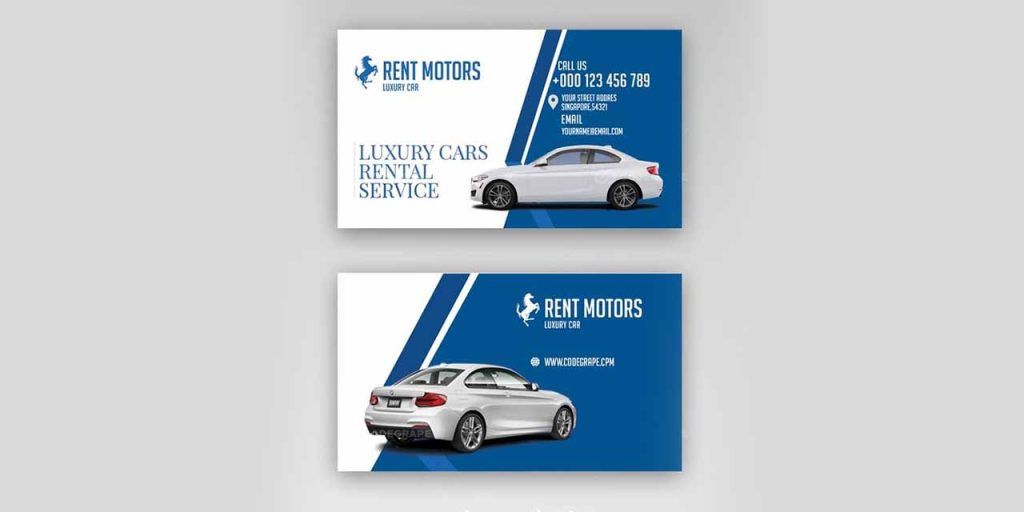 If you meet someone dealing in rental cars, wouldn't you want to know about the range of vehicles their company offers for rent? What if you made the information available on cards.
So, go ahead and pick out your best-selling car(s)/brand(s) and print them on the visiting cards to attract your audience. Instead of contrasting colors, try to use shades similar to the image and add drop shadows for a 3D effect. 
You can also include offers in text bubbles and keep changing them as and when required. However, keep the design intact while doing so to maintain brand recall.
Car Dealer Visiting Card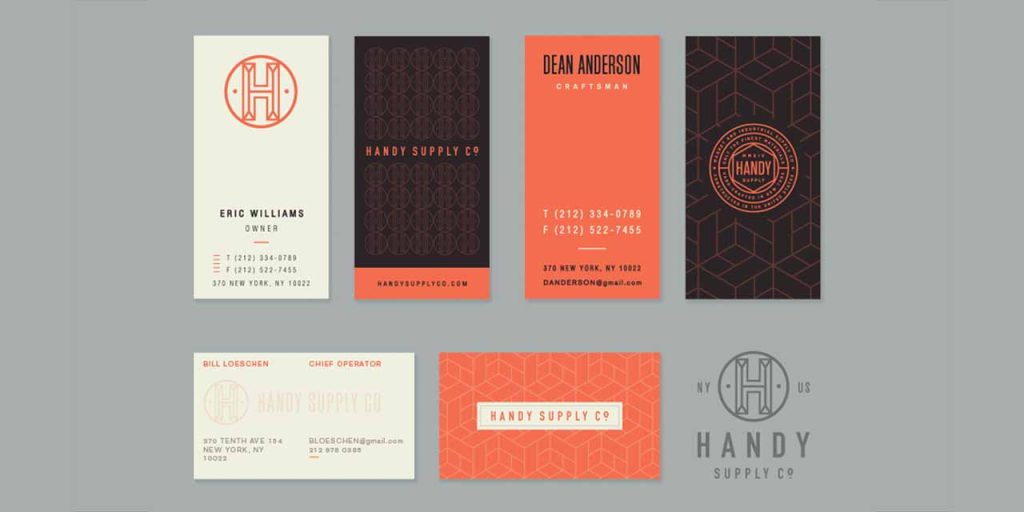 Funky Automotive business cards
Go for a funky neon look for your car dealership business. Pick a bright, flashy neon color palette and add it to your graphic element in the center of the card on a dark background. Bright colors on automotive business cards radiate optimism toward the customer looking for a big purchase, potentially from your brand. You can also fill the negative space with a bright color to add energy and evocativeness. To give it a modern touch, bid adieu to the traditional horizontal business cards and welcome the edgy vertical designs. 
Minimalist automotive business cards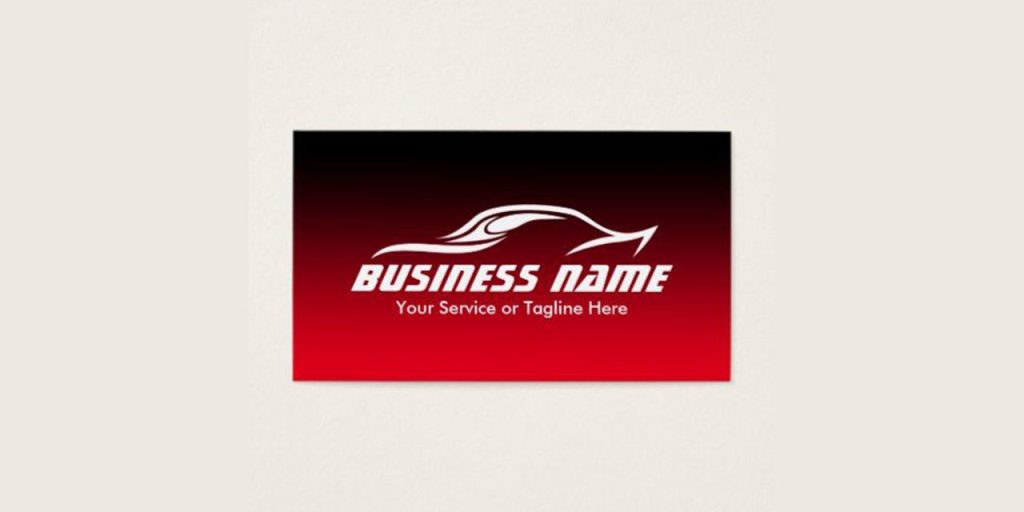 Minimalist designs are widely used. The concept of 'less is more' is very much applicable to business cards because the scope of extensive messaging is limited by size. A minimalist design allows your potential customer to focus on the crucial message without getting distracted by irrelevant elements. Include an enlarged logo at the center of the card, and add your name, title, and contact information.
Make-your-car Visiting Cards
These fun card cutouts can be rearranged to make miniature versions of car models. Being a car dealership business, make your customers feel that they are making the right choice by giving them exactly what they want. Who knows your miniature model car might just make it to the customer's object collection!
Auto consultant visiting Card
What is the best way to be transparent with your customers? A sleek and solid transparent business card (pun intended).
If your initial message to the customer is as clear as your business card, they are likely to avail of your services. A clear frame will allow you creative freedom with colors and typography. A transparent card also fulfills the minimalist criteria because precision in messaging and design is essential to put your communication through if you are choosing such an intricate material. Add some pop of color to make a truly one-of-a-kind automotive business card for your business.
Car Detailing Automotive Business Cards
Car-shaped automotive business cards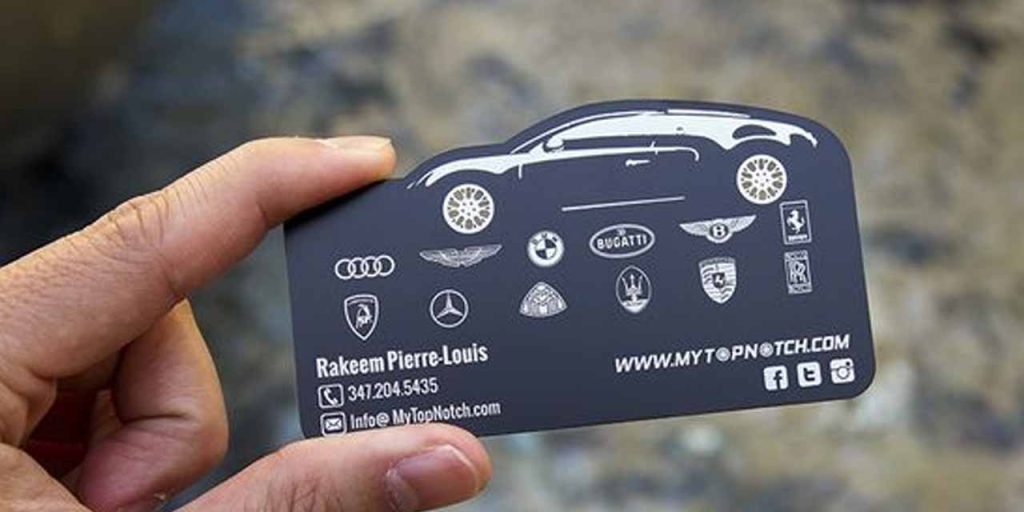 Think out of the box with your business. Get customized cut-out cards instead of conventional rectangles. They are interesting to look at and functional. These cards speak volumes about your brand. You can choose any material for the cards to keep them sturdy and long-lasting; however, preferred textures are metal and wood. If you are worried about whether they are foldable or can fit in a pocket or wallet, you can select paper or thin cardboard.
Textured metallic cards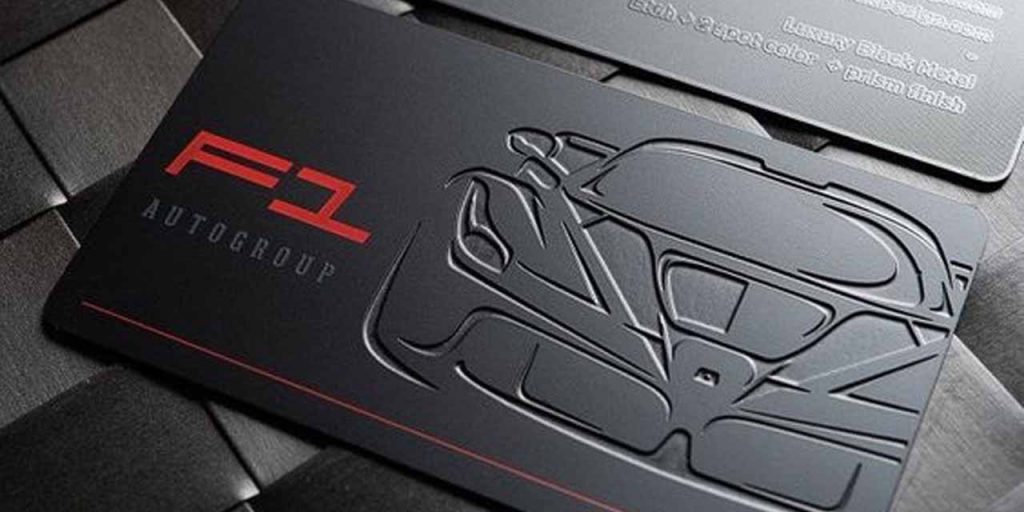 Car detailing services allow customers to upgrade their automobiles; hence, premium and good quality services are automatically expected from your brand. Make your business card as unique as your store, and spell out your services literally by investing in metallic textured business cards. You can customize the detailing on these cards as per your brand aesthetics. Choose a contrasting color for textual details. A 0.5 mm thick black metal template with red spots and a prism finish can provide your visiting card with a luxurious look.
For more business card ideas for an auto-detailing business, check out our blog here.

Mechanic Business Cards

Wrench business cards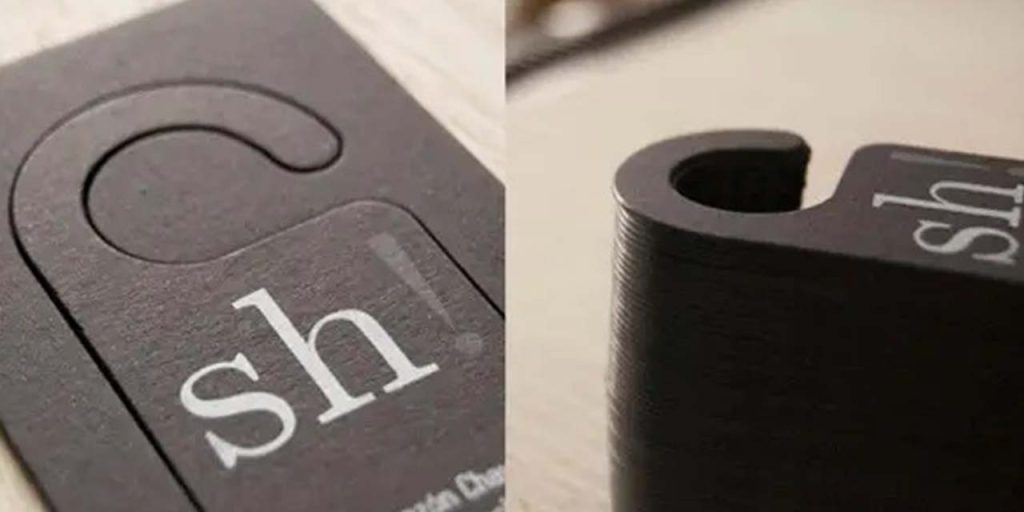 Think utility when you are a business that provides repair services. What unique things can you do with a business card that would be useful to your potential customers? This thought would allow you to take regular business cards a step further. You can use a metallic base for your business card and give away inserted wrenches or screws. Giving your customers something functional makes you memorable and offers a competitive edge. Now, whenever they see a wrench, they remember your business card and your business.

Illustrative mechanic business cards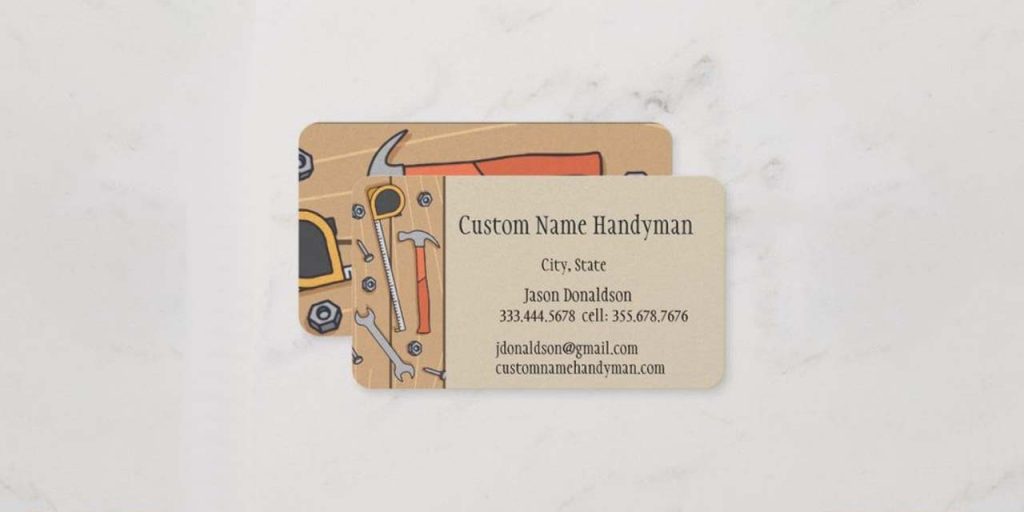 We have talked about modern and out-of-the-box ideas for automotive business cards, but sometimes keeping it simple might just be equally effective. Illustrative prints with elemental graphics, which talk about your brand and its services, are very much in trend. It gives your brand a young and creative personality; something that a niche audience will resonate with. If illustrations are not your strongest suit, why not let Design Shifu take care of it? With a monthly subscription, you get access to an expert designer who can handle all of your design needs.
Auto repair business cards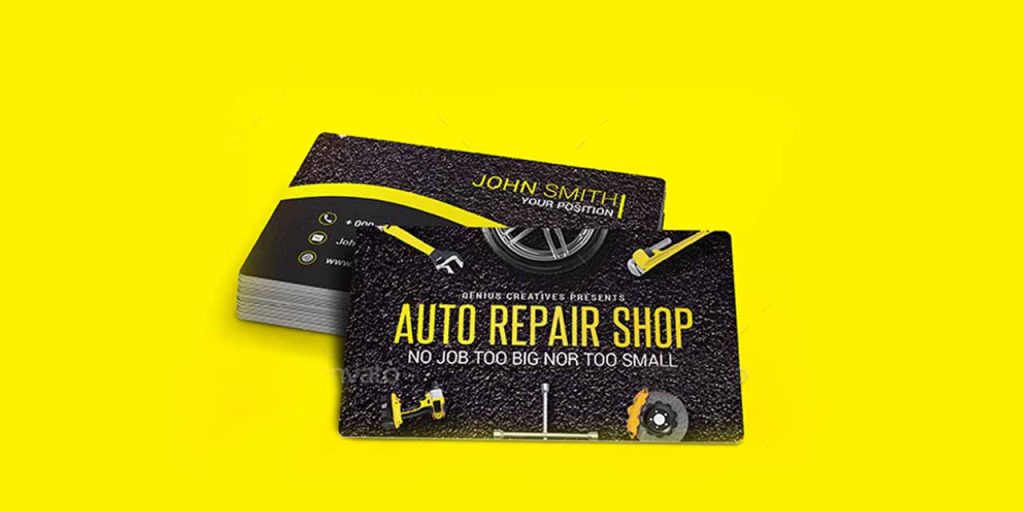 Some of the best marketing tactics go viral through quirky content marketing. These tactics can also be incorporated into your brand visiting cards. Something as simple as ' No Job Too Big Nor Too Small', right below your store name conveys your brand values.
Add your brand tagline or values on your card to tell your audience what you stand for. You can also think of a quirky conversational message that makes them interact with your card.
Car wash automotive business cards
Capture motion in your visiting cards
Usually, millennials and youngsters who like to keep things clean and updated are the target consumers for car washing stores, hence your business card must reflect their values. One way to show your excellent service is to capture the action of car washing on your card. Get it clicked and edit the photo for highlight and contrast. You can even add a before and after image of the car.
Splash visiting cards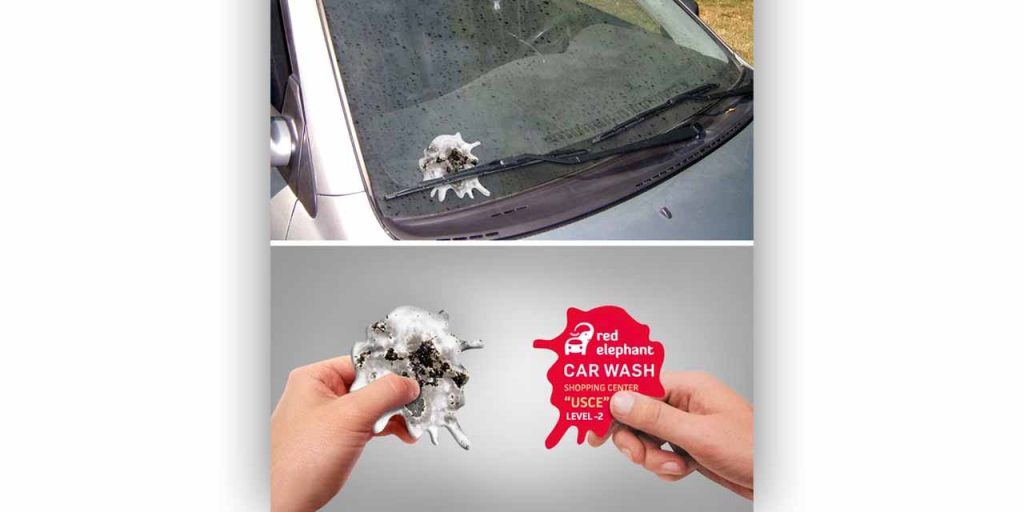 It could be deceiving at first but this genius business card might just become the talk of the town. " You've dirtied the car? Don't worry we will fix it ", these splash business cards are a guaranteed crowd-pleaser. It is not only smart but delivers the message to your potential customer in a unique fun way. Put it up like a parking ticket (in adherence to the law) and see the reaction, use both ends of the card — one for the illusion and the other for the call to action.
A car wash ticket
Tickets create a sentimental impact on the customers, if you are not going for sentimentality; think convenience for your customers. Add instructions and directions on these ticket-shaped business cards and ask them to hand them over when they come for a car wash. You can add incentives for customers who complete the process by offering them discounts so that they visit back to the store. Adding little tasks for the customers gives them an immersive experience that they are bound to remember.
Motor Vehicle Insurance Visiting cards
Gold emboss cards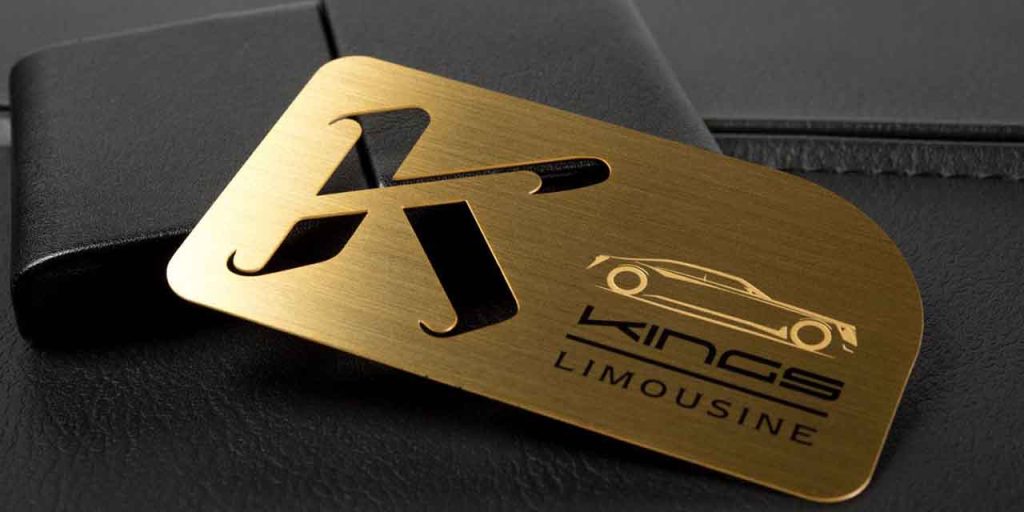 Embossed business cards are a class apart. You may choose to make the card completely golden or just add intricate designs and detailing. These foiled embossed cards provide a luxurious touch. A motor vehicle insurance company has to be trustworthy and credible; gold embossing elevates the overall look and feel of the brand.
Cut out cards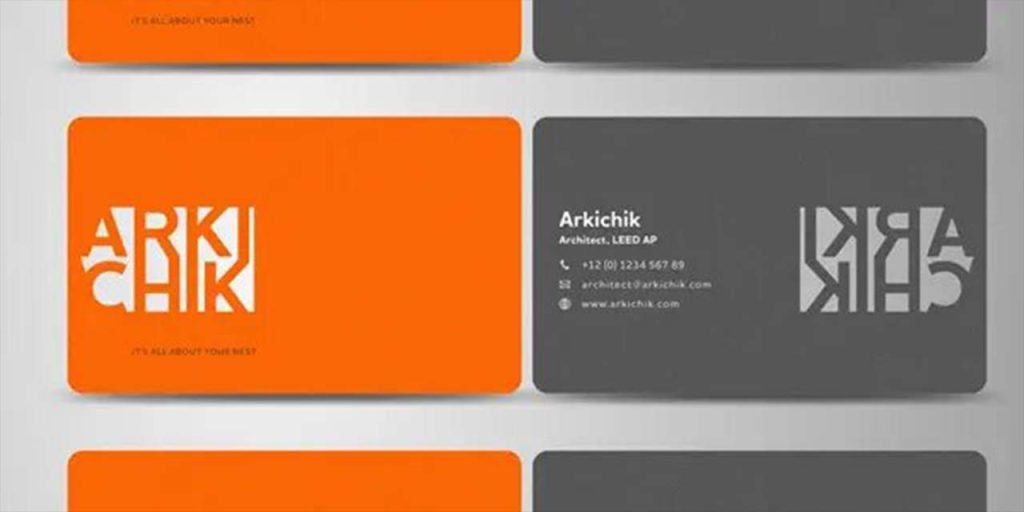 Subtracting material from the card gives it an unexpected depth and interesting detail. Cut-out cards are a valuable addition to minimalist designs. Many business owners create cut-outs of their logos on the business cards to highlight the business name. You can also make cut-outs of your brand logo on the business card and add your contact details in the form of plain text. 
Do's & Don'ts for designing automotive business cards
You may have a flashy store, an immaculate website, and brilliant marketing gimmicks up your sleeves, but having an attractive business card is equally important. Business cards will always be one of the greatest tools for networking and acquiring new clients. It is the face of your brand and the first impression your potential customer gets. Hence you need to ensure that the design you choose is effective to hit the right spot. Here are some dos and don'ts you must follow while designing your automotive business cards:
Do's for automotive business cards
Do not settle for generic card designs. Your layout does not have to adhere to formal aesthetics, but it can help you position elements in a better way.
The purpose of a business card is to pass on information. While creativity is important, do not let the information get lost in the design. Take care of the font size, color, and space to make it effortless to read information.
Choose proper color schemes.
Color schemes are important for brand recall, being an automotive business, you can use two or three shades of contrasting colors in the cards. If you want to keep it bright and bold or mellow, it completely depends on the brand but makes sure to remain consistent with the color palette
Select visuals carefully.
While being abstract is not a crime, you must use relevant visuals that make sense to your customers, since business cards have limited space. For example, using traveling cars instead of accessories may misdirect the customer.
Don'ts for automotive business cards
A common mistake that business owners make is to cramp the list of their services on the business card which leaves the customers confused and overwhelmed. So restrict to the basic questions (Who? What? Where? Why?) and most relevant services.
Stay away from the glossy finish
It can be tempting to use a glossy finish business card especially if you are a car wash or detailing business. However, information on these cards is often not readable in direct sunlight because the light bounces off of the design.
If your business card does not have a proper layout and is overpowered with text and graphics, it becomes difficult to read and may irritate the customer to the point of discarding it.
Never underestimate negative space
Proper use of the negative space in any business card design is equally important as limited information. The judicious use of white space will create a proper balance in your business card and make it look more appealing.
How can you design your automotive business card?
You might be a brilliant automobile consultant, dealer, business owner, or mechanic. But you may not be a brilliant designer for your business card just because you know the brand better. So, we advise you to invest in professional designers to help you make a memorable and profitable automotive business card.
However, if you wish to design it by yourself, follow these tips for better results:
Images add depth to automotive business cards, sometimes even more than text. You can choose pictures of a car, truck, or minivan and convey the same message effectively. A bunch of stock images is available online that you can download at a menial subscription fee. Avoid free images. Nothing is better than original photographs clicked in your store.
You can find user-friendly design software online with countless features. You can customize your logo, font, and color palette as per brand guidelines and choose multiple graphic elements for free. Do not copy the available templates because it will hamper the trust and uniqueness of your brand.
Professional design consultant
Even if you design on your own, you can ask a design consultant to analyze your automotive business and suggest designs that synergize with your brand. Professionals know exactly what to include and avoid for effective communication with their audience.
Wrap Up
Once you are satisfied with your automotive business cards, you can start circulating them to potential customers via email, and social media. Keep a stack available in-store for regular distribution. Remember that no matter what design you pick, the main objective of your business card is to convey your brand message to compel the customers to choose you as their service provider.
Do you want help designing such compelling business cards for your automotive business? Check out the flexible plans at Design Shifu and get an automotive business card made as per your brand requirements. These plans come with unlimited revisions at no added cost. Not to forget, there's a 14-day money-back guarantee, just in case you aren't satisfied!