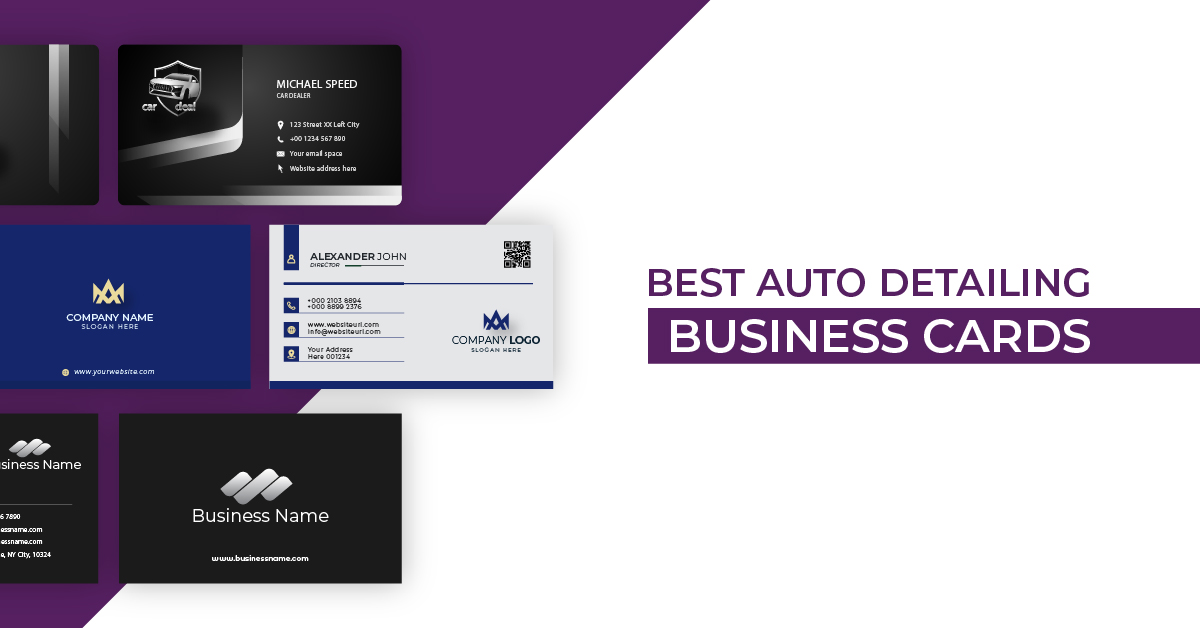 The world is constantly changing and so are businesses. From small-scale organizations to massively-run businesses, every organization is looking to publicize what they specialize in. With the growing popularity of the digital era, websites, blogs, podcasts, and social media have been an initiator behind updating others about who you are and what your business is. However, for small businesses, which are not too technologically savvy, sharing a unique identity with others proves to be a backbreaker. This is where business cards steal the spotlight.
Being the very first tangible impression of your business, a business card stands at the top of the ladder in terms of business networking. Be it auto detailing business cards, technology equipment cards, or even a clothing store card, this method is more professional than exchanging information on your smartphones. 
Why Should You Have A Business Card For Your Automotive Business?
There's no denial of the fact that digital networking has been ruling the world of late. However, to date, this traditional marketing technique does pack a punch.
According to Smallbiztrends, 72% of individuals form an opinion of the company based on the quality of the business card. From your logo, name, business name, tagline, and contact information, business cards give you the liberty to showcase all necessary information to prospects to formulate your identity.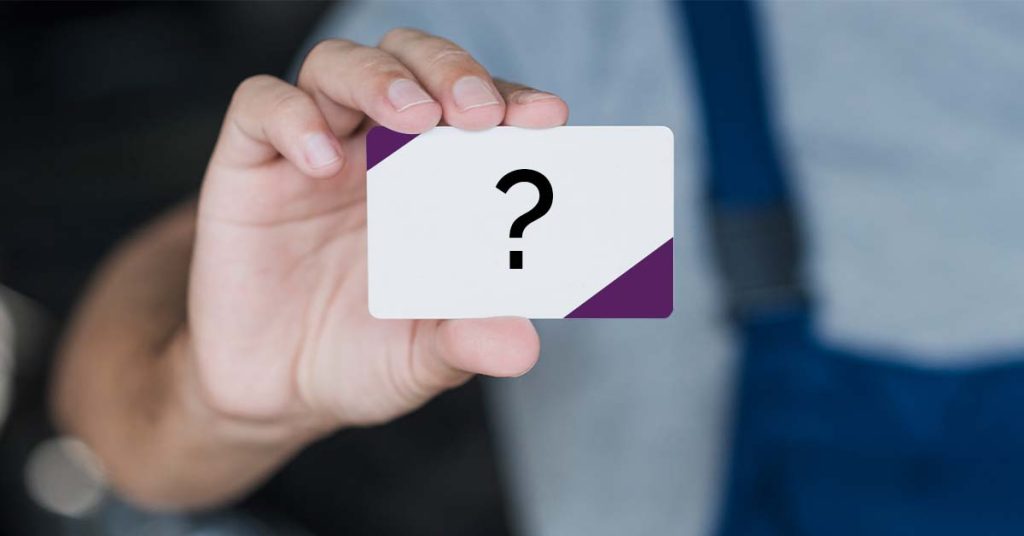 Here's why you should have a business card for your business:
Introduce yourself
If you ever come across an opportunity to publicize your business or build a connection, your business card ensures a strong first impression. Sharing information digitally can take seconds. But, having a face-to-face conversation helps you engage with the person a lot better. A charming smile and direct communication followed by a handshake, advance you to the second phase where you hand out your business card for securing a connection. The physical exchange of cards humanizes the relationship.
Be offline, yet online
As contradictory as this may seem, it's a lot easier than it reads. Business cards can also showcase a feature that turns it into a digital experience. QR codes allow you to direct your audience to your website or application. All you need to do is place a QR code on your car detailing business card and you're all set. For example, you can enable a code that allows customers to get a free car service, get updates on discounted weekdays, or find any relevant information they seek. It is a quick and effective way to interact with your customers, and add a fresh touch to your business card. 
Lighter on your pocket
Every small business's worst nightmare is being on a tight budget. Designing and printing business cards is cost-effective. You can attract and win more businesses without burning a hole in your pocket.
Step in to stand out
While everyone goes left, you go right. To escape the crowd and stand out, thinking differently pays off. While campaigns, promotions, and online advertising overcrowd the market, sticking to old-fashioned advertising in the form of business cards invokes a topic of discussion. This comes with an added level of satisfaction when your customer has a physical card that represents your brand identity. 
While these advantages lean towards your benefit, being aware of what goes on a car detailing business card is necessary. 
What Do You Put On Auto-Detailing Business Cards?
Name & Contact Details
Imagine having been called by someone, but without your name. Feels incomplete, right? That's exactly how your business card feels without your company name. Having your name imprinted comes with the sole purpose of giving customers the convenience of being able to contact you when needed. Additionally, you should also add your phone number, email, or office address for redirection. 
Company tagline
If you, as a customer take a look at one's business card and instantly understand their offerings, half of the battle is already won. Through your auto detailing business card, include your tagline to convey your mission and vision to your prospects.
Website & Social Media
Keeping the effectiveness of digital media in mind, include your website URL and social media handles in your card. From showcasing your work through a digital portfolio or plugging in your website for users to get a 360-degree experience, you can include anything that adds weight to a small, yet valuable business card.
Logo and Images
Use a visual to ensure your customers remember who you are for a longer time, either through a logo or an image that has a strong recall value.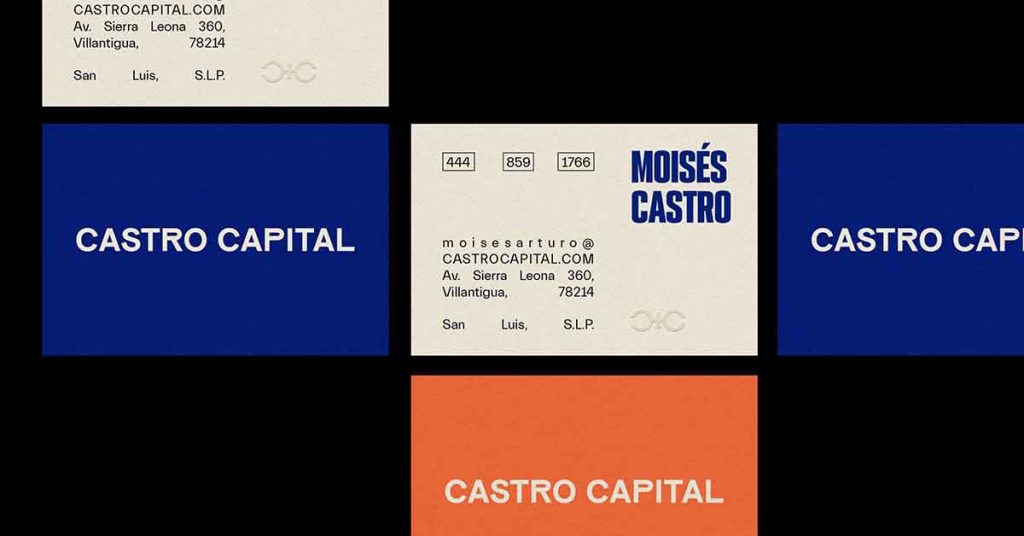 Once we've understood what exactly goes on these business cards, knowing a little more about it doesn't hurt. Digging a little deeper into the design sphere helps one decode ways to grasp their audience's attention with just one move. Here are a few card ideas that can help to your benefit.
Unique Auto Detailing Business Card Ideas to Catch Attention
Die-cut Automotive Business Cards 
Die-cut automotive business cards have unique shapes that bring newer eyeballs to your brand. These showcase an extraordinary identity that's coupled with detailed graphics, premium cardstock, and coatings.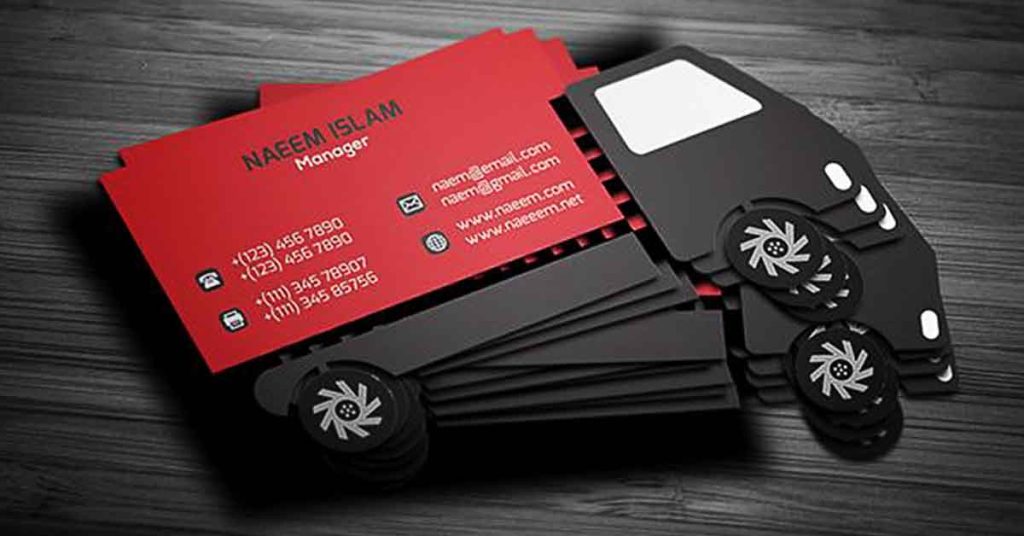 Photo-centric Business Cards 
As the popular saying reads, "seeing is believing." Add a picture of your business to show what you deal with to your prospects. Showcasing the perfect blend of texts and visuals, these business cards can showcase the best of both worlds in one.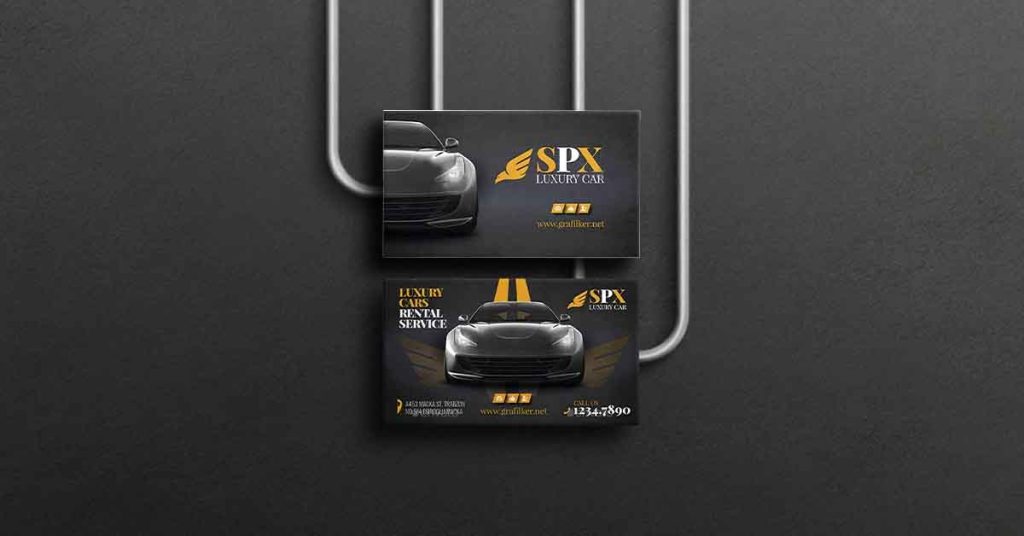 Minimalist Cards
Simple. Clean. Effective. These three terms define what minimalist cards stand for. With an ordinary-looking, yet extraordinary design, minimal cards prove that heavy designs are not necessary at all times. Tone down the symbols and bring them to their basic form and play with layout and position to create visual interest.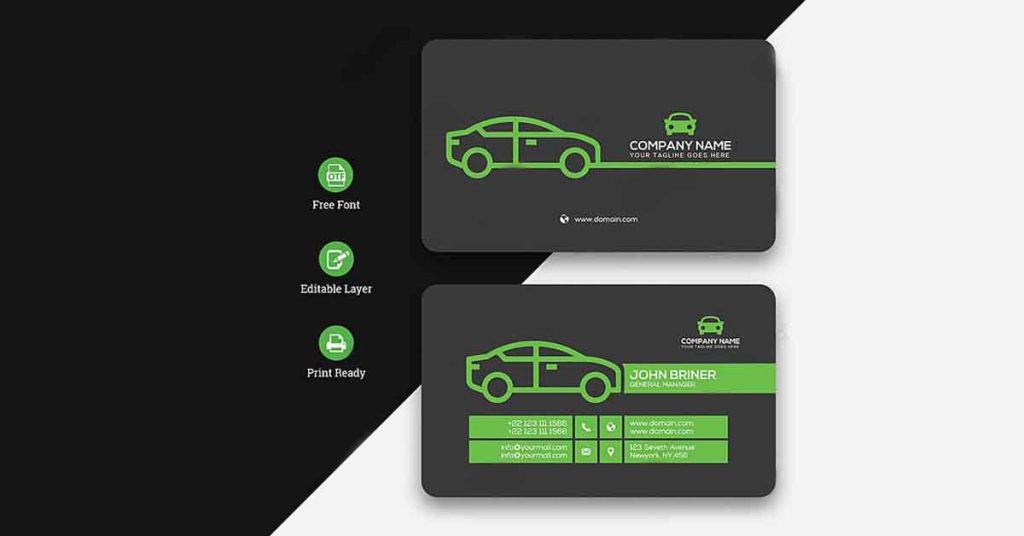 3D Business Cards 
With technology making its presence felt across all domains, adding a touch of it to your business has only been a matter of time. 3d business cards have been an overnight sensation where real 3d effects add depth, balance, and uniqueness to your business card. From 3d lettering, materials, and folding, if you're looking at grabbing one's attention, this innovative design has it all.
For example, check out how this card uses embossing to create a 3 D effect.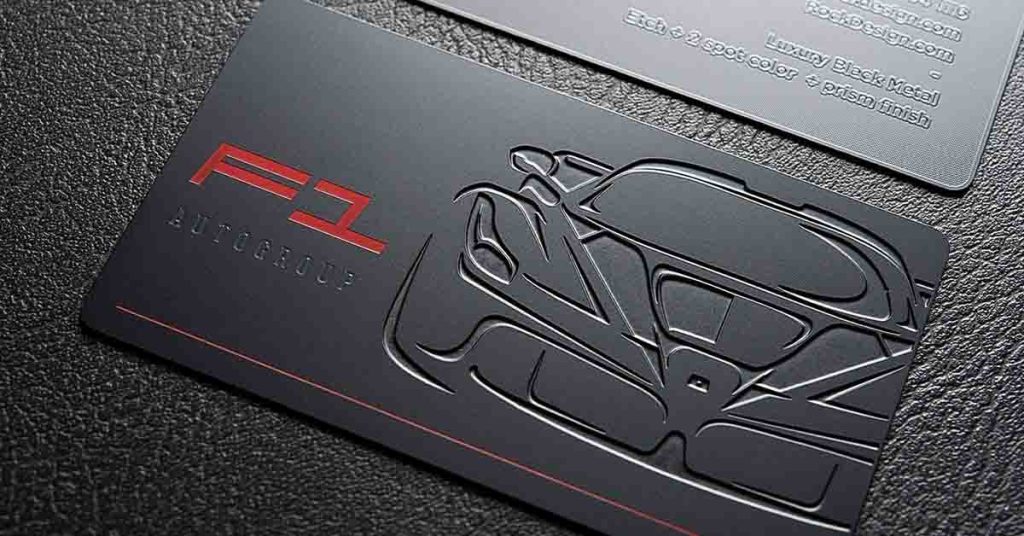 Maximalist Business Cards
There have been instances where being minimal helps go the distance. However, sometimes being different does go the distance. Being loud in terms of colors, graphics, etc. ensure that you have all it takes for customers to show interest in your business and its offerings.
For example, this mock card uses bold typeface, bright colors and fills up the entire space.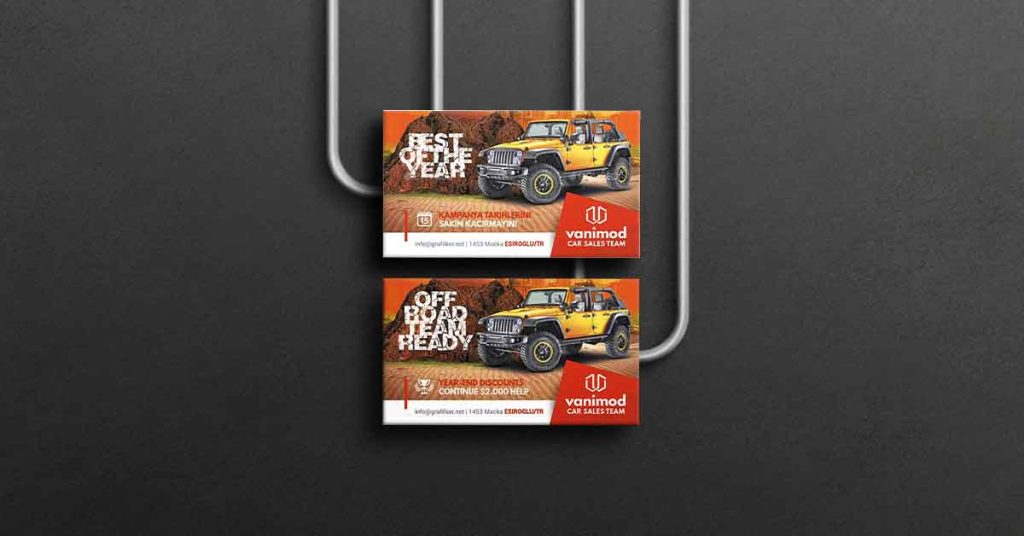 Multipurpose Business Card
If you're looking to stand out from the crowd, multipurpose business cards scream perfection all loud. This card is made with the sole purpose of being with your customer more as a necessity or an accessory. For example, adding a yearly calendar, dedicated space for notes, discounts coupons, etc all serve to be reasonable ways your auto detailing business card can work as an all-in-one. 
This business card turns into a wrench. No surprise that this card gets a place in the wallet forever.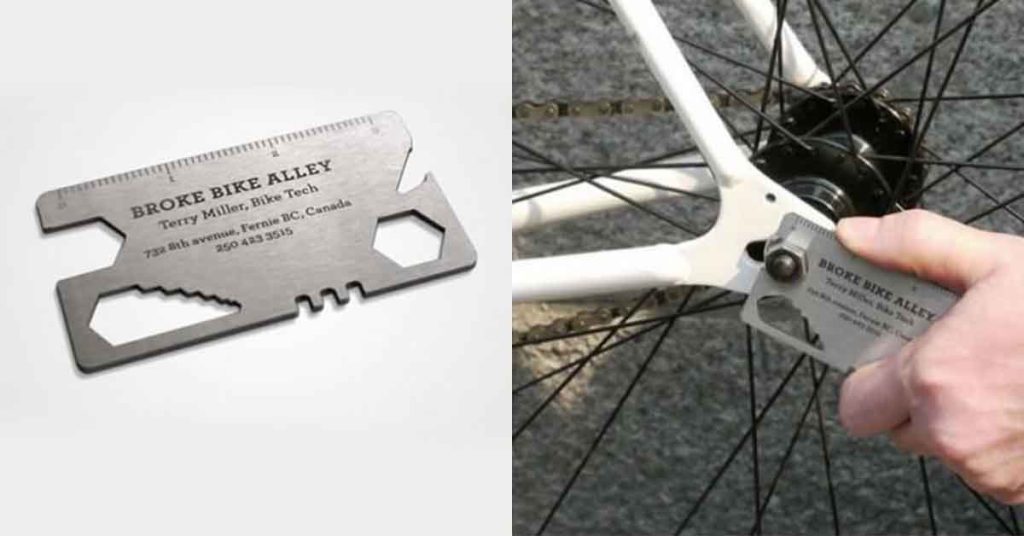 Typographic Business Cards 
Apart from being heavy on design, words can also assist with making your car detailing business card stand out. From minimal designs showcased with maximum focus on typography, you're sure to catch the attention of many. You can also go for a bright color palette that creates a bit of nostalgia through noteworthy demographics.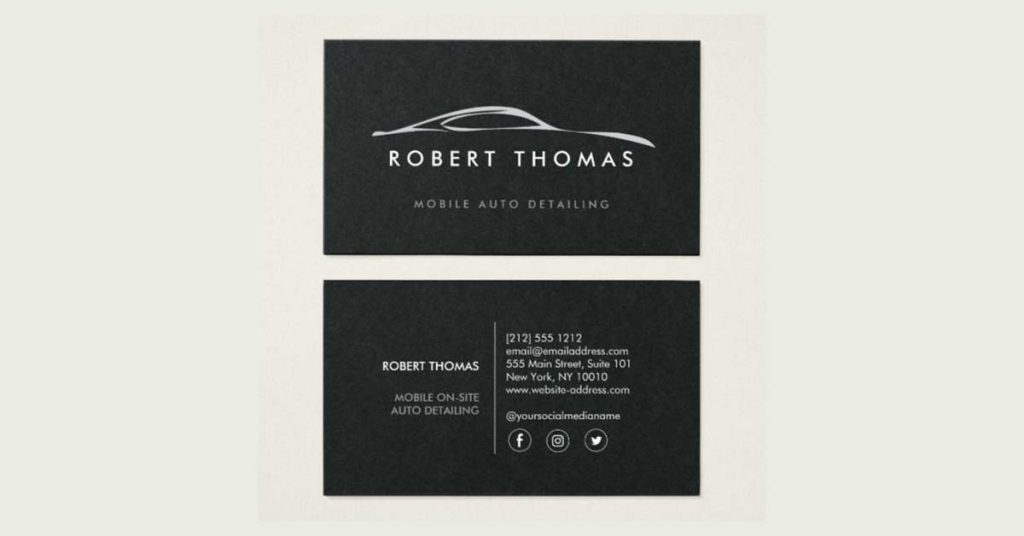 Experimental Business Cards
Gone are the days when boring business cards ruled the market. With paper and plastic being common materials for your business cards, times have changed and so have the materials. With ample room for experimentation, using different materials for a different look ensures your customers remember you for good. For example, the multipurpose card shown above uses a different material and turns into a wrench. Think of different materials to design your card.
Since auto detailing is our primary focus, one should design their cards keeping their company's principal offering in mind. Here's a clear rundown of the ideas classified under subcategories that define your business.
Card Ideas for Every Type of Auto Detailing Business
Car Detailing Business Cards 
Whenever we talk about car detailing services, considering every minute detail is crucial. Similarly, the perfect car detailing business cards showcases the perfect union between your logo, tagline, and contact information. Having a strong design and communication helps you go the distance. Add images and symbols related to cars.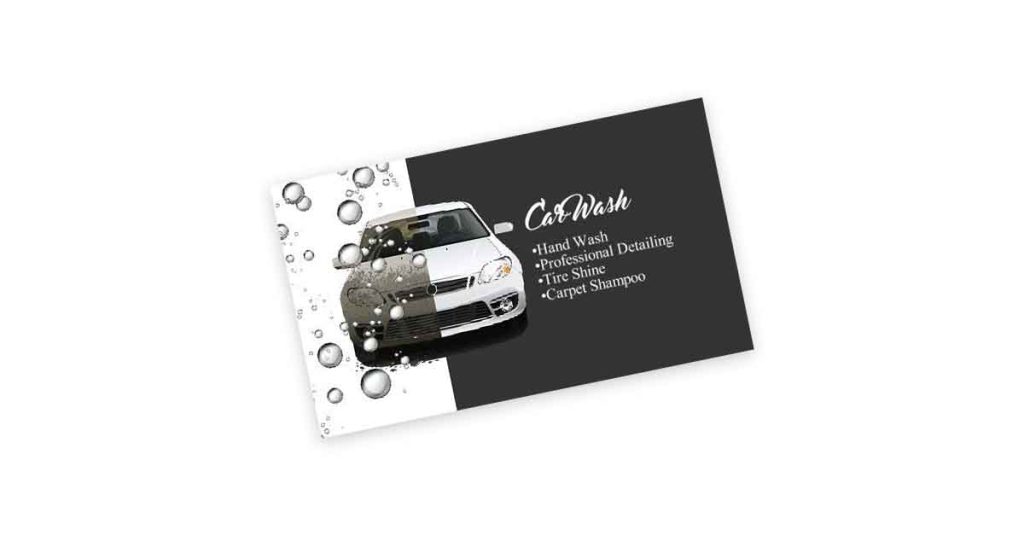 Mechanic Business Cards
If you are a mechanic, having a professional business card serves to be a strong tool when it comes to communication with potential consumers. This also assists with skyrocketing your business network, increasing your recall factor by a margin. You can experiment with photo-centric cards to clearly showcase your offering to the customers.
Auto Repair Business Cards
For those who have witnessed their vehicle break down or malfunction know the importance of a service mechanic. While knowing your job well gains customer loyalty, having a well-designed auto repair business card assists with customer retention.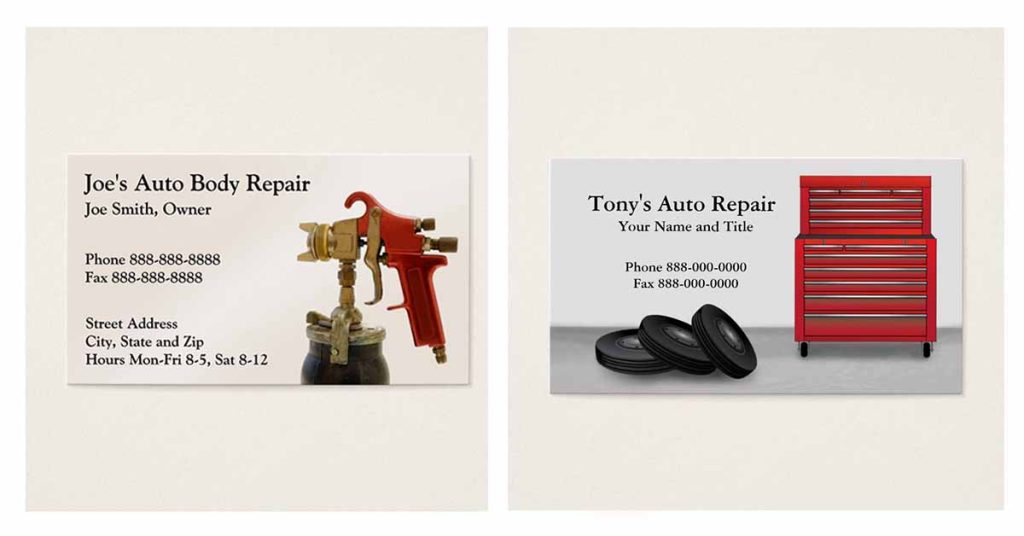 Mobile Detailing Business Cards
The service you provide does bring a smile to every car lover's face. But, is that enough? From a business point of view, you can take a step further by using your business card to put out what services you offer. From detailed car cleaning, shining, adding wax, and pampering their baby on wheels, include services you offer to your clients.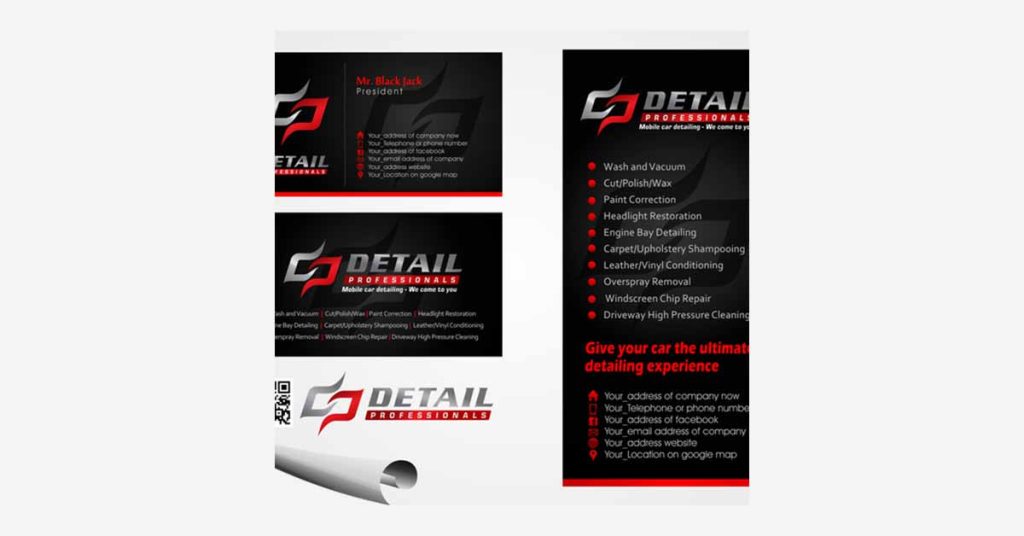 How do I Design a Business Card?  
Designing an effective business card might seem a daunting task. So we have broken it down into simple steps for you to follow.
Note down the relevant information
Having everything you need is a luxury, especially with information printed on a business card. Include all the necessary information so they can reach out to you in a way they are comfortable with. It could be through phone call or an email address. Add only active information.
Select the typeface, colors, and symbols carefully
Consistency is key. If you have been using a typical font for your social media or website, you must use the same for your auto detailing business card. If you don't have a set font, then decide on a font that aligns with your brand personality. For minimal and futuristic brands, Futura, Helvetica and Open Sans are good choices.
Design the template
If you're running a car mechanic business, using elements such as fine lines, vehicle elements such as speed logos, etc. creates an outgoing personality. Take note to keep the design a lot more fun and exclusive and less like a formal letter. We've given you a plethora of ideas to choose from. Mix and match to find your own style. Does it still feel like an overwhelming task? Get a dedicated designer and unlimited graphic designs for just $399 per month at Design Shifu.
Add a special touch to it
If you wish to create an impression that lasts, add a finishing touch using gloss or shiny foil elements. You can also use 3D elements to give your car detailing business card an enhanced look that's hard to forget.
What Makes an Effective Business Card?
Here we're giving you a few tips on how to ace your business card design to perfection. 
Typography 
Good typography does add character to your design piece. For your auto detailing business, using more BOLD texts gives your brand a strong character. Avoid using fonts in lowercase as it may be tough to read, ultimately leading to a drop in customer retention. 
Color
To market your products effectively and evoking the right emotions, carefully choose the colors for your auto detailing business card. Selecting colors can be a tedious task at times. So understand the basic color psychology and define the emotions you want to evoke. Select colors from the narrowed-down list.
Images, symbols, and icons
When designing a good business card, creating the right balance between visual elements and textual information serves to your advantage. You would not like to create something too visually strong or too text-heavy. So maintain a balance. Additionally, avoid using stock photos and images.
Consistency 
As the popular saying goes, "consistency is key." Similarly, having a common tone of communication, design, font style, etc. prevents your audience from being puzzled quite often. Keep it consistent with design elements and voice on other channels like your website or social media page.
Legibility 
As much as auto detailing business cards should be visually strong, having texts and icons that are legible and not too hard to read is crucial. The purpose of the card is to enable your prospects and customers to reach out to you. Make sure important information is clear.
Trends 
A business card must be timeless, yet trendy so that it grasps attention and doesn't need upgrades every few months. Check out these graphic trends you need to avoid in 2022 to stay updated.
If you're still looking for a pre-built design template, then check out these 8 free business card design templates you can download and tweak for your own auto detailing business.
What is the standard Size, Shape, and Layout of an Automotive Business Card?
For those that have noticed, business cards have been following the same shape and size for ages. Having a rectangular outline with the same or somewhat similar outlines, their trends have seen no major alterations.
However, in a sea of rectangles, choosing a different size or shape can help create a long-lasting impression. Maintain the standard size in mind i.e. 3.5" x 2," just the shape and size as that of a credit card. Other than this, showcasing the layout that follows the image, tagline, and personal information sequence calls for a seamless flow of information for all your potential customers.
For an automotive business card, one should focus on designs, colors, sizes, and layouts with ample white space segregating texts and visuals that streamline with their brand voice and personality.
We hope we have given you enough ideas to prompt you to design your own auto detailing business cards to build lasting relationships with new prospects and customers. Keeping all the above information in mind, having a unique and well-designed card can set your business apart from your competitors. From eye-catchy fonts to visually appealing designs, experiment with different design elements and styles to create a card to amplify your word-of-mouth marketing. 
With newer and unique designs flooding the market space and new competitors fighting for attention, consider partnering up with designers to get a professional, customized card to guarantee those new eyeballs you've always been seeking for. Or, why not take help from Design Shifu to design your business card for your business? You get unlimited graphic designs and a dedicated designer to take care of all your design needs.