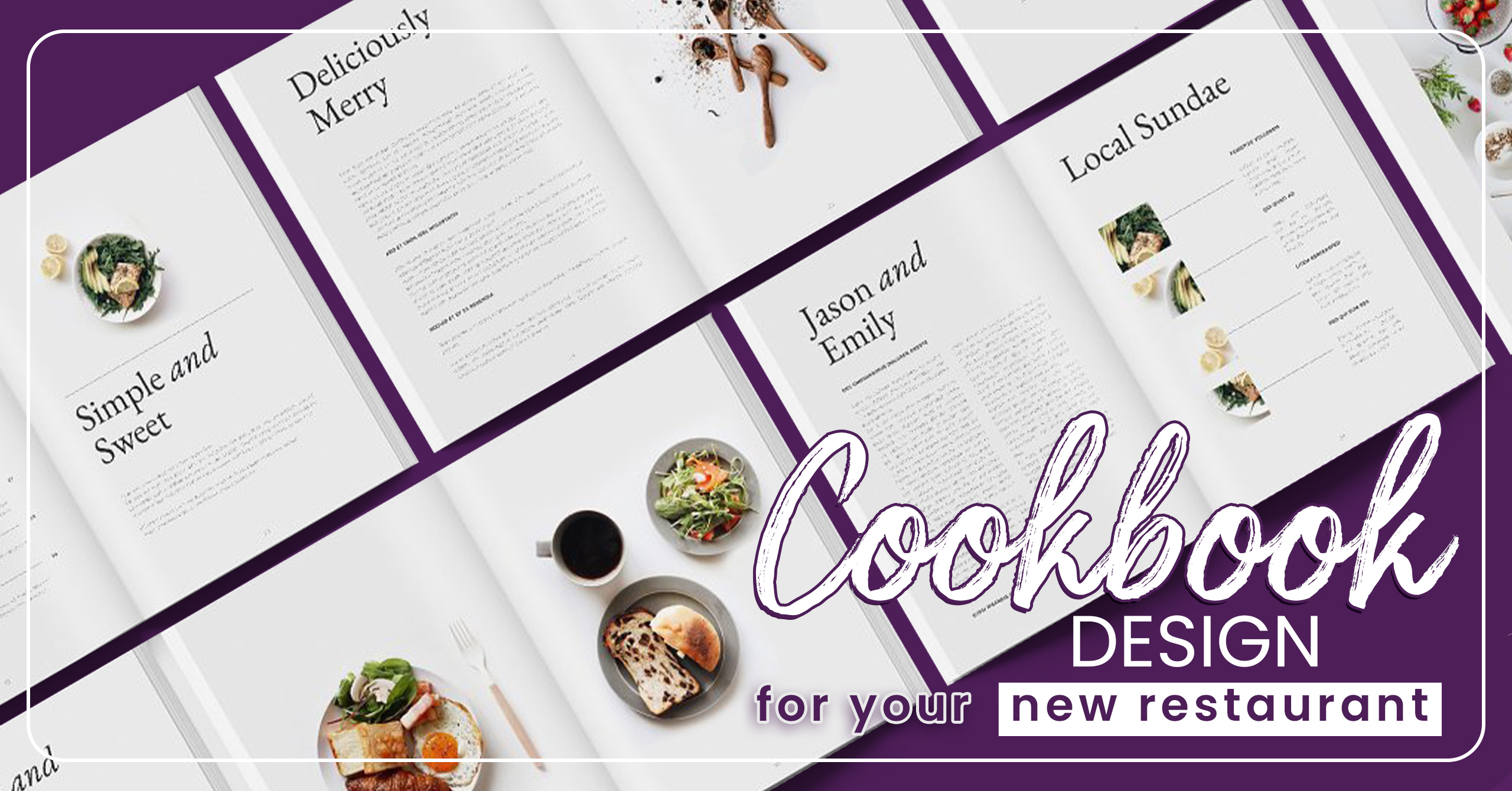 What makes a successful cookbook? Is it recipes, authors, photography, writing, or storytelling?
For some restaurants and cookbook authors, it's a blend of all the above. Cookbooks are treasured not only for their recipes but also for their nostalgia.
Cookbooks that offer an in-depth journey into a culinary culture with unique recipes and gorgeous photographs allow cooks to travel to another part of the world and explore and experience regional styles and tastes. Moreover, your cookbook is a brand asset that represents your business to your readers. Therefore, it has to draw attention and establish your identity.
Check out these design ideas to get inspired for creating an engaging, colorful, and pleasing cookbook for your business.
Cookbook design ideas for inspiration
We've categorized our carefully curated cookbook design ideas under different styles, forms and businesses. Scroll down to unfold inspiration:
Graphic cookbook design ideas
Graphic cookbooks take a step further from conventional cookbook format and combine text and visuals to create visual interest. Some books mimic the visual layout of graphic novels, while others include hand-drawn guidelines for recipes and colorful pictographs.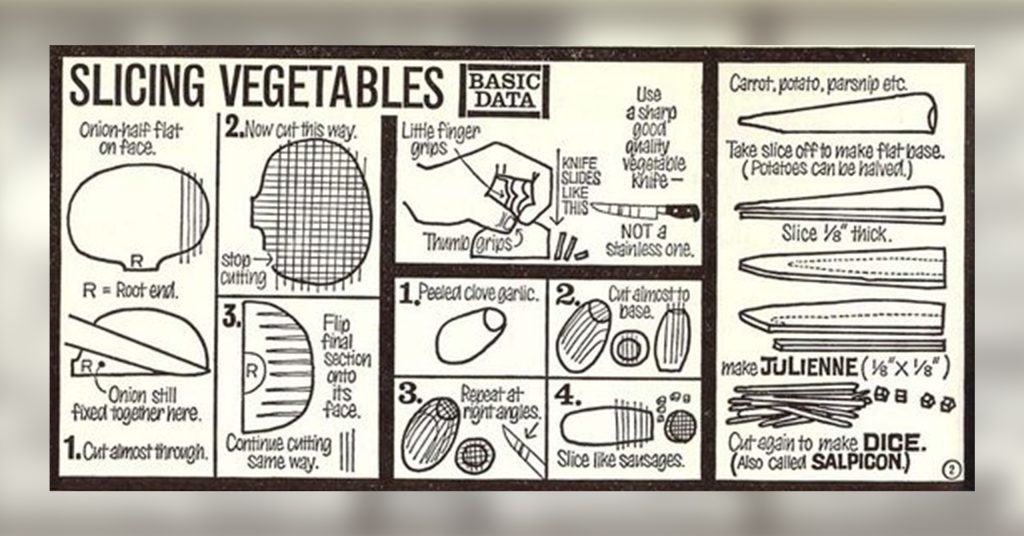 Len Deighton's graphic cookbook is one great example of a graphic cookbook. In 1965, the British espionage writer released a compilation of the black-and-white "cook strips," which he had written for the newspaper, Observer. Since then, new contributions to the genre have surfaced occasionally.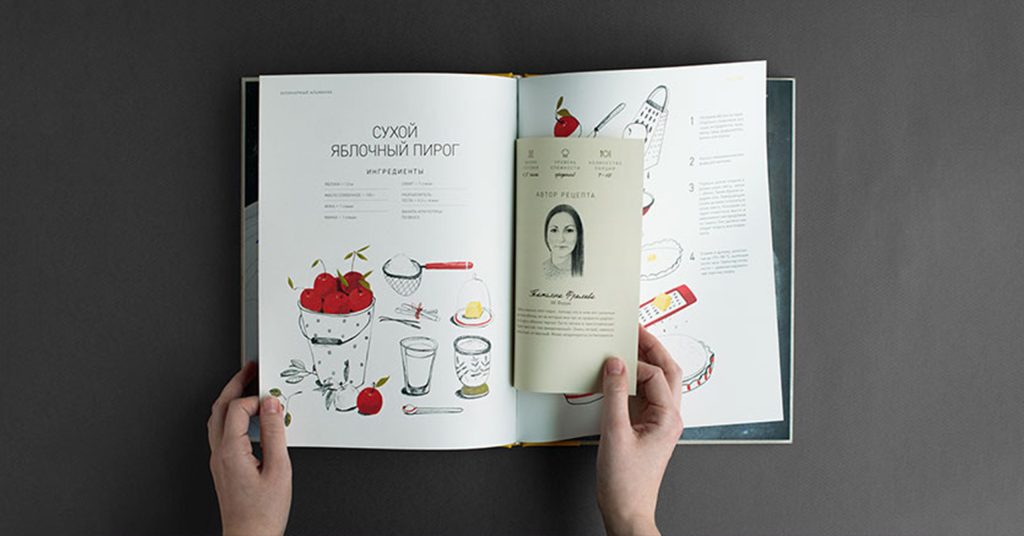 Minimalist Cookbook Design
Minimal cookbooks evoke interest and visual appeal with as few elements as possible. Every color, text, shape and symbol is carefully selected and included to evoke emotions.
Minimalist style is ideal if you run an upscale fine and dine or want to exude luxury.
Minimalism uses simple shapes, illustrations, and white space to drive attention to recipes. Colors are usually black, white, and gray tones, accompanied by a solid bright color for contrast and emphasis. Avoid decorative and cursive typefaces.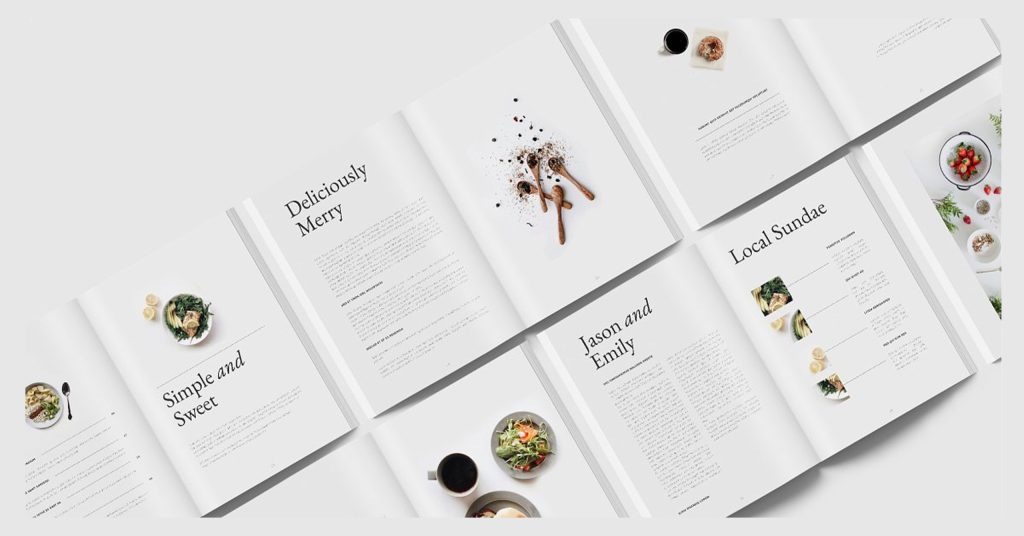 Photo-centric cookbooks
Adding authentic images of food like fresh lemons or steamy pasta positively impacts readers. Photographs will help your readers to visualize the end product — how the food will look which will entice their senses and ignite their curiosity.
You can use full-page images and glossy pages to delight your readers or play with varying image sizes throughout the book. The trick is to take pictures from unique angles and capture a movement to tickle the senses. You may also take a different approach and include images at each step.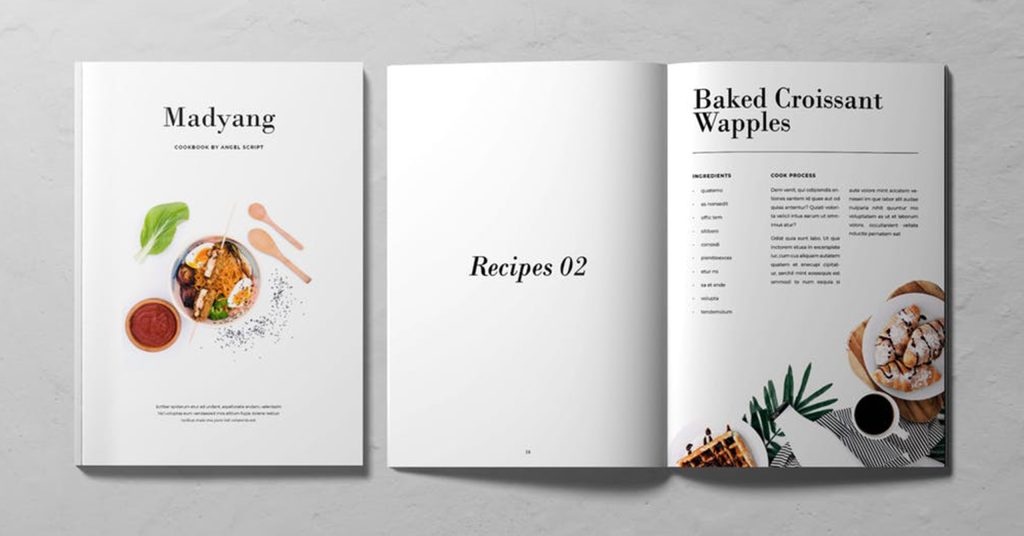 Notebook Design in a Cookbook
Does your restaurant's food remind your customers of grandma's cooking?
A notebook design is traditional, packed with homely warmth. Instead, try a rustic and improvised journal cookbook design to list your recipes.
Use ring-binding and lined graph paper to make it appear more like a notebook. Select a handwriting-style typeface to add a human touch. You can add sticky notes and ripped bits of paper here and there to create a handcrafted recipe book.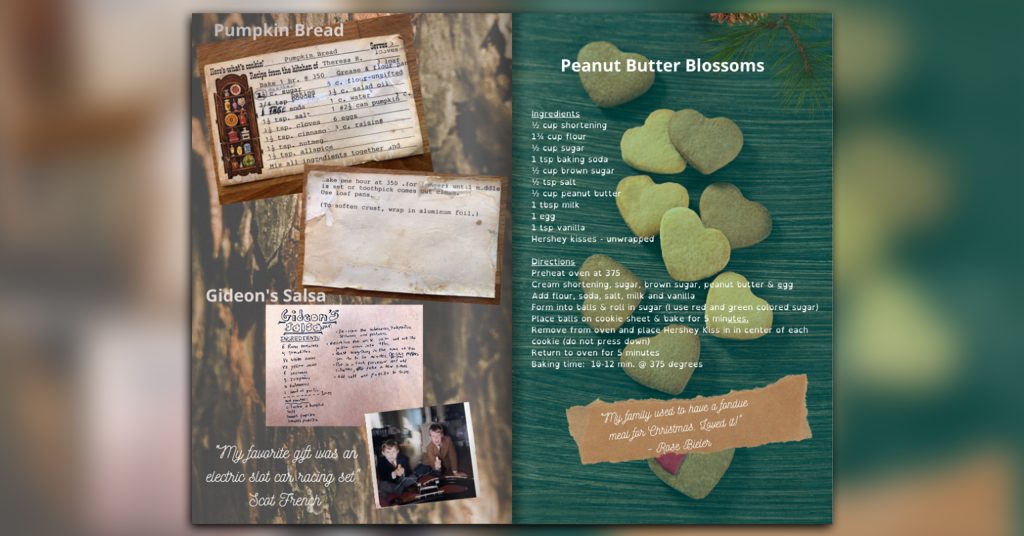 Storytelling-infused Cookbooks
Many cookbook fans love the backstory of the recipe. In addition, people are interested in reading about a dish with a traditional or personal connection.
You may also include storytelling about the dish's origin or ingredients to create and satiate the curiosity of your readers.
If you don't want to add storytelling for every recipe, you can keep it for the book cover. Design a good textured hardback cover, use the cursive script, add images to show origins, and unite the entire recipe book.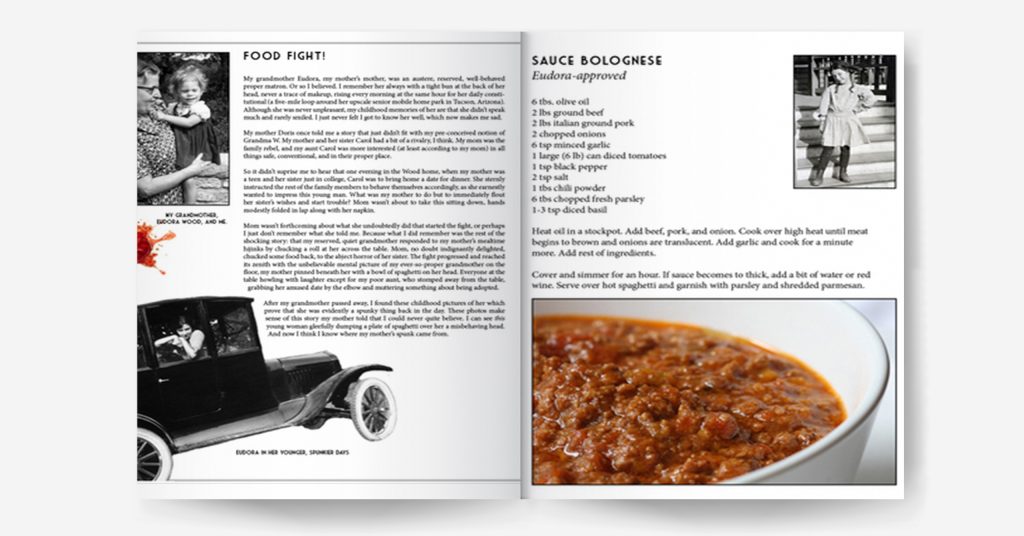 Illustrative Cookbook Design
Like graphic cookbooks, illustrative cookbooks rely heavily on hand-drawn or digital illustrations. You can keep it black and white or colorful. Select Choose the style that aligns with your brand personality. You can even use quirky typefaces and other design elements.
Illustrative cookbook designs work great for drinks and desserts cookbooks as readers already have a strong visual image of how the end product looks like. So, illustrations elevate the look and create a distinct representation of your business.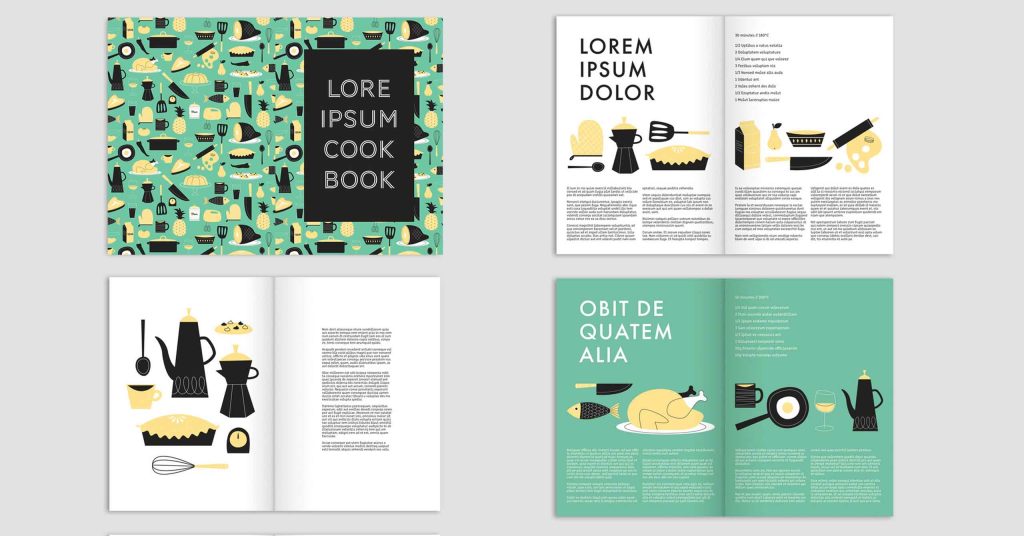 Magazine-inspired cookbook designs
Many restaurant owners opt for magazine-inspired cookbook designs because of the professional look. Such cookbooks follow a magazine's design and layout principles and give a similar experience as when a reader turns the pages of a Vogue or a coffee table book. You can elevate the style by using similar paper in print.
Photography is another essential aspect of magazine-style cookbooks.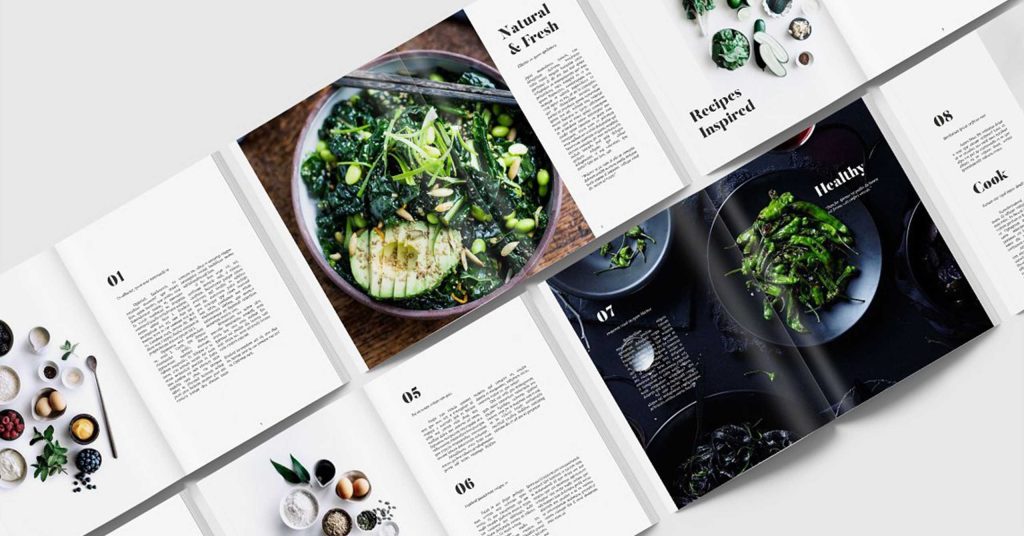 Dessert cookbooks designs
Even if you're not running a patisserie, you may design a dedicated dessert cookbook for your business. These come in handy during holidays such as Thanksgiving, Christmas, Halloween, and New Year. You can be vibrant, cute, minimal or decorative with your dessert cookbook.
Best dessert cookbooks 2022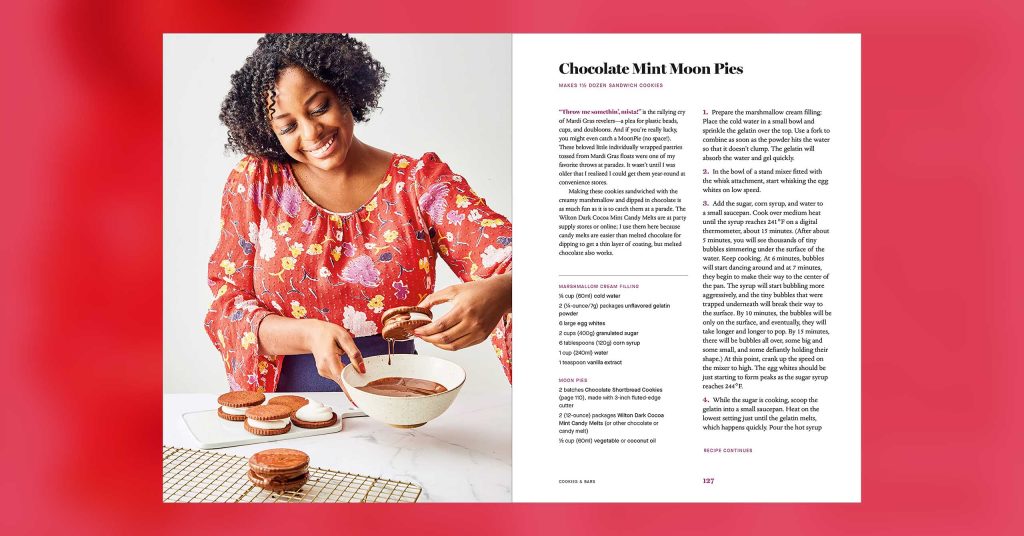 A photo-centric cookbook that evokes the reader's senses and interest using high-resolution pictures capturing the movements. The author also appears several times, creating a personal connection with the readers. The book also documents Lomas' life experience and major success as a baker.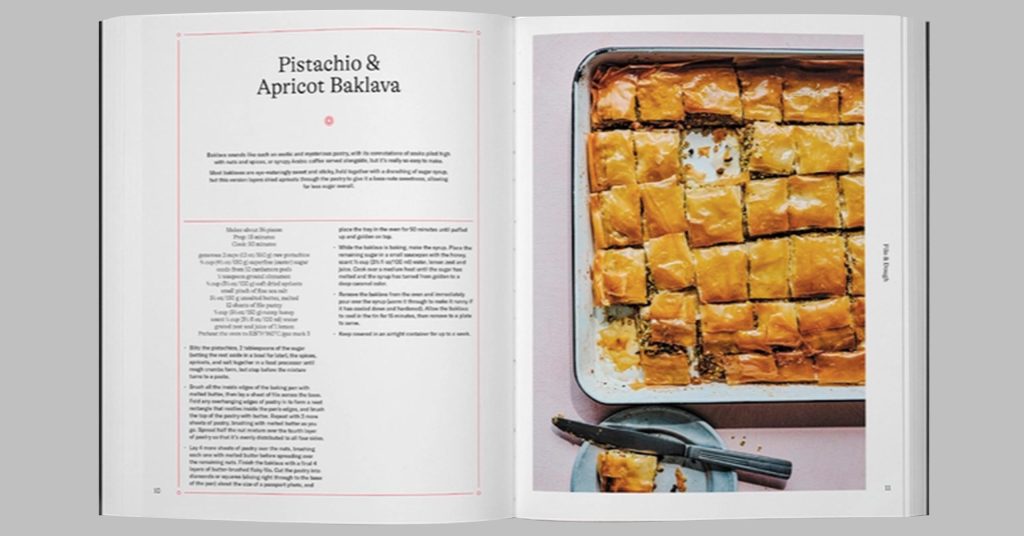 'Middle Eastern Sweets' combines recipes, travels, and the author's life history. It effectively uses illustration, photographs, storytelling, and rustic background color to tap into readers' emotions.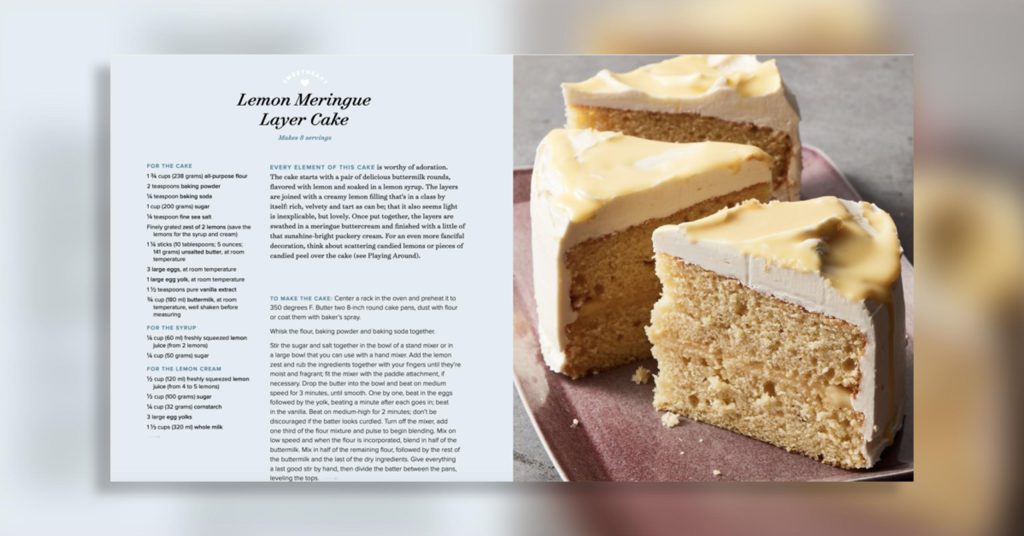 If you want to create a minimalist dessert book, Dorie's cookbooks are a great place to get inspired from. They use minimal visual elements, plain fonts, and white space to maximize visual appeal and create a stunning design.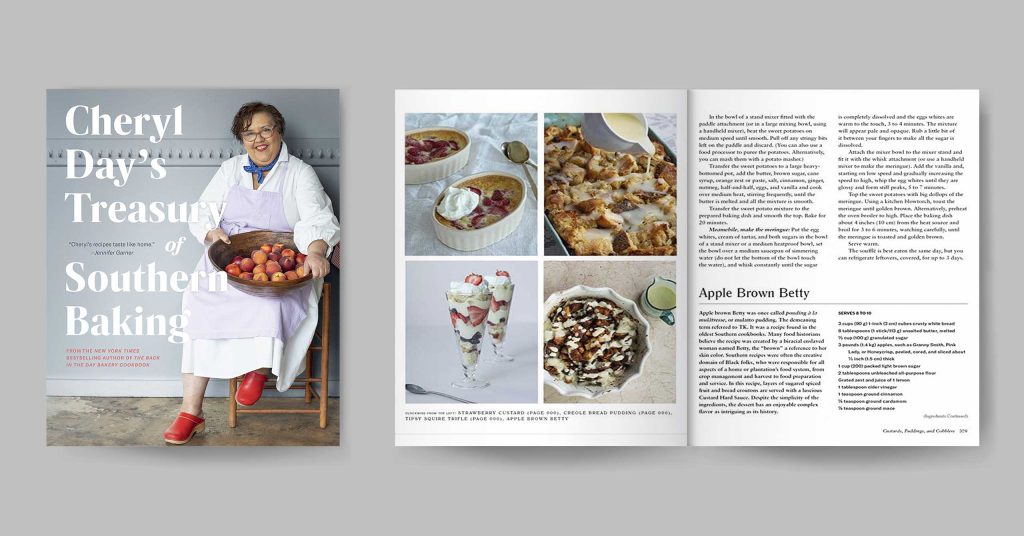 Another excellent dessert cookbook that integrates storytelling and plays with the layout to engage readers. This book also honors the accomplishments, life experiences, and history of the enslaved Black laborer, the author's great-great-great grandmother Hannah Queen Grubbs, to whom she dedicates the book. Besides her amazing recipes and backing techniques, you can smell the freshness of unique design and visual perfection.
Cocktail Recipe Book Design
Got an enticing list of cocktail recipes? Consider developing a distinct cocktail recipe book to show your expertise and enthrall the viewers. You can mix up various cocktail and mocktail recipes inside it. Use graphics and a vibrant background to design a page-turner.
How to design a cookbook?
Your restaurant's style and vibe will determine your cookbook's design. You can start by following these steps:
1. List down all the details about your business.
Start with noting down the restaurant name, type of food, target market, location and other details.
2. Determine the goal of your cookbook.
What is the end goal of the book? Who is the target audience? Is it for other businesses? Stockholders or customers? What kind of recipes are you planning to add?
Be clear about your purpose.
3. Select the style
Do you want to incorporate storytelling? Is it illustrations or quirky graphics? Do you want to embrace minimalism?
Think of your core values and other business assets to tie them to your business. If you like a design that you may not create by yourself, consider professional help.
You can always subscribe to Design Shifu for your design needs including a cookbook design. You get unlimited graphic designs and a dedicated designer to take care of all your design needs.
4. Gather materials
Collect the various components of your book — recipes, graphics, images etc. Before designing, have all the materials in place to make it a smooth process and avoid getting stuck in the middle.
5. Start designing!
Experiment with multiple layouts. You can even mix several styles. There are no hard and fast rules in design. So be creative. Avoid outdated and bad graphic design trends to create a timeless design.
More cookbook design tips:
Add white space for notes
Leave space for chefs to scribble notes on pages. A thumb rule is to add a thumb space at the bottom of the page and a wide inner margin.
Take care of typography
Ensure that fractions in your ingredient lists are visible without a magnifying lens. You may ask your colleagues and friends for second opinions. If required, increase their size.
Consistency is the key
Remain consistent in your layout. For example, put the number of servings in the same location throughout the book. Always number your steps, or don't number them at all.
Keep it comprehensible
Make sure it's readable. Fancy fonts and typography will be useless if readers cannot comprehend the book. Add titles above the ingredient lists for distinct sections, such as "Cake" and "Icing," for clarity.
Ideas for the recipe book cover design
First impressions matter. The cover of the recipe book decides whether your prospects want to open the book. The cover should entice your reader's senses and activate tastes and a sense of aromas. Here are some tips and cookbook cover design ideas with example templates to help you speed up your cover design process:
Get the typography right.
The typefaces you use for the title, subtitle, and other features on your cookbook cover will help you develop a brand image. Maintain consistency inside out. Your cover design's typography must correspond to the tale within. You may choose sans serif, serif or decorative fonts. Bold or cursive — it depends on the style, details and environment you want to build.
Choose no more than three fonts and avoid font explosions and extraordinary formatting, which makes it difficult to read.
Choose relevant images
Cover images help capture readers' attention by offering them a preview of what's inside before they even flip a page. Use pictures of food and ingredients. Many cookbooks have the image of chefs to humanize and strengthen the association. You can also add photos of the chefs in action on the cover page.
Pick complementary colors
Colors play an important role in evoking emotions and conveying your message. For example, red and yellow colors trigger hunger. The green color signifies health and freshness. So, determine the feelings you want your audience to feel, and refer to the color wheel to pick the colors. Select colors that are pleasing to the eye. Use neutral hues such as white, black, and gray.
Other Design Elements
Lines, forms, text frames, and icons, among other design components, all add to the cover's appearance. You don't have to add everything you like because it will clutter the design and dilute your expression. In addition, excessive usage of design components might divert attention away from your book's title and subtitle. Do not forget to include your restaurant logo and tagline.
Let's look at a few layout ideas to understand
How to pick the right cookbook layout?
Before putting up the pages and cover of your book, you must determine the physical dimensions most suited to your project. You can choose from several book orientations and formats. The most suitable cookbook layouts are:
Portrait
A cookbook with a portrait orientation has a width dimension less than its height size. Books with dimensions of 6″ wide x 9″ high or 8.5″ wide x 11″ high are common examples of portrait orientation.
Portrait orientation offers a vertical format and is, by far, the most common layout for printed cookbooks. If you visit any bookshop, most books are in portrait orientation. Additionally, it is cost-effective since most printing and binding equipment are designed for portrait layouts.
Landscape
A book in landscape orientation has a width dimension greater than its height size. The standard sizes are 9″ wide x 6″ high and 11″ wide x 8.5″ high.
Landscape orientation is ideal for displaying horizontal photos and artwork because it gives more lateral space. In addition, the broader dimension makes it easier for the reader to access the book's content, whether spread across the lap or put on a table.
Square
Books in a square shape are generally 7″ wide x 7″ height or 8.5″ wide x 8.5″ high. A square layout can be both visually appealing and functional. You may find only a handful of books designed in a square format, which makes them different from the pile. Moreover, the layout is symmetrical and uniform, giving a neat and clean look.
Happy Designing!
So, how would you design a cookbook? The answer depends on the items the book will contain, the restaurant and the brand voice. By now, we hope you have an idea of how you want to design your cookbook. You must play with several cookbook layouts and designs to get started. Do not be afraid to experiment. Or take help from professionals.
Do you want help designing cookbooks for your business? Get a dedicated designer and unlimited graphic designs for just $399 per month from Design Shifu.