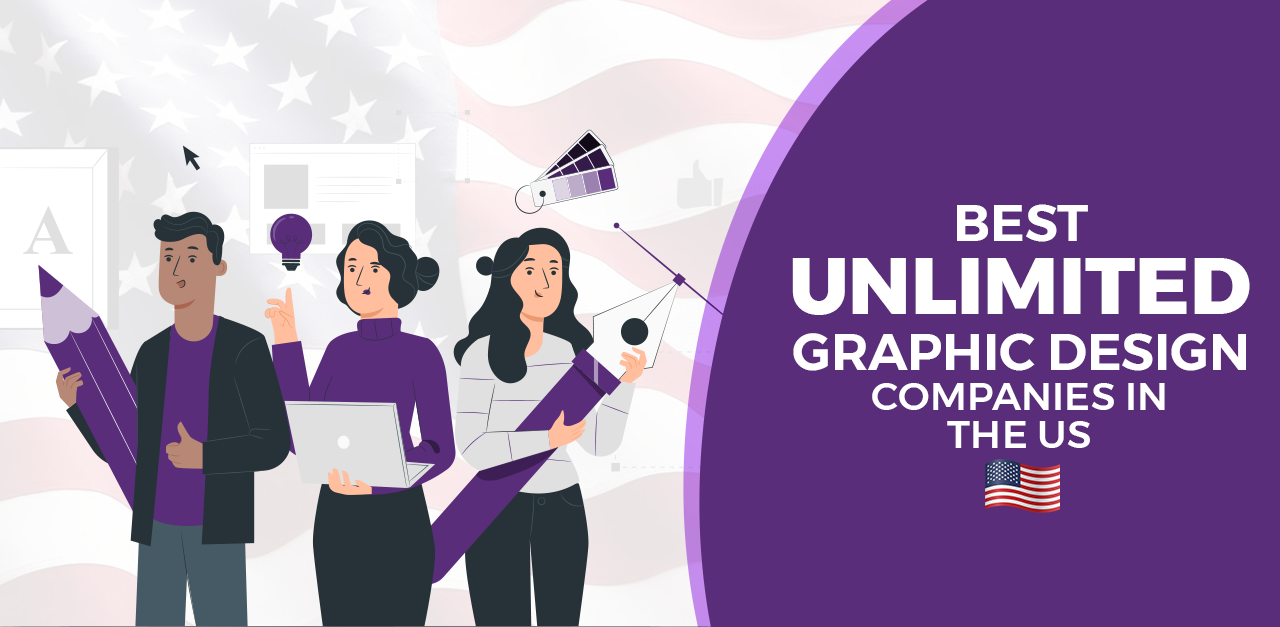 Branding makes a business unique. The unique value proposition and the way businesses present it distinguishes them from their competitors in the market. Design contributes significantly to it, which is why businesses spend a huge chunk of their budget on design services. Design holds strong control over both potential and existing customers.
However, not all businesses can allocate a huge budget to traditional design services, freelancers, or an in-house team, especially when the recession is around the corner.
The unlimited graphic design services model; therefore, couldn't be introduced at a better time.
Read the blog to learn more about it and the best unlimited graphic design companies in the US you can rely on to scale up your business.
What Is Unlimited Graphic Design Service in the US?
An unlimited graphic design service is a subscription-based service that provides unlimited graphic designs for a fixed monthly fee. Businesses, marketing agencies, and individuals with frequent design requirements who want the convenience of having a dedicated team of designers on-hand to handle all of their design needs subscribe to such services. The service may include a range of design tasks such as logo design, brochure design, social media graphics, ad banners, posters, motion graphics, and more.
While the features of unlimited graphic design services in the US vary depending on the provider, some common benefits include:
Unlimited design requests & revisions
You can request unlimited design requests and revisions on each design request until you're content with the output.
Online portal
An online portal for customers to submit design requests, communicate with the team, and receive deliverables.
Fast turnaround time
Many providers offer a fast turnaround time for design requests, usually within 24 to 48 hours, depending on the project type.
Professional designers
Unlimited graphic design companies have a team of professional and experienced graphic designers, who are specialized in logos, brochures, social media graphics, and more.
Customer service

Providers usually have a customer service team available to answer questions and help with any issues that may arise.
Cost-effective
Customers pay a flat fee or subscription for an unlimited number of design requests, which can save them money in the long run. As your business grows, so do your design needs; subscribing to an unlimited service ensures you have access to professional designs whenever you need them.
Convenience
Customers can submit as many design requests as they want and receive unlimited revisions until they are satisfied with the outcome.
Flexibility
Customers can use the service for various design needs, such as creating marketing materials, website design, or branding at the same monthly fee.
Consistency
Once you share the detailed brief with guidelines, be assured of the consistent design style that helps you maintain a strong brand identity.
All these benefits make unlimited graphic design services worth giving a short. Let's explore the top 5 unlimited graphic design companies in the US.
Best Unlimited Graphic Design Companies in the US
Design Shifu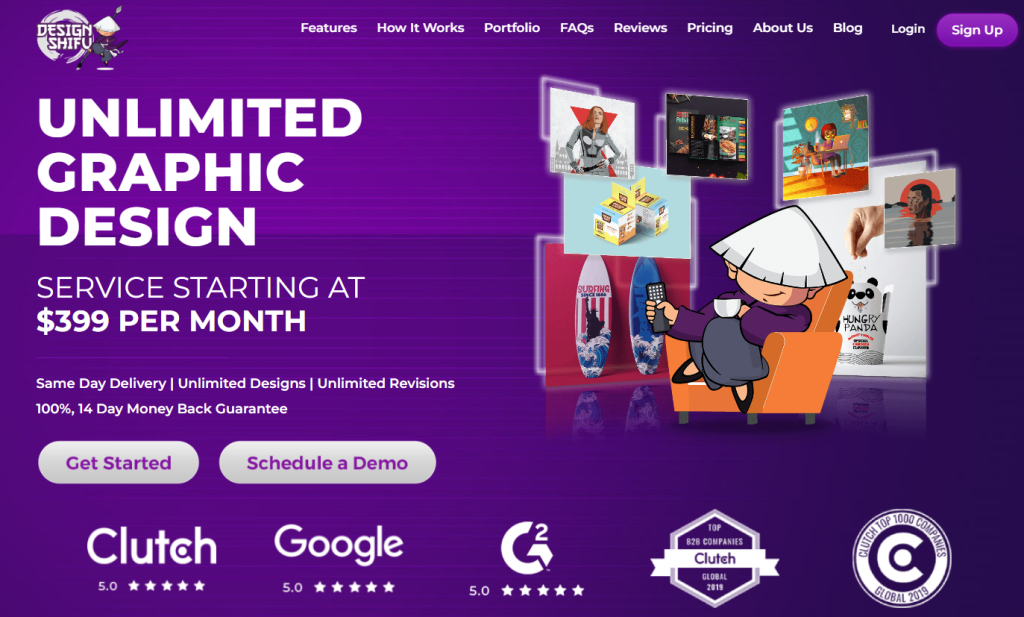 Design Shifu has worked with over 1000+ business owners as their design partners for unlimited graphic designs for a range of design services, including logo design, custom illustrations, social media graphics, landing pages, motion graphics, and more.
The custom dashboard to manage all your designs and communication in one place and integrations with popular tools like Trello, Grab, Slack, and Asana to streamline workflows make it one of the popular choices in the industry.
Plans & Pricing:
Design Shifu offers three pricing plans based on business requirements — Unlimited at $399, Unlimited Plus at $599, and Unlimited Pro at $1399 for a month's supply of unlimited designs with one active request at a time. All three subscriptions come with a project, onboarding manager, and stock image licenses.
It is a good option for businesses looking for a cost-effective, professional, and flexible solution for their design needs.
Click here to sign up for one of the subscription plans with a 14-day 100% money-back guarantee.
Penji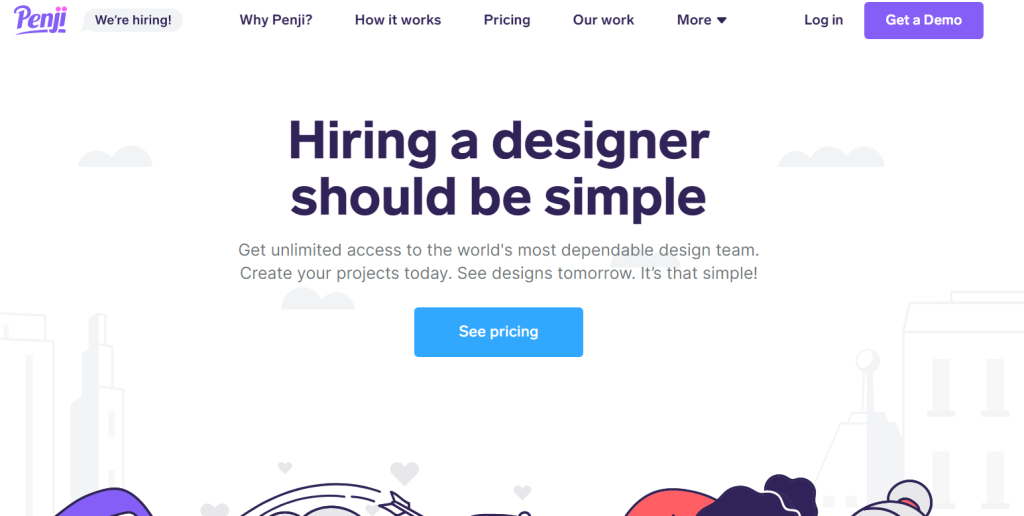 Penji is another popular unlimited graphic design company that caters to 120+ design services. You can submit your request through their online portal and receive deliverables within 24-48 hours.
Plans & Pricing:
Penji offers three monthly subscription plans: Pro at $499, Team at $699, and Daytime at $999, all of which come with a 30-day money-back guarantee.
They provide a dedicated art director but only in the Daytime plan.
Design Joy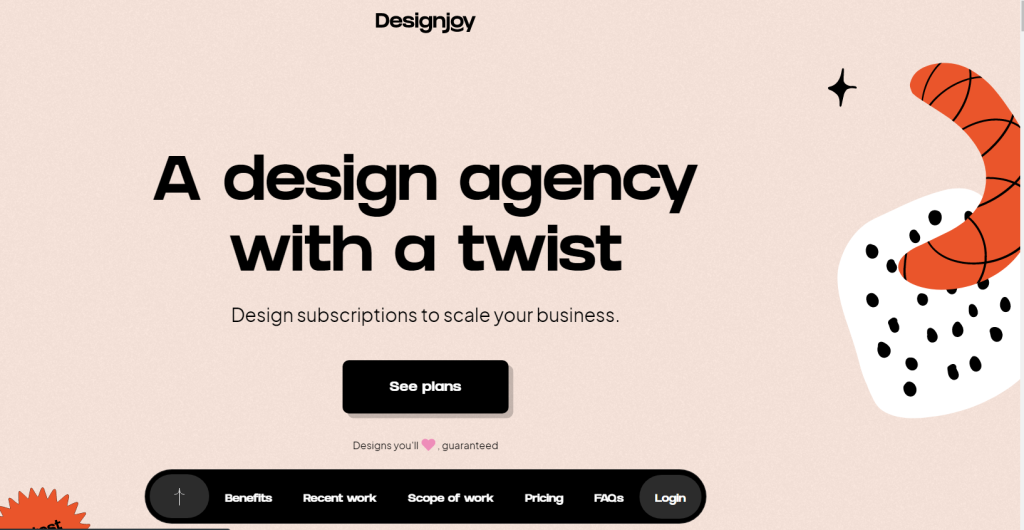 Design Joy is founded by Brett Williams, who heads the design team, and has worked with well-known brands like Brew. Companies of all sizes can opt for the services and benefit from them with unlimited active requests. The turnaround time is usually two days.
Plans & Pricing:
Design Joy offers three plans based on duration monthly at $4995, quarterly at $4495, and yearly at $3995 per month.
Design Joy also offers Webflow development as an add-on for $999 per month. Most designs are made using Figma; however, they do not offer motion graphics to their clients.
Design Pickle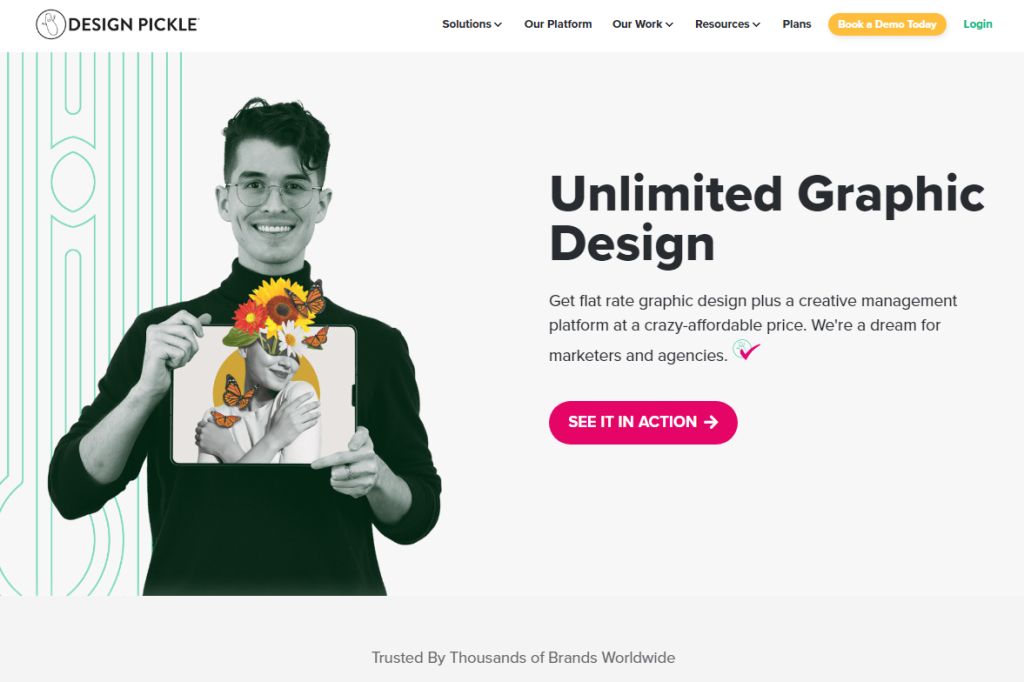 Headquartered in Scottsdale, Arizona, Design Pickle has worked with popular and reputed brands helping with premium designs.
Plans & Pricing:
They offer three monthly plans; Graphics at $499, Graphics Pro at $995, and Graphics Premium at $1695.
While all plans promise to deliver high-quality designs, the pricing is on the higher side. The Graphics plan caters to very limited features and is suitable for businesses with minimal design requirements.
Flocksy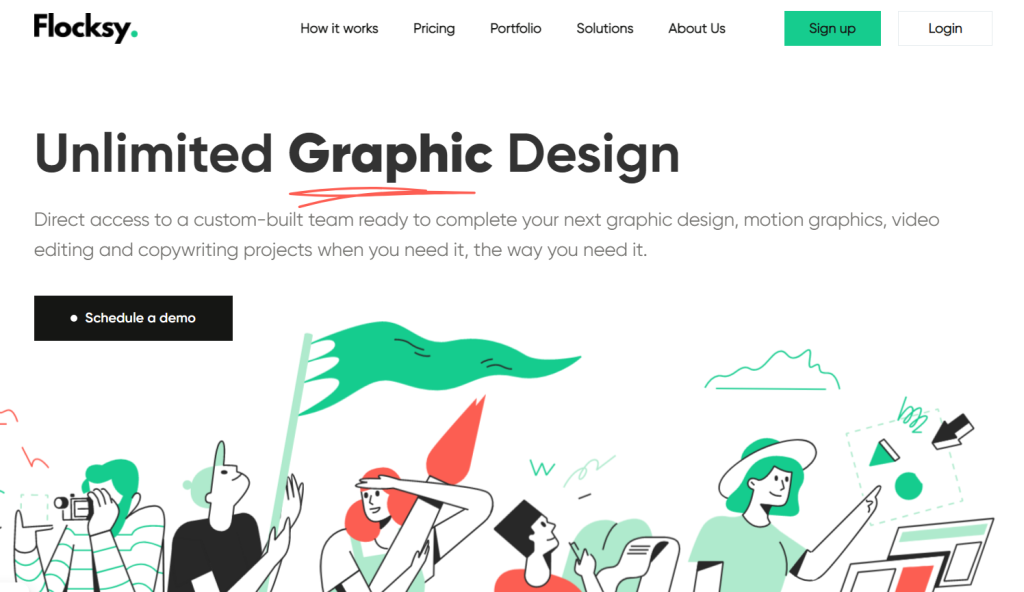 Flocksy is another one-stop solution for businesses with design requirements. What makes it a popular choice is the additional services it offers, like voice-over and copywriting.
The process is simple: sign up, select your project type, fill out your design brief, and submit it. You'll get the results within 24-48 hours. It may take longer if your requirements are complex.
Plans & Pricing:
Flocksy also offers three plans: Silver Plan at $499, Gold Plan at $995, and Platinum Plan at $1495 per month. All plans offer a 14-day money-back guarantee.
Partner with unlimited graphic design services
For businesses, big or small, unlimited graphic design services offer a great way to delegate their design needs without having to hire an in-house team or freelancers and agencies every time there is a new project.
Besides the affordability, convenience, and range of services they offer, you get a team of professionals with just a few clicks.
Our list of the best unlimited graphic design services in the US can help you find the right plan for your business goals, needs, and access to professional graphic designers.