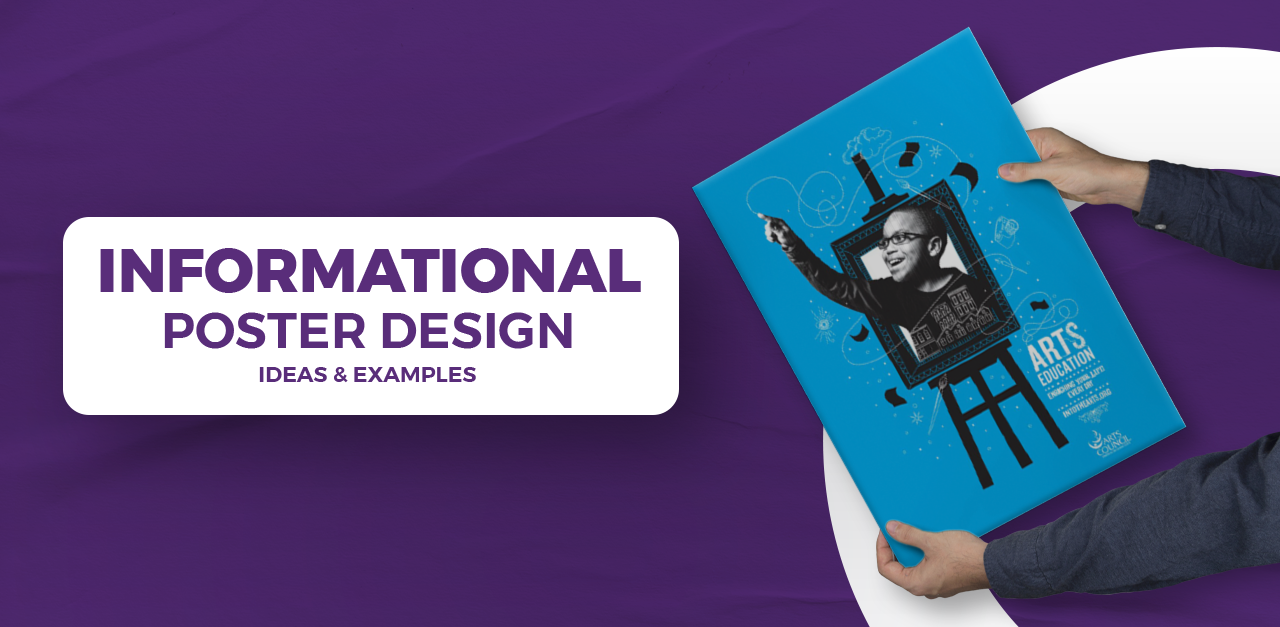 Loaded with information! This is a heavy statement, but what's the use if the information isn't properly disseminated? Scientific studies say that human brains can store a million gigabytes each day. However, what limits the storage capacity is our ability to learn each day.
We can only pay attention to a small number of things at once, and paying attention is usually necessary to enhance knowledge. That's why, it is necessary that what we create for our target audience should be that powerful, which increases their knowledge about our product.
Informational posters are one way to educate the target audience about the product. But before we go towards informational poster design, check out some advertisement poster ideas.
Elements of a good informational poster design
Let's understand what will make a good informational poster:
Adequate information should be provided in the poster
Do not beat around the bush, be straight and to the point with your words
Avoid cluttering of images and text
Simple and clear fonts and attractive images to be used
Now, let's take a look at some good examples of informational poster designs.
1. Infographics posters
Imagine you have a lot of data that involves numbers and you are confused about how to showcase it. There comes infographics to your rescue. Using pie charts, bar graphs coupled with images and brief text defines infographics.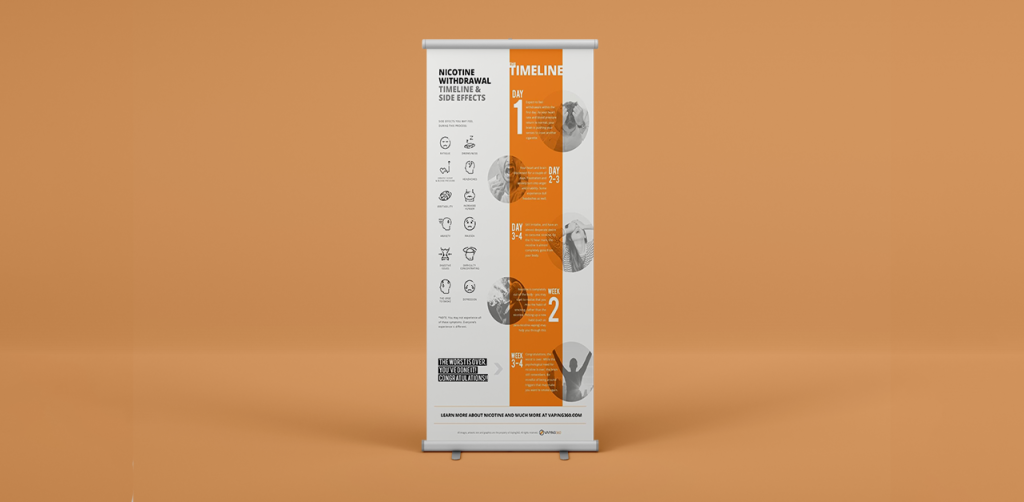 This poster is probably of a healthcare unit helping people to get rid of nicotine. This poster, in limited has shown how their process will lead to some side effects and also your progress report per week. This is a very good example of how data and numbers can be displayed and the messaging is clear to the target audience.
Another example of infographics is this.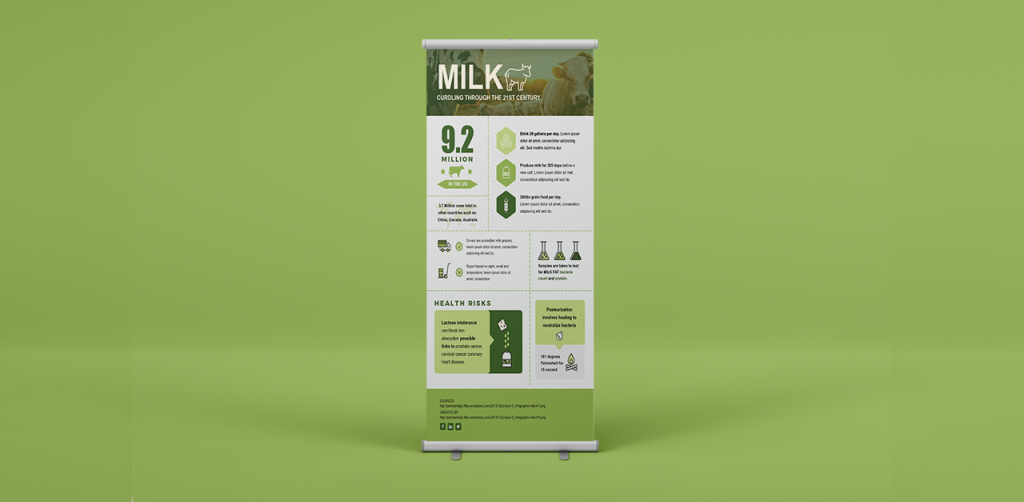 How beautifully the brand has put forth the process of milk curdling using numbers and text.
Another way of showing the infographic poster is through bars and graphs. Like this.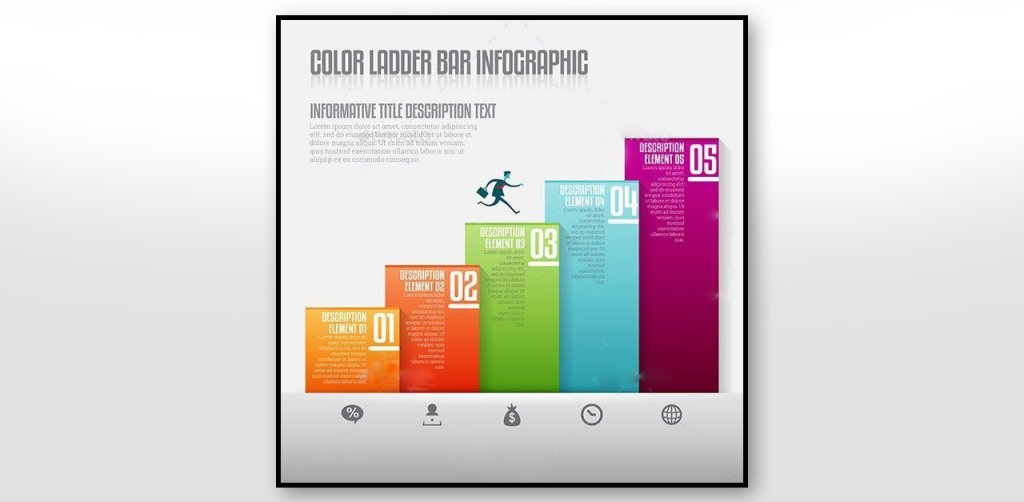 Through geometrical bars and graphs, a lot of information can be displayed. Such types of posters are usually made by companies for their annual reports, advertisement of their business growth, etc.
Though infographics are a very good way, refer to this article and ensure that these mistakes aren't committed while designing.
2. Information-centric Informational poster design
Some posters do not use too many images but rely only on information, yet send out their message in an effective way. And that's the beauty of a good design.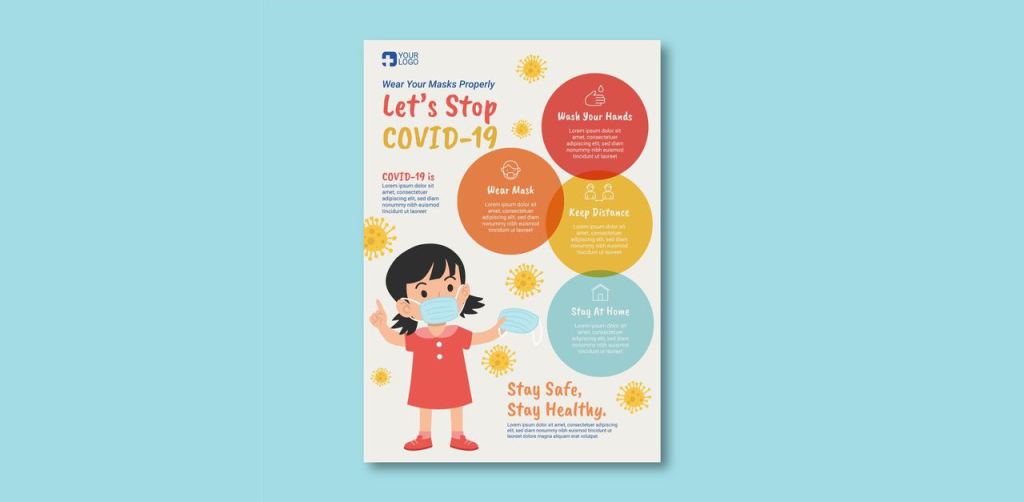 Through bubbles and some illustrations used in this poster, the information is systematically presented without making it look cluttered and overloaded.
Such kind of informational poster design is created by health professionals who want to put out preventive measures to the citizens. During Covid 19 pandemic, these types of posters were seen in almost all places.
Another example of such kind of posters is this.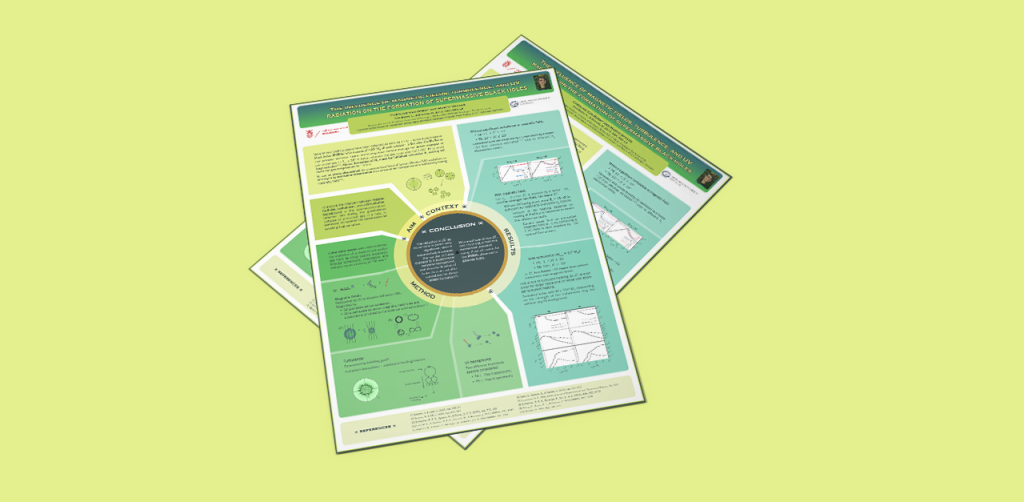 This is an information-only poster where there is a bifurcation of information in branches/ key elements. Though the information seems too much, this kind of poster is for a niche audience looking to consume the information mentioned in the poster.
If you have a lot of information and you would like to put it on paper through posters and still wondering why would you employ a graphic design agency, then probably you should read this and your doubts will be cleared.
3. Images-centric Informational poster design
A lot of informational posters rely only on images to display information. And for that, you require someone with a creative mind, who would know exactly how to convey the message exactly.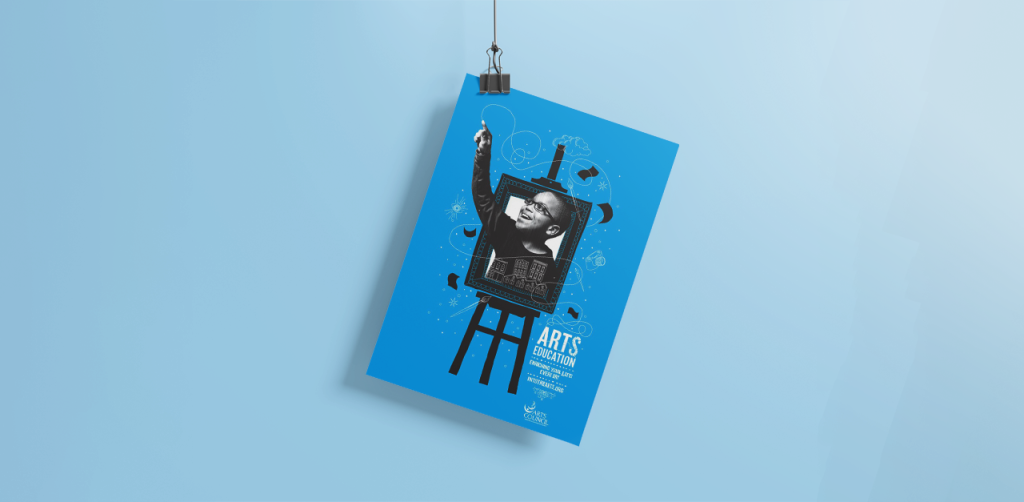 This is a beautiful way to showcase that the brand is into Arts education. The messaging is very clear through the image and with very limited text, the audience would still understand what the brand is looking to advertise.
Another example of an image-centric poster is this.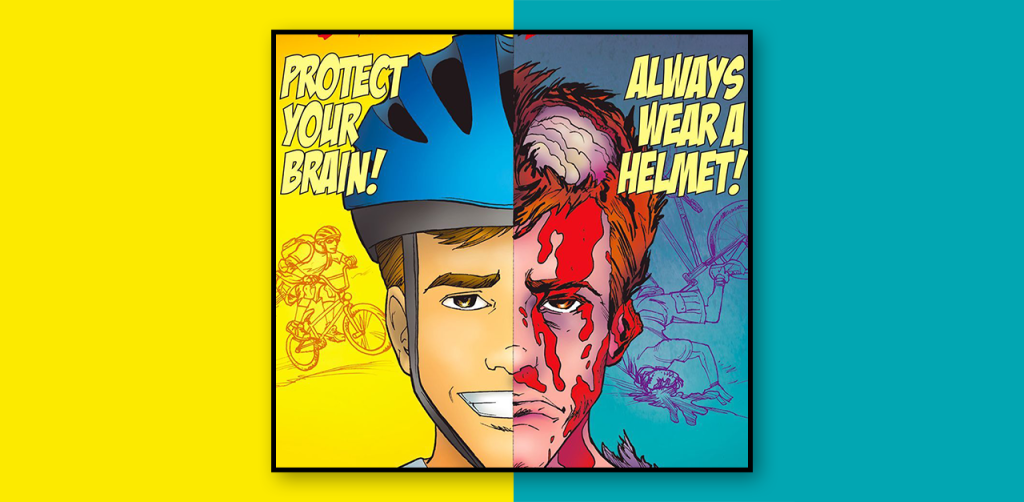 Through comparison of 2 diametrically opposite scenarios, this poster is created for accident prevention. Usage of graphics and bold and minimum text, such kind of posters also give out a lot of information on bike safety measures. Another kind of image-centric informational poster design.
Looking to create posters like this. We, at Design Shifu, will help you create poster designs like this and much more at 399$ per month. We promise you will never have to look anywhere else for your creative designs.
4. More Creative Posters
Some more creative posters that can be also called informational poster designs are the following: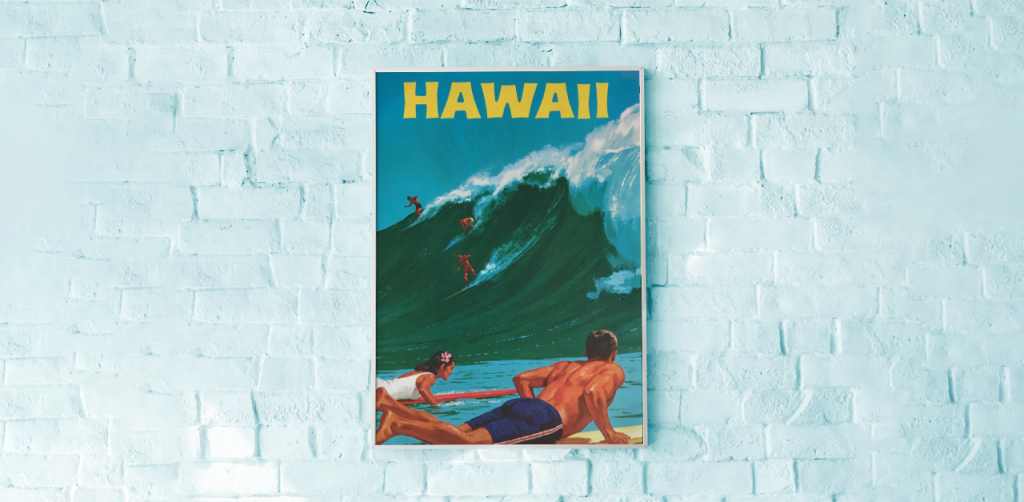 How to convince your customer that Hawaii is the best place to travel. Show what happens in Hawaii. A fool-proof way to entice your customers to book their next trip with you.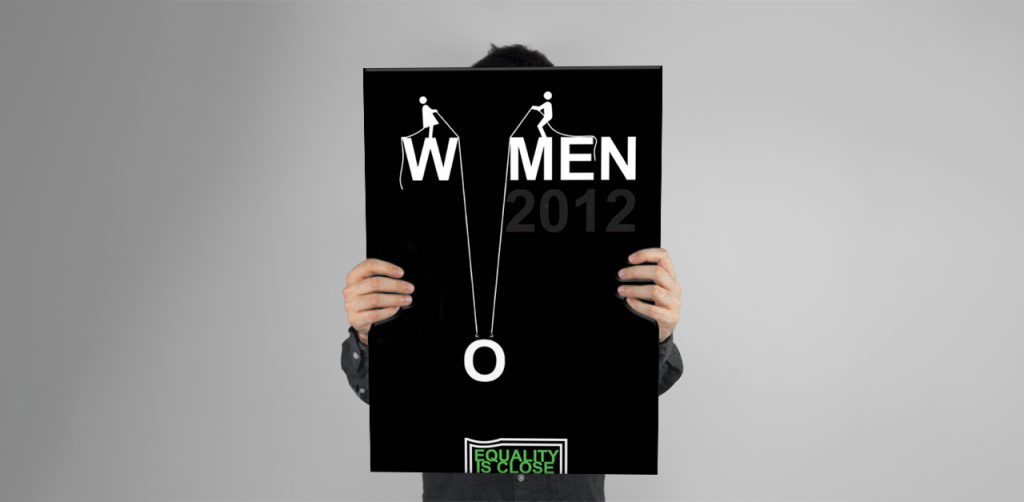 A strong message is conveyed through minimalistic design.
If you are a digital advertiser looking to create the perfect ads that could get you maximum conversions, refer to this
Conclusion
It is likely that you will need more than just a promotional poster to generate more leads and boost sales. Design Shifu can help you with that.
With our fixed monthly rate, you not only get marketing materials, landing page designs, custom illustrations, and more tailored to your brand.