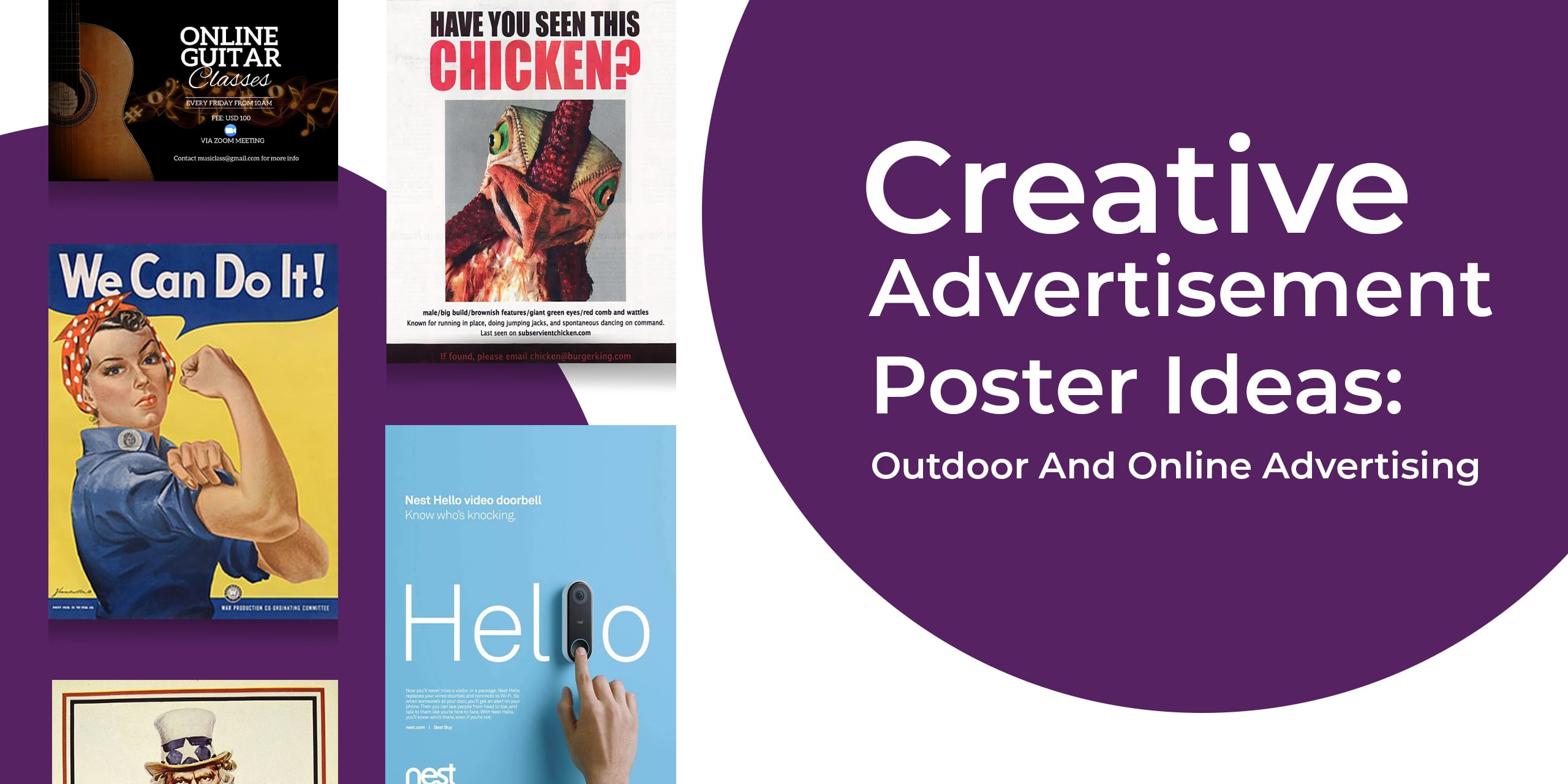 Do you know why cab drivers can be good marketers? They know how to 'drive in traffic! 
Jokes apart, as a marketing manager, your struggle is real to think of creative ideas and promotional strategies on a daily basis.
A poster is a visual representation of your business, and a well-designed one can also successfully convert the viewers to your advantage. Let's dive into advertisement poster ideas that leave a lasting impression.
Why advertisement posters are essential for promotions
Advertisement posters have always been one of the best ways to communicate with your target audience. There is always a massive demand for print media. The chance of people remembering printed material is 70% more than online advertising. Here are a few reasons you should choose posters for the next marketing campaign for your business.
Posters are inexpensive
Posters are cost-effective in designing and printing. They are easy to install and stay put for a long time. You can reach out to many at an affordable cost when compared with other mediums, like TV, radio or digital posters.
Posters offer high recall value
The human brain is able to process and remember printed advertisements easily. Posters have a great recall value and serve the purpose if you want to increase your brand credibility.
Posters Evoke customer response
A thoughtful advertisement poster idea can work wonders by influencing your customer's reactions. It can invoke empathy and emotional response that can directly connect your brand with the target audience's mind.
You can add effective call to action in posters
Besides advertising, you can use posters for call-to-action messages as well. Use the layout smartly by including text that you would like your customers to act on, like 'Book Now' or 'Call on this number' or 'Use this discount code' etc. If you design a digital poster, you can also print a QR code.
The above points leave no argument for the benefits of a custom-designed advertising poster. You might often struggle to develop new ideas, which is perfectly normal. Everyone faces creative block at some point or other. If you are looking for fresh and innovative ideas to make posters, then you are at the right place. You can create and use different posters according to your company's marketing requirements. Read on to know more.
Also Read: Most Practical Campaign Poster Ideas that Guarantee Maximum Conversions
Below is the choicest list of creative advertisement poster ideas with examples to kick-start your promotional activities.
Creative advertisement poster ideas with examples
DIY advertisement poster
Do you think you need to hire a professional artist to design posters and worry about how to take care of the escalating marketing budget? Here is a solution. You can easily create a poster yourself. It may sound overwhelming initially, but with consistent practice, you will discover that it is a simple task.
Few points to note when you are working on DIY advertisement poster ideas.
Firstly, you should be clear about the goal you want to achieve. You want to launch a new product, inform about an event or announce the upcoming sale at your store; For every situation, your poster design will vary. So defining a goal is the first step.
The next step will be to understand your prospective audience. The complete design layout and presentation will depend on the customers you want to target through the poster.
Suppose you are advertising for a guitar lessons class, then you should design something that has an image of a guitar with a matching combination of fonts to make it appealing. However, if you are announcing the launch of a new cafe in the area, then the poster design will be completely different.
After taking note of your goal and target audience, the next task is to choose an appropriate image with a coordinated color palette and striking typography. Make sure you choose a high-quality image so it doesn't pixelate after printing.
You should go for bolder fonts for the heading and gradually decrease the size. The best way is to use a typography hierarchy to focus on the information you want to convey.
These tips will help you design an advertisement poster by yourself using tools like Canva, etc. In case you are looking to get a creative advertisement poster designed by experts, Design Shifu should be your choice. We provide graphic designs on a flat-rate, monthly subscription while allowing you to choose plans starting at $29 only.
Here is an example of a DIY advertisement poster idea for a guitar class.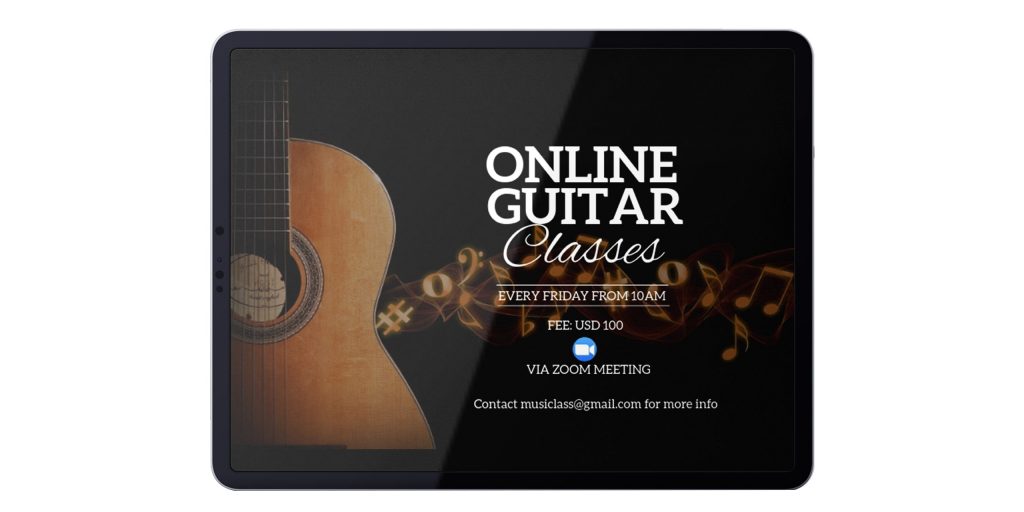 Simple advertisement poster idea
The saying that less is more stands true here. Simple or minimalist poster designs are practical and immediately bring the audience's attention to the message. You can choose bold text with a simple image or the opposite. It depends on whether you want your customers to focus first on the image or the content.
Also Read: Elements of Graphic Design and How to Apply Them
Here is a classic example of a simple poster design. Look at how the image of the apple alone is enough to communicate with the customer.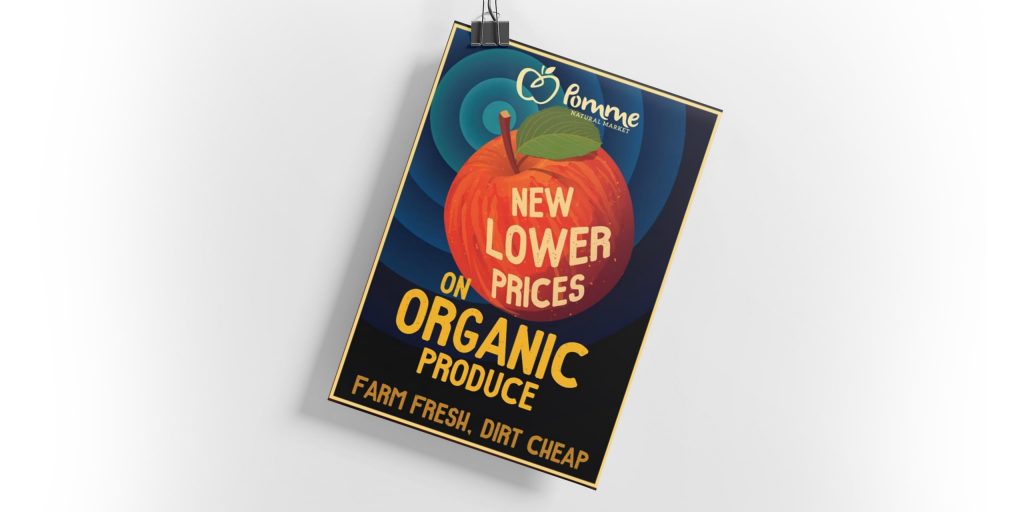 Street poster advertising idea
You can opt for street promotions with an impactful poster design to have maximum visibility within a budget for your brand. The placement of the posters on the streets should be done strategically based on traffic statistics for complete coverage. Street poster advertising is a preferential medium to promote businesses like bands, lifestyle, food, and services for ages.
Street promotions work wonders to catch the attention of consumers. You should take utmost care while designing these types of posters; otherwise, the whole effort of finding strategic locations will go to waste.
For example, take a look at this advertising poster for a cab company.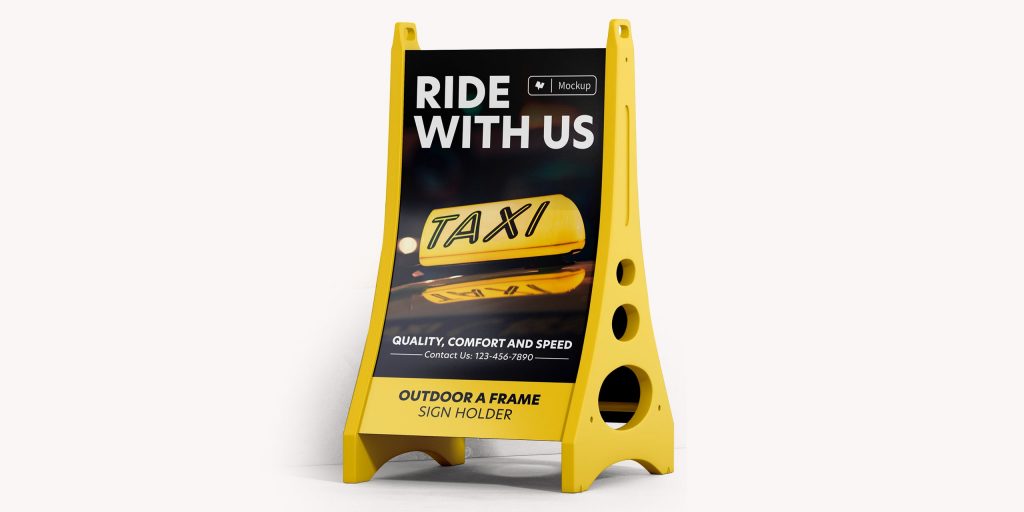 Poster idea for business advertising
The critical element for a poster for business advertising should be information. You can't just go for a visually appealing design when promoting your business. The catch is to have a balance of both because if the design is not aesthetic, consumers wouldn't be interested to read the information shared.
Another thing to note is to incorporate your business logo. Your branding on the poster is essential to drive the target audience to your business. Otherwise, what's the point of having put so much effort into designing a poster? Your business logo will not take up much space and communicate the brand effectively.
Lastly, how you arrange all the elements together will decide the outcome. You can fuse images and words to create a striking visual or use shapes to spell words. The ultimate aim is to harmonize different elements to tell the customers about your business or any event.
Below is a perfect example of a poster for a business advertising video doorbells. Check it out.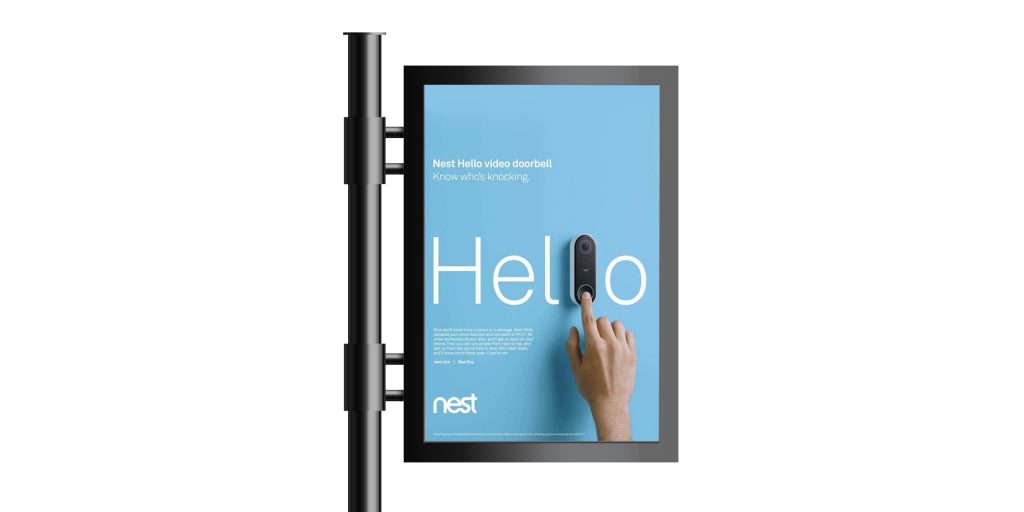 Digital advertising poster example
Digital marketing is the need of the hour. A digital advertising poster can target consumers at any time when they are browsing digital screens. You can use digital ads to remind customers about your business, whether they are at work, at home, or on the move.
Digital advertisements are easier to edit and maintain according to the customer insights making them highly dynamic. Another advantage is that you can test CTAs, text, graphics, etc. using several tools available at your disposal.
Also Read: Illustration And Graphic Design: What's the difference why does it matter?
Check out this cool digital advertisement poster of Coca-Cola.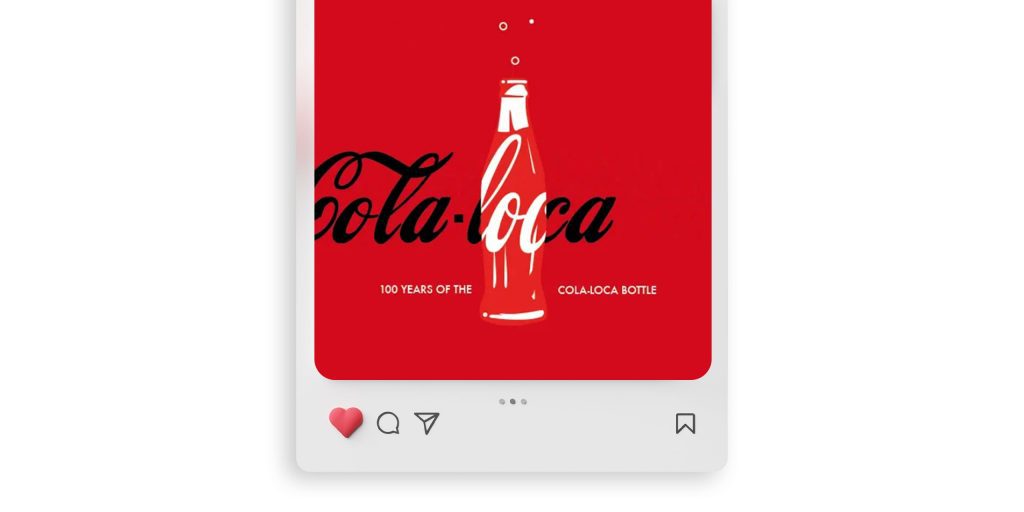 Outdoor poster advertising example
Outdoor poster advertisements provide highly targeted local coverage. You can place them in commercial and residential areas to reach out to pedestrians as well as motorists. They are an excellent medium to communicate with customers based on their demographic and socio-economic differences.
Outdoor advertising posters are perfect for promoting local businesses and compel the viewers to react and take action.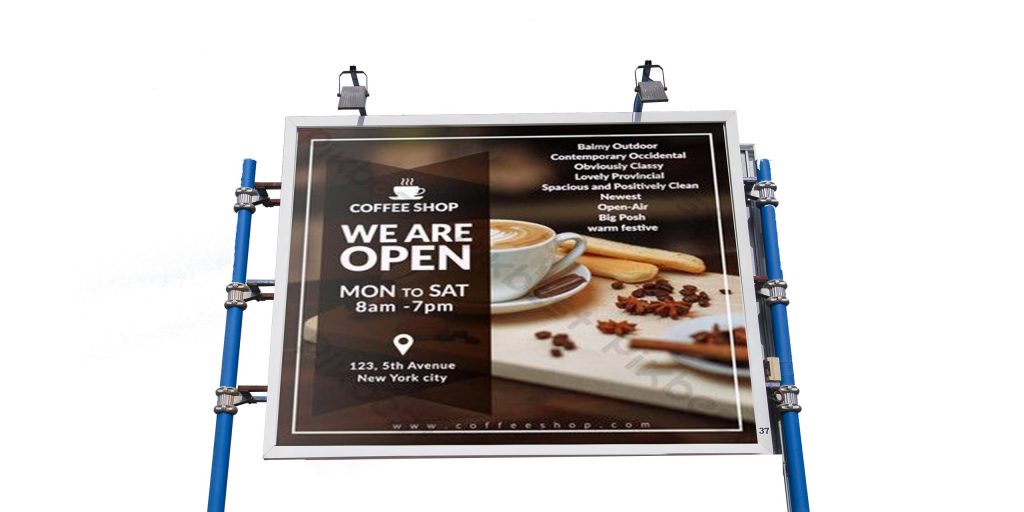 Famous advertising posters
Even though the world has become digital, the charm of print media is still intact. Print posters provide a better and broader canvas for any brand to display its creative side and kindle its reader's interest. There are many such examples of all-time famous advertising posters that you can refer to when designing one for your business. 
The beauty of these popular posters is that they are much more than just simple advertisements. They successfully capture the brand essence and their target audience's imagination. As a marketing manager, when brainstorming for newer ideas and strategies, it is always a good practice to refer to these famous poster designs for inspiration.
A few examples to prove the point:
This brilliant advertisement by Staedler pencils..from afar, it looks like a bunch of haphazardly sharpened pencils, but on closer look, you discover detailed carvings of buildings as the lead.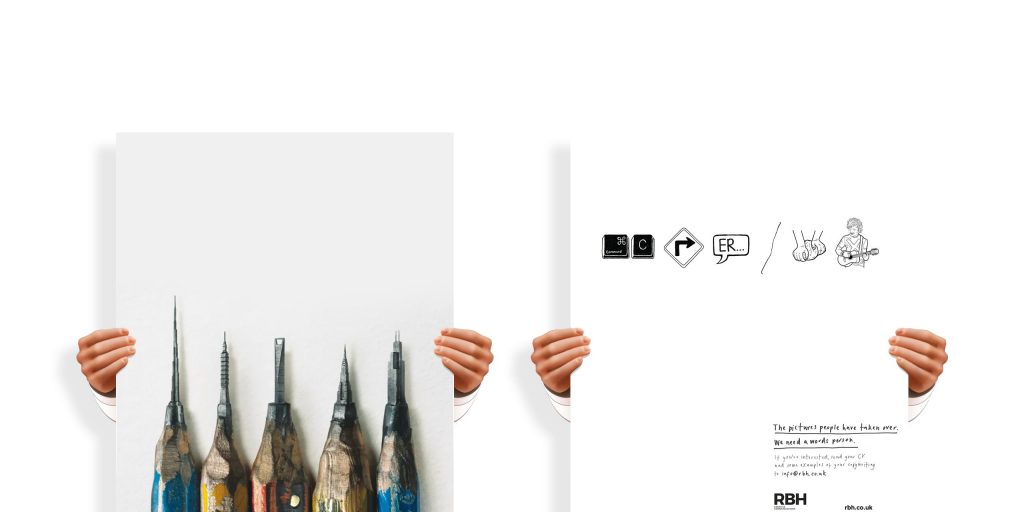 Check out this clever poster for posting job recruitment from RBH. The pictograms in the poster spell out "copywriter needed".
Modern advertising posters
In the present times, advertising methods have undergone a radical change. Traditional advertisement has taken a back seat in the digital world. Modern advertising posters are more appropriate considering how everyone is hooked on their mobile phones and tablets. It makes more sense to shift to modern poster designs in the present scenario.
The difference between the conventional and contemporary methods of designing posters is that in the latter one, the advertisements are shown to the target audience by an automated system based on their preferences and browsing history. The posters can directly communicate with the consumers making them more impactful.
Here are a few examples:
Check out this poster campaign by Burger King.
Iconic advertising posters
Some posters are successful as advertising campaigns; some influence our lives and change the way we look at certain things. The second one is known as iconic advertising posters. Do you remember the poster by DeBeers where the tagline "A diamond is forever" has become an anthem when proposing marriage? Another one that you would definitely relate to is the 1942 poster by Westinghouse Electric. The slogan "We can do it!" is still used to communicate that females are strong and independent individuals.
Who can forget the US Army's motivational poster in 1916 with an image personified as "Uncle Sam" calling out to young Americans, "I want you"! There are countless examples like the 1931 poster of Coca-Cola featuring Santa Claus, The Marlboro Man poster from 1954, "Think small" by Volkswagen in 1959, and so on.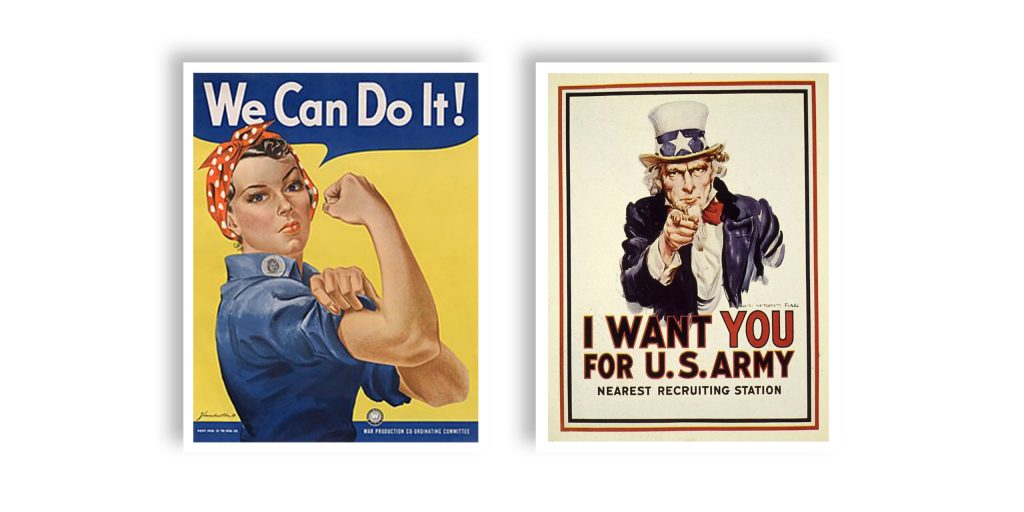 To conclude
The shared advertisement poster ideas can be useful in creating a poster for brand awareness and promoting the latest products & services. They are also helpful for event promotions like product launches, etc. The shared tips would be enough to get you started with poster designs, and if you still require some experts to do this for you, Design Shifu should be your next stop.