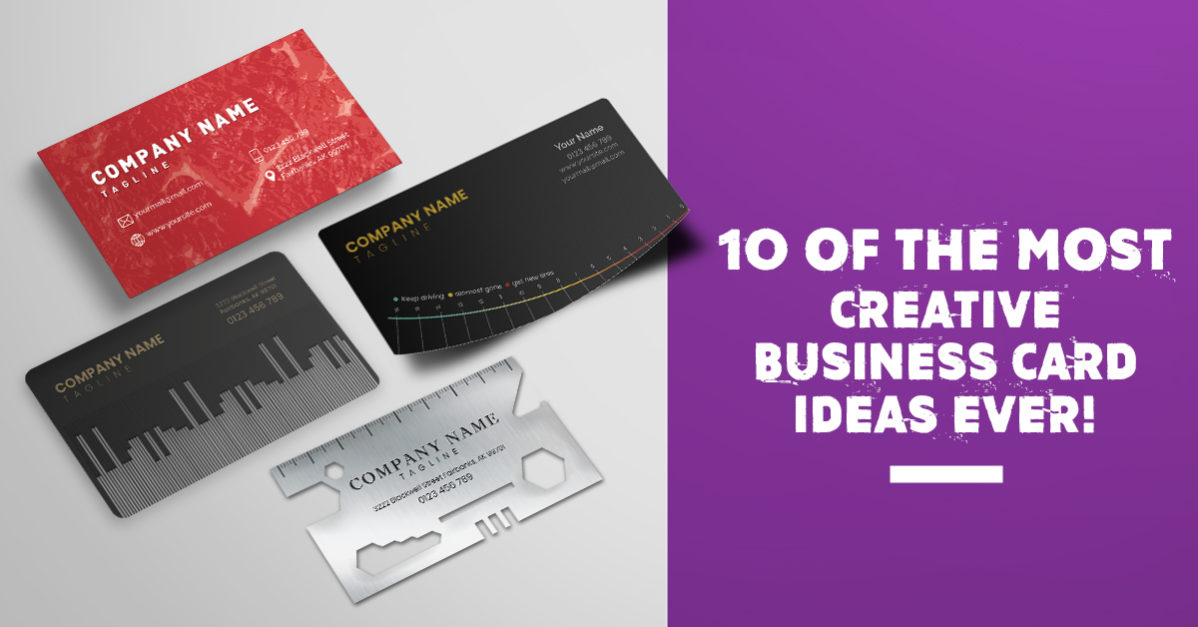 Technically speaking, you can exchange your contact details with a potential client through your phone. However, a few months down the line when they are looking through their phone, would they even remember you? The chances are pretty slim! If you wish to make a lasting impression, the physical exchange of business cards is the way to go. Not only does this help strengthen your brand, but also helps your potential clients remember who you are and what your business offers. 
If you wish to have a business card that gets etched in the mind of your potential clients, you need to start getting creative. In the world of digital dominance, we bring you the ten most creative business card ideas that can help you create the impact you desire and stand out among your rivals.
1. Bike Tool Business Card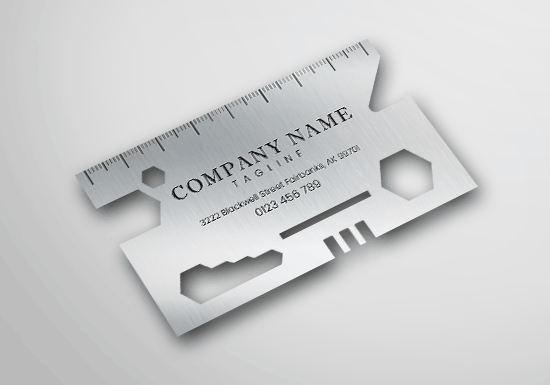 This is an excellent business card that actually promotes the Broke Bike Alley's business by doing some of the work physically. Broke Bike Alley is a company that carries out repair work and this is advertised in a great way through their business cards. This card features a range of tools to serve multiple purposes like spoke adjustment, bolt tightening, and bottle opener.
2. Cheese Grater Business Card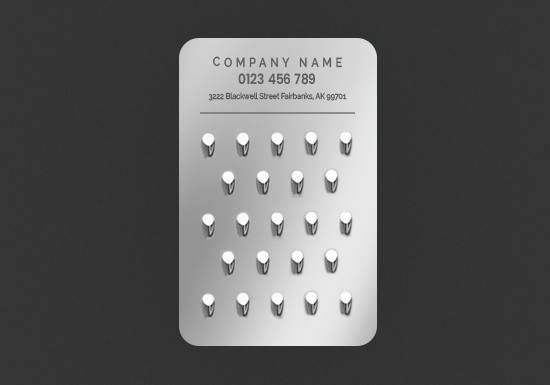 Although we would never want to have a cheese grater handy, this business card by Bon Vivant earns all the brownie points for innovation. These business cards feature a simple design that showcases the true passion of the business owner, Bon Vivant who is a cheese retailer. It instantly became a hit and did not take too long for its popularity to reflect positively on the company's sales. 
3. Content Creator Business Card Idea
This is one of the perfect business card ideas and Design Shifu's favorite. If you are a content creator, looking to get more business, this business card inspiration could do wonders. The QR code could be a link to your portfolio with socials and other contact details to solve the digital needs of the current scenario. A transparent layout at the left captures the eye and attracts the creative attention necessary to hook people. It also allows you to experiment and manipulate the design according to your content niche. A content creator is always ahead of the trends, and this business card idea could become a trendsetter for you.
4. Meat Business Card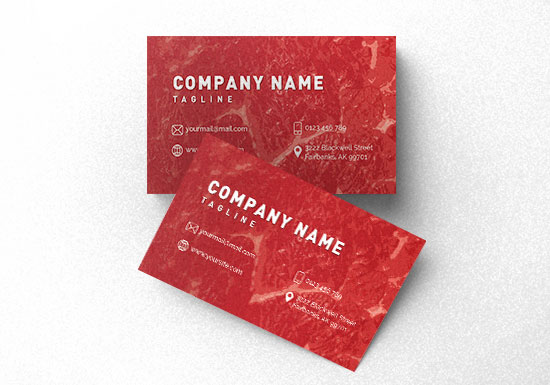 This is one of the award-winning business card ideas as it looks like meat, feels like a meat to the touch, and is in fact real meat! This popular business card design was originally made for a travel website. The texture of these business cards was chosen to give a rustic and wild vibe to anyone who receives them.
5. NFC Business Card

MOO is a printing company based in the UK that came up with this brilliant idea for business cards. This business card has an integrated chip that performs a function specified by the user whenever it is brought into close contact with a smartphone-compatible with NFC. Apart from transferring just the contact details, the holders of this business card can easily share videos, music, and so much more.
6. Music Business Card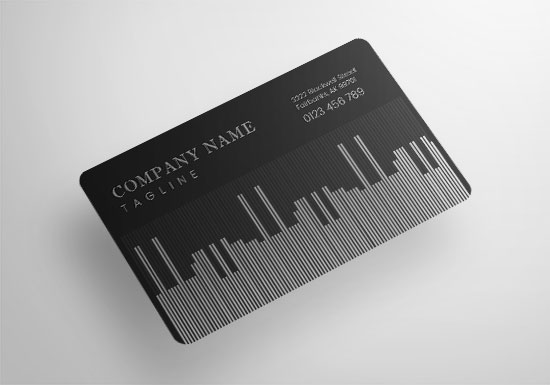 This is one of the popular business card ideas that integrates dual functionality. It initially appears like a musical instrument with multiple keys. However, when observed closely, you will notice that it can be used as a comb as well. Also, when the recipient runs their finger through the comb's teeth, represented as musical keys, it plays a classic tune of the rock n roll era. This design for business cards was appreciated so much that it even went on to grab the Ads of the World award in 2010.
7. Tire Tread Depth Gauge Business Card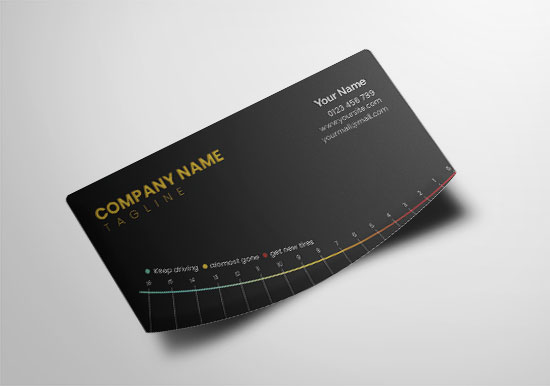 This is a very simple design for business cards but a very effective one. It represents a tire tread depth gauge which can prove to be handy in many situations. The users just have to place this card at the tire tread's center and determine whether they need new card tires or not by using the color-coded indicator at the bottom of this business card. This way it directly tells the user whether the tires of their car can perform efficiently and safely.
8. Solar Torch Business Card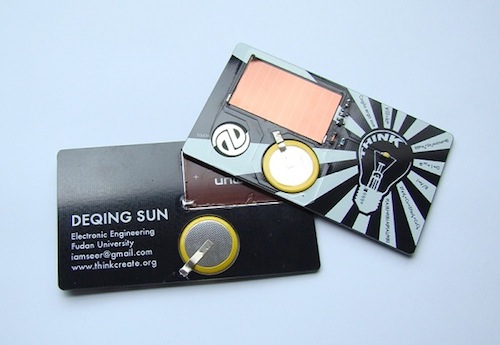 A torch comes very handy during several situations in our lives. So, if a business card lights up your world, quite literally, you will not easily forget the business it promotes. This is the idea employed while creating the business card for Deqing Sun. This business card features a simple electronic circuit that makes the card act like a solar torch, reflecting the creator's ingenuity perfectly.
9. Tattoo Removal Business Card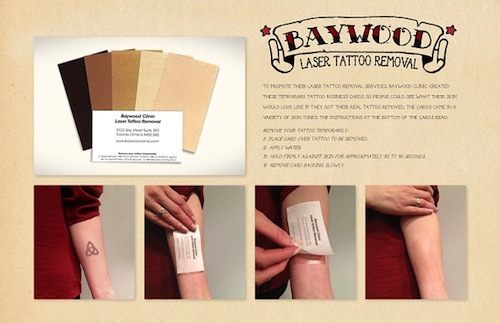 This next business card is from a tattoo removal clinic and that is exactly what the business card also does. This unique business card offers the user the opportunity to make a patch of their skin ink-free and with it comes the contact information of the tattoo removal clinic if the user likes what they see and wishes to get the tattoo removed permanently. It comes in a range of different skin tones to suit different recipients.
10. Caliper Business Card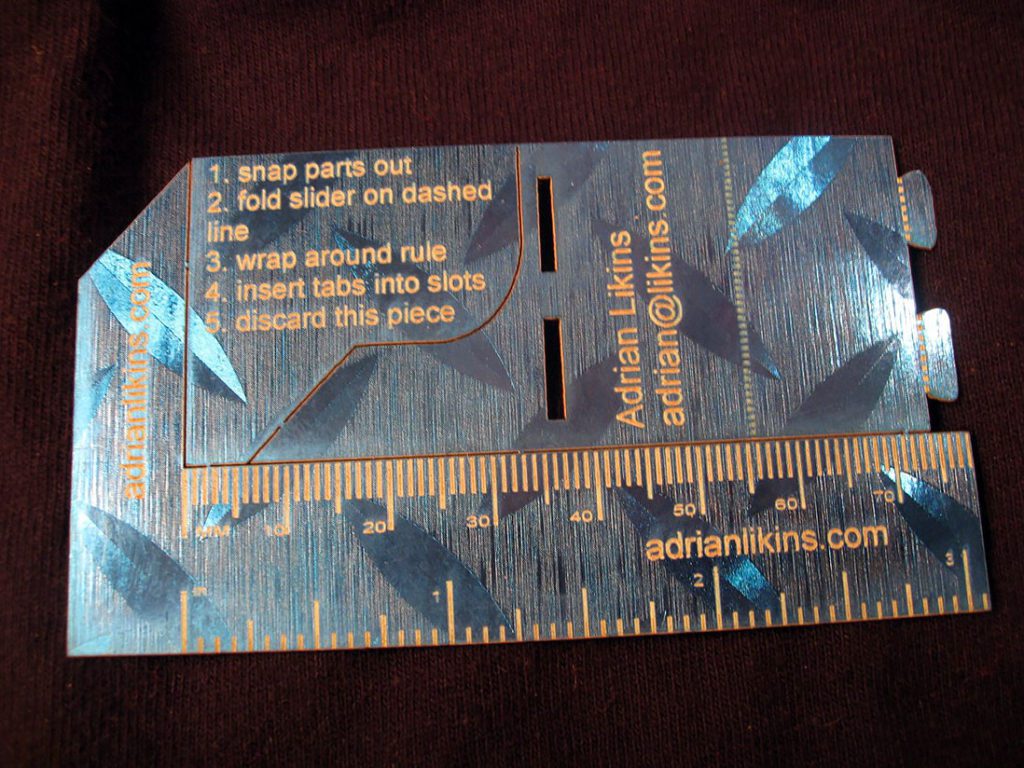 This is one of the business card ideas that came up in 2009 gained a lot of traction among multiple recipients. The uniqueness of this card lies in the fact that it can be conveniently folded to form a caliper rule that can be used to measure a number of different items. It is cut into three sections using laser technology with one of the sections containing the instructions to fold the card to work as a caliper.
11. Fitness Trainer Business Card Idea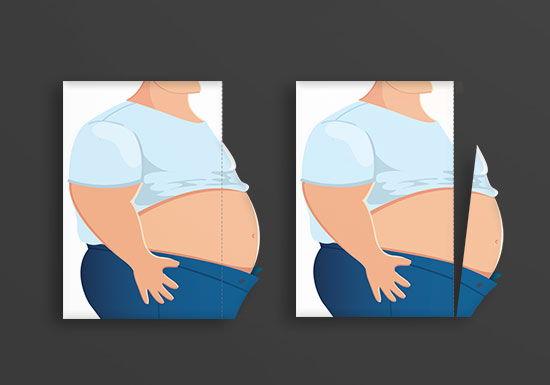 This is amongst the most creative business card ideas that showcase how the company's services can assist your fitness journey. This card was created for a fitness trainer and this is clearly shown in the functionality of this business card. Here, an individual with a fat belly can be seen and this belly is cut out when the business card is separated from the center, signifying the essence of the business.
Conclusion
When it comes to designing business cards, you need to think out-of-the-box if you really want to create something unique and impactful. If you're considering getting an unforgettably creative business card for your business too, but are falling short of business card ideas, you could seek professional help.
While boutique agencies could charge you a bomb for their services, subscription-based graphic design agencies like Design Shifu can help with a host of graphic design services on a budget. You can choose a plan based on your requirement and get the designs within 24-48 hours. What's more, we also offer a money-back guarantee in case you aren't satisfied!