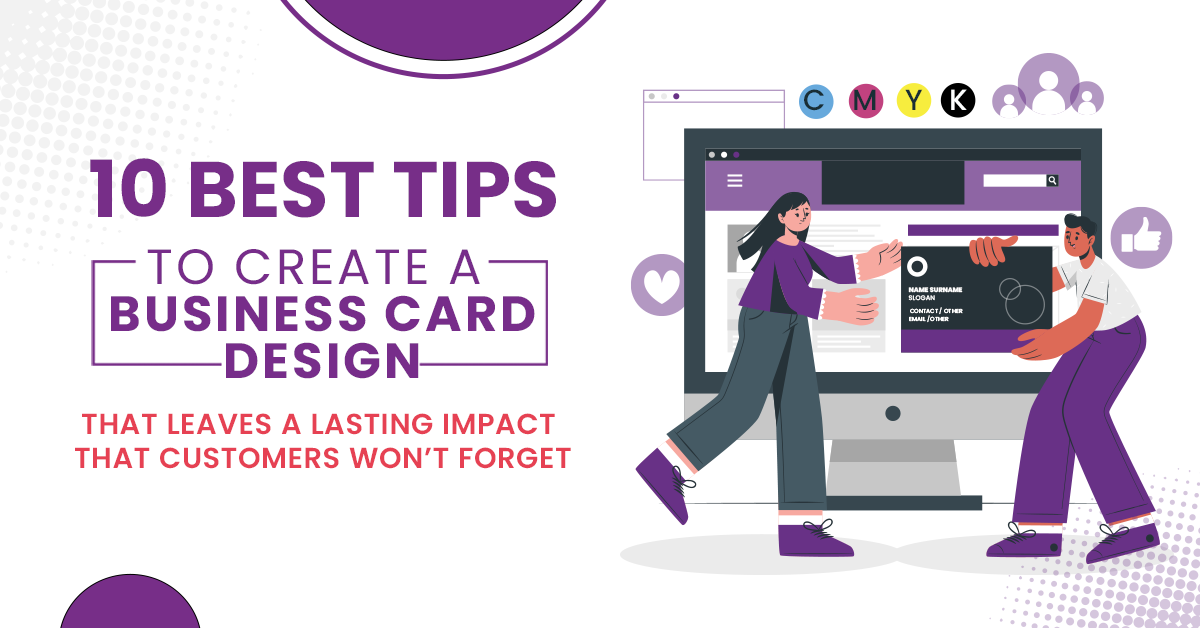 Are you looking for successful ways to market your business? Business cards can actually be of great help since they can help expand your customer base to a great extent. Wondering how?… Well, you can include some pertinent details about your business on your business cards and use them as effective marketing tools by sharing them with your existing as well as potential customers.
Why Are Business Cards Important?
Business cards are very useful, especially for small business owners since they play a major role in networking and marketing your products and services to your customers and other businesses. When you design your business cards in the right way, you can create an everlasting impression on whomever you share them with.
A business card acts as the primary communication medium between you and your potential clients and, above all, is amongst the most affordable techniques of marketing. Since it is compact in size, it can be carried wherever you go and help you boost your brand awareness
Tips To Create Smashing Business Cards
To create an unforgettable business card design, you will need to include more than just your name and contact details. Although business cards are very small, there are plenty of ways in which you can make yours unique and impressive.
1. Target Audience
The very first rule in creating an impressive business card design is to focus on your target audience. The design must truly reflect what your target audience would want to see. For instance, if your target audience is designers, the aesthetics and elements on your business cards must clearly depict the same.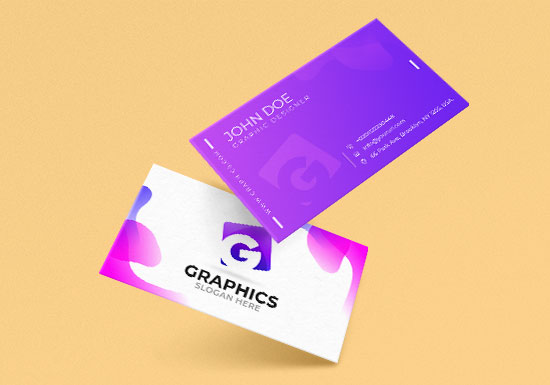 2. Industry
You need to pick the design elements like colors, fonts etc., that are clearly associated with your industry. The business card design must also be relevant to your business. For instance, if you are in the real estate business, you can reflect on your area of expertise by including a picture with a house on your business cards.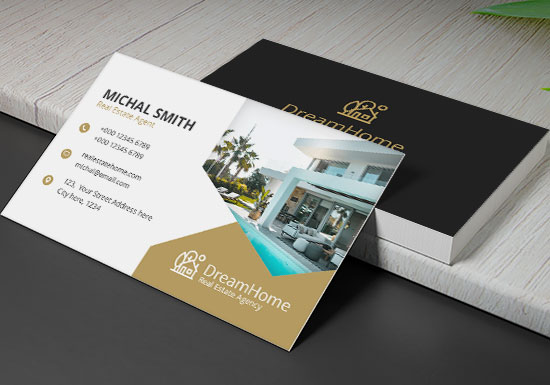 3. Keep The Text Legible
When you key in the information on your business cards, ensure that you do not shrink it so much that it becomes difficult to infer at the first glance. This often happens when businesses try to include too much information that isn't actually required on their business cards. So, while you might feel it is easy to read before printing it, it could end up looking cluttered and too small to comprehend once printed.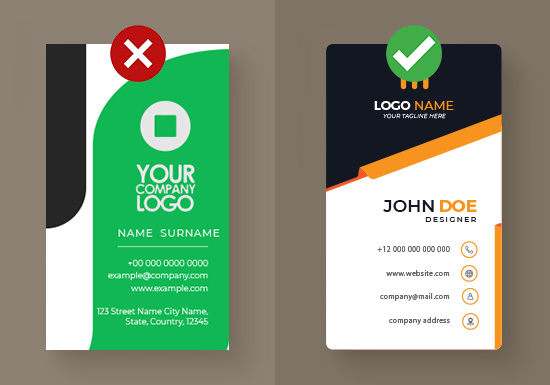 4. Follow Basic Design Guidelines
Since your business cards are essentially a piece of printed material, they need to follow the basic design guidelines such as:
The color model needs to be CMYK, i.e., Cyan, Magenta, Yellow and Black.
The font size should be as minimum as possible but easy to read as well.
The main copy needs to be included at least 5 mm from the trim's edge.
In order to get the best reproduction of the image, 300 DPI needs to be used.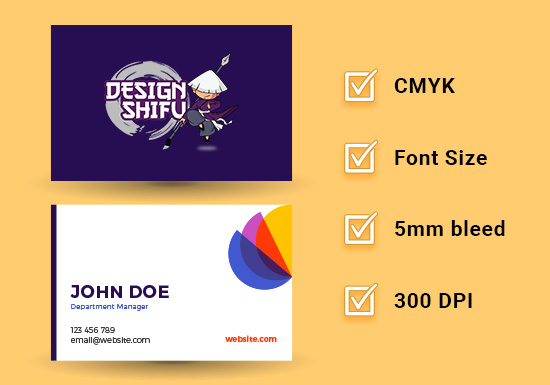 5. Avoid Mistakes By Proofreading Before Printing
Before you proceed with printing your business card design, ensure that you check for errors. Check if there are any typos in the details you have provided on the card. Also, avoid making common mistakes such as making a straight border on all the sides of business cards. This is a very common mistake and may result in some misalignment when your business card design gets printed.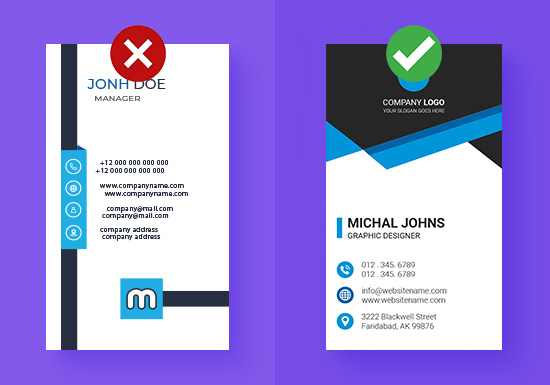 6. Negative Spacing
Many recipients jot down certain information on your business card when you give it to them. This helps them remember how or why they got it from you. When you leave a lot of blank space in the business card design, it makes it convenient for such recipients to make notes. So, remember to add only the vital information on your card and leave a lot of empty space for this very purpose.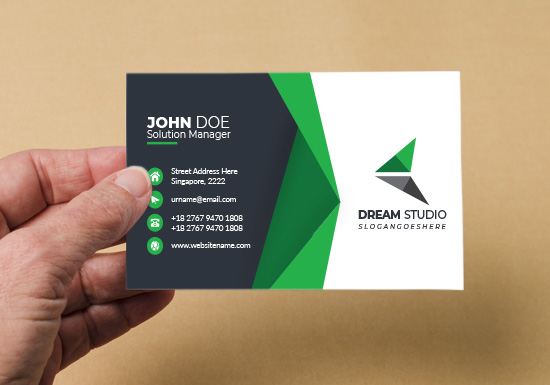 7. Make It Useful
Many business cards just keep mounting up in a pile and end up being recycled in the end. You can make yours more useful and draw undivided attention to it by making your business card useful. The best idea to do this is by making your business cards functional. For instance, you can make the card act like a holder for cell phones or something to keep the hair clips in.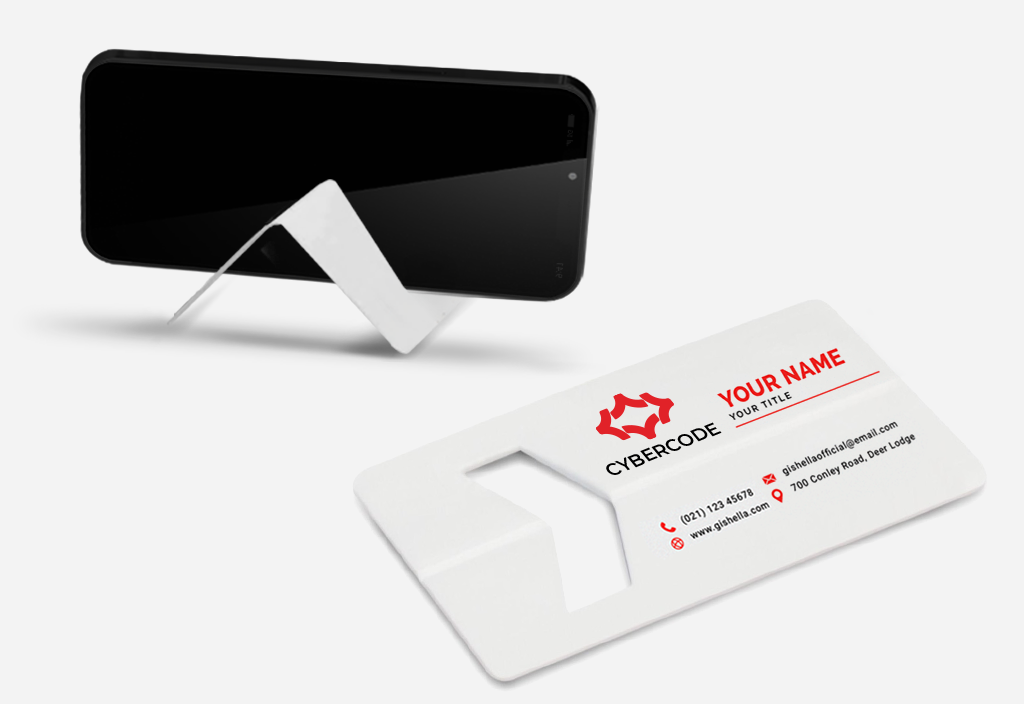 8. Paper Quality, Thickness & Type (Matte/ Glossy)
Most commonly used papers include 14-point cardstock which is thick, 100 lb. gloss over, which is thin, and 16-point cardstock, which is the thickest. However, these days there are several upgraded ranges of paper available for business card design printing. The finishing of the paper, glossy or matte, depends on several factors like your target audience, industry, and the information you wish to include in the business card.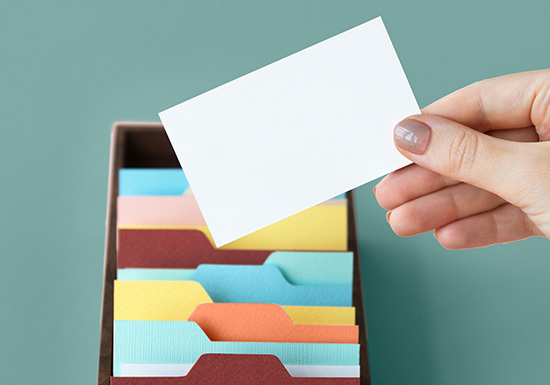 9. Consistent With Other Brand Materials
Prior to commencing the designing of business cards, you need to have the typography, brand logo, and color scheme in place. Your brand identity is based on these aspects. These things are vital and play a very important role in defining your brand. All these elements need to be consistent across the different platforms that you use for advertising and marketing your products and services.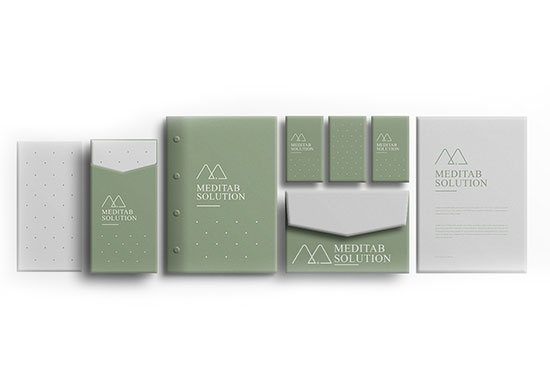 10. Hire A Professional Printer
If you want a good start to your relationship with a prospective client and establish trust, you need to get your business card design printed professionally. When you cut back on the budget allotted to business card printing, you will end up with a shoddy-looking business card that wouldn't have the same effect as a well-designed card curated by a professional.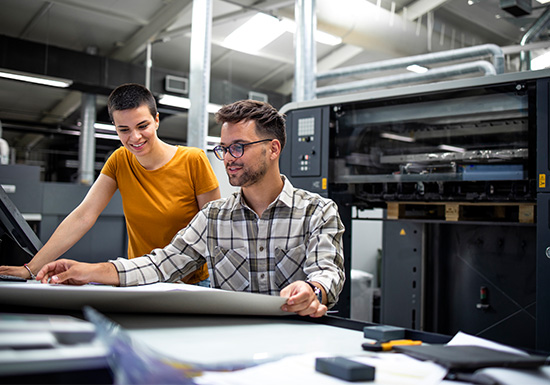 Conclusion
Creating impressive business cards that actually leave an impact requires a lot of attention to detail. The above business card design ideas are sure to help you get a headstart. If you are thinking about investing in a professional graphic designer for your business cards, you might want to consider a flat rate design service such as Design Shifu which offers a variety of subscription plans to choose from based on your requirement. Moreover, you get your business card design within 24-48 hours with unlimited revisions and a money-back guarantee!