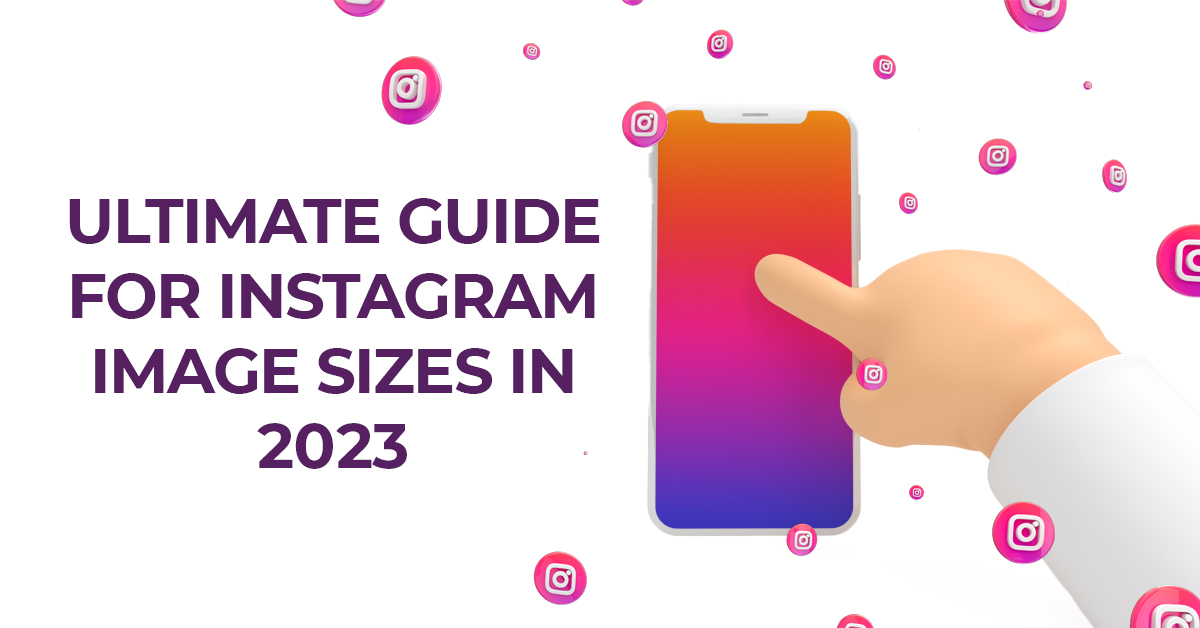 Instagram has swept the world off its feet ever since its launch. It has more than a billion users monthly as a part of its community. Marketers are hopping onto the platform to leverage the addictive scrolling behavior of users.
All thanks to its myriad ways of posting varied content types. Be it posts, Instagram reels, landscape videos, or stories, Instagram floods with eye-pleasing content. However, figuring out the perfect image size can be a menace.
But why does it matter to nail the image size on Instagram?
Although Instagram compresses your photos and videos, it is preferable to share them at an optimal resolution. That way, even after compressing, the quality of your uploads remains undistorted.
Before we walk you through this one-stop guide to all Instagram image sizes, here are 2 terms you know.
Aspect ratio: It is the width of an image to its height. For example, in the 4:5 ratio, 4 means width and 5 means height.
Size: Itis the number of pixels that constitute the width and height of any photo or video. For example, 1080px by 1920px means that the width of the photo is 1080px and the height is 1920px.
Note: Instagram uploads photos at the best resolution possible up to a width of 1080px. The width of any photo must be between 320px and 1080px. On the other hand, if the aspect ratio is unsupported, it will be cropped, which may cause quality loss.
Now that you know the basic dimension, let's get started with the guide!
Ultimate Guide for Instagram Image Sizes
1. Instagram Post Size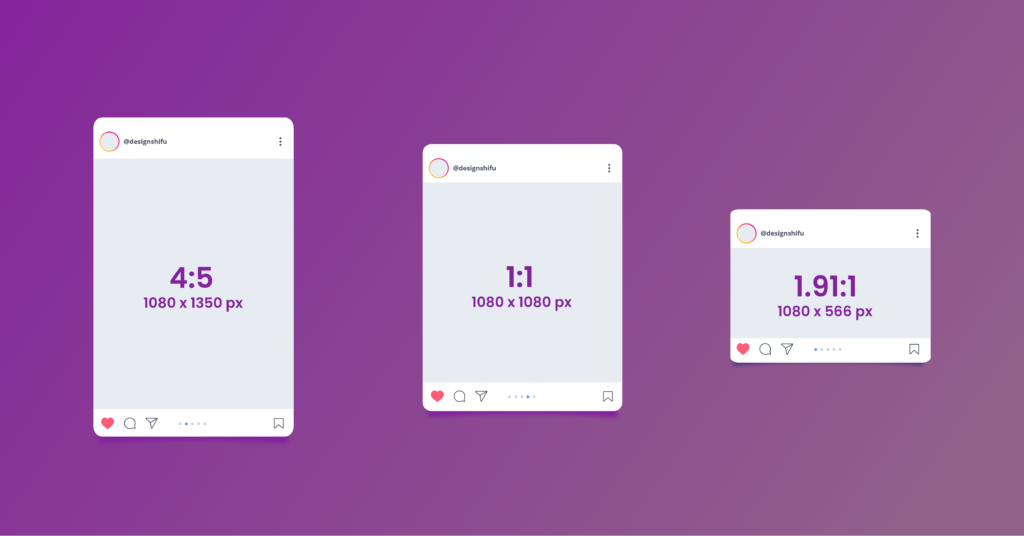 Posts for Instagram can be square, vertical, or landscape. But prefer square photos as they are easy to upload. Instagram crops all posts to a square shape in the feed.
Instagram dimensions for all square posts is 1080px X 1080px in a 1:1 aspect ratio.
For landscape posts, the image must be 1080px by 566px in an aspect ratio of 1.91:1.
Instagram post dimensions for vertical images are 1080 px by 1350px with a 4:5 aspect ratio.
You should also keep the header sizing requirements in mind while posting on Instagram.

What is the best aspect ratio for Instagram?
Earlier, Instagram offered only the 1:1 ratio. Now, users can post landscape and portrait photos. The aspect ratio for the latter is 4:5, while for landscape photos, it is 1.91:1. If the aspect ratio of your post is unsupported, then the app crops it to fit a supported ratio.
Instagram image size becomes 320 pixels if it has a lower resolution. At a higher resolution, the sizes go down to a width of 1,080 pixels. Your photos and videos must fall within the guidelines to avoid cropping to fit a supported ratio.
Also Read: 5 Most Creative Digital Marketing Agencies & Alternatives in 2022
Also, Carousel Posts on Instagram can be square, horizontal and vertical. You need to select your first photo or video, determining the aspect ratio for carousel photos and videos of your account.
2. Instagram Video Post Size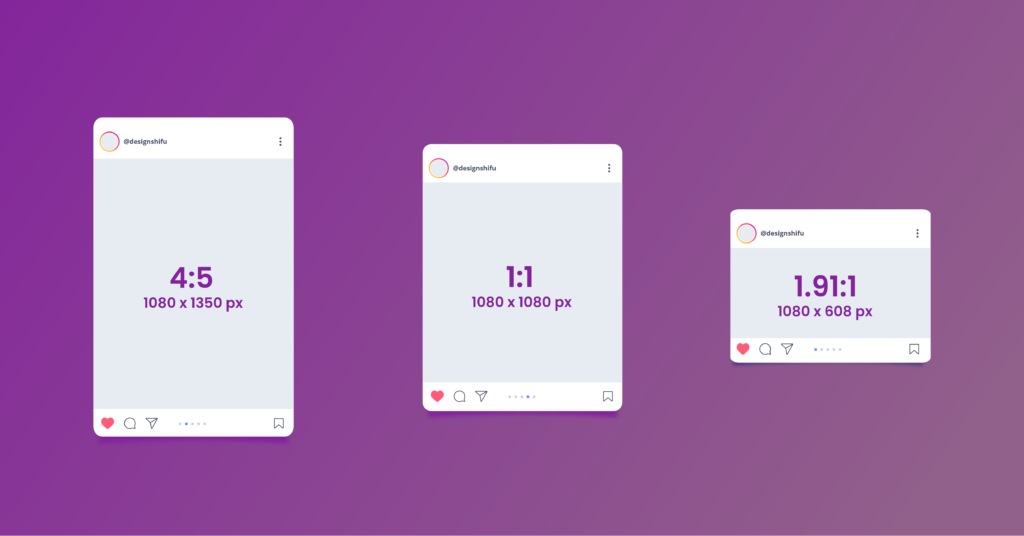 You can upload videos having the following size constraints with an aspect ratio between 1.91:1 and 4:5.
Square and Carousel: 1080px by 1080px
Landscape: 1080px by 608px
Portrait: 1080px by 1350px
The ideal horizontal video size is 16:9 because that is the format that your smartphone records when rotated sideways. So the video will appear most naturally at its original dimensions.
The maximum size of your videos is 4GB and no more than 60 seconds long.
Also Read: Instagram Ad Specs and Sizes in 2022 – The Ultimate Guide
3. Instagram Stories Dimensions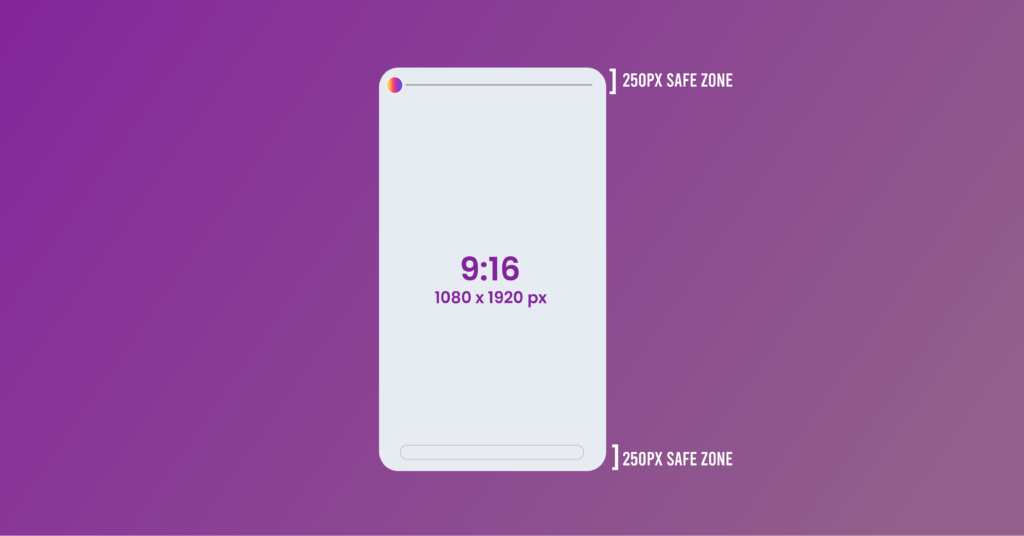 You ought to post stories on Instagram to start a conversation or interact with your target audience by promoting your stories as ads. You can even add hashtags, locations, user tags to make your stories visible to more viewers.
The ideal Instagram dimensions for stories is 1080px by 1920px with a 9:16 aspect ratio. You can only view the stories in portrait mode for 5 seconds in case of images and 15 seconds if it's a video.
4. Instagram TV Post Dimensions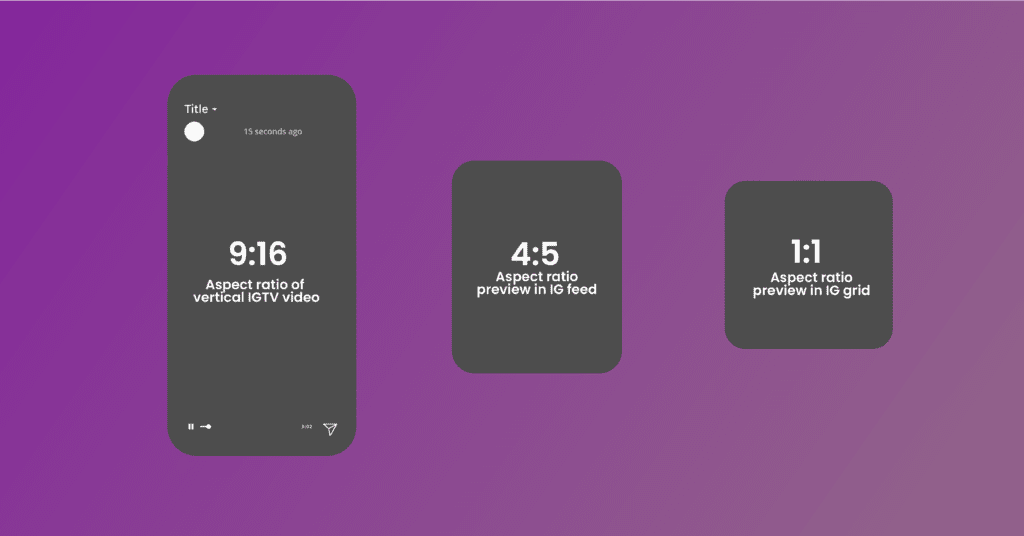 The dimensions for Instagram TV videos is 1080px by 1920px with a 9:16 aspect ratio. Vertical videos' minimum aspect ratio for Instagram is 4:5 (portrait), and the maximum is 9:16. The minimum aspect ratio is 5:4, and the maximum is 16:9 for horizontal videos. The app crops the 1-minute Preview to a 1:1 square in a 9-grid.
Also Read: Facebook Ad Dimensions in 2022 – The Ultimate Guide
The recommended dimensions for its Instagram TV cover photos is 420px by 654px or 1:1.55 ratio. Thumbnail images must be under 2MB, and image formats should be in either JPG or PNG. Currently, you cannot edit your cover photo after upload. So it is essential to get it right the first time.
5. Instagram Reels Specifics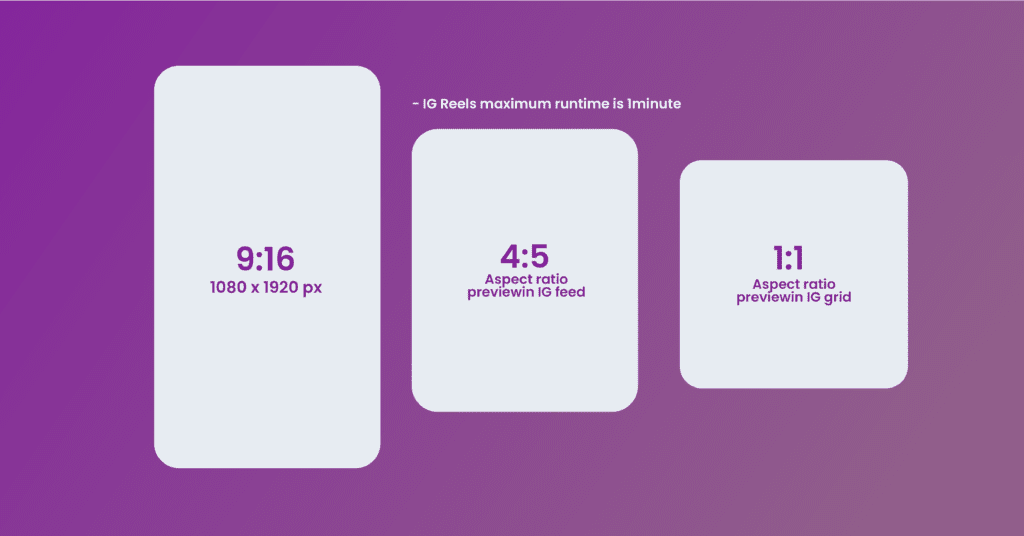 Instagram designed Reels to be viewed vertically, on mobile, or full screen. You can opt for an aspect ratio of 9:16, shoot and edit directly on your phone for the best results. Instagram displays the video caption at the bottom of the Reel, so avoid adding essential visual elements in this section.
Conclusion
The fascinating new features on Instagram have opened up doors to promote diversified content and incredible ways to engage more with your followers. Following the Instagram dimensions for your photos, videos, or IGTV feed helps you create a lasting impression on your followers.
If you need a helping hand for this, take expert aid from Design Shifu. Get unlimited design requirements sorted at flat-rate pricing. Design Shifu ensures that your design is immaculate and stays a stand-out with a quick turnaround. Request a demo now.