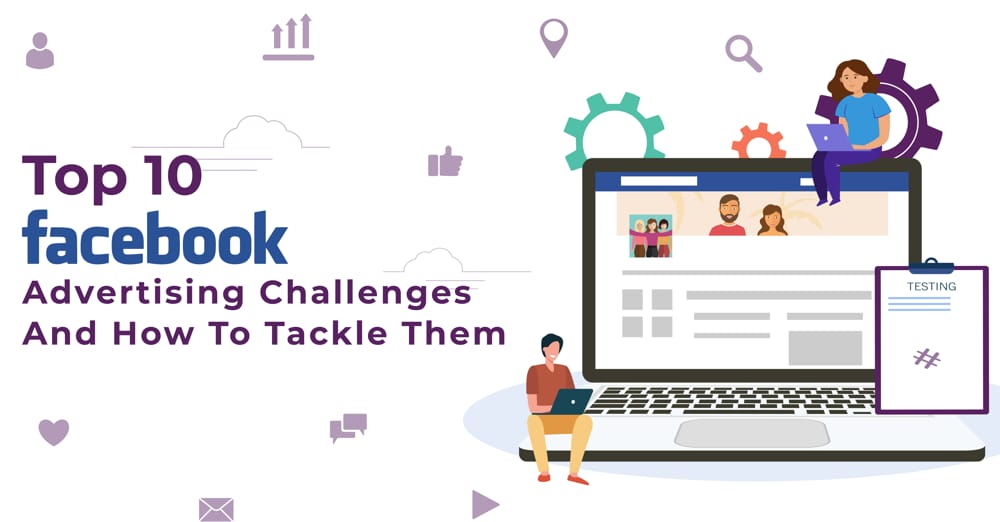 To get the right engagement and appropriate CPC on Facebook advertising, you must learn how to effectively market and advertise your products and services. This article will talk about the common Facebook advertising challenges and how to tackle them.
1. Wrong target audience
For a successful Facebook advertising campaign, you need to target the audience who would be interested in whatever product or services you are offering. For instance, if you have a product that would help someone who is in their 20s, you need to ensure that your ad gets displayed on accounts of all those users who fit this profile. In addition to targeting the right audience, you also need to make sure that the ad you post needs to be compelling enough for these young individuals not only to take notice but also take the desired action such as "Register" on your website, "Click" on the product etc.

Unfortunately, there are several businesses that end up targeting the wrong group of individuals. They sometimes even fail to set certain parameters for where they want their Facebook ad to appear. As a result, such Facebook ads fail to elicit the desired response from the audience.

2. Failure to comply with Facebook rules

When it comes to Facebook advertising, there are certain sets of rules for the kind of content that you can post in your ads, how you mention Facebook's name in the ad, how much text your ad contains, and other such specifications. If you fail to follow these rules, there is a chance that Facebook will reject your ad. A lot is also dependent on the size of your creatives and videos, you want to learn about Facebook ad dimensions in detail, you can read our blog on the same.


Many companies fail to understand these rules completely while devising their Facebook advertising campaign as a result of which they struggle during the process to get their Facebook ad approved.

3. Repetitive or diminished audience response
If the content you post on Facebook ads is similar and repetitive, you will keep getting the same result as before. The change on social media is pretty constant which means that whatever worked for you in a particular month may not work in the following months.

To stay ahead of your competition you will need to revamp your Facebook ads by continuously changing and evolving your Facebook advertising strategy. If this is not done the results you expect from your Facebook ads would become stagnant or even decline.

Rather than focusing on content that just fulfills your business goals, try deviating your attention to content that is informative, helpful, and interesting. Always keep a track of what Facebook advertising strategy works and push your efforts in that direction.

4. Inability to connect with your followers

If you still are not sure about what kind of content your followers are interested in, try running a Facebook poll on your business page or post a question to find out what your followers like seeing and reading about.
Also Read: Instagram post size ultimate guide 2022: Updated story, reels & photo dimensions

You can even directly message your followers asking them for their suggestions in return for an incentive. If you feel you are not getting enough response this way, you can try asking them again for a better incentive in return.

5. Skipping the crucial step of A/B testing

Since every Facebook ad has distinct pictures, messages, designs, and other elements, each ad will get a unique response from the target audience. One of the problems which several businesses encounter while handling their Facebook ad campaign is that they refrain from testing their ads for the audience response. This way they miss out on all the business they could have earned, had the ads been good enough to get the maximum response from the audience.

You can avoid such an issue by conducting A/B tests on your ads. You can do this by running two Facebook ads developed by you simultaneously and compare the response for each of the ads. This way you can know which ad has the capability to get you the best results, and as a result, maximum profit.

6. Low conversion rate

You are getting excellent engagement on Facebook, your followers are commenting on, liking, and sharing your Facebook posts, but the conversion rate is still pretty low. Sounds familiar? Engaging content on Facebook is of no use if it is not eventually improving the conversion rate for your business.

When trying to market your products or services on Facebook, the content you post needs to be relevant enough for getting a high conversion rate. Every piece of content you post needs to have a specific goal and must fulfill both your business goals and the needs of your audience.

If the content you post is already working great, ensure that you do not make any drastic changes too quickly. Try and maintain the personality and integrity of your presence while also putting out the message your business needs to deliver.

7. Difficulty in retargeting interested users

Engaging content on Facebook without an effective marketing strategy in place can ruin your Facebook advertising and marketing efforts. All the users from different stages of the funnel can be targeted effectively using Facebook ads.

If you have a website for your business, you need to have Facebook Pixel. There may already be several people being driven to your website, by using Facebook Pixel you can retarget all those users who visit your website and who have visited certain pages containing targeted messages.

8. Frustrated audience
Users disliking your posts, unfollowing your business page, and giving negative comments, reactions, or messages is a very common problem. However, such behavior from your users indicates that you need to modify your Facebook advertising strategy.

When you do not acknowledge the comments and queries posted by your followers or when you do not address their concerns with individually tailored answers, they can start getting frustrated. You can solve such issues with help of comprehensive community management. This process would include,

i) FAQ document that can be changed for different users specifically to address their needs and questions.

ii) A well-set escalation process to help you in taking action when the questions start spiraling out of control.

iii) A dedicated employee who can look after the management of your business page and give timely responses to most of the queries posted there.

9. Absence of compelling images
The success of your Facebook advertising campaign depends largely on the images you use in the ads. More often than not, the images are the reason why some users may view and click on your ad. This is exactly why it is crucial to use compelling images for your Facebook ads.

Avoid using stock photos and try including uniquely vibrant images that capture your brand's efforts appropriately.

10. Trolling
Moderating the Facebook page of your business, hiding inappropriate conversations, and blocking users who do not abide by the Facebook guidelines, is your responsibility. If you ever feel that your business page is being targeted by hackers, trolls, or any other groups, you can block them straight away.

This action needs to be followed through immediately when you notice a particular user using derogatory, discriminative, and offensive language on your page. You need to set certain guidelines for your page and ensure that all the users are reacting and commenting appropriately within the set guidelines.

Conclusion

Creating an effective Facebook ad that perfectly translates your Facebook advertising efforts to definitive results is not really easy. Tackle some of the most common Facebook ad posting challenges by making use of the tips given above. For creating the most interactive ads for Facebook advertising, it is best to approach professionals like Design Shifu. Design Shifu offers various graphic design plans to choose from as well as unlimited revisions free of cost, just in case you aren't satisfied with the work. Not to forget, the 14-day 100% money-back guarantee!