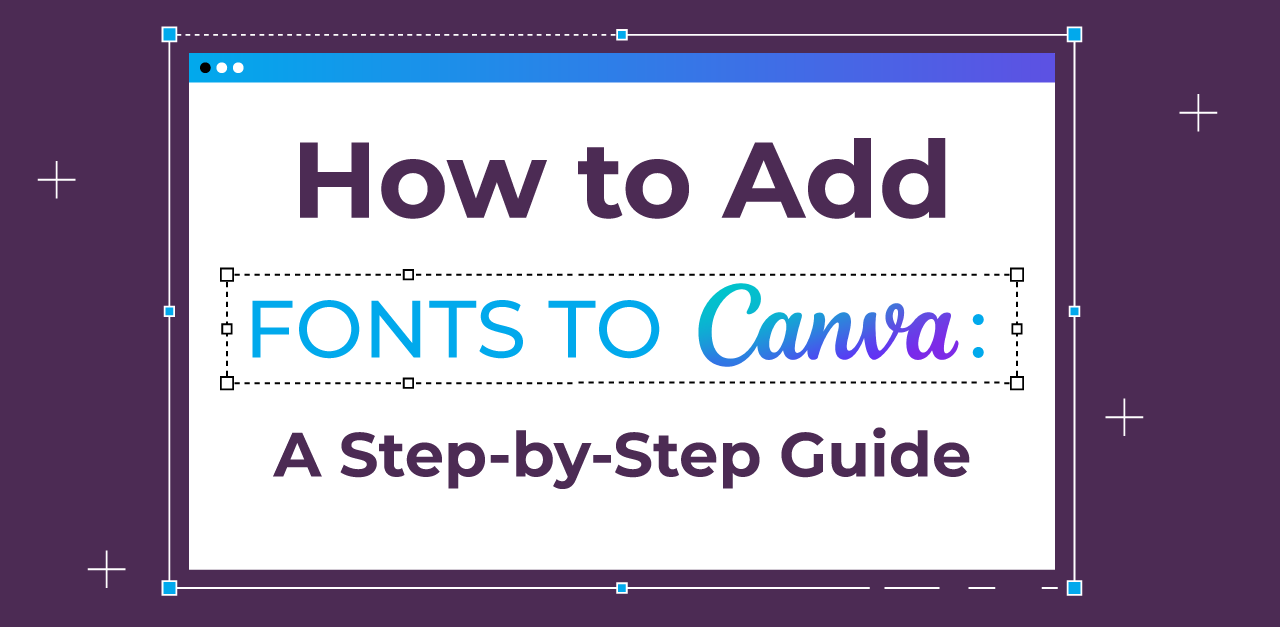 Even though Canva has a huge library of fonts, sometimes you just can't make peace with what everyone else is using, which makes you add fonts to Canva. When it comes to being unique and that too while following the brand guidelines, custom fonts become your best friend.
Owing to the above notion, let's help you answer the question "How to Add Fonts to Canva?" and help you upload custom fonts to Canva along with troubleshooting in case you face any problems.
Understanding Canva and its Font Library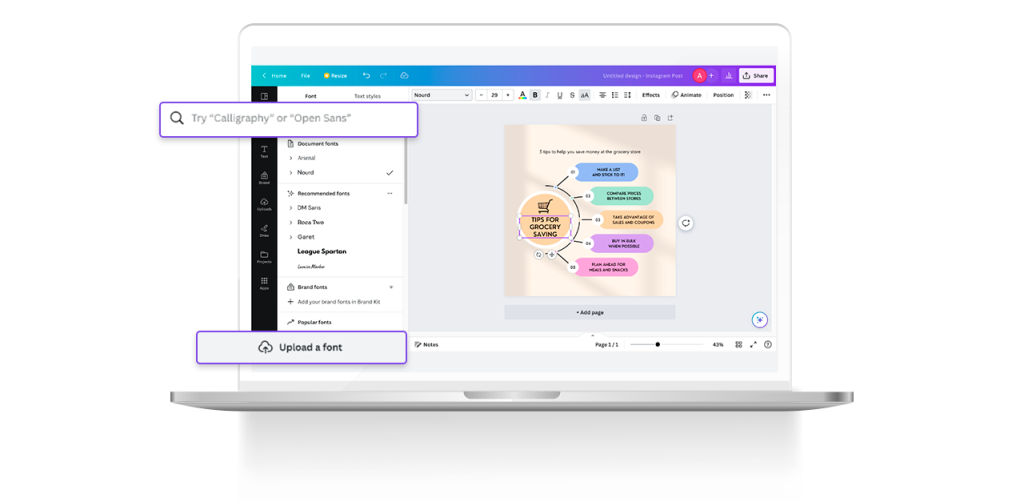 Canva's font library is a treasure trove for your graphic design projects. With a wide array of fonts, including the Creative Market collection, you can easily find the perfect one to elevate your designs. In case you cannot find one, you can use our guide to add fonts to Canva with ease.
Accessing Canva's font library is a breeze – simply use the web browser or mobile app.
You can search for specific fonts using the search bar, making it convenient to find exactly what you need.
Canva supports popular font file types like WOFF, TTF, and OTF, ensuring compatibility with your design files. It's a great resource for adding that extra touch of creativity to your visuals.
Also Read: How to Make Background Transparent in Canva?
Why Custom Fonts are Essential for Your Design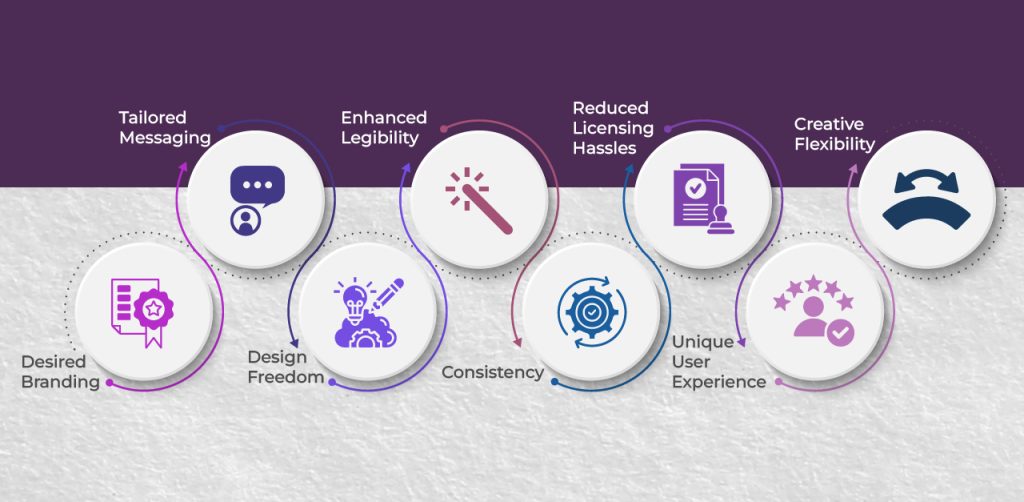 The use of custom fonts in your design can significantly impact the overall aesthetics and effectiveness of your projects for several reasons. Here's why adding fonts to Canva could be beneficial:
Desired Branding: There is no guarantee that you will find a font that fits correctly with your brand identity. Custom fonts give your brand a distinct and exclusive typographic identity according to your preference, helping it stand out in a crowded market.
Tailored Messaging: You can design custom fonts to convey specific emotions or messages that align with your brand's values and purpose. Custom fonts allow you to convey your message most effectively.
Design Freedom: Custom fonts offer design freedom, allowing you to create unique letterforms and styles that standard fonts can't match. With custom fonts, you are restricted to using the default typography, you can play around as much as you want to.
Enhanced Legibility: You can optimize custom fonts for legibility, ensuring your content is easily read across various media. Custom fonts of your choice can spark and perfect balance between style and readability.
Consistency: Custom fonts maintain a consistent look and feel across all your design materials, reinforcing brand recognition.
Reduced Licensing Hassles: By creating your font, you eliminate ongoing licensing costs and potential legal issues associated with standard fonts. Also, it works as your own Intellectual property, which gathers value from your brand equity.
Unique User Experience: Custom fonts contribute to a unique and memorable user experience on websites, apps, and printed materials. The same user experience turns into brand recall for the brand.
Creative Flexibility: Making your own fonts allows you to adapt and evolve your brand's visual identity as needed. There won't be any bar to experimentation when going ahead with a custom font for your brand.
How to Add Fonts to Canva?
Adding custom fonts to Canva is pretty straightforward, let's get started:
Step 1: Start by downloading the desired font file from a reputable source. If you already don't have a font file with you.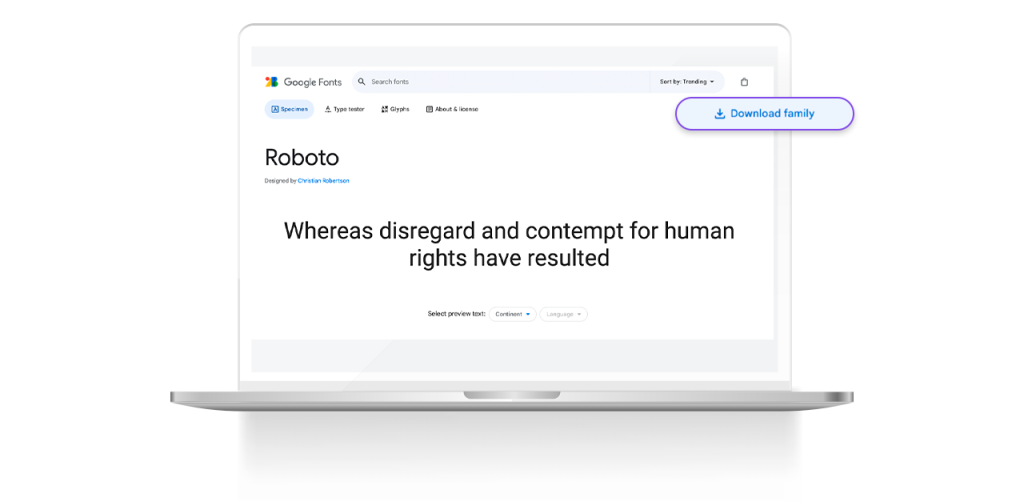 Step 2: From the left panel, click "Brand" and access the Brand Kit feature. Remember, you need a Canva Pro subscription to use the brand kit feature.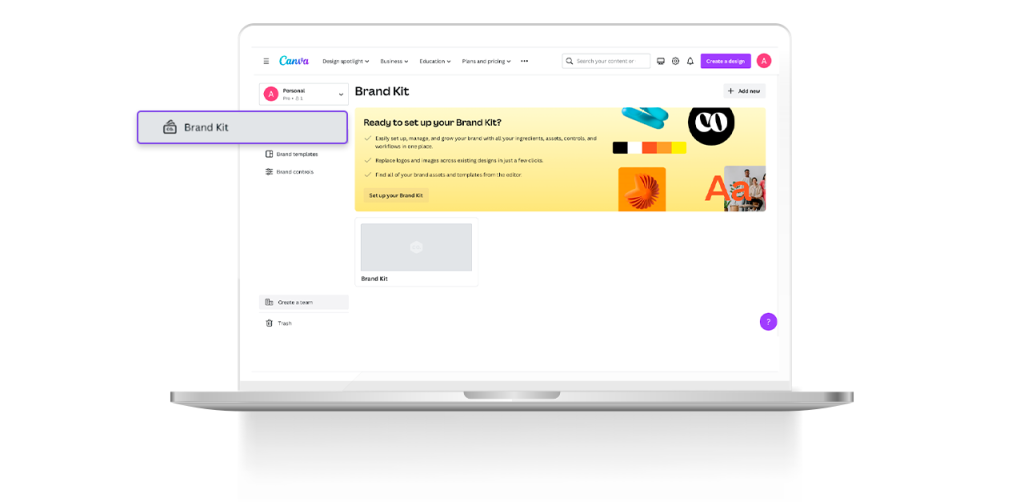 Step 3: Upload the downloaded font file (or your own font) to your Canva Brand Kit. It allows you to upload different fonts for different sections as shown below. Once done, you can enjoy uniformity in your design with ease.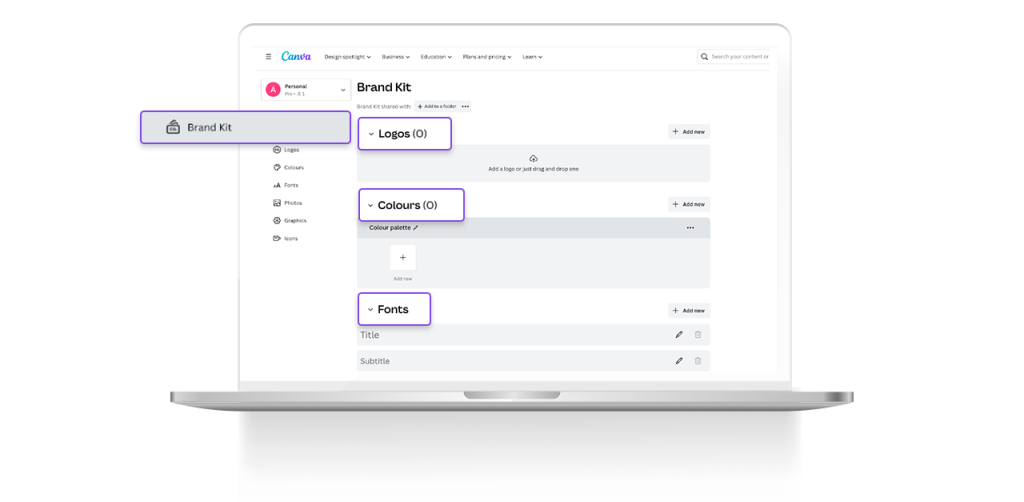 Do you think this is too much work finding and uploading all the fonts, logo variations, color palettes, etc.? If yes, then you should let the experts handle it for you.
At Design Shifu, we provide you with Canva-compatible, editable files so you can always make changes to the Canva board.
You can get customized templates, social media posts, and newsletter templates designed by us and make changes to the same files on Canva with ease. Check out our unlimited graphic design plans to get started.
Downloading the Desired Font
In case you cannot find your desired font in the Canva library, go ahead and download one from the Internet using these simple steps:
Step 1: To download the desired font for your Canva design, start by visiting a trusted website or marketplace like Google Fonts. You can also download fonts using other trusted sites like Creative Market, Envato Elements, Behance, etc.
Step 2: Search for the font you want and download the font file in a compatible format like WOFF or TTF as these formats are supported by Canva.
Next, save the font file to your computer or mobile device, making sure it's error-free. If the font file is in a zip file, make sure that you unzip it first and you are good to go.
Using the Brand Kit on Canva
To access the Brand Kit feature on Canva, upgrade to Canva Pro.
Once you've upgraded, find and access the "Brand" tab in the left panel of your Canva account.
Use these steps to use the brand kit in your designs while you are designing: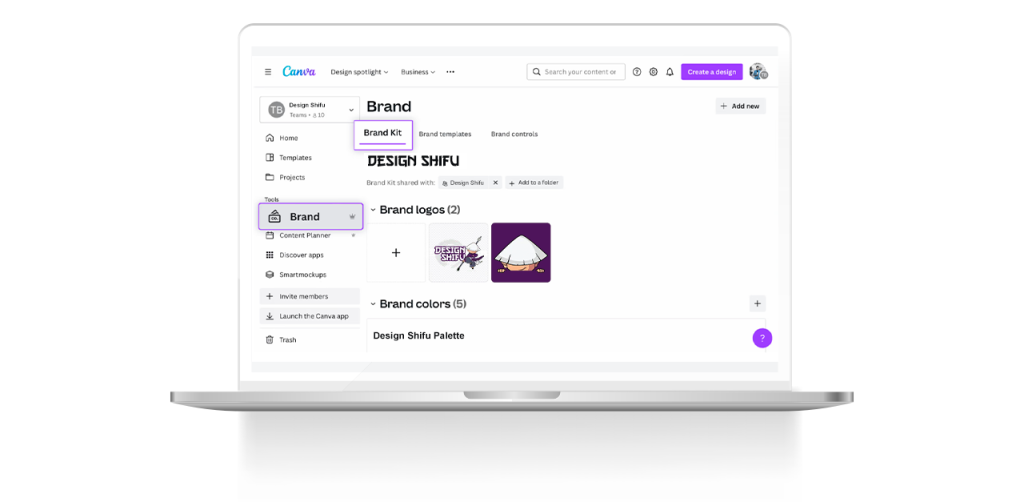 Access brand logos by navigating to the 'Logos' section in the left panel. In case the 'Logos' section is not visible, click on the three dots labeled 'More' and locate the 'Logos' folder within the extended options.
When attempting to insert a header or subheader from the 'Text' section, the font styles will automatically align with your chosen preferences.
If you wish to modify the background, elements, or text colors, you'll find the brand color palette(s) within the color swatch options.
Effortlessly switch between various brands by utilizing the brand name dropdown. These dropdowns are accessible wherever your brand elements are located—such as the logos folder, color palettes, font styles, and more.
Troubleshooting Common Issues in Font Upload
Having trouble uploading fonts to Canva? Don't worry, it's a common issue that can be easily resolved. First, make sure your font file is in a compatible format like WOFF, TTF, or OTF.
Check the file for any errors or corruption. Additionally, ensure that you have a Canva Pro subscription, as the font upload feature is only available for Pro users.
For a smoother upload experience, clear your browser cache and restart the Canva app. If the issue persists, reach out to Canva support for assistance.
Does Canva Support All Font File Types?
Canva supports popular font file types like WOFF, TTF, and OTF, including the WOFF format. Before uploading, make sure the font file is compatible with Canva. Less common or proprietary font file types might not be supported. Also, ensure that the font file size is within Canva's limits. If you encounter any issues, consider converting the font file to a supported format.
Is Canva Pro Necessary to Add Custom Fonts?
While Canva Pro provides access to a wide range of fonts, the free version of Canva does not allow you to import custom fonts. However, Canva's free version still offers a selection of fonts to choose from. If you're not currently a Canva Pro user, you can click here for a free trial of the Pro version. Trust me, it's worth it! Canva Pro offers the additional benefit of uploading and using your own brand fonts through the brand kit feature.
How to add Google Fonts to Canva?
Adding Google Fonts to Canva is a simple process.
Step 1: First, visit the Google Fonts website and select the fonts you want to use.
Step 2: Once you have chosen your desired fonts, click on the "Download" button to download them to your computer.
Step 3: Next, open Canva and go to the design you are creating.
Step 4: Now, we will change the font being used. Click the font that is currently from the top and then see at the bottom.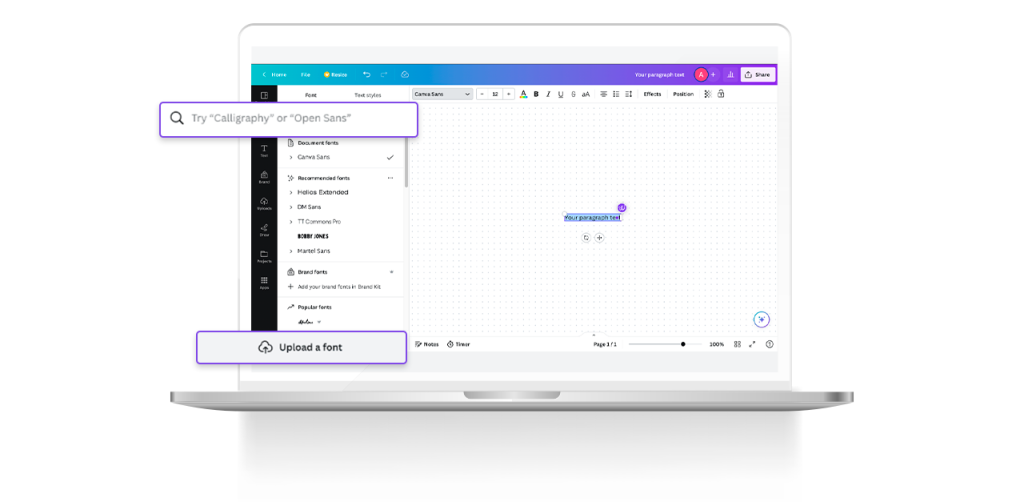 Step 5: Click upload font and select the file you wish to upload and you will be good to go.
Step 6: Access the newly uploaded font from here only and use it in your design.
Frequently Asked Questions
Why can't I upload a font to Canva?
To upload a font to Canva, ensure it's in a supported file format like .ttf or .otf. Check if the font is already available in Canva's library. Remember, copyrighted or licensed fonts may require permission. If you're having trouble, try reopening your browser or logging out and back in.
Where do you find your favorite fonts to upload to Canva?
There are various websites where you can discover and download your favorite fonts, including free fonts, to use in Canva. Popular font resources like DaFont, Google Fonts, and Font Squirrel offer a wide selection of free fonts to choose from. After downloading the font, simply upload it to Canva by clicking on the "Upload a font" button.
What font file types are supported in canva?
Canva supports various font file types, including TrueType (.ttf), OpenType (.otf), and Web Open Font Format (.woff). You can choose from the built-in library or upload your own fonts by clicking on "Upload a font" in the Text tab. Just make sure you have the appropriate licensing rights for any fonts you upload or use in Canva.
How to add custom fonts to canva mobile app?
To add custom fonts to Canva's mobile app, open the app and go to "Brand Kit." Scroll down to the "Fonts" section and select "Add a font." Upload the desired font file from your device. Your custom font will now be available in your Brand Kit for use in your designs.
To upload fonts, follow these steps:
When the text box is highlighted, you will see a menu with text formatting options at the top of the screen. The current font will be visible. Click on the down arrow to show the list of available fonts. Towards the bottom of the list, you will see an option to upload fonts. Click on the font button to upload your desired font.
Conclusion
It is the font that makes or breaks your design. That's the reason, why using custom fonts is critical for any brand. Custom fonts make you stand out while you keep your brand consistency intact.

Brands use unique designs to get more eyeballs and custom fonts are the biggest contributor here.
By downloading the desired font, accessing Canva's Brand Kit, and uploading the font to your Brand Kit, you can seamlessly incorporate your favorite fonts into your designs. In case you start feeling overwhelmed with the whole Canva brand kit process, Design Shifu is here to help. You can edit files designed by us anytime and anywhere with our seamless Canva integration. That's like the unlimited reusability of a single template. So what are you waiting for? Book a call here to get started.