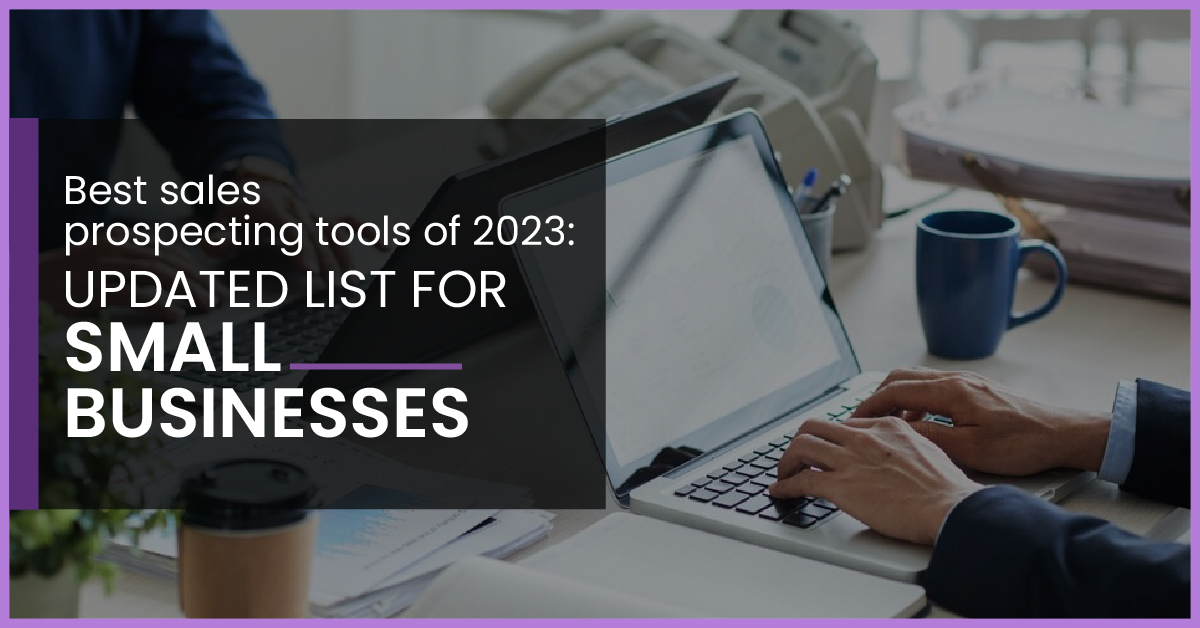 Are you tired of making cold calls and sending emails to prospects with no results? It's time to leverage sales prospecting tools. These tools can help you identify potential customers, create a list of leads, and qualify them as prospects.
In this blog post, we will discuss what sales prospecting tools are, their benefits, and how they can assist in B2B prospecting. We've also compiled a list of free sales prospecting tools for small businesses that you can start using today.
Additionally, we will cover the best sales prospecting tools for list building, lead generation, and cold calling. So, buckle up and get ready to take your lead generation game to the next level!
What is a Sales Prospecting Tool?
A sales prospecting tool is a valuable asset for sales professionals. It helps them efficiently identify potential customers and gather their contact information. These tools automate the prospecting process, saving time and effort, while providing advanced search filters for precise targeting.
What are the Benefits of Sales Prospecting Tools?
Sales prospecting tools offer several advantages for sales reps. They enable quick lead generation and provide detailed information on potential prospects. These tools help create targeted email campaigns, understand customer behavior, and focus on qualified leads.
What is B2B Prospecting?
B2B prospecting involves identifying potential customers in the business-to-business market. It requires researching target accounts, ideal customer profiles, and buyer personas. Sales professionals use prospecting tools to find contact information and social media accounts of potential customers, helping them gather data and nurture relationships.
Free Sales Prospecting Tools for Small Businesses
For many small businesses, budget constraints can be a significant barrier when it comes to investing in expensive sales prospecting tools. Fortunately, there are several free sales prospecting tools available that can help small businesses effectively identify and engage with potential leads without breaking the bank.
Owler
Owler provides small businesses with a valuable competitive intelligence platform. It allows you to monitor your competitors, industry trends, and market insights. With Owler, you can access company information and news updates, and track changes in your target companies' leadership. This tool empowers small businesses to make informed decisions and stay ahead of the competition.
HubSpot
HubSpot offers a comprehensive suite of free sales and marketing tools. Small businesses can benefit from their CRM, which includes contact and lead management, email tracking, and integration with other HubSpot tools. It's an excellent choice for managing customer relationships and automating sales processes without the cost of a premium CRM.
Calendly
Calendly is a user-friendly scheduling tool that helps small businesses streamline the appointment-setting process. You can share your availability with clients and prospects, allowing them to book meetings with you effortlessly. Calendly eliminates the back-and-forth of scheduling, saving time and making it convenient for both you and your clients.
LeadIQ
LeadIQ is a prospecting tool that small businesses can use to find and verify contact information for potential leads. It integrates with LinkedIn and other platforms to help you build a targeted list of prospects. With LeadIQ, you can access a database of B2B contacts and export them to your CRM, making it a valuable tool for lead generation.
Freshsales
Freshsales, by Freshworks, offers a free CRM system designed for small businesses. It enables you to manage your leads, track deals, and engage with customers effectively. You can also automate tasks, making your sales process more efficient. Freshsales provides a solid foundation for organizing your sales activities without incurring additional costs.
These free sales prospecting tools cater to the needs of small businesses, helping them enhance their sales and marketing efforts without the financial burden of premium software. Each tool offers unique features that can contribute to your business's success.
Best Sales Prospecting Tools for Email List Building
Email list-building tools play a pivotal role in expanding your reach and connecting with your target audience. Some of the most widely employed list-building strategies include using pop-ups, creating compelling landing pages for whitepaper downloads, seamlessly integrating inline opt-in forms, using intuitive sticky bars, and leveraging interactive quizzes and surveys to capture valuable leads.
The below tools can help you achieve that:
Outgrow
Focus: Interactive content for lead generation, including calculators, polls, surveys, and assessments.
Key Features: Pre-made templates for easy start, no coding required, direct integration with major email marketing services, and embeddable on any website.
Pros: Adds value while generating leads, is simple to use, a variety of interactive content options.
Cons: Lacks popups.
KyLeads
Focus: Email list-building tool with a strong emphasis on popups, quizzes, and surveys.
Key Features: Offers various popup types, segmentation through quizzes, customizable design, A/B testing, and integration with multiple email marketing services.
Pros: Popups and quizzes for segmentation and engagement, fully customizable, ideal for publishers.
Cons: Not suitable for those who don't need popups.
Get Site Control
Focus: List building tool with a focus on popups and surveys.
Key Features: Multiple targeting options, mobile-optimized forms, integration with major email marketing services, and popups that double as contact forms.
Pros: Can boost website conversion rates, versatile popups, and surveys.
Cons: Popups are the primary focus.
Wishpond
Focus: Lead capture and list-building software with landing pages, popups, contests, and marketing automation.
Key Features: Extensive landing page templates, drag-and-drop popup builder, A/B testing, and flexible pricing.
Pros: Diverse lead capture options, and user-friendly design tools.
Cons: Pricing may vary based on the features used.
Pointer Pro
Focus: Versatile list-building tool with a range of forms for capturing contact information.
Key Features: Integration with email marketing services, logic branching for personalization, quizzes, and multiple question types.
Pros: Ideal for non-popup solutions, and personalized engagement.
Cons: Lacks popup features.
Beefree & Beefree SDK Landing Page and Popup Builder
Focus: Email, landing page, and popup builder for software companies.
Key Features: Personalization with merge tags, display conditions, and a user-friendly interface.
Pros: Embeddable in SaaS products, live preview while building popups.
Cons: Beefree popup builder may not be available for individual users.
The choice of the best email list-building software and tools depends on your specific needs and preferences. If you want interactive content for lead generation, Outgrow is a great option. KyLeads is suitable for those looking for popups and quizzes for segmentation.
Get Site Control is a versatile tool for boosting website conversion rates, while Wishpond offers diverse lead capture options. Pointer Pro is ideal for those who prefer non-popup solutions, and Beefree & Beefree SDK is perfect for software companies looking to embed popups in their products.
Best Sales Prospecting Tools for Finding Leads
Apollo
Apollo is a robust sales intelligence and engagement platform designed to streamline prospect discovery, outreach, and management.
Core Features:
Extensive Prospect Database: Apollo offers access to a vast prospect database with over 250 million contacts, complete with verified phone numbers, email addresses, and job titles. You can also filter these prospects based on more than 200 attributes, ensuring you target the right leads.
Prospect Monitoring: Stay informed with alerts about job changes, funding news, and hiring decisions, allowing you to reach out at the most opportune times.
AI Functionality: Apollo's artificial intelligence capabilities include "Persona Lookalike," which suggests prospects based on your ideal client persona.
Integration and Pricing:
Apollo offers multiple integrations, including the ability to integrate with your CRM. They also provide a handy Chrome extension that helps you find contact details of LinkedIn connections.
Pricing: Limited features are available for free, while paid plans start at $39 per user per month, making it a cost-effective solution for prospecting.
Crunchbase
Crunchbase is a company database that aggregates insights on both private and public companies, making it an excellent tool for filtering prospects based on company, investor, and funding data.
Core Features:
Verified Contact Data: Crunchbase provides access to verified contact data, allowing you to connect with contacts directly from the platform.
Account Recommendations: You can receive account recommendations based on predefined criteria, helping you focus your efforts on the most promising leads.
Market Monitoring: Keep an eye on industry trends, buying signals, and trigger events to stay ahead in your prospecting efforts.
Integration and Pricing:
Crunchbase offers a limited free version and paid plans starting at $29 per user per month, making it accessible to a wide range of users.
Leadfeeder
Leadfeeder is a B2B lead generation software that helps you identify and monitor website visitors, allowing you to target leads who have already shown interest in your products or services.
Key Features:
Identify Website Visitors: Leadfeeder identifies companies that visit your site, helping you understand which organizations are interested in your offerings.
Prospect Behavior Tracking: Monitor and score prospects based on their activity on your site and demographic filters, enabling you to focus on the most engaged leads.
Email Alerts: Set up email alerts based on specific criteria, such as when a particular company visits your site.
CRM Integration: Leadfeeder can seamlessly integrate with your CRM to enrich your data and streamline your lead management.
Pricing: It has a free plan that you can use to explore the tool. The paid plan with unlimited users and data storage starts at €139 per month.
Hunter
Hunter is a platform that specializes in providing verified and accurate professional email addresses, including confidence scores indicating email accuracy.
Core Features:
Domain Search: Hunter allows you to find email addresses associated with a specific domain, making it easy to target contacts within a company.
Email Finder: Find professional email addresses using the prospect's name and the company's website domain.
Email Verifier: Verify the validity of email addresses to ensure your outreach efforts are accurate.
Integration and Pricing:
Hunter offers a free version with up to 25 searches per month. Paid plans start at $49 per month, making it an affordable choice for those seeking accurate email contact information.
Best Sales Prospecting Tools for Cold Calling
Close
Close is a comprehensive CRM designed for salespeople engaged in cold calling. It offers a range of features to support the entire sales process.
Key Features:
Call Recording: Close provides call recording capabilities, allowing you to review conversations for training and quality assurance.
Automatic Dialers: The platform includes automatic dialing to streamline your outbound calling efforts, saving you time and effort.
Conversation Intelligence: Close uses Conversation Intelligence to provide insights into your calls and help you refine your approach.
Pricing:
Startup Plan: $49/month (billed annually) or $59/month (billed monthly).
Professional Plan: $299/month (billed annually) or $329/month (billed monthly).
Enterprise Plan: $699/month (billed annually) or $749/month (billed monthly).
Close is a great choice for sales teams looking for a cost-effective solution to improve their cold-calling efforts.
RingDNA
RingDNA is another powerful cold-calling software that focuses on driving sales productivity and provides a wide range of features for sales teams.
Key Features:
Intelligent Dialer: RingDNA offers an intelligent dialing system to help sales teams work more efficiently.
Conversation AI: This feature assists with analyzing calls, and providing valuable insights and feedback.
Guided Selling: RingDNA supports guided selling processes, helping salespeople make informed decisions.
Call Tracking: This feature allows you to track and manage your calls effectively.
Pricing:
RingDNA's pricing is available only on request, which may indicate it's better suited for larger enterprises.
Kixie PowerCall
Kixie PowerCall is a Chrome extension that equips sales representatives with a variety of tools to enhance their calling process.
Key Features:
Call Automation: Kixie enables automatic dialing from contact lists, spreadsheets, and webpages.
Call Recording: Like other tools, it supports call recording for compliance and training purposes.
AI-Powered Local Presence: This feature enhances caller ID to boost answer rates.
Reporting Insights: Kixie offers in-depth insights and reporting to help you analyze your calling data.
Kixie's pricing is available on request, and it offers various tiers to cater to different needs.
Considerations:
When selecting a tool, consider the size of your team and your budget. Close may be more cost-effective for small to mid-sized teams, while RingDNA and Kixie could suit larger organizations.
Integration with your existing CRM is crucial. Close and Kixie offer compatibility with multiple CRMs, while RingDNA provides a Chrome extension for Salesforce.
Remember that RingDNA's pricing is available on request, so you'll need to reach out to get a tailored quote. Kixie bills quarterly, which may affect your budgeting preferences.
Frequently Asked Questions
How do I get better at sales prospecting?
To improve your sales prospecting skills, start by researching and prioritizing your target audience. Craft personalized messages that address their pain points. Take advantage of sales prospecting tools like email templates, social media automation, and lead generation software. Track and analyze your data to refine your approach for better results.
What are the best LinkedIn sales tactics?
To maximize success on LinkedIn, personalize your connection requests instead of using generic messages. Build relationships by providing value rather than just selling. Leverage LinkedIn Sales Navigator to target specific leads and track engagement with your content. Also, join relevant groups and engage in discussions to establish yourself as a thought leader in your industry.
What is your favorite B2B sales technique?
Some effective B2B sales techniques include personalized outreach, relationship building, and leveraging social media platforms. A consultative approach that focuses on solving the customer's problems is also recommended. Experiment with different techniques to find what works best for your business.
What is the difference between a lead and a prospect?
A lead refers to a potential customer who has shown interest in your product or service, while a prospect is a qualified lead who is likely to become a customer. Understanding this difference allows you to target your sales efforts more effectively.
What are the four prospecting methods?
The four prospecting methods include cold calling, referral prospecting, social media prospecting, and email marketing. Cold calling involves reaching out to potential customers by phone without prior contact, while referral prospecting involves asking existing customers for referrals. Social media prospecting utilizes social media platforms to find and connect with potential customers.
What is an example of prospecting?
An example of prospecting involves reaching out to potential customers through methods like cold calling, email campaigns, or using social media platforms such as LinkedIn to find individuals in your target market. Prospecting helps small businesses grow their customer base and increase sales.
Summing up
When it comes to boosting your business's lead generation efforts, visuals are an absolute necessity. Whether you need eye-catching pop-ups, compelling landing pages, engaging presentations, or attention-grabbing posters for advertisements, graphic design plays a crucial role in capturing the attention of your potential customers.
Design Shifu has the perfect solution for all your design needs. With a flat monthly fee, unlimited design options, and dedicated designers, we provide you with the tools necessary to enhance your sales prospecting endeavors. Don't miss out on the opportunity to make a lasting impression with stunning visuals that can help your business stand out and attract valuable leads.