What's better than listening to soulful music while you drive? Tuning into the latest episode of your favorite leadership podcast. If you think the same, then you are in the right place.
Podcasts are great resources if you cannot dedicate much time to improving your skills every day. They excel at blending knowledge, inspiration, and expertise, making them an excellent learning platform for entrepreneurs, founders, and business owners.
In this blog, we will explore the best leadership podcasts of 2023 tailored for those in top positions in businesses.
How to Choose the Best Leadership Podcasts?
When searching for the best leadership podcasts, consider several factors. It's not just about catchy titles or popular hosts; it's about substance and relevance. Here's how you can select the gems from the noise:
Relevance to the Business World: Seek podcasts that delve deep into the issues, challenges, and trends that resonate with today's business leaders. The content should provide actionable insights applicable to real-world scenarios.
Host Expertise and Credibility: Choose podcasts with hosts who are more than just talk; they should be experts with a proven track record in leadership. Look for voices you can trust for sound guidance.
Quality Content and Production: A great message deserves a great delivery. Look for podcasts with exceptional production quality, engaging storytelling, and a professional touch that keeps you coming back for more.
Audience Reviews and Ratings: The final stamp of approval comes from the listeners themselves. Always delve into audience reviews and ratings to gauge the impact and value these podcasts offer to their community.
Also Read: How to start a podcast on Spotify? A step by step guide
Best Leadership Podcasts of 2023 for Founders and Business Owners
CEO School
Content: First on the list of best leadership podcasts is CEO School. It focuses on helping female founders earn more than $1 million in revenue, a milestone achieved by fewer than 2% of women entrepreneurs. It offers programs and resources aimed at empowering women in business.
Host: Suneera Madhani, the co-founder and CEO of fintech payments company Stax, shares her experience and lessons from building a successful billion-dollar business. She also conducts interviews with fellow female entrepreneurs who are part of the "2% club," sharing their strategies for success.
Learning Potential: CEO School provides actionable tips on topics such as time management, PR, imposter syndrome, and project management, helping women entrepreneurs reach and exceed the $1 million revenue mark.
The John Maxwell Leadership Podcast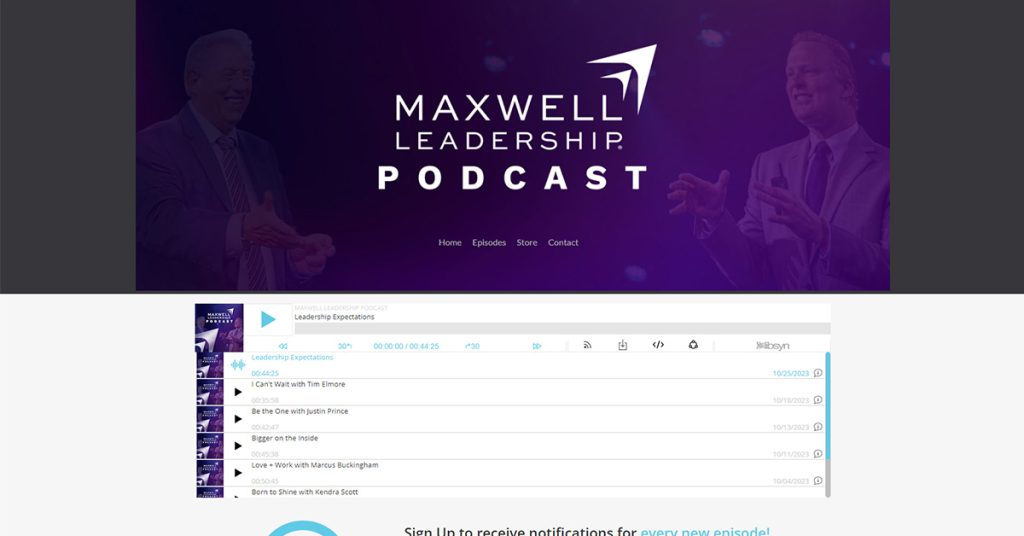 Content: The John Maxwell Leadership Podcast is dedicated to leadership development and growth. The podcast is centered around delivering insights and principles for effective leadership across various contexts, including business, personal life, and community engagement.
Host: John C. Maxwell, a leadership expert and author shares insights and principles for effective leadership.
Learning Potential: You cannot miss out on learning from John Maxwell's extensive leadership experience and expertise. This podcast lets you discover leadership principles that can be applied in various aspects of life. It also helps you stay updated on the latest trends and insights in leadership.
Mixergy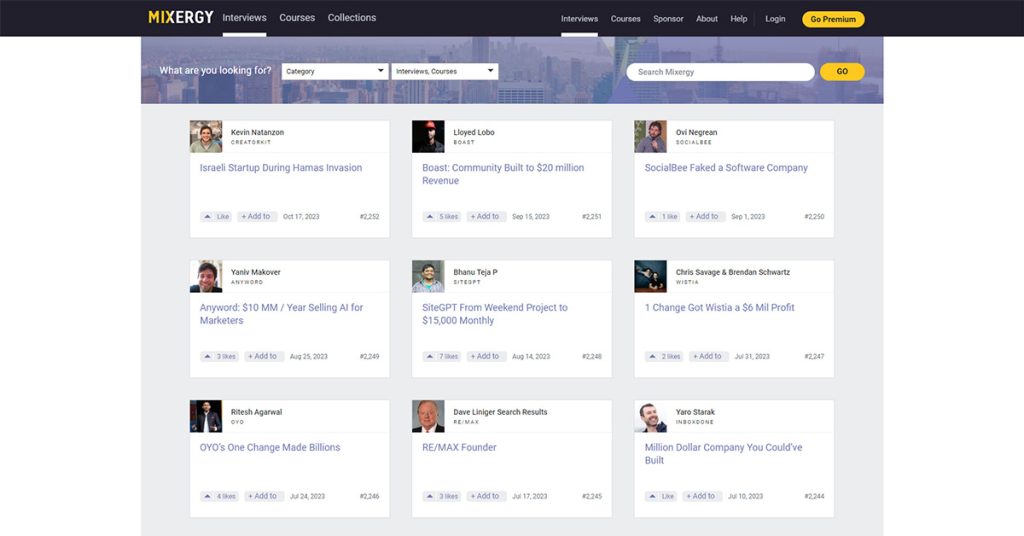 Content: Mixergy is an interview-style leadership podcast that primarily focuses on tech startups and entrepreneurship. It offers a wide array of episodes catering to entrepreneurs and covers various business-related topics.
Host: Andrew Warner conducts in-depth interviews with successful entrepreneurs, providing insights into their experiences and strategies.
Learning Potential: Mixergy's extensive library of interviews provides valuable insights and practical advice for entrepreneurs, making it a valuable resource for business growth.
Leadership and Loyalty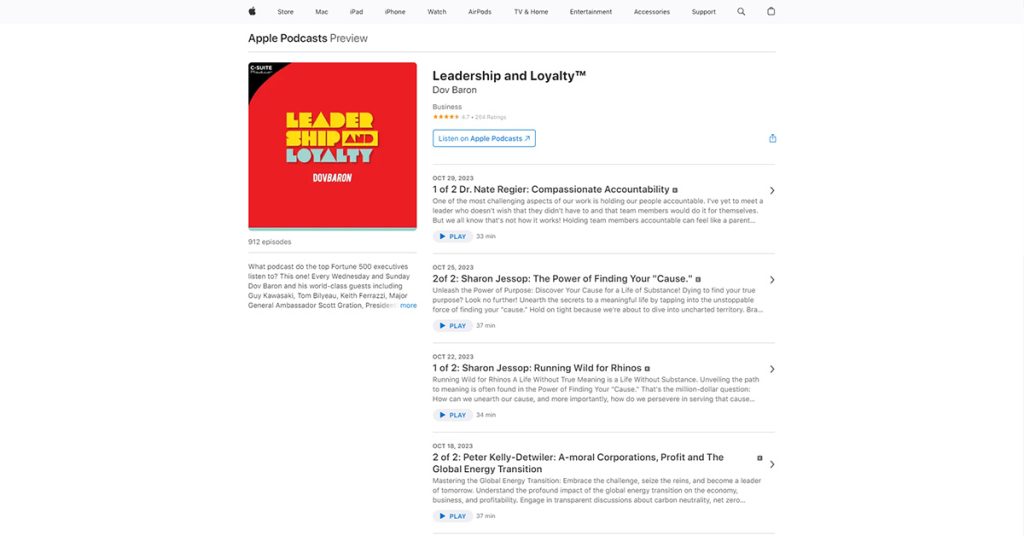 Content: Leadership and Loyalty delves into the concept of authentic leadership, emphasizing the importance of being true to oneself and one's values as a leader. The discussions cover a wide range of topics, from leadership in times of crisis to fostering a strong organizational culture.
Host: Dov Baron is widely recognized as a leadership speaker, mentor, and authority on authentic leadership. He is also a bestselling author known for his expertise in guiding leaders toward more meaningful and effective leadership practices.
Learning Potential: Whether it's leadership in times of crisis or the intricacies of fostering loyalty, these discussions provide a wealth of knowledge. By listening, you can discover how to become a leader who not only leads but inspires loyalty and unwavering commitment from your team and followers, creating an environment where people aren't just followers but dedicated supporters of your vision.
The Learning Leader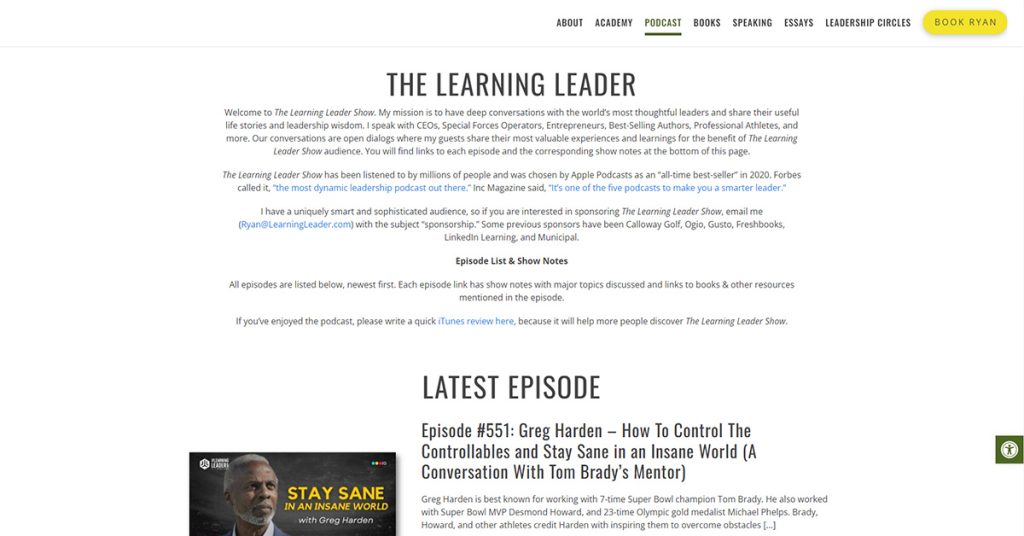 Content: The Learning Leader podcast is dedicated to business leadership and continuous growth and development. It features engaging talks with diverse experts, offering unique insights on leadership.
Host: Ryan Hawk sets the stage for insightful discussions that captivate and educate, combining personal and professional growth perspectives.
Learning Potential: The podcast offers actionable takeaways from guests' experiences and is a valuable resource for those committed to evolving as leaders and navigating complex challenges.
The $100MBA Show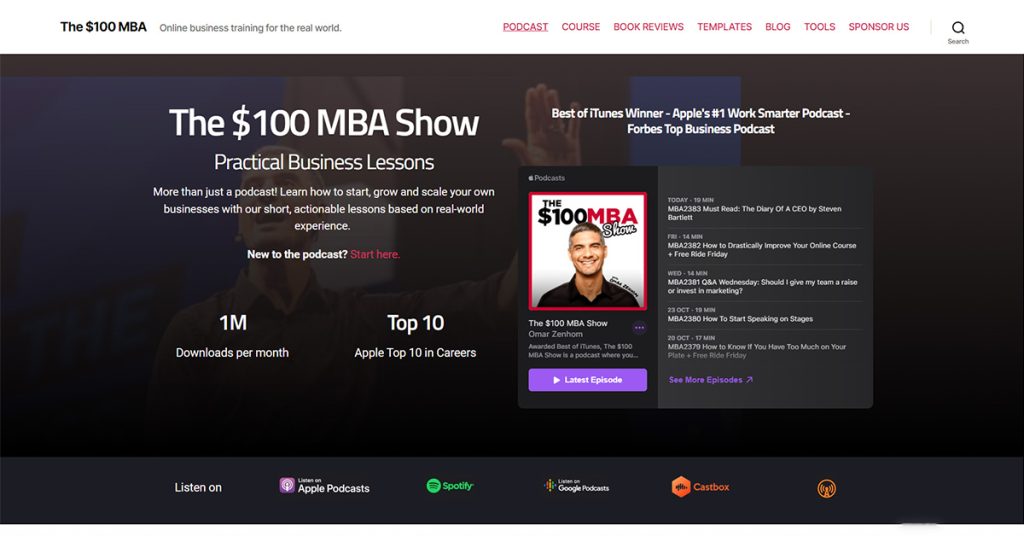 Content: The $100 MBA Show is recognized as a top business podcast in over 30 countries, offering practical advice for entrepreneurs. It covers topics related to entrepreneurship, online businesses, strategic thinking, and starting and growing a small business.
Host: Omar Zenhom, a former school teacher turned entrepreneur, shares his real-world experiences and expertise.
Learning Potential: With short 15-20 minute segments, this podcast is perfect for those in the early stages of their entrepreneurial journey. It provides valuable content and actionable advice.
The Ed Mylett Show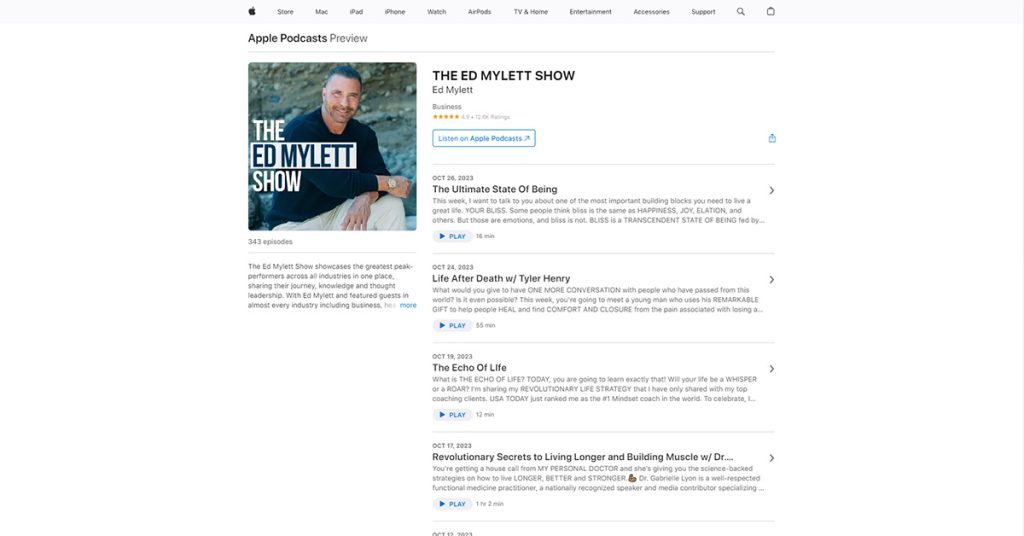 Content: The Ed Mylett Show is a podcast dedicated to personal development, leadership, and peak performance. Ed Mylett, a highly respected peak-performance expert, delves into the strategies and mindsets of high achievers from various fields. The podcast aims to inspire and empower listeners to reach their full potential, both personally and professionally.
Host: Ed Mylett is known for his expertise in helping individuals unlock their peak performance. He is a sought-after keynote speaker, top-ranking network marketer, and author, making him well-qualified to guide listeners on their journey to success.
Learning Potential: Ed Mylett provides practical and actionable advice on how to optimize your performance in various areas of life. Whether you're seeking personal growth, leadership development, or improved business acumen, the podcast offers tips and techniques to help you excel.
The Tim Ferriss Show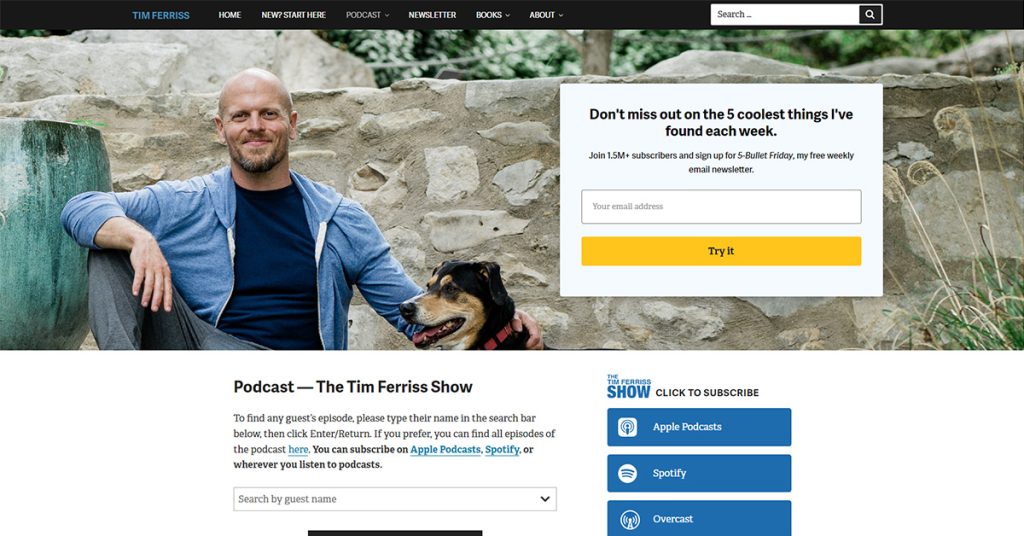 Content: The podcast features interviews with a wide range of world-class individuals, including celebrities, entrepreneurs, authors, and experts. Each episode delves into their lives and routines, extracting tactics, tools, and habits for listeners to adopt.
Host: The Tim Ferriss Show is a renowned business podcast hosted by Tim Ferriss, the author of "The 4-Hour Workweek." It consistently ranks as one of the top business podcasts on Apple Podcasts.
Learning Potential: With over 900 million downloads, this podcast offers a wealth of advice from successful individuals across various fields, making it a valuable resource for personal and professional growth.
The Daily Stoic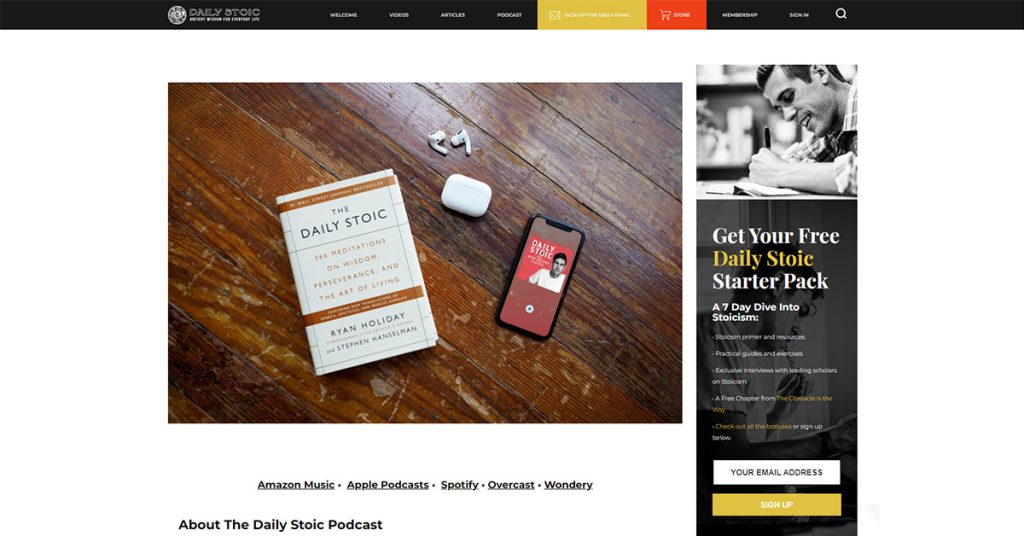 Content: Inspired by the thoughts and writings of great Stoic thinkers like Marcus Aurelius and Seneca the Younger, The Daily Stoic is a philosophy podcast that provides leadership and life lessons for all. The podcast offers wisdom from Stoic philosophy and explores its relevance in contemporary life. It provides practical advice on topics like discipline, purpose, and peak performance.
Host: Ryan Holiday is the show's host, and he regularly brings new Stoic lessons with the help of notable figures from sports, academia, politics, and more.
Learning Potential: You can discover valuable life and leadership lessons from ancient Stoic philosophy. This podcast will help you learn how Stoic principles can enhance discipline, purpose, and performance.
The School of Greatness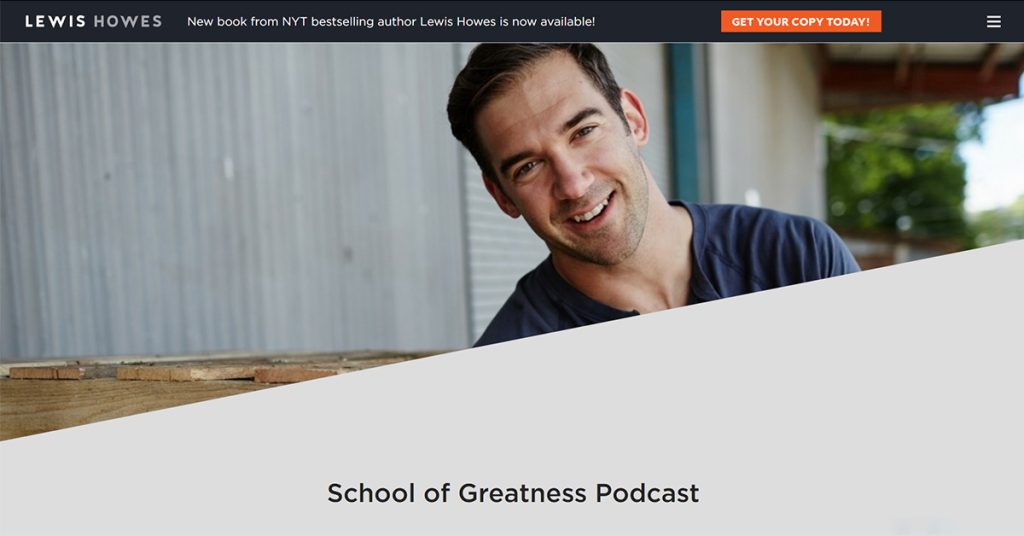 Content: The School of Greatness focuses on personal development, leadership, and achieving greatness in all areas of life. Lewis Howes, a former pro athlete, offers inspiration and practical advice.
Host: Lewis Howes, a New York Times best-selling author, entrepreneur, and lifestyle coach.
Learning Potential: The podcast lets you know the secrets to greatness from athletes, entrepreneurs, and thought leaders. It is great to learn actionable steps for personal growth, leadership, and success in various domains.
Dare to Lead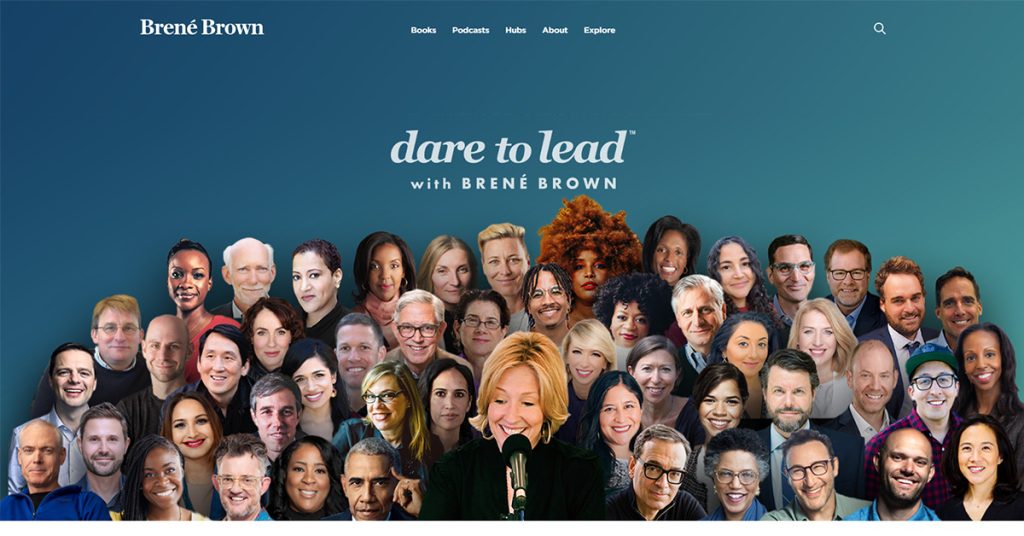 Content: Dare to Lead podcast provides practical tips and strategies to help you become a compassionate and great leader. It features interviews with guests from diverse industries and backgrounds, offering unique perspectives on leadership.
Host: Brené Brown is a professor, speaker, and author known for her work with organizations like Google, Pixar, and the U.S. Special Forces. In her podcast, Brown explores various leadership-related topics such as empathy, resilience, and stress and burnout.
Learning Potential: This could work great for actionable strategies to becoming a compassionate and effective leader. The podcast focuses on creating a culture of courage, vulnerability, and empathy in leadership.
Andy Stanley Leadership Podcast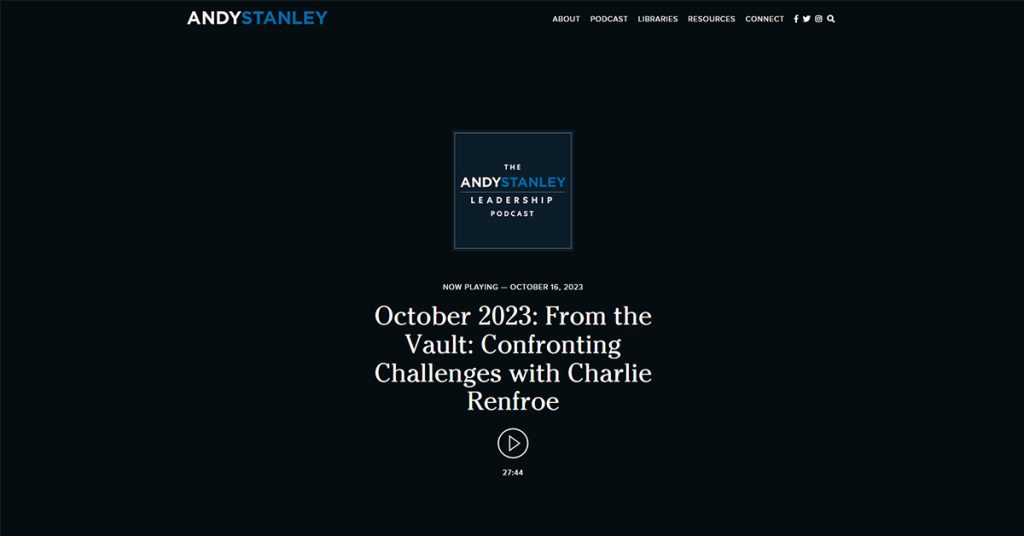 Content: The podcast covers a wide range of leadership areas, including communication, decision-making, motivation, and team-building. It also regularly features leaders and experts from diverse backgrounds, offering their insights and experiences.
Host: Andy Stanley is a communicator, author, and pastor. In his weekly podcast, he shares insights and experiences related to various leadership topics relevant to modern leaders.
Learning Potential: This podcast provides practical advice and real-world examples for effective leadership. You can explore topics such as leadership changes, motivation, and learning from failure.
The Tony Robbins Podcast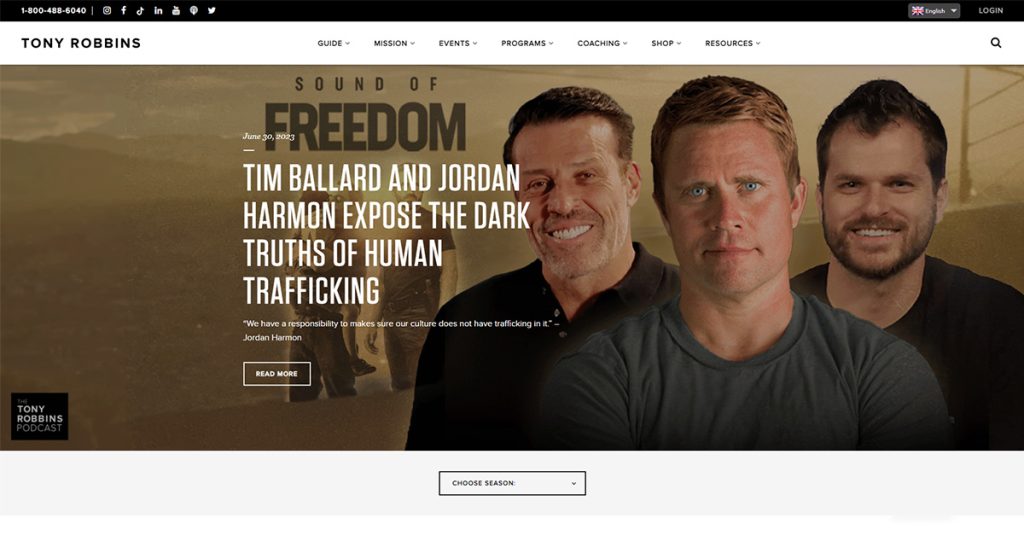 Content: The Tony Robbins Podcast is undoubtedly one of the best leadership podcasts. It offers insights on personal development, leadership, and business mastery. Tony Robbins, a renowned life and business strategist, shares strategies for success.
Host: Tony Robbins, a best-selling author, entrepreneur, and philanthropist.
Learning Potential: You can get access to the wisdom of Tony Robbins, a master in personal development and leadership. This podcast will help you learn actionable strategies for personal growth, leadership, and achieving business success.
How to Make the Most of Leadership Podcasts
Listening to the above best leadership podcasts is just the beginning; it's essential to extract maximum value from them. Here's how you can make the most of these audio resources:
Sticking to a Schedule: Set a regular listening schedule to ensure a steady flow of leadership insights. Consistency is key to turning knowledge into action. If you drive to work, this could be the best time.
Implementation: Knowledge without application is like a compass without a map. Look to implement strategies and wisdom you gain from these podcasts in your business endeavors.
Community Building: Podcasts can be more than a one-way street. You should actively engage with the podcasting community, connecting with like-minded individuals and experts who can enrich your leadership journey.
Team Up with Design Shifu to Transform your Business Journey
While leadership podcasts can elevate your skillset and provide a perspective on pressing business issues, you also need partners.
As you explore these invaluable podcasts, remember that Design Shifu is here to be your design partner, ready to assist with all your creative needs.
With unlimited graphic designs, dedicated designers, seamless integrations, and white-labeling solutions for agencies, we've got you covered.
When you're ready to enhance your business journey and take your brand to new heights, head to Design Shifu. Book a demo today to get started.