Today, the market is flooded with a plethora of business-related apps and SaaS tools. As a result, businesses have a wide choice of advanced features, tools, and apps to choose from to streamline different business functions like marketing, HR, project management, etc. that are key to overall business success.
However, with so many SaaS tools available in the market, it only leaves businesses confused about which one to pick.
To make things simpler for you, we've curated a list of some of the best SaaS tools you can choose based on the purpose or business function where it will be used, and without having to worry about huge costs.
What are SaaS tools?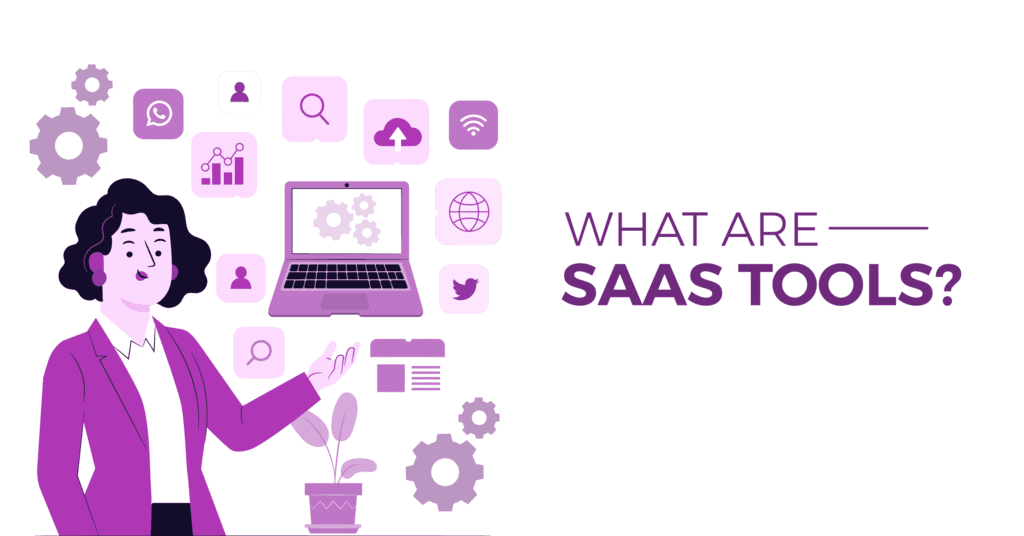 SaaS (Software as a service) tools have proved to be game-changers for businesses in recent years. They are essentially subscription-based online platforms that one can access over the internet through a cloud-based system to streamline various business functions.
Anyone can download and use SaaS Tools using a mobile device or over the web browser.
The best part is that they eliminate the need for installing complex and expensive software and hardware and give you the freedom to switch to the latest tools without making any long-term financial or contractual commitments.
Moreover, you don't need to buy any license and incur huge costs, as the software rental includes a license and technical support, thus making it easier for even small companies or consultants to afford these tools and services.
Why should agencies, SaaS companies & small businesses use SaaS Tools?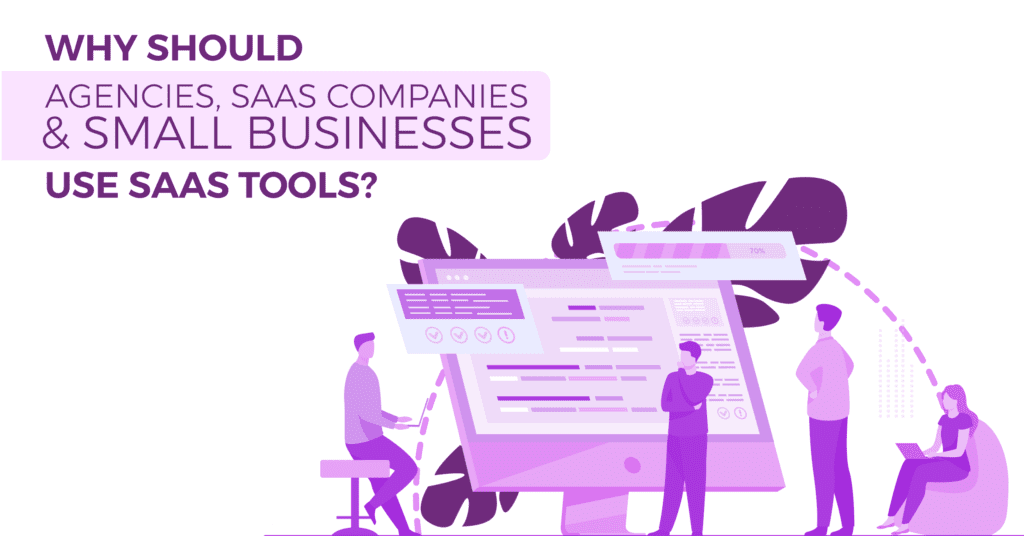 From complete customization to lower costs, the advantages of SaaS tools are manifold and varied.
SaaS tools offer a wide range of benefits to businesses of all kinds and sizes, right from a large-scale company like an auto giant or a small startup in the field of digital marketing.
SaaS tools allow businesses of all sizes to use their cloud-based software and pay a limited monthly, quarterly, or annual subscription fee to use their service.
Most notably, it allows businesses to scale overnight. You simply need to upgrade the subscription plan, keeping in mind the scaling needs.
Lower costs
They offer huge cost savings as the costs are usually shared or part of a multi-tenant environment, where both the software license costs are much lower versus the traditional model.
Faster turnaround time
SaaS tools are installed and configured for a business. You can provision the server in the cloud in just a matter of a few hours and the application is ready for use. Thus, the time spent on installation and configuration is reduced and so are the issues that might arise for software development.
Scalability and integration
Mostly, SaaS tools are kept in cloud environments that can be scaled and integrated with other SaaS offerings. Thus, you do not need to buy new software or servers like in a traditional model.
All you have to do is enable a new SaaS offering and with server capacity planning, and whenever needed, you can upgrade or downgrade the plan based on your changing requirements.
Easy and cheaper upgrades
With SaaS, the provider will offer upgrades to the customers and do all the manual work needed for it at a much lower cost versus the traditional model that usually forces you to buy an upgrade package and install it yourself.
Data safety
Security is of prime significance when allowing a partner to maintain your sensitive data. SaaS vendors have the best practices in place with built-in stringent security and safety parameters. These have the expertise, understanding and proper implementation to build foolproof security systems.
Most of them have SOC2, an auditing procedure that ensures that a SaaS provider effectively secures the data of its clients.
SaaS tools for different functions
Now that you know all the benefits of SaaS tools, let's get down to the main business of finding the perfect set of SaaS tools for your business. These tools have been segmented into different categories as per their functions. Each SaaS tool offers unique features for different functions like marketing, project management, business intelligence, and more.
SaaS Tools for Marketing
The main aim of SaaS marketing is to find and connect with potential buyers and convert them into leads. It also helps bring a product to the market, position it well and build awareness. Here are some of the best SaaS tools vendors segmented into different marketing categories to best suit your requirements.
Tools for graphic design
Whether you are a small business owner, digital marketing agency, startup, marketing or freelance consultant, having access to the right graphic design tools or software can be a gamechanger, especially in today's digital world. A well-designed and comprehensive graphic design software offers control and flexibility, enhances efficiency and takes your creativity to the next level. Two of our top picks are: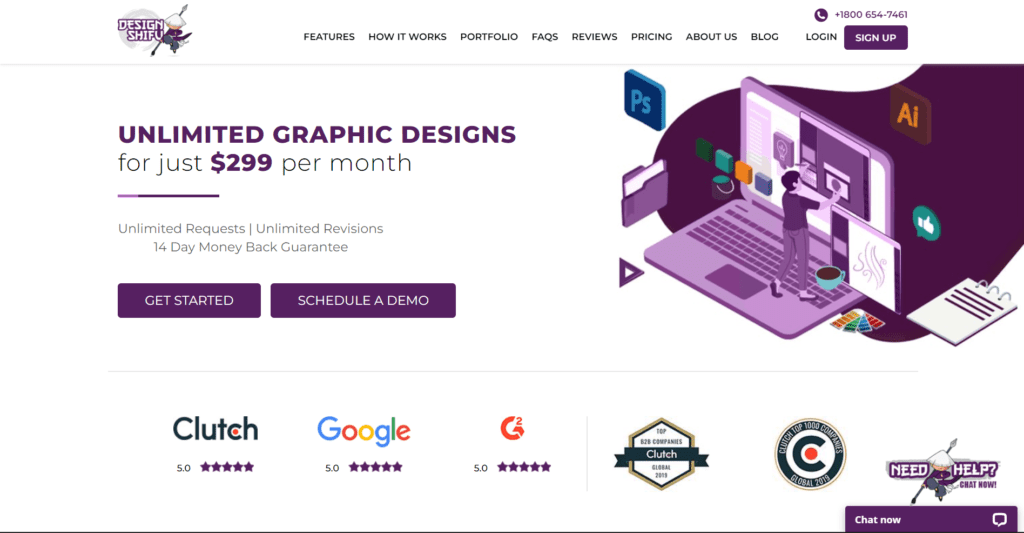 Design Shifu is a popular flat-rate, subscription-based graphic design platform. It is a one-stop-shop for design agencies and small businesses to be able to meet all their design requirements such as designing flyers, event banners, social media posts, brochures, etc. at affordable rates.
You simply need to pick a subscription plan based on your requirements to get started.
Design Shifu offers some unique features that make it stand out and become one of the most preferred SaaS tool providers for graphic design.
Unlimited requests and revisions
Design Shifu offers unlimited design requests and revisions as part of its subscription plans. It is driven by the sole aim of ensuring 100% customer satisfaction.
Most of the requests have a quick turnaround time of a 24-hour period. Thus, you are assured of both creative content and swift results.
Having a flat rate subscription fee ensures you are able to lock your marketing budget for graphic design, and therefore, avoid any worries over unexpected invoices from design agencies and freelancers
Dedicated and experienced designer
Every client gets a dedicated and experienced designer. In fact, all their designers are in-house with rigorous training offered by the company and no work is outsourced to a third party.
Customers get an intuitive and customized dashboard where all the designs and conversations are stored for easy access.
Continuous customer support
A dedicated team of professionals offers 24/7 customer support through a live chat facility.
Inclusion of source files
They offer editable Adobe+, JPG, PNG, PDF formats with each delivery.
They offer monthly contracts that can be canceled anytime. So you don't have to worry about any long-term financial commitments.
Now that you know about all the features of Design Shifu. Let's look at what makes it stand apart:
Design Shifu pros
Simple user interface
Unlimited design requests and revisions at no additional costs
Flat monthly pricing for a host of services
14-day, 100% money-back guarantee if you are not satisfied with the services
No lock-in period and long term contracts that make it tough to withdraw if your requirements are over or not met with
Design Shifu offers a monthly plan as well as a pay-per-request plan.
Pay per request – $29
Monthly limited – $99
Monthly unlimited – Starts at $299
Monthly unlimited plus – Starts at $499
Design Shifu ratings
G2: 4.6/5
2. Canva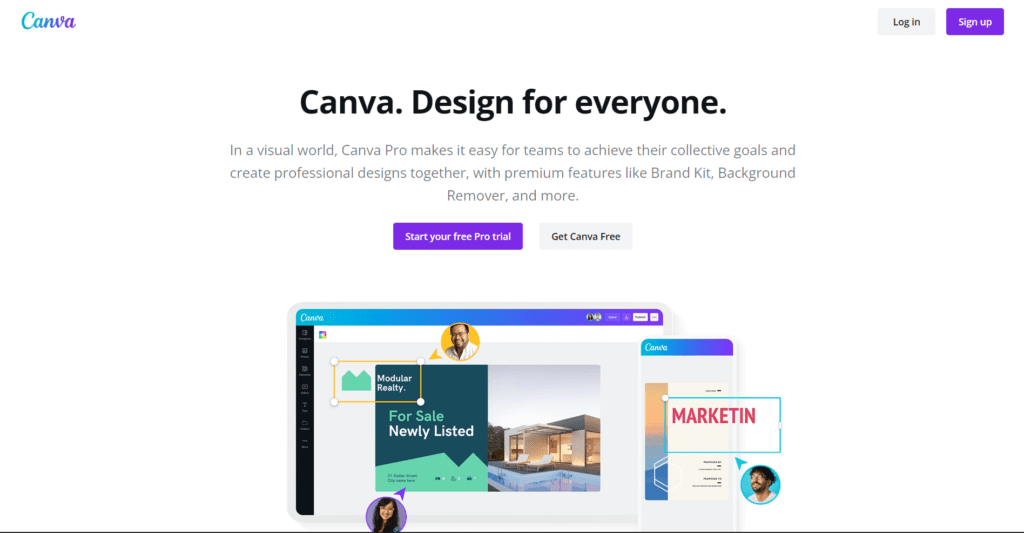 Canva is yet another popular online platform for graphic designing. With numerous professionally made templates, it can get you to create and customize templates and share the designs in just a few clicks. You can create stickers, stunning videos, professional brochures and presentations with this easy-to-use software.
Key features
Animation
Artwork management
Asset sharing
Collaboration tools
Content sharing and management
Image editing
Video editing and sharing
Watermarking
Workflow management
Pricing
Pro – $7 per month up to 5 people
Ratings
Although Canva is a popular graphic design SaaS tool, it has some major drawbacks. Since the templates are available for all to use, it means you can not count on it to get unique and exclusive designs.
Moreover, you need to devote time and effort to customize the design yourself or deploy another resource in your team to do it.
Instead, by outsourcing graphic design to an expert, you can free your bandwidth and focus on your core job or business.
Tools for Content Management
These tools help create and manage a website using a human-friendly interface instead of working with code. It gives users powerful tools to efficiently manage large volumes of content with ease.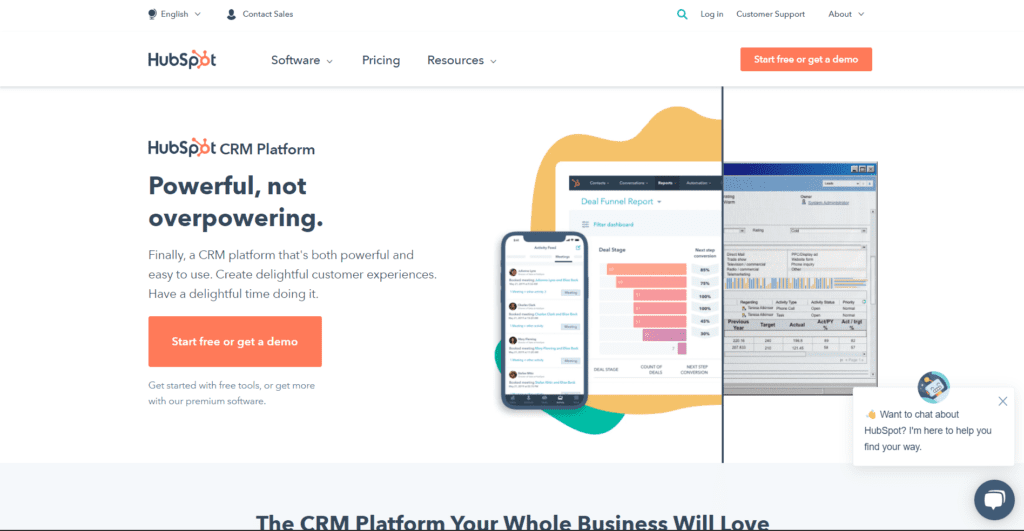 Hubspot is the ultimate tool to build a robust website, optimizing it for every device, bringing traffic to the website, converting more visitors, and expanding the business. This popular SaaS tool creates and edits blogs, landing pages, emails, and landing pages with just a few clicks.
Key Features
Free meeting scheduler app
Social media tools
Sales email automation
Email marketing software
Lead management software
Pipeline management tools
Free chatbot builder
Marketing analytics
Pricing
Starter – $45 per month
Professional – $800 per month
Enterprise – $3,200 per month
Ratings
Capterra: 4.5/5
G2: 4.4/5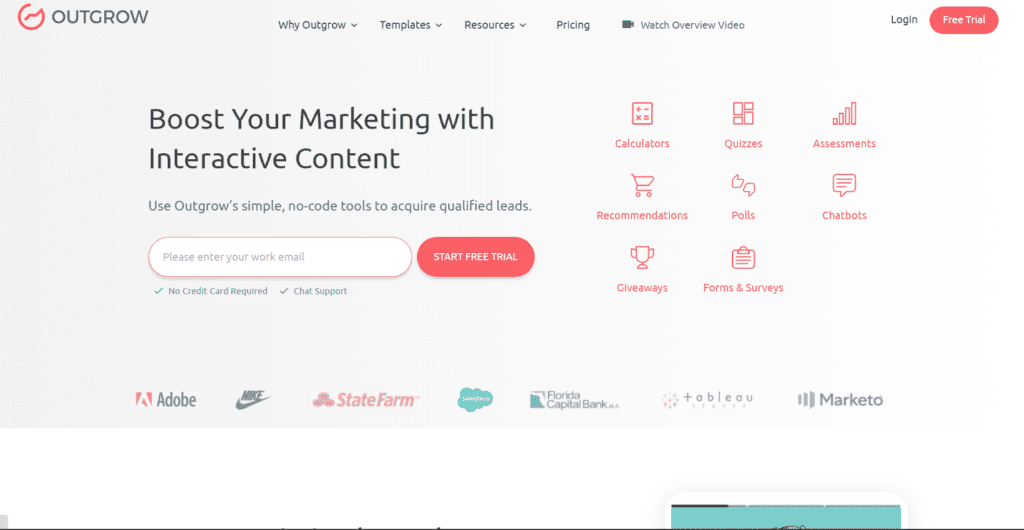 Outgrow is an interactive content marketing platform that allows you to acquire, qualify, and activate leads through customized calculators, quizzes, polls and chatbots. It gives clients human-like assistance with customized solutions.
Key features
Myriad tools to enhance marketing such as numerical calculators, polls, chatbots, surveys, outcome quizzes etc.
All the layouts are optimized for conversion, engagement, multiple screen sizes, and shared rates.
Robust funnel analytics with conversion rate at each stage, detailed analytics for each user, selection and question-level funnel charts.
Pricing
Freelancer Limited – $14 per month
Freelancer – $ 25 per month
Essentials – $95 per month
Business – $600 per month
Ratings
Tools for Social Media Marketing (SMM)
SaaS tools are essential for social media marketing. They help businesses grow & monitor their presence on social media.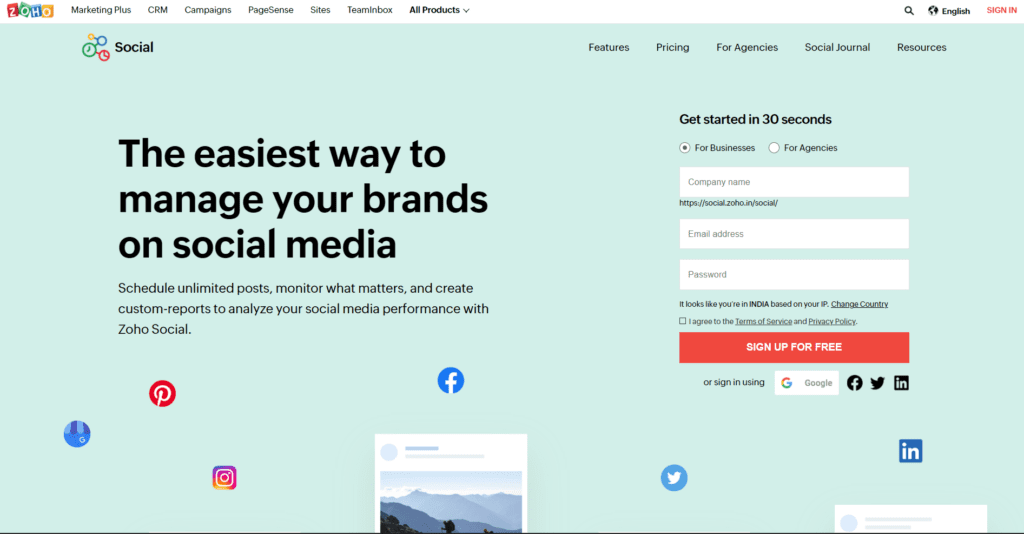 Zoho Social is a one-stop shop for social media management for businesses. It helps businesses manage different social media channels and monitor their social media presence, all from one platform.
Key features
Schedule posts and gives a preview of the scheduled posts from a single screen.
Create a posting schedule and use smart predictions to post content when the audience is most active.
Build a post pipeline using content curation tools like RSS and zShare browser extension
Accurate monitoring through a listening dashboard.
Live streaming of your social engagements in a dedicated space.
Analysis of brand performance using key metrics and customized reports.
Pricing
Standard – $8 per month billed annually
Professional – $23 per month billed annually
Premium – $34.60 per month billed annually
Ratings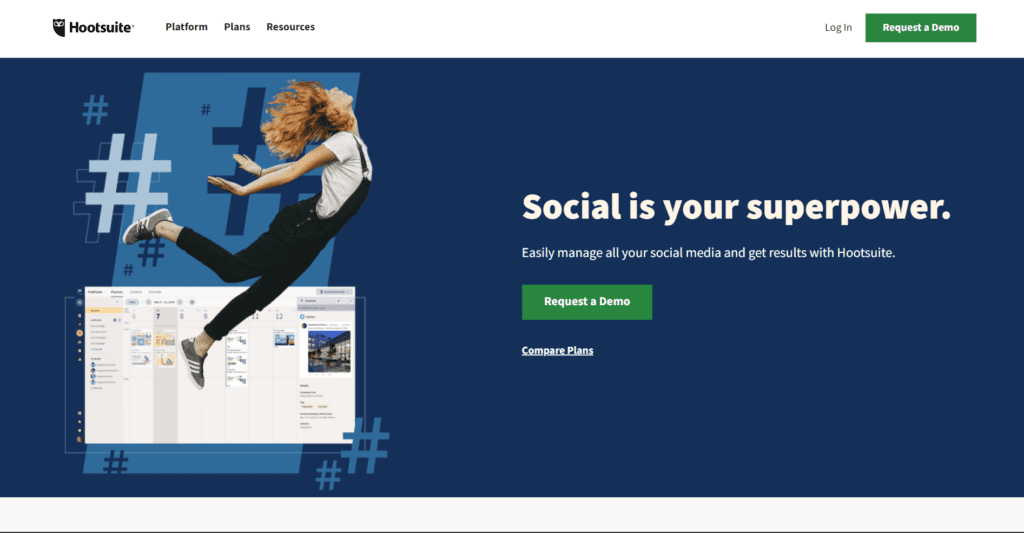 Hootsuite is the horsepower that builds the social media presence for organizations around the world. It helps build the brand, strengthen the connection with customers and boost results through social media integration. It also gives certifications, training, and coaching to enhance social media prowess.
Key features
Manage all the social medial channels and monitor posts and messages
Plan upcoming campaigns
Interactive and customized dashboard
Content management
Social media integration
Survey/poll management
Reporting and analytics
Pricing
Professional – $25 per month
Team – $100 per month
Business – $600 per month
Enterprise – Customized solutions with pricing on request
Ratings
Capterra: 4.3/5
G2: 4.1/5
Looking for similar SaaS tools for social media management? Click here to read about the 5 best SaaS tools for social media management in 2022.
SaaS Tools for Project Management
SaaS tools are very important for project management as every business needs to manage projects effectively. SaaS project management applications offer a set of comprehensive tools to manage the projects from start to finish, from bug tracking, online chats to virtual meeting rooms, custom reporting, and more.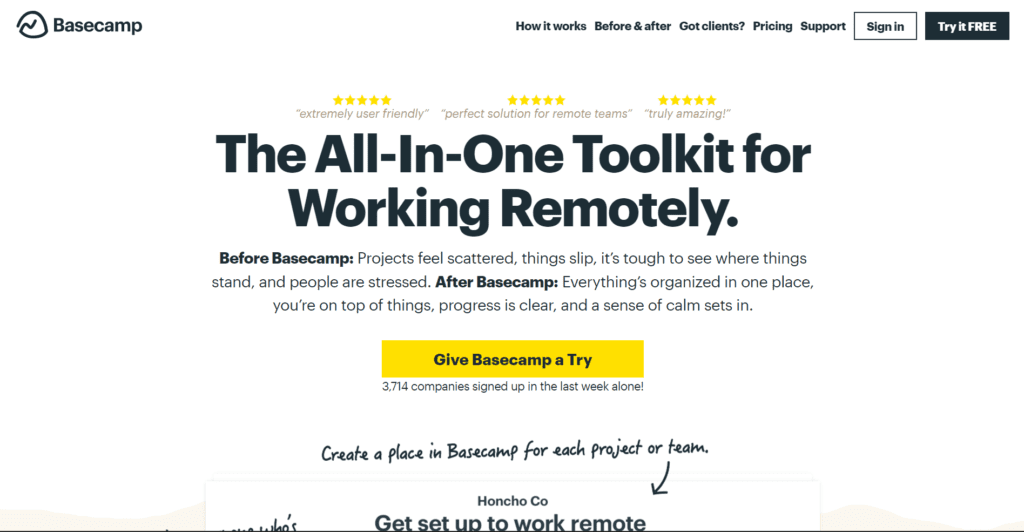 A powerful tool for team collaboration, Basecamp is the perfect solution for project management. It keeps teams coordinated at every level of the project management life cycle. It provides all the standard features like file sharing, reporting and scheduling.
Key features
Message board- Post announcements, pitch ideas, give progress updates and keep feedback on-topic.
To-dos – Make a list of work that needs to be approved, give due dates, assign items, and discuss.
Schedule – Subscribe to events in iCal, Outlook or Google Cal.
Docs & files – Share docs, files, spreadsheets, and images. Organize them into different folders.
Automatic check-ins – Create recurring questions on important tasks to know what's happening.
Pricing
Basecamp Business – $99 per month flat
Basecamp Personal Limited – Free
Ratings
Capterra: 4.3/5
G2: 4.1/5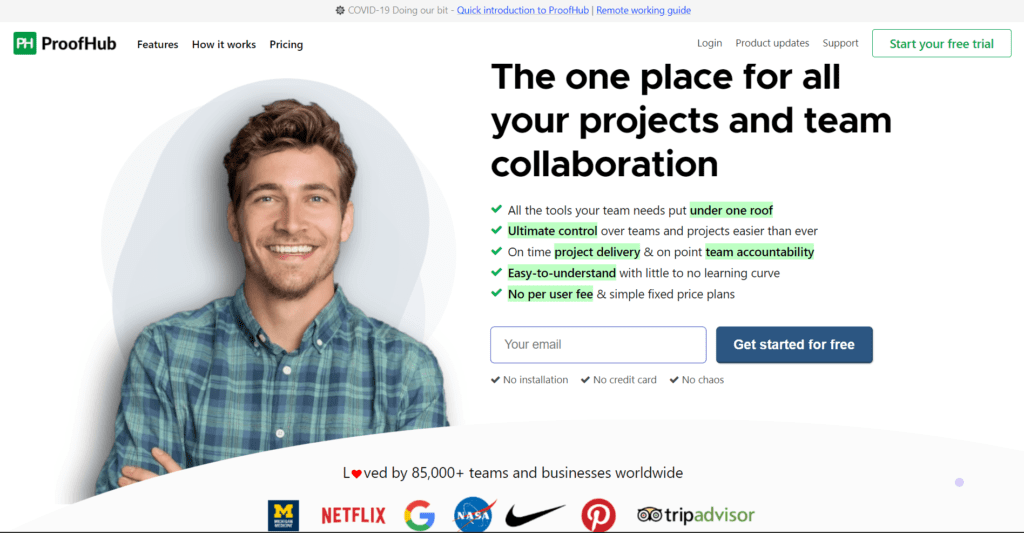 Proofhub is a one-stop SaaS-based project management software ideal for all business sizes from different verticals. This project management and collaboration tool can fit any business setup enabling teams to communicate and collaborate seamlessly.
Key features
Collaboration tools
Commenting and notes
Discussions and forums
Due date tracking
File sharing
Gantt/timeline view
Create subtasks
Content management
Document management
Pricing
Ultimate control – $89 per month billed annually
Essential – $45 per month billed annually
Ratings
Capterra: 4.4/5
G2: 4.5/5
Looking for similar SaaS tools for project management? Click here to read about the top 5 SaaS tools for project management in 2022.
SaaS Tools for Human Resource Management
A SaaS tool for human resource management is a cloud software hosted by a third-party vendor, offered on a subscription basis. It is used for the management of HR-related transactions. The main focus of these tools is personnel tracking, recruiting, payroll, onboarding, training, and more.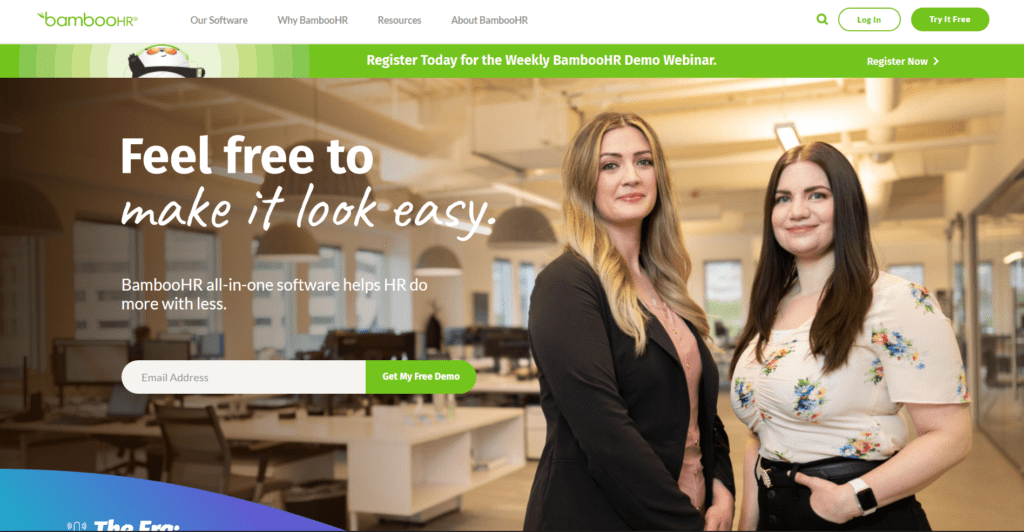 BambooHR is an all-in-one HR SaaS platform that creates quality employee and employer experience. It removes all the complexities related to HR through simplified workflows and automation. It is ideal for growing organizations that want to get the most out of their employees and have a good working culture.
Key features
People data and analytics – Gathering, storing and analyzing employee data into a single, secure database.Powerful reporting and editing tools like employee records, workflows and approvals, and more.
Hiring – Applicant tracking tools to improve hiring.
On-boarding – Automates and eases out the on-boarding process.
Compensation – Collecting and tracking payroll data.
Culture – Creating a happy company culture through employee satisfaction and performance management.
Pricing
Essentials – Price on request
Advantage – Price on request
Ratings
Capterra: 4.5/5
G2: 4.4/5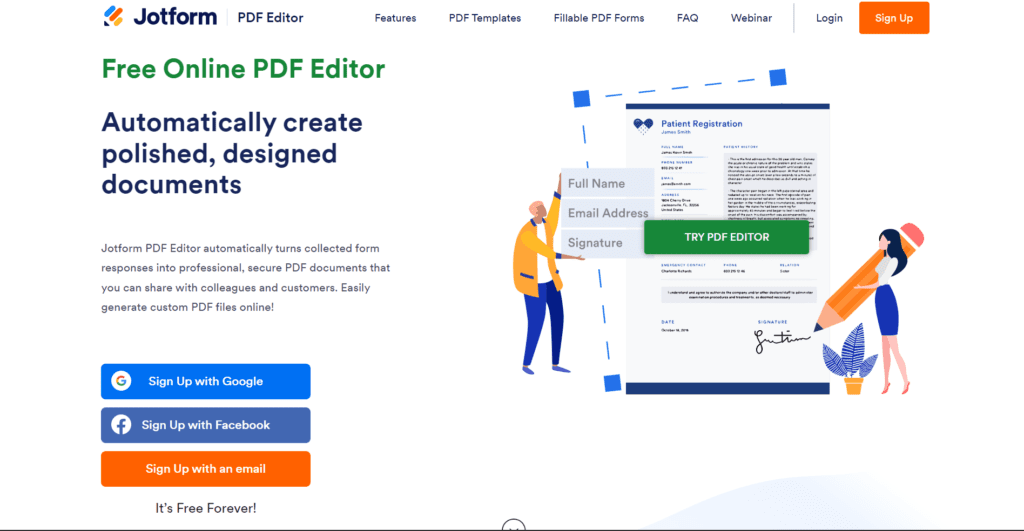 It is a professional and easy-to-use solution to create professional-looking documents. It can convert all form response data into professional PDFs. It has many features and integrations that make operations seamless and fast.
Key features
Drag and drop elements needed in a document.
Automated process for a PDF document design every time.
Document sizing and orientation with a few clicks.
Customize documents to match your brand with background color, logo, etc.
Synchronize documents to cloud services like Google Drive.
Annotation
Create fillable PDF forms
Pricing
Free
Ratings
Capterra: 4.6/5
G2: 4.2/5
SaaS Tools for Business Intelligence
It is a delivery model for business intelligence where applications are used outside the company's firewall at a hosted location and can be accessed with a secure internet connection. They are a must-have for all businesses as they offer vendor-backed security, flexibility and convenience.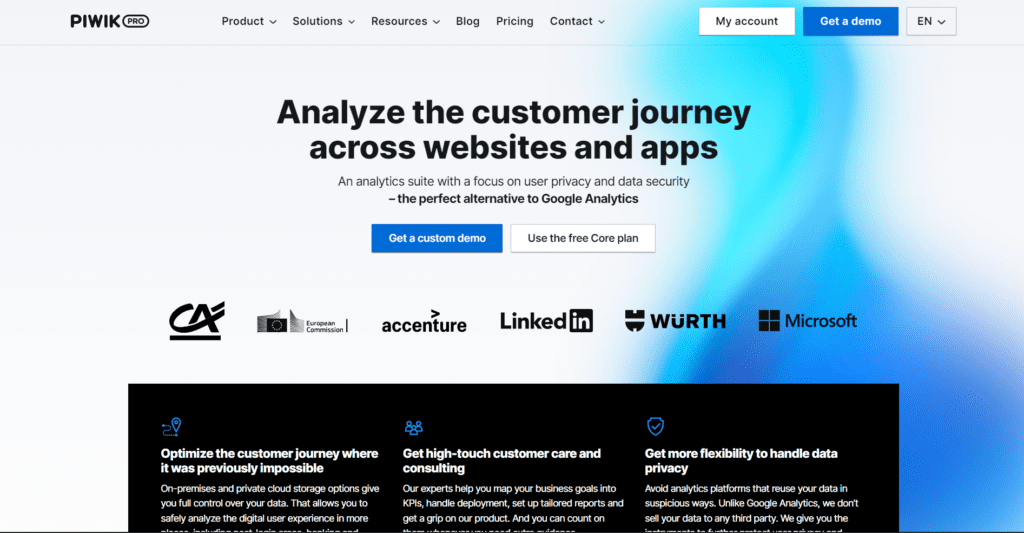 Piwik is an open-source web analytics tool that gives intelligent insights on the website such as keywords used to reach your services, language they prefer, the website traffic and more. It is ideal for companies that process high volumes of data.
Key features
Analytics for web and mobile
Tag management
Single customer review
Privacy compliance
Pricing
Core plan – Free
Enterprise plan – Price on request
Ratings
Capterra: 4.7/5
G2: 4.7/5
2. Google Analytics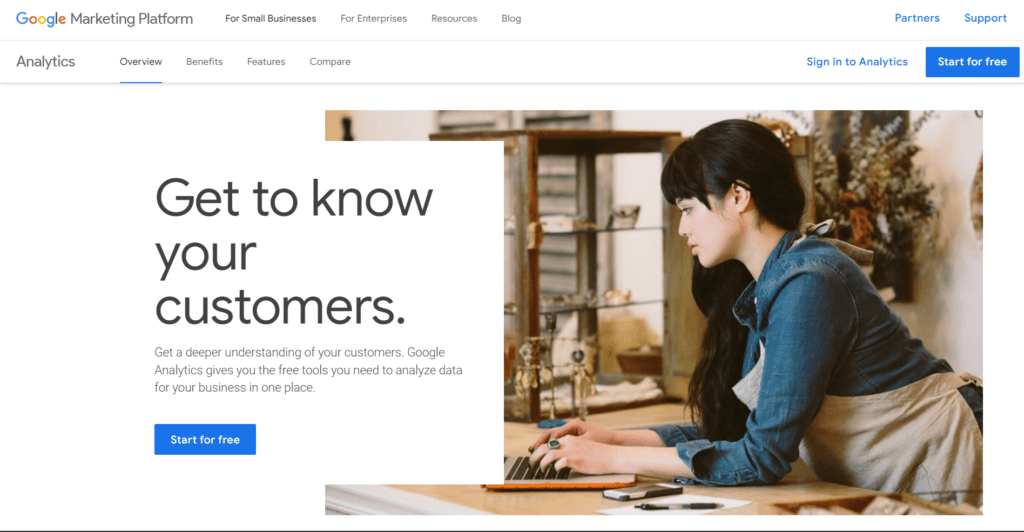 Google Analytics gives free tools to analyze data for your business and evaluate its performance in terms of content, product, marketing, etc. It measures sales and conversions and gives insight into how visitors use your site and how to get them back.
Key features
Customer segmentation
Customizable reports
Dashboard creation
Data connectors
Data import/export
Data visualization
Funnel analysis
Data management
Pricing
Free
Ratings
Capterra: 4.7/5
G2: 4.5/5
SaaS Tools for Team Collaboration
Team collaboration through SaaS tools is the need of the hour as it gives a simplified and single collaboration portal to get all your teams together, exchange and brainstorm ideas, review real-time progress to fulfill project requirements.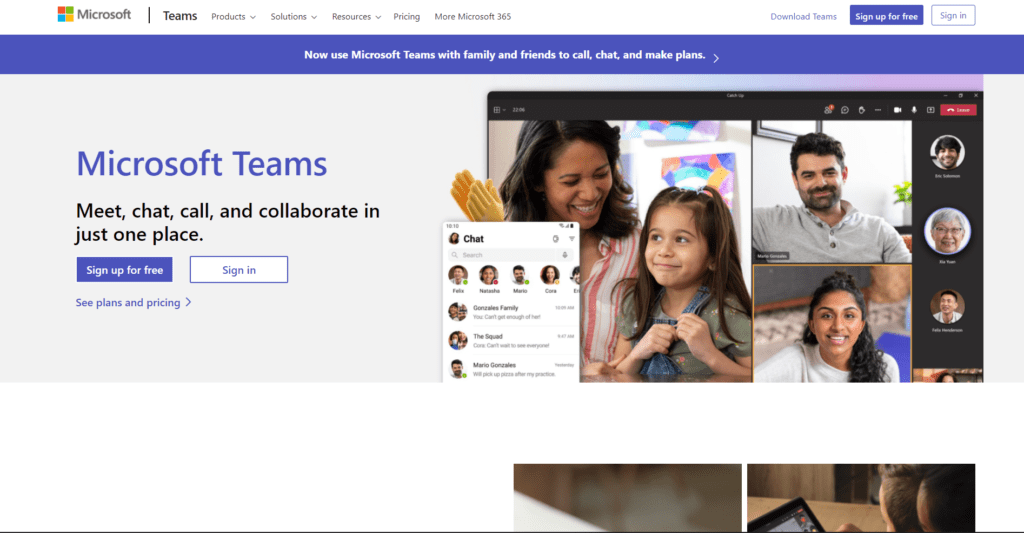 Microsoft Teams is a virtual collaboration platform that lets you create and join teams, post messages, chat, share files, and more. It also integrates with other services like YouTube to make collaboration more convenient.
Key features
Access Controls/Permissions
Annotations
Calendar management
Call routing
Chat/messaging
Backup and recovery
Auto framing
Audio capture
Agenda management
Activity dashboard
Pricing
Microsoft Teams is available as a part of Microsoft Office 365 subscriptions.
Premium – $5.00 per user per month (Pricing model- per feature)
Office 365 Business Essentials Plan – $5.00 per user per month
Office 365 Business Premium Plan – $12.50 per user per month
Office 365 E3 Plan – $20.00 per user per month
Ratings
Capterra: 4.4/5
G2: 4.3/5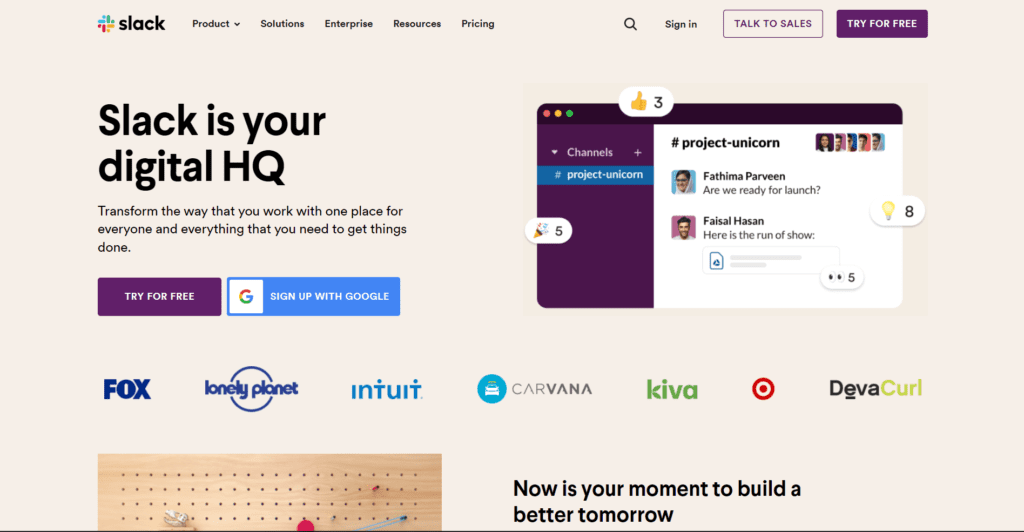 Slack is a communication hub where real-time messaging, archiving and search occurs for modern teams.
Key features
Messaging
Voice and video calls
Apps and integrations
Workflow builder
File sharing
Enterprise key management
Workflow management
Real-time synchronization
Commenting/notes
Pricing
Free plan
Pro – $2.67 per month
Business+ – $5 per month
Enterprise Grid – Price on request
Ratings
Capterra: 4.7/5
G2: 4.5/5
SaaS Tools for Employee Monitoring
SaaS tools are essential for employee monitoring as they help review staff activities in-depth, which improves productivity and turnaround times.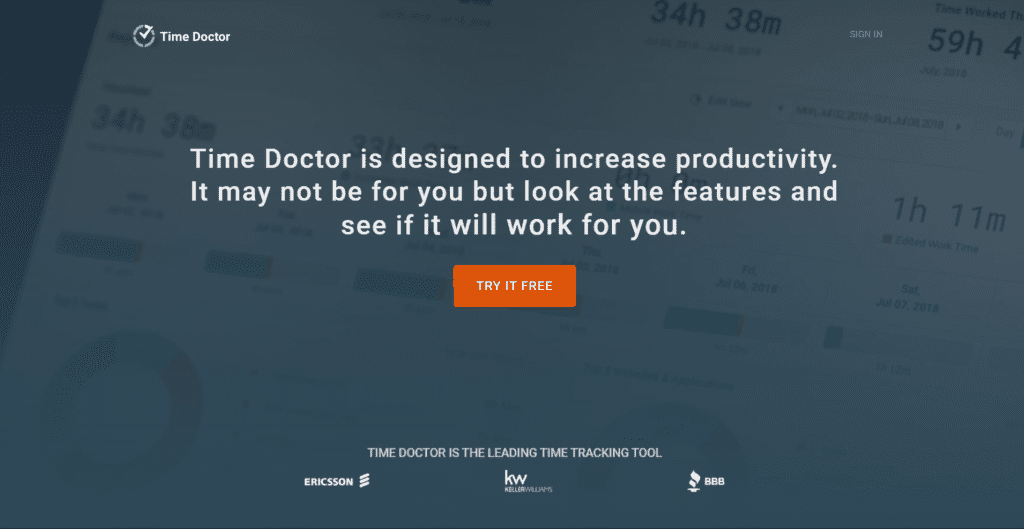 Time Doctor is the best in time tracking and efficient time management. It has an intuitive tracking software meant for a team of 20-500 employees where it can do session monitoring, screenshot recording, precise invoicing, project reporting and more.
Key features
Online timesheets and payrolls
Project management and budgeting
Productivity measuring and summary reports
Distraction alerts
Integrations & API
Customization options
Screenshots & activity levels
Website & App monitoring
Offline time tracking
Pricing
Basic – $7 per month per user
Standard – $10 per month per user
Premium – $20 per month per user
Ratings
Capterra: 4.5/5
G2: 4.4/5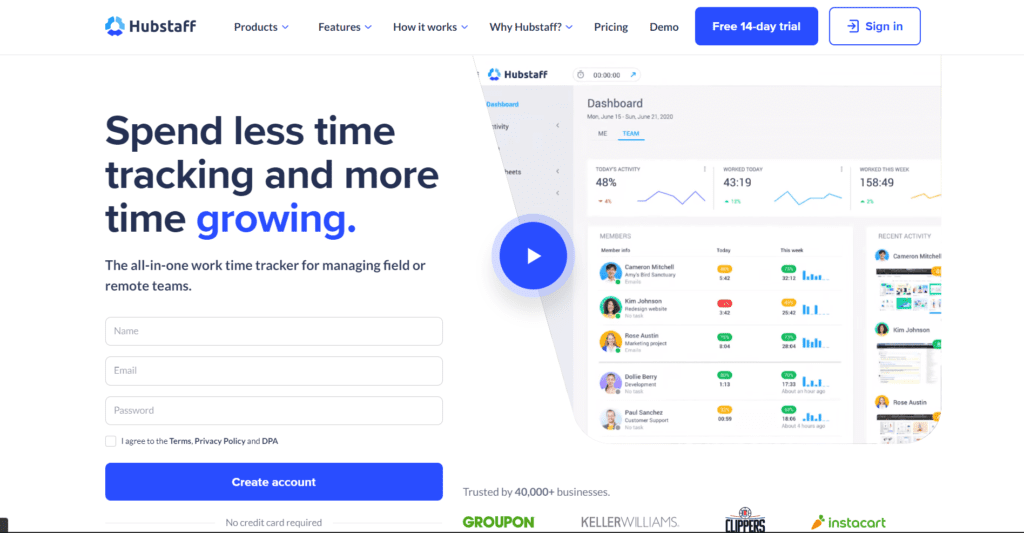 Hubstaff is the best SaaS tool to fight inefficiency and work with streamlined time tracking, team, and project management. Hubstaff integrates with more than 30 apps to make your business run seamlessly and is available on different OS platforms, including Windows, Linux, Mac, Chromebook, Chrome extension, Android, and iOS.
Key features
Time tracking
Geofencing
Online timesheets
Payroll software
Employee monitoring
GPS tracking
Online invoicing
Project budgeting
Employee scheduling
Detailed reporting
Mobile time tracking
Pricing
Desk Free – $0 for one user only
Desk Starter – $7 per user per month
Desk Pro – $10 per user per month
Enterprise – Get a customized plan
Ratings
Looking for similar SaaS tools for employee monitoring? Click here to read about the 10 best employee monitoring software tools in 2022.
SaaS Tools for Employee Training
SaaS employee training software is integral to all organizations as they help train new employees and enhance the skills of the present ones. They offer ongoing support and regular updates so that the employees get up-to-date training either in a class format or as self-guided instruction.
TalentLMS is the learning management system (LMS) for training employees and giving them proper guidance and support.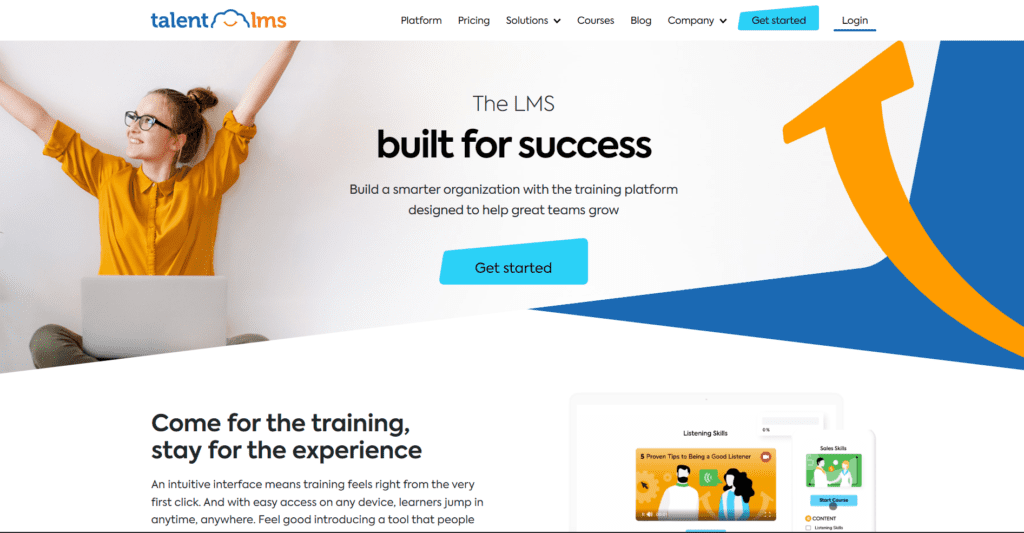 Key features
Course management
Gamification
Certifications
Video conference support
Ecommerce
Reporting
Branching
Integrations
Multilingual support
Pricing
Free – $0 per month
Starter – $59 per month
Basic – $129 per month
Plus – $249 per month
Premium – $429 per month
Ratings
Capterra: 4.7/5
G2: 4.6/5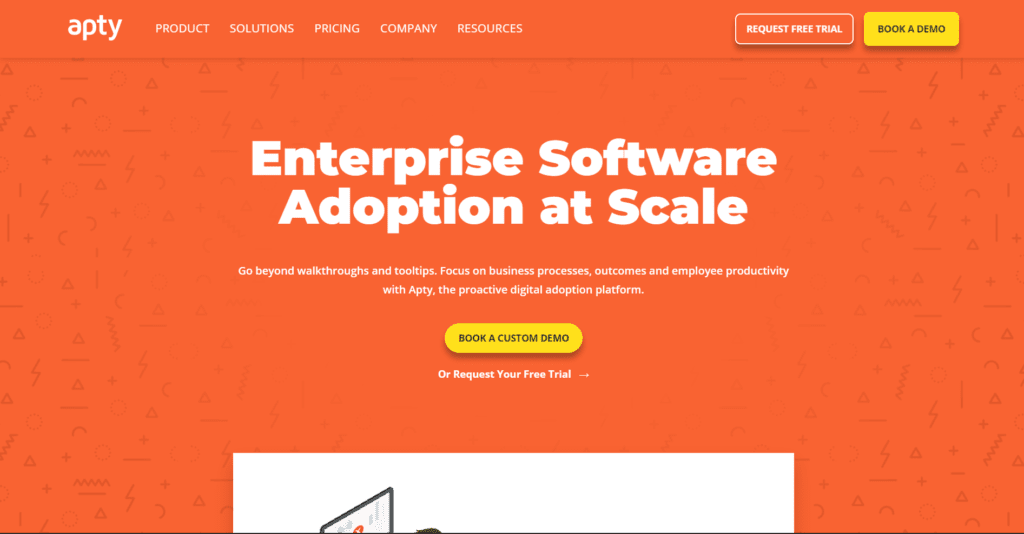 Apty has a great digital adoption platform that helps in the easy onboarding of employees. It can be used to create on-screen help to show users how to complete the tasks.
Key features
Product adoption
User on-boarding
User engagement
Product training
Business continuity
Remote on-boarding and training
On-screen guidance
Digital transformation
Pricing
Custom Plan: Price on request
Ratings
Looking for similar SaaS tools for employee training? Click here to read about the top 5 employee training SaaS tools in 2022.

SaaS Tools for Customer Support
SaaS software helps you offer continuous customer support to clients post-sale and develop a good support team to fulfill all post-sale needs. It provides a centralized system where you can track, prioritize, manage, resolve customer queries, and more in a simplified manner. It is an essential service for every organization.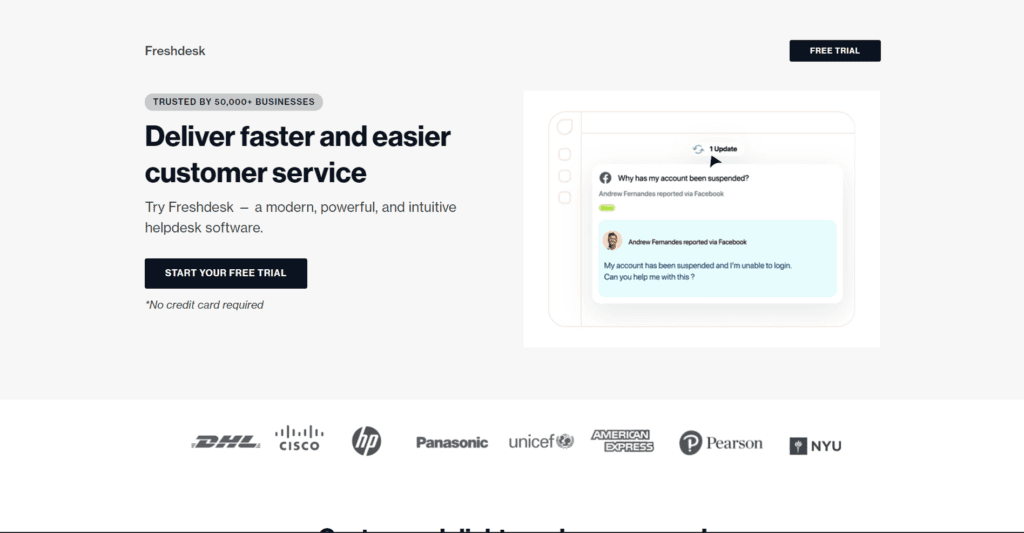 Freshdesk is a virtual cloud-based support software, and also a ticketing system. With its wide range of intuitive features, Freshdesk offers impeccable customer service. The software works well for both small and large-scale businesses. You can automate workflows with it, collaborate with context and integrate with tools like Zoom for seamless remote support.
Key features
Ticketing
Collaboration
Automations
Help widgets
Reporting & analytics
Integration
State-of-the-art security through SSL certificates, IP and Network restrictions
Complete customization
Measuring and improving efficiency through curated reports, customer satisfaction ratings
Pricing
Growth – $13 per agent per month billed annually
Pro – $48 per agent per month billed annually
Enterprise – $76 per agent per month billed annually
Ratings
Capterra: 4.5/5
G2: 4.4/5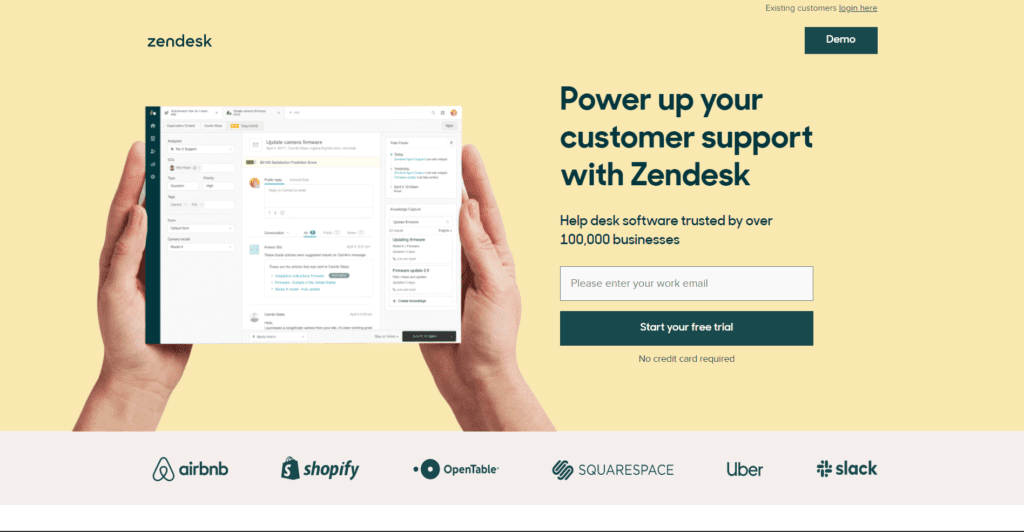 Zendesk is one of the most robust help desk software programs with its prime focus on effective communication between customers and the support team. It offers support for automation rules and activates the response to many other help desk system events.
Key features
Ticketing system
Messaging and live chat
Voice calls
Reporting and analytics
Answer bot
Customer service software
Live chat software
Batch communications
Automated routing
Asset tracking
Pricing
Suite Team – $49 per agent/month billed annually
Suite Growth – $79 per agent/month billed annually
Suite Professional – $99 per agent/month billed annually
Suite Enterprise – $150 per agent/month billed annually
Additional Enterprise plan – $215 per agent/month billed annually
Ratings
SaaS tools for User Onboarding
Companies should invest in SaaS tools for user onboarding as it makes the process faster, easier, and automated. It is one of the most significant touchpoints for a business.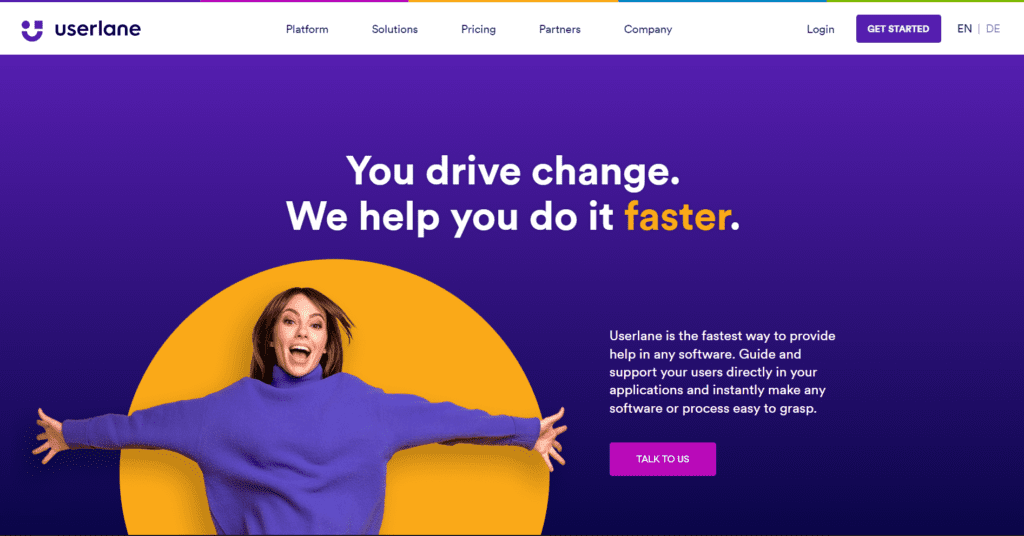 Userlane deploys and automates user onboarding processes with a few clicks. It offers an interactive step-by-step process, on-demand contextual support, and segmentation. It provides insights and measures changes in user behavior and maximizes their efforts.
Key features
Content creation
Content sharing
Customer segmentation
In-app training
Employee handbook
Knowledge management
Launch management
Document management
Communication management
Audience targeting
Asynchronous learning
Pricing
Pricing on request
Ratings
Capterra: 4.6/5
G2: 4.8/5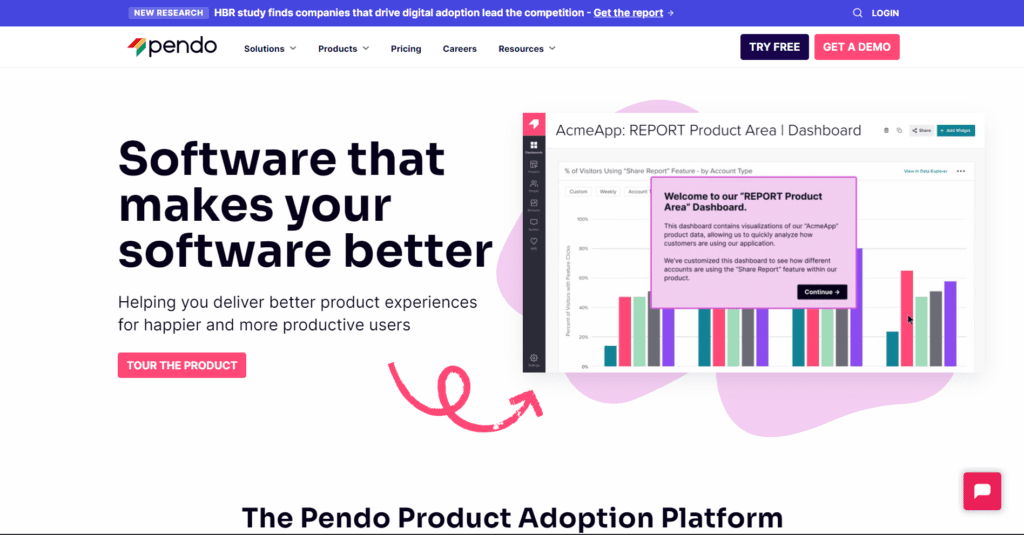 Pendo helps companies meet the rising user expectations. It is the only portal that offers in-app messaging with strong product analytics and user feedback. It helps users combine quantitative and qualitative insights to make informed decisions that support customers through their on-boarding and training.
Key features
User on-boarding
Product engagement
In-app support
Feedback collection
User training
Employee productivity
Revenue growth
Churn management
Cohort analytics
Conversion tracking
Pricing
Free – On request
Team – On request
Pro – On request
Enterprise – On request
Ratings
Capterra: 4.5/5
G2: 4.5/5
SaaS Tools for Accounting
SaaS tools for accounting help businesses with their financial data. They also reconcile bank accounts and give valuable insights on financial reports for the seamless growth of a business.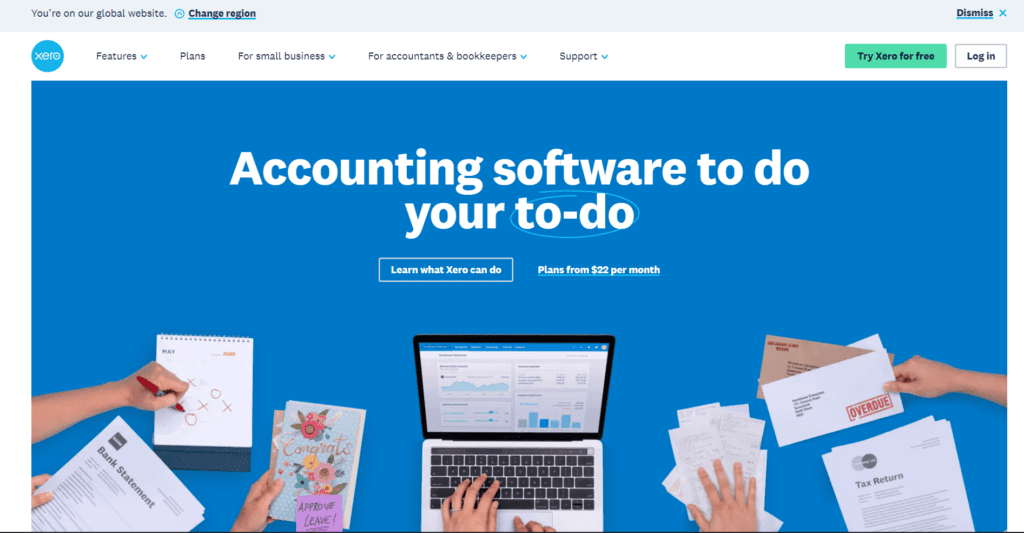 Xero is award-winning online accounting software that connects your bank, bookkeeper, accountant and business apps. It efficiently manages the staff's pay runs, timesheets, and pensions, reducing your time on admin. All the payroll information is updated into the accounts without any manual data entry, giving a real-time view of cash flow.
Key features
Approval process control
Calendar management
Cash management
Check printing
Client portal
Bank reconciliation
Automatic billing and invoicing
Account receivable and payable
Pricing
Early – $5.50 per month
Growing – $16 per month
Established – $31 per month
Ratings
Capterra: 4.3/5
G2: 4.4/5
Zoho Books is online accounting software that lets you manage finances and expenses effortlessly. It manages your customers and invoices and keeps expenses in check. You can record, monitor and reconcile bank accounts and collaborate with your accountant in real-time. Zoho Books helps make informed decisions about finances.
Key features
Accounts payable and receivable
Billing and invoicing
Expense tracking
Data import and export
Electronic payments
Accrual accounting
Bank reconciliation
Compliance management
Pricing
Standard – $10 per organization per month billed annually
Professional – $20 per organization per month billed annually
Premium – $40 per organization per month billed annually
Elite – $66 per organization per month billed annually
Ultimate – $107 per organization per month billed annually
Ratings
Capterra: 4.4/5
G2: 4.5/5
Looking for similar SaaS tools for accounting? Click here to read about the 5 Best accounting software for small businesses and startups in 2022
SaaS Tools for Website Building
The SaaS model has restructured the way web designs get done and how designers and developers work. These tools help streamline the designing process creating aesthetically appealing websites.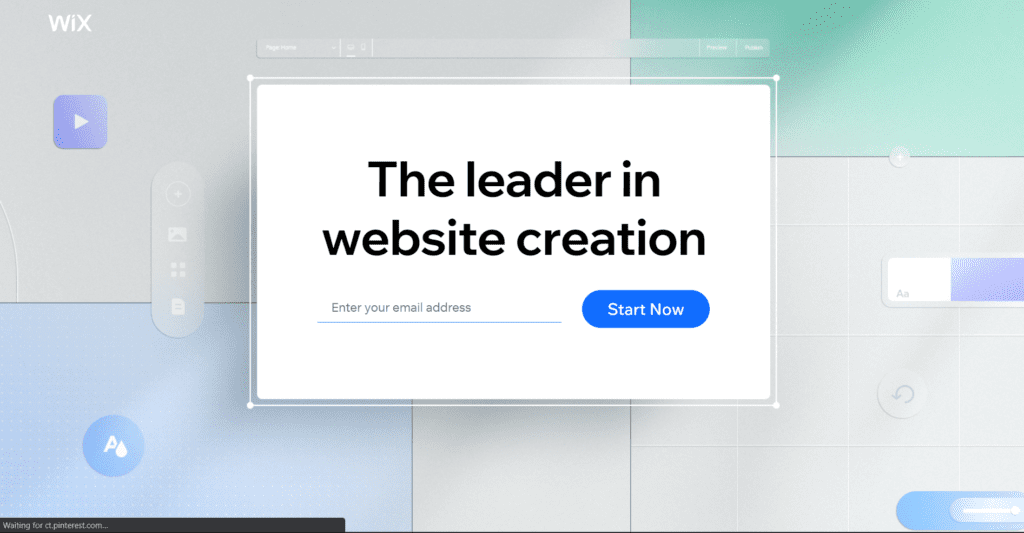 Wix is a leading web development portal that helps build a magnificent online presence with simple cloud-based creation and management tools. It publicizes the brand, runs operations, and generates revenues. It also offers both client-facing and business management features.
Key features
Alerts and notifications
Customizable forms and templates
Email marketing
Inventory management
Landing pages and web forms
Collaboration tools
Content management
Booking management
Data security
Customizable branding
Calendar management
Pricing
Connect Domain – $6 per month
Combo – $11.4 per month
Unlimited – $17 per month
VIP – $33 per month
Business Basic – $23 per month
Business Unlimited – $33.5 per month
Business VIP – $47 per month
Ratings
Capterra: 4.4/5
G2: 4.2/5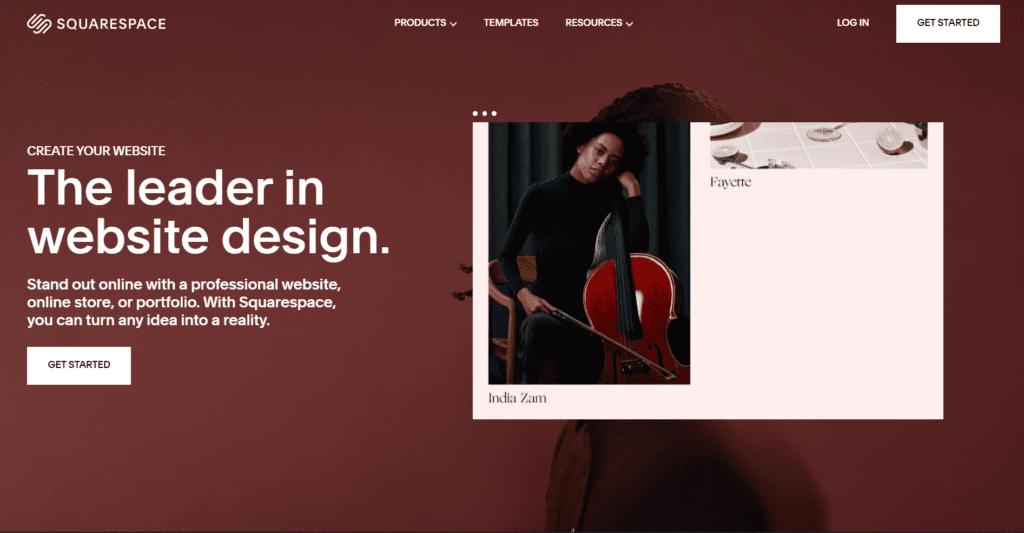 Squarespace is a one-stop solution for website building. It offers award-winning templates for your website along with an online portfolio. It can customize the design to fit your business essence. It also offers powerful SEO tools to improve the overall ranking of your website.
Key features
Audio file management
Collaboration tools
Data security
Customizable templates
Drip campaigns
Conversion tracking
Channel management
Email marketing
SEO management
Website management
Pricing
Personal – $12 per month
Business – $18 per month
Basic commerce – $26 per month
Advanced commerce – $40 per month
Ratings
Conclusion
With technologies getting redundant faster than ever, the era of installing expensive software to facilitate different business functions is clearly over.
Instead, businesses want the flexibility to be able to choose the latest tools based on their changing needs or dynamic business environment. And this is where SaaS tools have proved to be a great bet.
There is no installation cost or hardware involved, and no specific experience or expertise is needed. All you need to do is download the ready-to-use tool, try its features and quickly subscribe to a plan you like to get started. Above all, you don't have to worry about signing long-term contracts and committing to one tool for years!
So if you haven't been leveraging SaaS tools to simplify different aspects of your business already, NOW's the time to start!