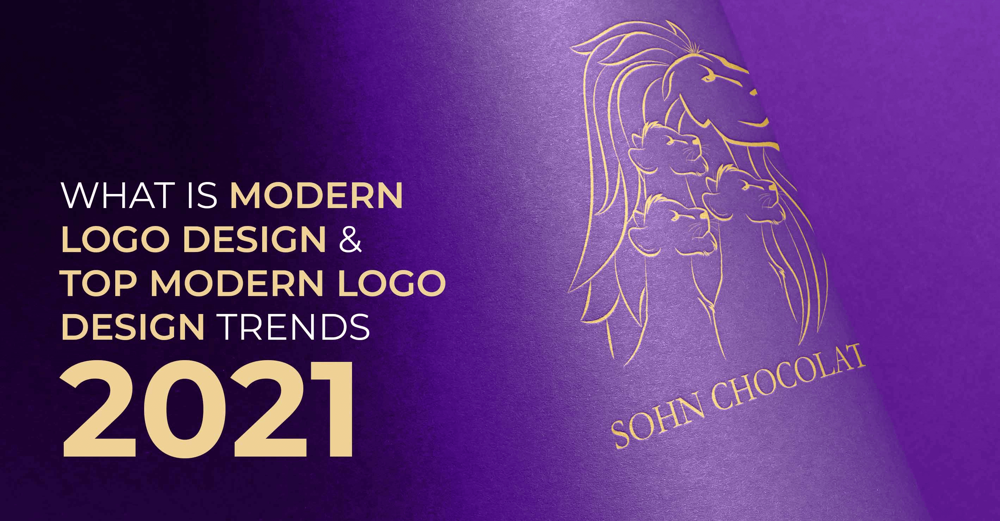 The art of designing a modern logo has come a long way from its vintage avatar to the sleek lines, minimalist lettering, and subtle colors that we see today. In fact, you can make a splash with your branding if you get a modern logo design right.

What are modern logo designs?

Just in case you are wondering what modern logo designs are all about, experts identify their uniqueness by how fresh they look and feel to your eyes, which is achieved through an amalgamation of elements: both classical and contemporary. Modern logo ideas take the 'less is more' route but use striking (and simple) color palettes, fewer words, clean layouts, and almost obsessively, lines!
Examples of Modern Logo Designs in 2021

While most startups have intuitively hopped on to the modern logo wagon, what's intriguing is that many established businesses too are looking to redesign their branding by reinvigorating their logos and moving towards minimalist logos instead of the complex overwhelming designs of the past.

After the pandemic overhauled our lives and lifestyle at the beginning of the decade, most businesses too had no choice but to swiftly adapt or get left behind. So, what better time than now for businesses to take inspiration from modern logo ideas and rebrand, in keeping with the fresh energy that has been infused into them.

Given below are some examples of modern logos themes and ideas that are likely to be in vogue this year:

1. Logos with 3D and isometric shapes

Specific shapes like squares and circles are the building blocks of imagery and have been common with modern logo enthusiasts for some time now. However, our experts visualize 2021 to be the year when 3D images will make a breakthrough with their modern cutting-edge design. This is a perfect way to take your already existing logo to the next level and all one has to incorporate modern logo ideas like highlights, shadows, and shading.
2. Logos with Analogous Colour Palettes
Colour Schemes are undoubtedly one of the most simple and yet genius ways to transform a modern logo for any organization. Analogous schemes are a topic that student designers are exposed to in their very first year of color theory and it essentially means pairing colors that are adjacent to each other on the color wheel. The outcome is the result of a scientific approach that creates harmony between colors, rather than contrasting.
3. Logos with Quirky Lettering
Another example of timeless modern logo design entails imbibing quirky typography within your logo. In fact, the latest spin on this trend that is making the news is using a font style that reflects the times. Divergent lettering is being used by many designers as well, where you play with the positioning or even invert a few letters to add an X-Factor to the overall design. You can check out our portfolio to witness the kind of magic we have created with lettering in our logos. One of the most popularly appreciated logo examples that employ this technique is the CNN logo.

4. Inspiration from Stained Glass

The sheer innovation that designers employ while making a modern logo makes this domain as exciting as none other. One of the most recent trends that have caught our attention at Design Shifu is incorporating elements similar to the stained glass windows from the past. When we apply this concept to modern logo designs, the fragmentation of images into shards of colors transforms an ordinary object into something magical. After spending a year inside our houses, we look forward to more stained glass elements in logo designs of 2021.
5. Logos with Portraits and Caricatures
Human beings are social animals and the same philosophy extends to elements of design as well. There is no other reason why humans seek out other faces when they look at advertisements and even logos! One of the most popular logo examples that come to our mind when we think of this trend is the KFC Logo and the face of Mr. Colonel Sanders who is happy to feed us his crispy fried chicken!
6. Logos with Balance and Symmetry
Balance and Symmetry are indeed two of the most crucial aspects of any field in the design and can lend an unparalleled level of sophistication making them an important part of any modern logo design. Symmetrical logos are identical on both halves if split down from the middle and add strength to your design. After all, we associate strength with towers and buildings and how they stand their ground in all conditions, achieving this from symmetry and balance. It's always advisable to hire professionals to create your logo so they can infuse their expertise and experience.
7. Hand-Painted Logos

2020 saw the growth of hand-drawn and hand-painted elements in all facets of design, from stationary to walls and we see this design taking the world of modern logo by storm as well! This trend requires a great deal of skill and someone to make a logo that is whimsical, but definitely not haphazard. Many small businesses have internalized this trend in a matter of no time and produced logos that make us sit back and watch in amazement! We see this beautifully done in logos such as the ones below:
8. Classic Black and White
There are some things that never go out of style and a black & white design is definitely one of them. We envision this to be a big trend in 2021 where the classic font is used as an incredibly adjusting layout that can be then experimented with a plethora of contemporary and cool effects. Minimum fuss and Maximum Jazz, what more can you want from a modern logo?

While these are the 8 trends on top of our minds in the realm of logo designing, we're excited to see what this year holds for the industry and which logo will take the world by storm!
If you feel the creative tingle and want to design a logo, we have recently published a step by step guide on how to design a logo. You can read it here
To scale and grow your business, branding is imperative, and having a creative yet meaningful modern logo can make all the difference to stay ahead of the pack. However, it's best to take the help of experts when it comes to brand design. For instance, Design Shifu is a subscription-based graphic design agency that can help you with your logo design as well other graphic design needs on a budget. You simply need to choose a plan based on your requirements to get started. Above all, you get your designs within 24-48 hours and can ask for unlimited revisions. Not to forget, our money-back guarantee! Click here now to get started with your logo.