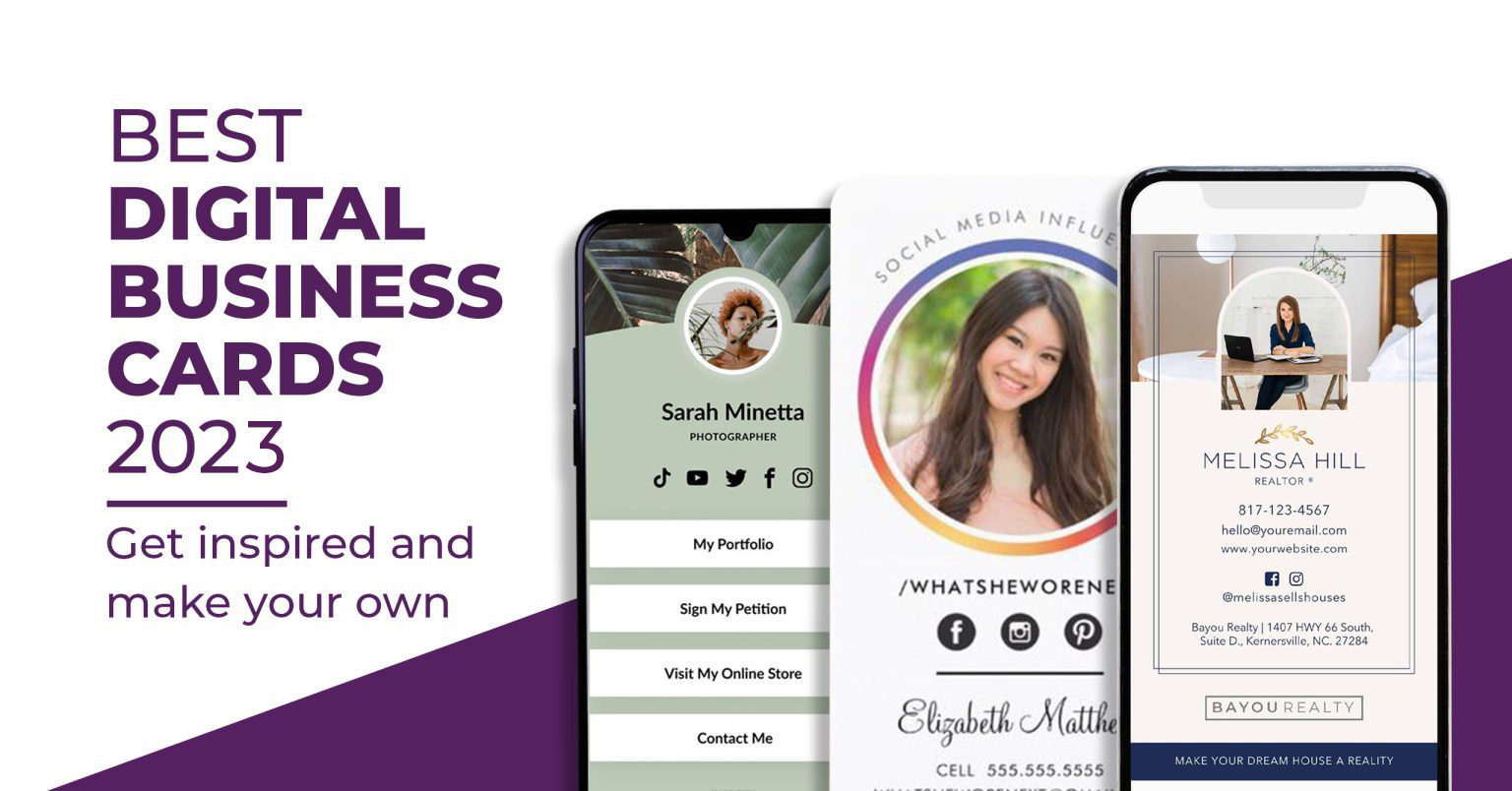 Gone are the days when you had to give out paper cards to the clients and wait for them to give a call back while no one knew what has happened to that card. Your business card can be a powerful tool for turning a simple handshake into a meaningful connection. The same goes for digital business cards too. That's why we have come up with a list of best digital business cards for you.
When meeting virtually, digital business cards can be warm handshakes for your clients. It's 2022 already, and digital cards have become the new normal.
With businesses stretching their wings into the online world, and meetups, and gatherings becoming virtual, it's high time that you switch to the best digital business cards.
Why are digital business cards the way to go?
Digital business cards or v cards or e-cards have many benefits and have become the new trend. Here's why:
Highly customizable:
Digital business cards have a lot of customizable options. You no longer have to stick to a rectangular box that is limited from getting creative high. Add QR cards, links to your websites, social media handles, photos with a virtual background, and even videos too!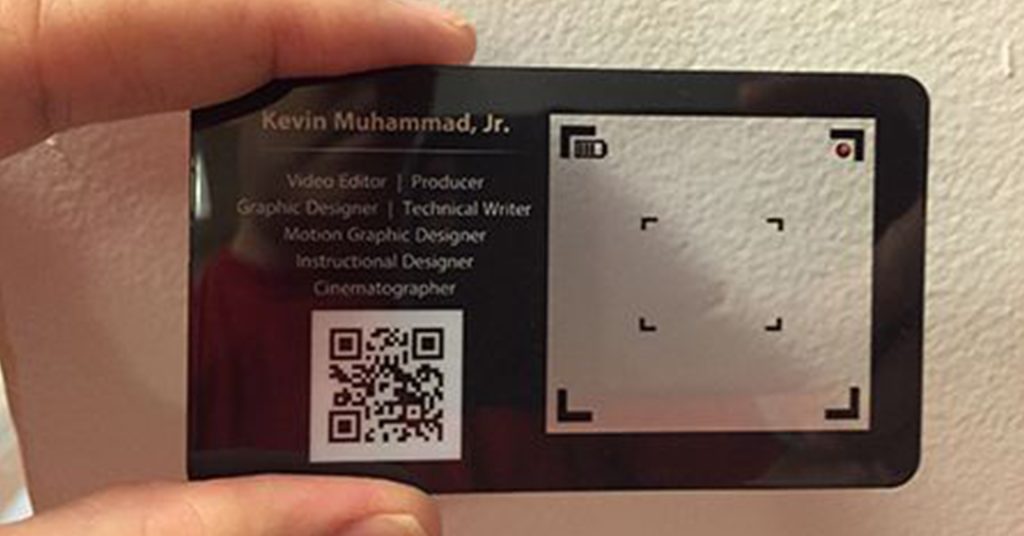 No space constraint
Here comes the biggest flex of digital business cards! No need to worry about fitting into that typical rectangular box of particular dimensions. Instead, you can think about ingenious ways to make your business stand out from the rest of the competition. Also, you can always edit the cards in case you change your office address, phone number, website, etc.
Sustainable
Sustainability is becoming the new trend among brands. With digital business cards, you can show people that you promote sustainability in your business. According to a recent survey, it is said that around 7 million trees are cut every year to print your business cards.
Convenient
You now don't have to worry about the cards running out or getting lost in the oblivion of empty wallets. A survey points out that around 90% of business cards are thrown away within a week and we don't want that to happen to you. That's why digital business cards are a great option to switch. Just a tap and there you go! Digital business cards are a flexible option for you to share with anyone, anywhere, and at any time.
Types of business digital business cards
The digital business cards come in two variants!
The first one is the one that we are familiar with. It's a fully digitally generated card that you can share with anyone through texts, emails, and QR codes.
The second one is an NFC card abbreviated as Near field communication card. One component of the NFC cards is the tags that carry a microchip which may be in the form of wristbands, pop sockets, keychains, etc. You just have to tap the tag near your phone just like you tap credit and debit cards in the supermarket. With one tap, all the information on your card will be shared with the user's device instantly.
Elements of a business card
Whatever card it is, be it physical or digital, here are the essential information that you need to add to your business card for it to do its job perfectly
Name of the business and individual
Contact details
The tagline of the organization
Logo/picture
Social media profile
Video – youtube/Vimeo
Products or services you provide
Best digital business cards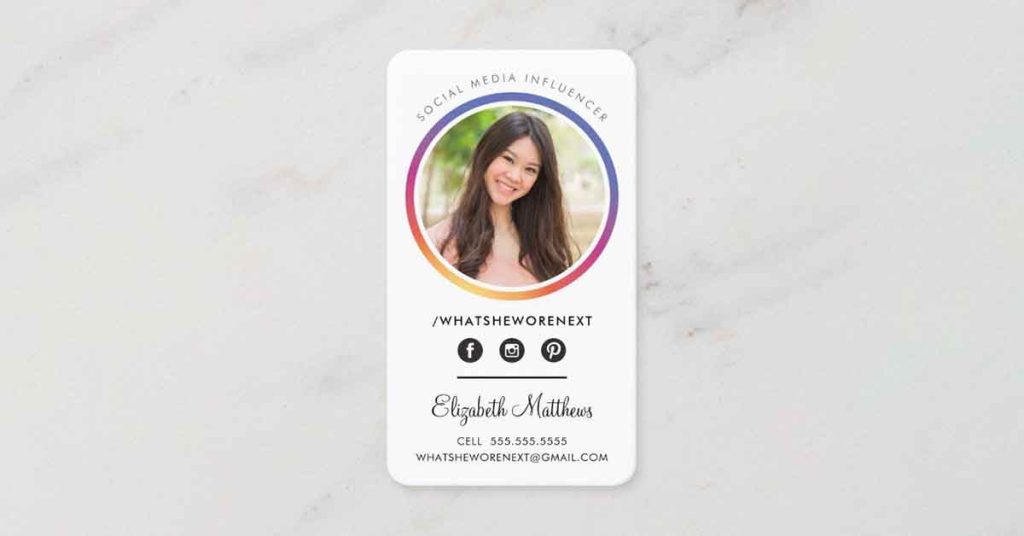 The business card by Elizabeth Mathews stands simple but strongly expresses the purpose and designation. Elizabeth's profile picture has been bordered with an Instagram-themed circle expressing the leading social platform.
Further on, the card highlights the designation – Social Media Influencer to clearly emphasize Elizabeth's work profile. The card also holds 3 icon-based links that will direct one to her social accounts making it easier for prospects to know more in detail about her. In addition to this, the card also features her contact details.
Overall, the card has been crafted with the utmost simplicity but consists of every important aspect needed. It is a pure mixture of fonts, icons, and colors!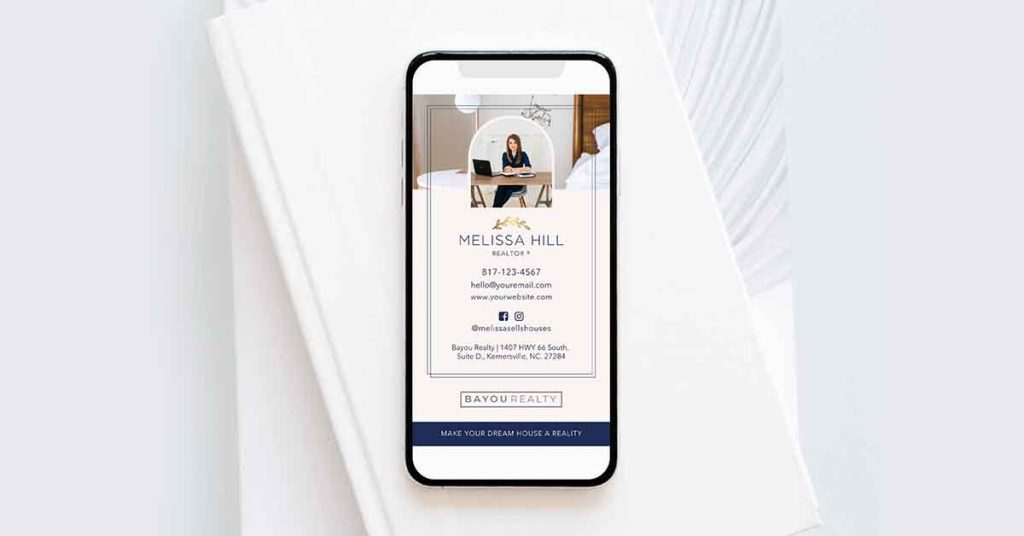 Melissa Hills's Business Card is a comprehensive one boasting a host of design elements, colours, taglines, and details! With varied fonts, the card has been meticulously designed to highlight each aspect from the name, contact details, social icons, address, firm's name, and tagline. The card is full of creativity and does hold the required information.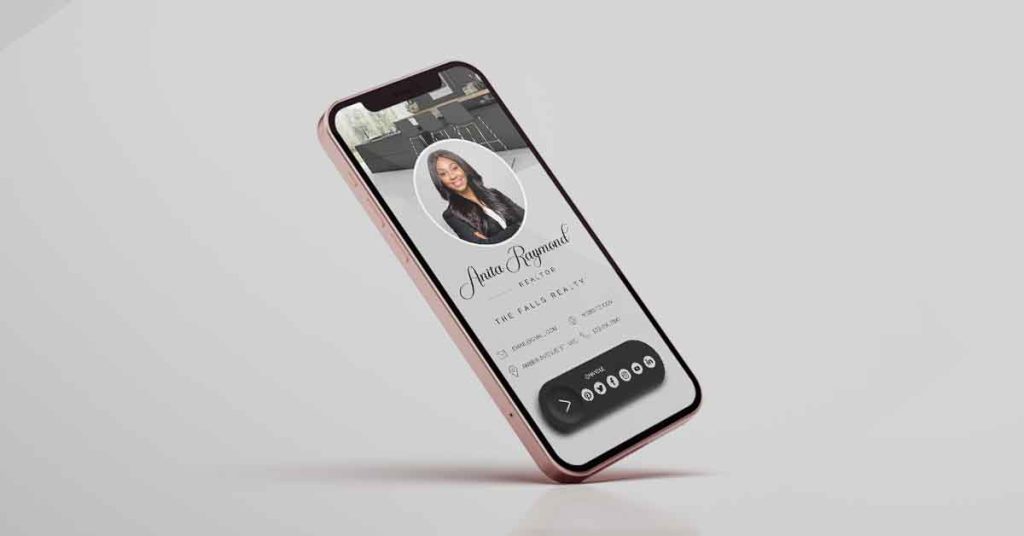 Anita Raymond's Business Card stands more of a premium one that exhibits all the details in a much more sophisticated manner as compared to that of the previous ones.
All the details in the card have been added using the corporate font which gives out a great readability. Moreover, the combination of grey and black works well in line with the card and the profile picture.
Overall, the digital card speaks professionalism not only due to the profile picture but also because it exhibits sophistication.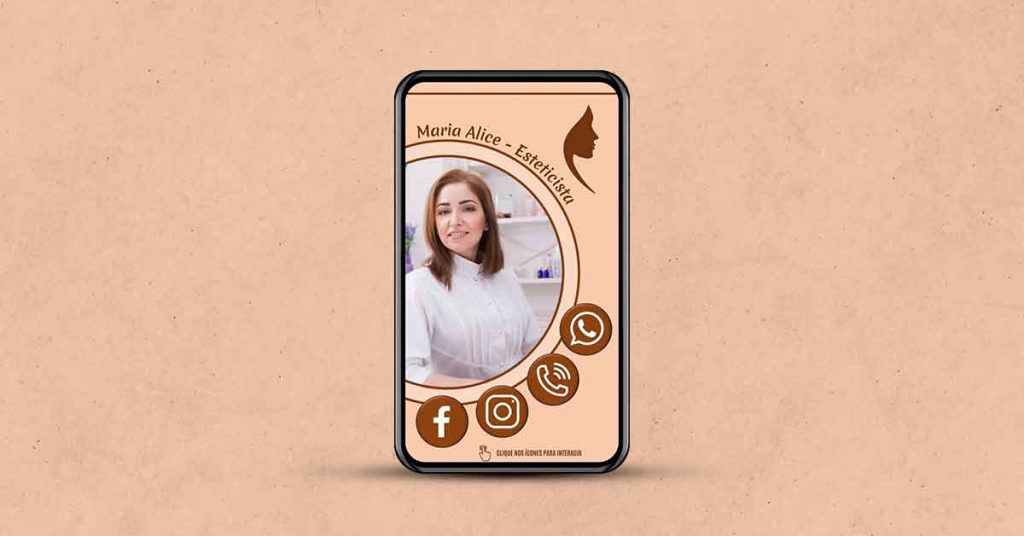 The 5th one on the list is Maria Alice's business card which stands the test of simplicity with comprehensiveness. The card features Maria's headshot with bold social media icons that direct one to her social accounts. With just the name and work profile, the card does not fall short of information working well to provide just the needed information.
Most popular digital business cards 2022
Now that you know what to include in your business card, here are a few examples of digital business cards around various niches that are performing well in the industry
Cards with custom QR code
How annoying it is to type out someone's Instagram handle without any typos? And how can we not talk about the numerous typos? Well, to avoid that annoyance, you can incorporate a QR code that helps the lead check out your website and socials by just scanning the code.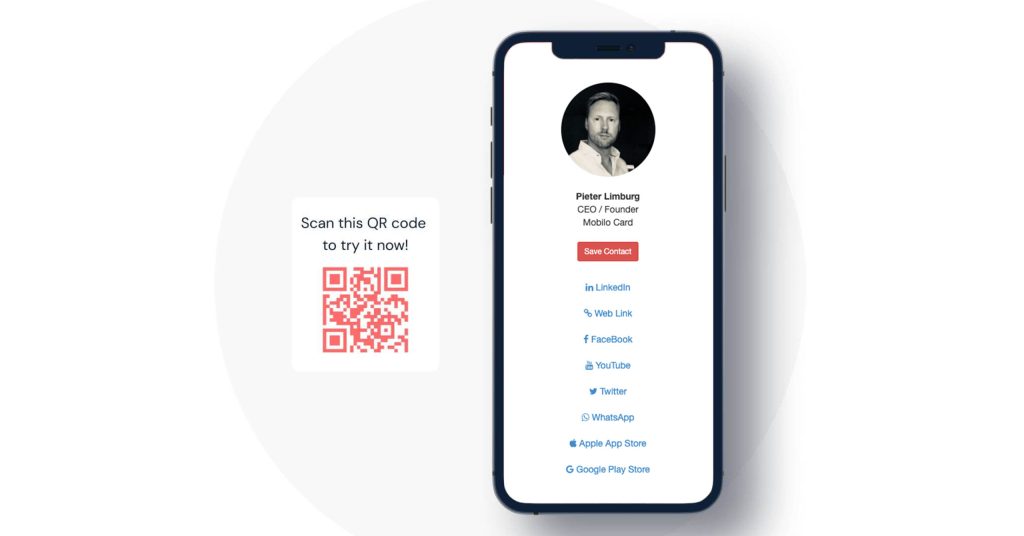 Photo business cards
A picture can tell you a thousand words. Adding a professional photo of yourself to the business card is the best thing you can do. It can make your first impression the best one. Digital business cards help you update your picture more often rather than sticking to the passport-size photo that you took 10 years ago.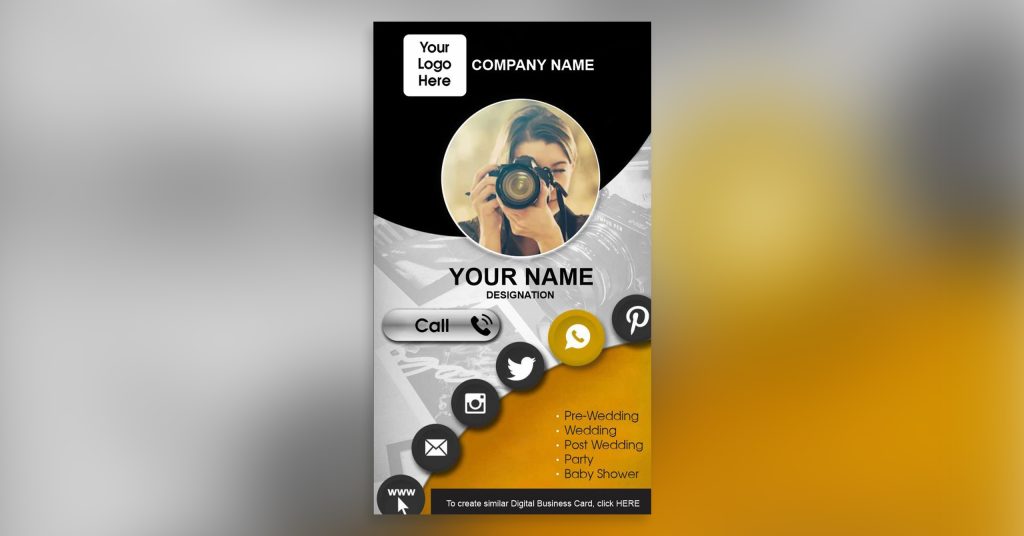 Video business cards
Why should your business card be plain and simple? Make it extravagant by adding a short video using youtube or Vimeo. When compared to texts and graphics, videos are a great way to capture the attention of your leads. Through the short video of 30 seconds to a minute, you can engage the lead or client with as much creativity
Cards with Social media links
Networking has evolved so much these days. Your social media handles can act as an indirect call to action. You can show off your expertise and build trust by showcasing your online presence through links to various social media handles.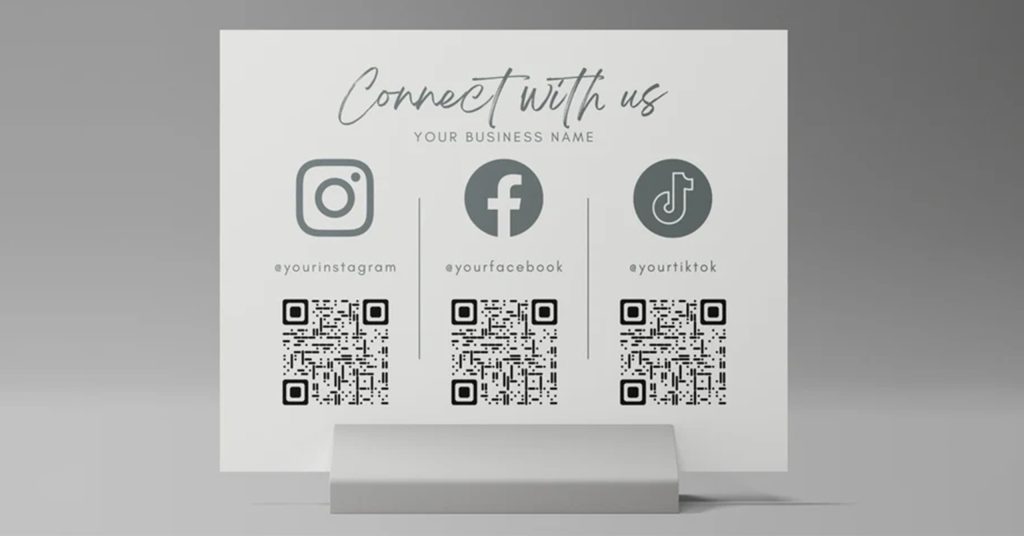 NFC cards
As we discussed earlier, NFC cards come in various tags such as keychains, wristbands, and even stickers. The more creative you design the tag, the more people will be interested in scanning the chip to see what's inside!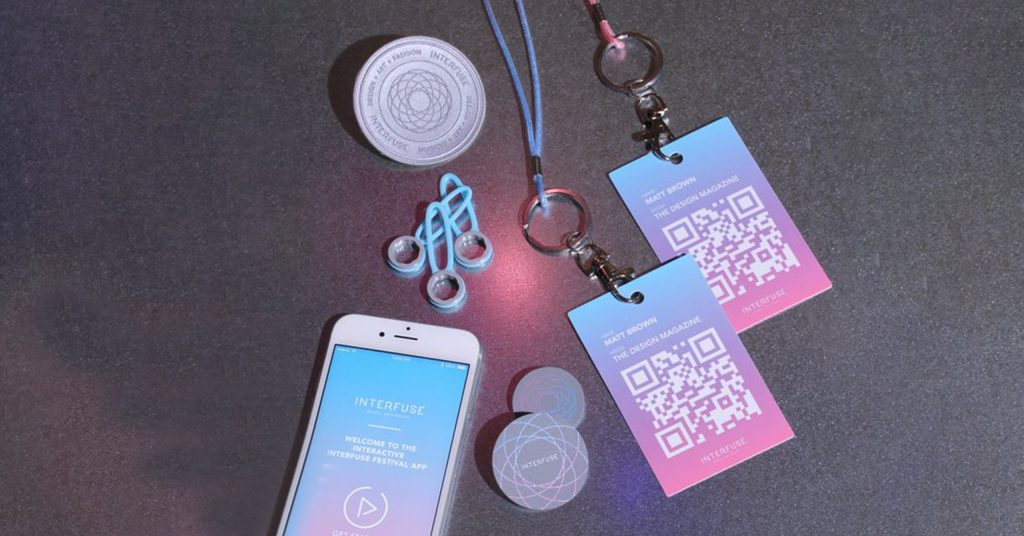 Takeaway
Investing in your business cards is one big step in your business and designs play a crucial role when it comes to business cards. "A good design, a good business." Make it the best with the best designs. With Designshifu, get UNLIMITED GRAPHIC DESIGNS for just $399 per month. Check out our website now!