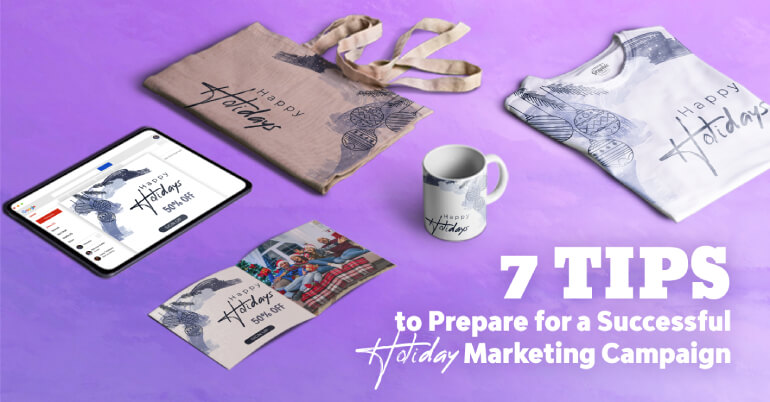 The holiday season is one of the busiest times of the year and it comes with opportunities that should not be missed. Marketers! It's your time to shine. Bring out those marketing campaigns if you want to make the most out of this holiday season. Here are 7 tips to prepare for a successful holiday marketing campaign –

Did you know that 22% of people plan to start their holiday shopping in the month of October itself? Customers are really craving some normalcy this year as the pandemic has caused a lot of disorientation. We've all missed going out, meeting our relatives and loved ones over occasions, and marketers need to be prepared to target the right audience at the right time.

Let's get started!
1. Go beyond the niche holidays, as well as the mainstream ones.
Yes, Thanksgiving and Christmas are major holidays but there are also other holidays and occasions you can base your campaign on.

Thanksgiving – November 26th
Black Friday – November 27th
Small Business Saturday – November 28th
Cyber Monday – November 30th
Hanukkah – December 10th to 18th
Free Shipping Day – December 14th
Kwanzaa – December 16th
Christmas! Of course. – December 25th
New Years

When you base your marketing campaigns around these holidays, it is important to also know the type of shoppers that you're going to be targeting. The goal of your holiday campaign should be to attract your target audience's attention and turn that attention into a sale. It is also a matter of significance that shoppers are going to flock online this year.
2. Let your design and your copy do the talking!
Minute elements like a good copy and clean, professional-looking designs based on the holiday spirit can do wonders for your ad.

The sooner you start marketing to the early birds who choose to prepare well in time for their holiday shopping, the more sales you will generate. On the other hand, there is also the traditionalist, a rooted customer into age-old customers. Seeing holiday colors in your design for your campaign, and the vibe of the holidays in your crisp copy would attract them.

Consider different age groups, genders, and intricate details as such that you can use to come up with a buyer persona. For instance, that 30 something guy who is on a vacation for the holidays? Your ad copy can be tailored well to encourage him to indulge in some self-love and treat himself this holiday season.
3. Use Content to your advantage
We're talking videos, posts, stories, with great copy and beautiful designs to keep putting the word out for your brand's holiday sale. You can get creative with social media and utilize it to run contests, quizzes, and organize giveaways themed around the holiday of your marketing team's choice. Make sure your content is holiday focused and offer-focused. Don't lose sight of the goal.

4. Email Marketing
Stuff your leads and your customers with offers you come up with, or the news about the upcoming contest you are organizing on social media this holiday season! Design a beautiful holiday season-themed newsletter, and come up with copy and subject lines that will immediately want your customers and prospects go "I want that".

Repurposing your content through your emails and don't forget to add catchy CTAs to your emailer. It is all about the right amount of nudging. Don't forget to segment your customers. Tailoring your emailers specifically for targeted audiences works wonders. It does not come off as generic and is attention-grabbing due to its personalized style.
5. Types of offers you can send out
If you offer a discount for early purchase, this will get your brand in the limelight. Provide an attractive and urgent deal so that your potential customers get the feeling that they don't want to miss out.
Exclusive Discounts or Pricing
Remember the segments you made for your email marketing? Understand the type of target you want to go with as a marketer, and offer them exclusive pricing for online purchases, or purchases on a certain bill amount, etc. This will tap into the possibility of the customer wanting to buy a product.
Last Chances or Urgencies
It is important to nudge your last-minute shoppers. Offer them a "Last Change for Any Online Order" type of deal or a "Two days to go" type of deal. This makes your brand their end-moment-savior and while they get their orders in for their loved ones to receive them in time for the holidays, you have already provided them with a reason to remember your brand.
6. Get your website ready for the holidays

Add small but significant elements to your website based on the holidays you're targeting. Design attractive ad banners and be sure to add the date and the offer on your website prominently.

If that seems to be time-consuming for your team, you can always get a themed landing page designed. Exuberate the feeling of the holiday season you choose to target and give your audience options to sign up for your newsletter. You can customize the design for your CTA in the shape of a bell or a Christmas star for the feels.

While you're at it, don't forget to make your website responsive to cater to mobile devices. 40% of all online sales will likely be made on mobile devices.
7. Social media promotions
Get creative! Create posts around a theme in the month of December or around the holiday you intend to target. You can also run really fun contests and challenges themed around the holiday. For example, "a gingerbread man hunt" or a "Selfie in a Christmas hat" challenge, where a random winner gets a discount code.

Sending in a personalized message to a customer for the holidays will not only establish a sense of warmth with your brand, it will also help them remember your brand through the gesture. Don't be afraid to spread the cheer
We know getting creatives designed for holiday campaigns is difficult and often time-consuming, especially if you need creatives designed at the end moment. Design Shifu offers unlimited design requests and unlimited revisions with a turn around time of 24-48 hours. So don't worry about the end moment rush. We got you. Check out our portfolio and our pricing page to know more.