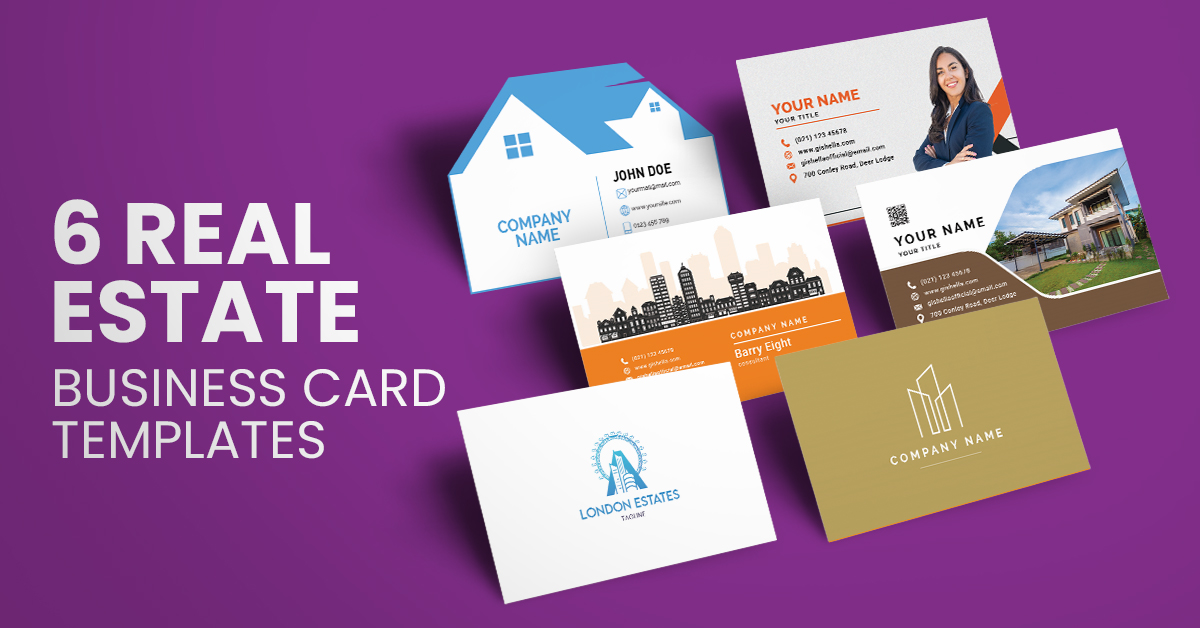 Real estate is an industry where transactions and interactions mostly take place face-to-face. In such an industry, your business card does not just act as a way to share your contact details but also represents how you want your customers to remember you.

Clients in the real estate business, whether they want to sell or buy property, meet several real estate agents and get their business cards before deciding whom to pick. So, if your business card is well designed, it will set you apart from your competitors.
Before we get down to the specifics of designing a real estate business card, here are some general tips that can come in handy:
Even if the real estate business card design is simple, ensure that it is printed on high-quality paper.
Make your business card unique by adding a few colors and impactful fonts. When a bold typeface is used with a bright background, your details would pop out and make the right kind of impression.
When it comes to business cards, a minimal design with simplistic features can do wonders for you. If you are not too creative, a minimal design is something to go for.
All digital information such as your email address, website address, social media profile links, etc. must be included in it.
Tips For Designing Real Estate Business Cards
1. A Classic Look With Roof Symbol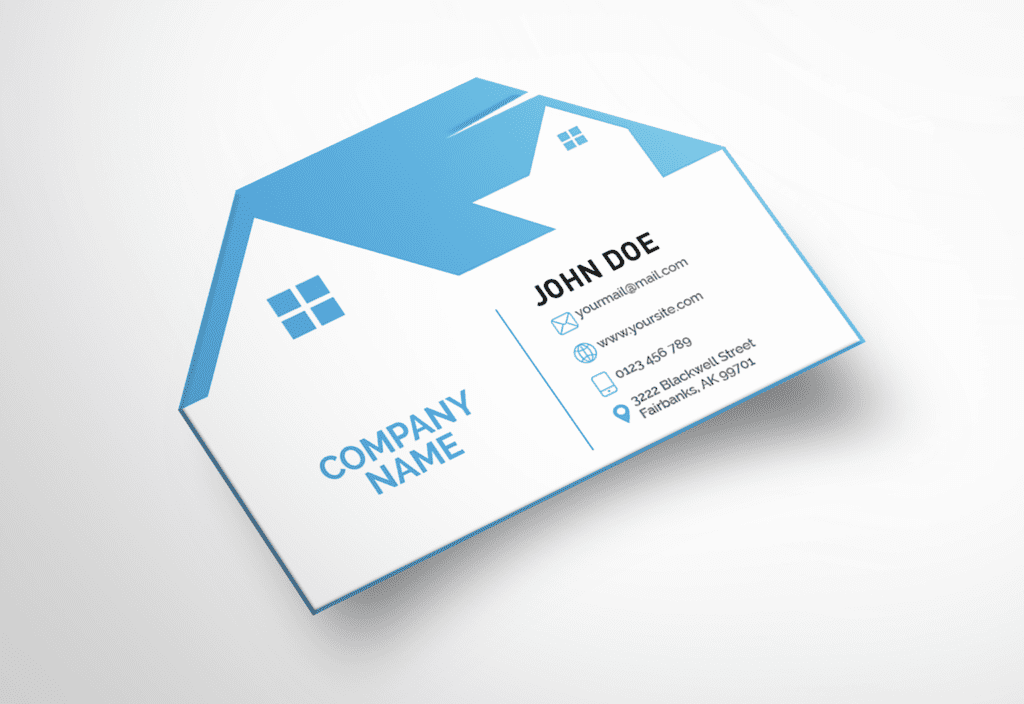 A roof represents comfort and safety in the clearest manner. A roof over your head is what keeps you warm during the winters, cool during the summers, and dry during the monsoons. Due to what it represents, a roof is something that you might see on a lot of business cards in the real estate business.

However, do not let that deter you from using this on your real estate business card. When used in the right way, a roof symbol on your card can help you in making the right impact. It's a brand symbol which appeals to almost every family. The classic look of such a business card gives a sense of contentment and stability as well, which attracts prospective home buyers.
2. Highlight The Uniqueness Of The Location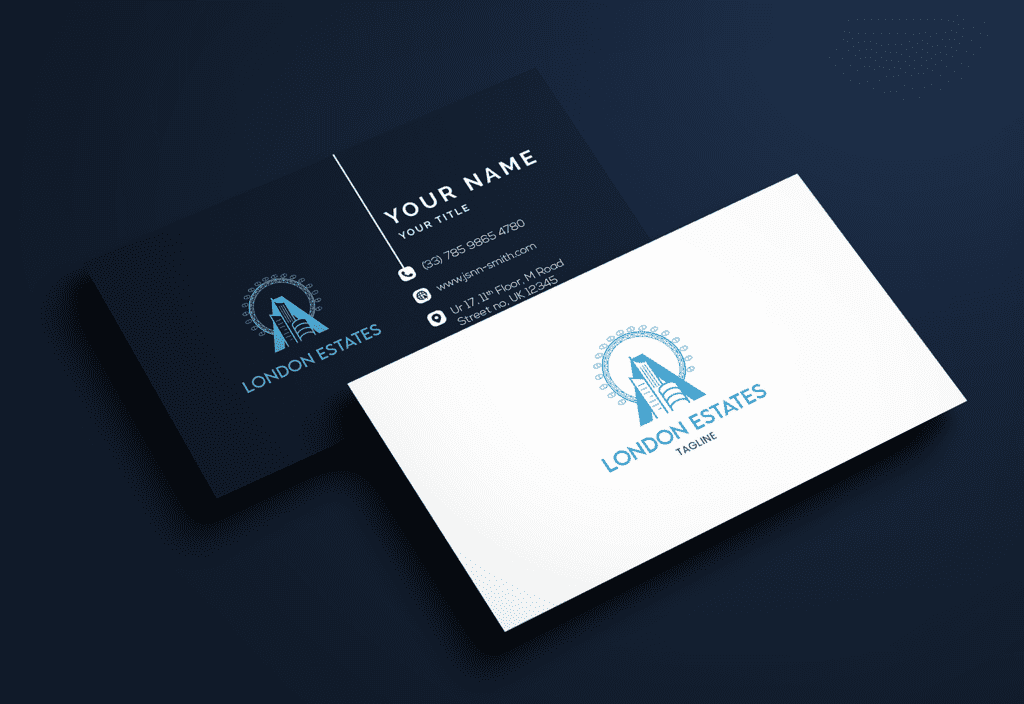 When it comes to real estate, the property you are selling is not the sole factor based on which the buyers make their decision. Their decision also depends on the location where the property is located and the amenities/facilities available in the vicinity.
Before designing your real estate business cards, do a quick survey of what is unique about the location where you are selling the properties. May it be a city, neighborhood, or a larger space, you need to know what makes that place unique and use that in your business card. Preferably, make a logo that represents this location to attract buyers.
3. Cityscapes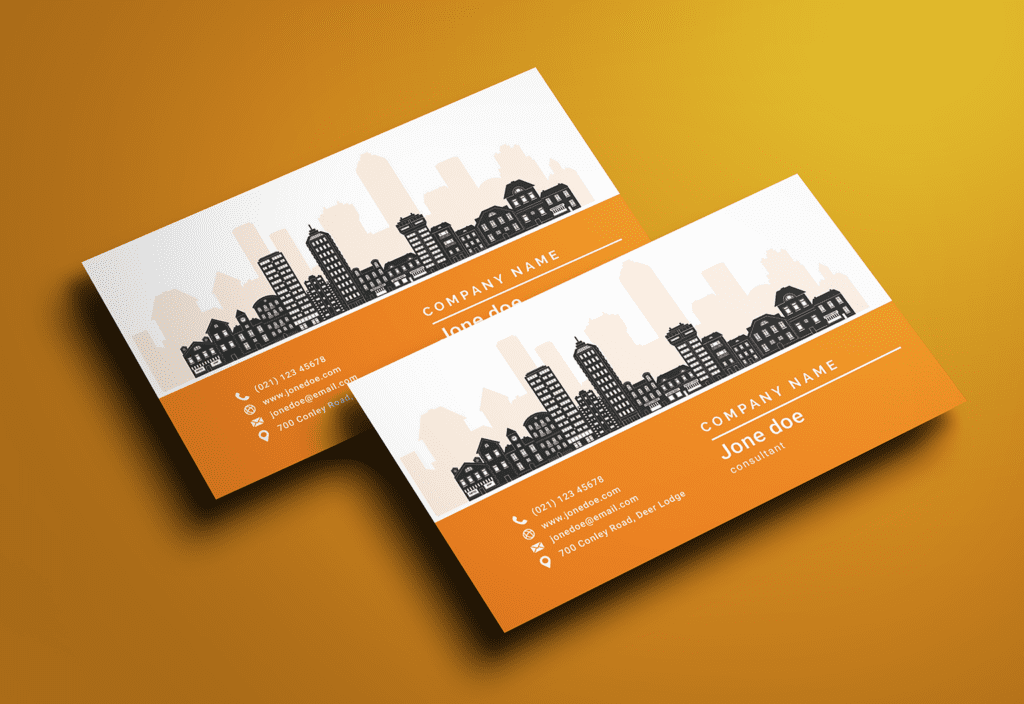 Cityscapes are another great element that can be included in your real estate business card to give it an impressive look. If you are all about the excitement and modernism of city life, a minimalistic business card with a bold cityscape symbol can instantly strike the right chord with the buyers.
One of the best things about the skyline or cityscape symbol is that it is one of the very few logo designs that go very well on a real estate business card in both landscapes as well as portrait mode. Since this symbol can be used on both the back and also the front side of the business card, it allows ample space for a designer to explore their creativity when it comes to designing business cards for real estate.
4. Keep It Abstract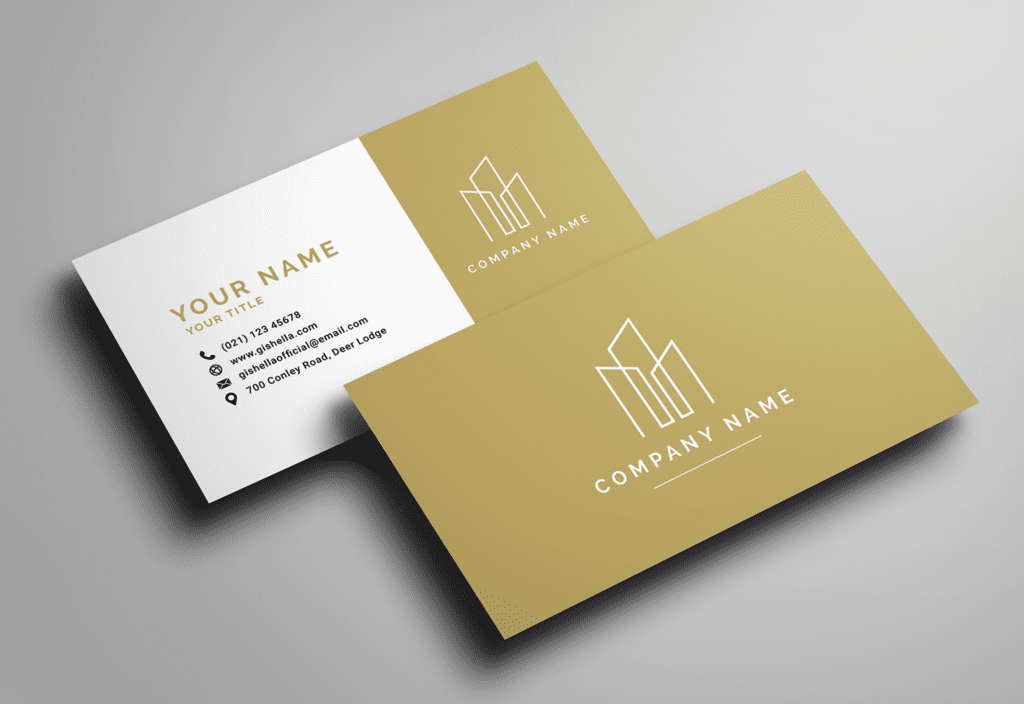 The thing about the real estate business is that it is ever-changing and its nature cannot be easily described. When you include every specific detail about your real estate agency on your business cards, you will need to redesign it again if and when any new changes are introduced. This would translate into an extra expense.
You can easily avoid this by keeping the information on your business card abstract, which is apt for the ever-changing real estate industry. This way your brand identity remains consistent in the competitive market of real estate.
5. Property Showing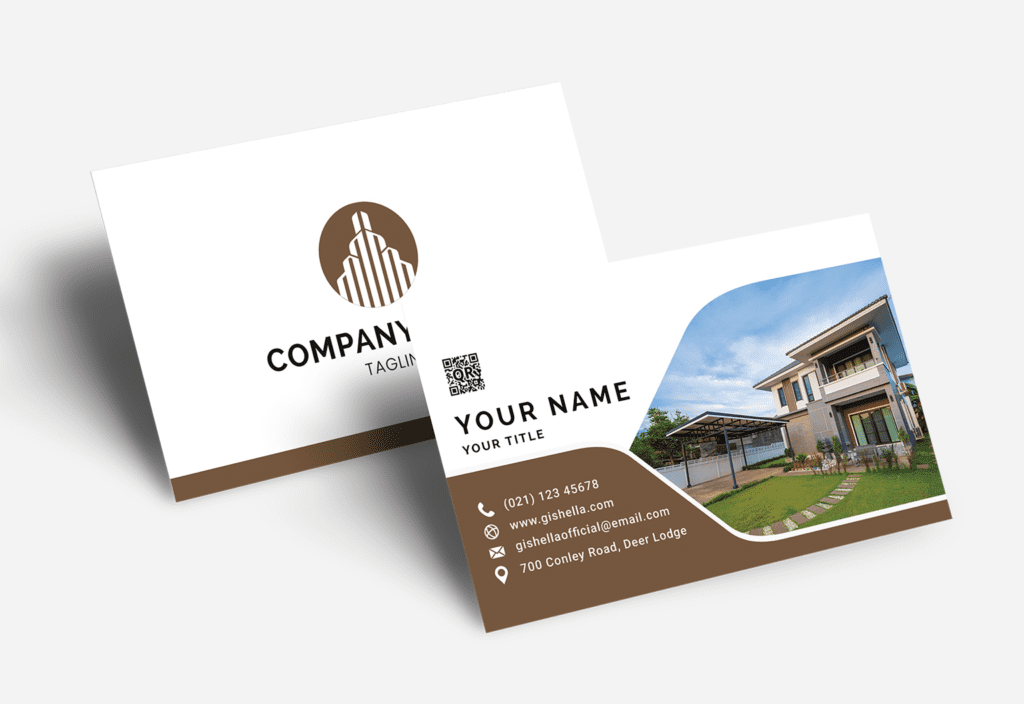 An essential part of any real estate business is showing the properties that you are selling in the area. This would apply even when it comes to designing a real estate business card. Since it is a small piece of paper, you may wonder how you can include all property images on it.
Well, you can do this by first recognizing what you specialize in and then indicating that on your real estate business card. For instance, you can include an apartment, complex, commercial building, or any other symbol that represents a real estate category. This can work very well for you if you are involved in selling an unusual or unique real estate category.
6. Include Your Photo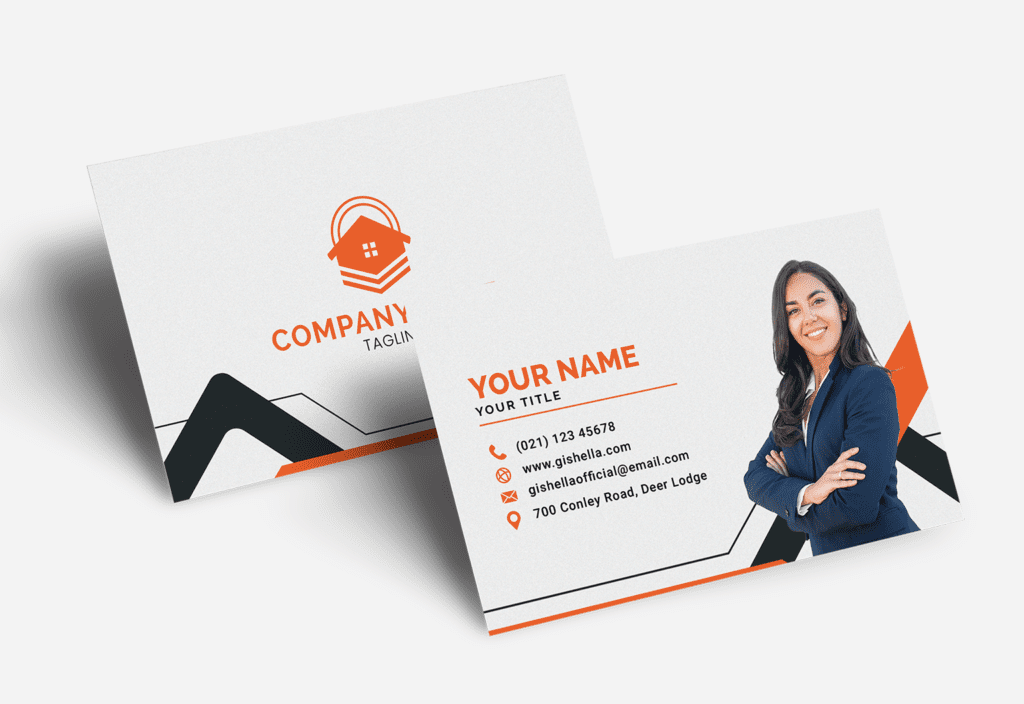 How many times has it happened that you are back from a business networking event, you see the business cards you received but do not recall who gave them to you? If you do not want this to happen when you give out your business cards, you can include your own photo on them.
It will make your potential clients remember who you are and put a face to the name on the real estate business card by just looking at it. Apart from making it more personal for your clients, such business cards would also make you stand out since not many people use their photos on their business cards.
Conclusion
As a realtor, you would definitely want your business to be recognized everywhere. One of the ways this can be made possible is by designing unique yet effective business cards that represent your brand appropriately. Now that you have checked out all the impressive templates of business cards above, you can easily get started with yours. In case you still need professional assistance for a custom design, affordable plans like the ones provided by Design Shifu can be of help. Our plans come with access to the best graphic designers, unlimited revisions at no extra cost, and a 14-day money-back guarantee. What more can you ask for!