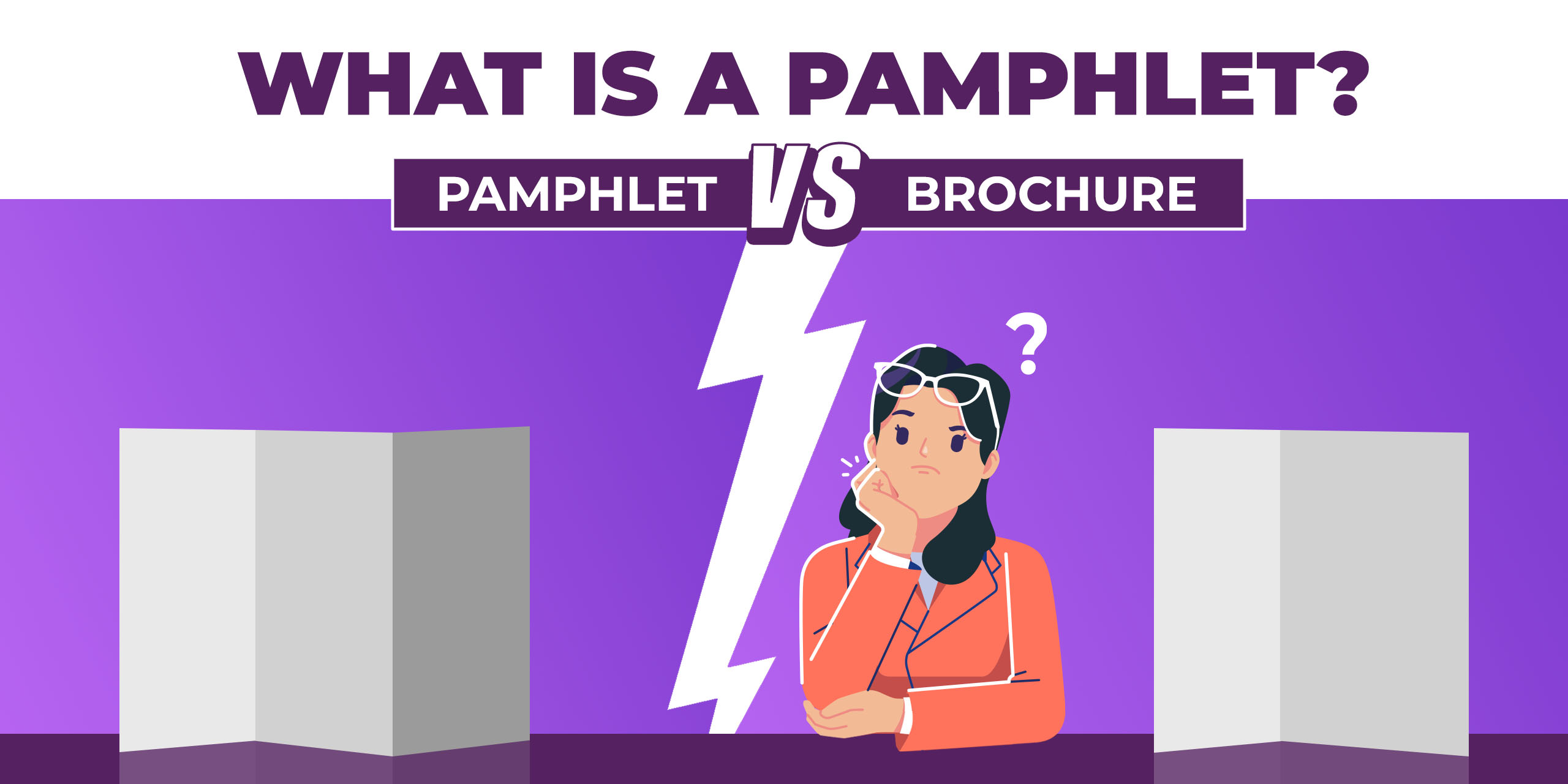 Many words in the printing world, such as pamphlets and brochures, can be confusing for a layman. They are often used interchangeably in everyday conversation. This is because the layouts for pamphlets and brochures are similar and share a common goal as marketing material. But if you look closer, you will spot the dissimilarities. So now let's answer the pamphlet vs. brochure question in detail, along with the key differences.
To understand the difference, you first need to know what is a pamphlet and a brochure separately. This write-up is a complete guide for all your queries about both terms.
What is a pamphlet?
A pamphlet is a single sheet of paper that can have a bifold or trifold and is used to inform or educate its readers. They are informal, inexpensive and easy to print. Also known as leaflets, these are distributed in mass to create awareness about a single subject.
The purpose of the pamphlet is to give detailed information. They are not used to sell or advertise. Typically, pamphlets are used non-commercially, but you can use them to promote local businesses and create a brand identity as they are economical to print. It can either be inserted with the newspaper, dropped in the mailboxes, or distributed publicly on roads. Also known as flyers and handouts, pamphlets are called polyeto in Tagalog.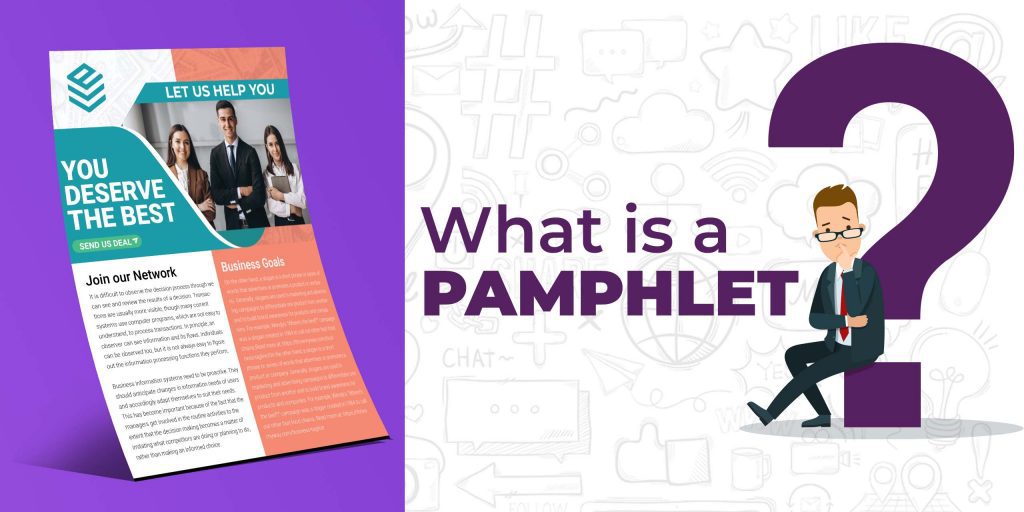 Let's look at a few pamphlet examples to clarify the characteristics. You must have encountered them while visiting the hospital or talking with your doctor about a disease or procedure. Similarly, educational institutions can share course information. Pamphlets are also commonly used by political parties to share their manifesto during polls. A short printed item that makes any data easier to understand, pamphlets can also be in digital form for a wider reach.
Now that we have an idea about what is a pamphlet let us understand brochures in depth.
What is a brochure?
A brochure is a type of marketing material designed to enlighten patrons about the whole range of products and services offered by a company.
They are formal and modern ways of advertising. Also known as booklets, brochures typically contain detailed information with the intent to sell. It can be a single sheet of paper folded in two, three or multi-fold, or a bound book with many pages. Brochures are usually printed in eye-catching designs with high-resolution images on good-quality glossy paper. If you wish to know brochure design in detail, read our detailed step-by-step guide on brochure design.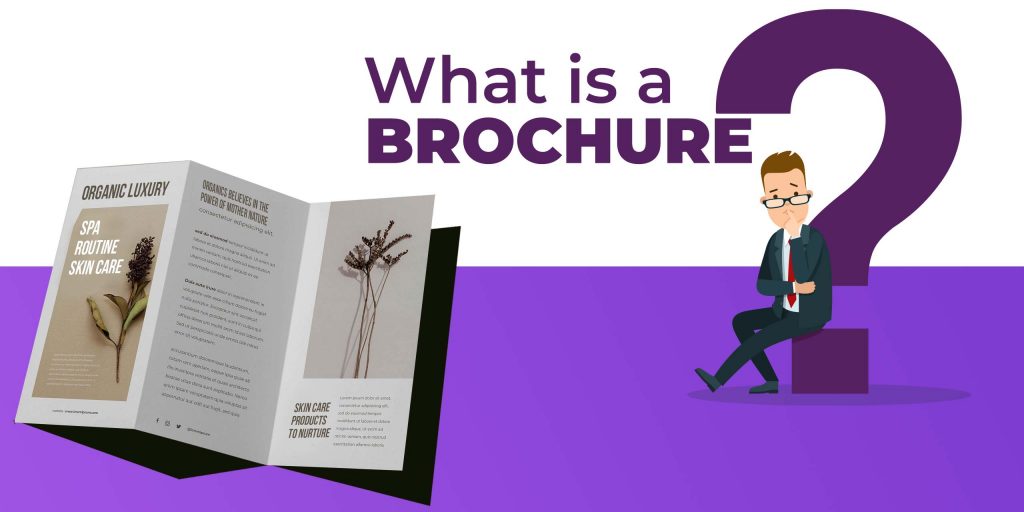 Brochures are considered to be an essential marketing tool. They aim to showcase the organization's products and services in an attractive way to promote the business. They are also a great way to introduce a brand to new customers and increase brand visibility.
Brochures are used as an advertisement to promote events and share detailed information about the same. The relevant images with engaging content make for easy bait to catch the audience's attention.
Pamphlet vs Brochure – Key Differences
Both pamphlets and brochures are vital promotional tools for any business. Both have different goals and can use them according to the product, target audience and marketing strategy. Listed below are a few significant points that will help you understand pamphlet vs brochure differences in a better way.
Pamphlets are printed on a single sheet of paper that occasionally may have bi or tri-fold, whereas brochures are mini booklets that can be bound or have multi-folds containing explicit content with images.
Pamphlets are used to create public awareness or as an advertising strategy by small businesses. On the other hand, brochures are used for promotion and direct selling.
Pamphlets cover information on a single topic in detail, while brochures are a comprehensive analysis of the organization that covers all the products and services offered. It also has relevant pictures to make it look inviting.
Pamphlets are cheap and easy to print, whereas brochures need more resources and planning.
Pamphlets are distributed mainly along with newspapers or handed out outside public places like theaters, stadiums etc. At the same time, brochures are generally given to attendees at large-scale events or conferences.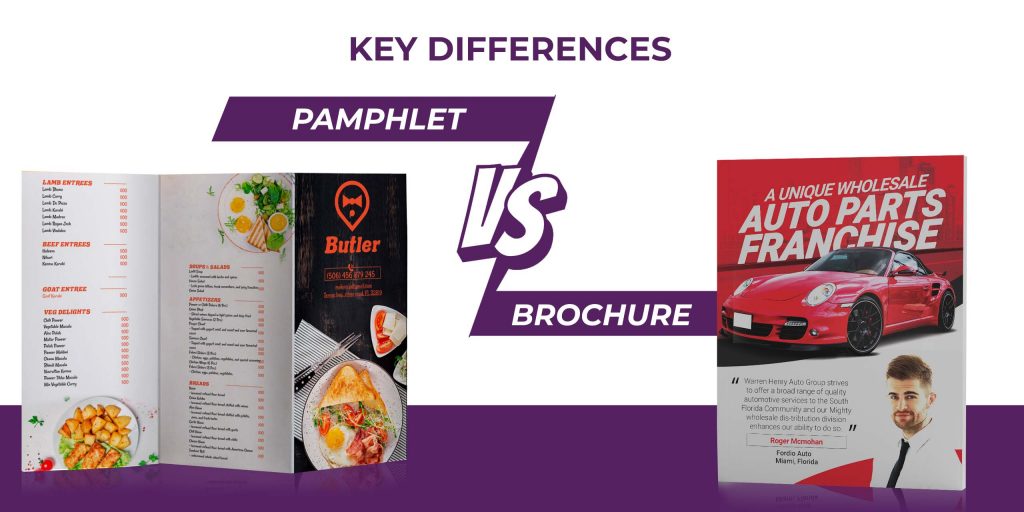 When planning your marketing strategy, you should have the right mix of pamphlets and brochures, as both help build brand recognition. In the next segment, we will focus on the various pamphlets and brochures you can create to present your company's statistics.
Types of pamphlets and brochures formats
Both pamphlets and brochures have identical drafts, and the beauty is you can use any of them to your advantage to fulfill your company's marketing goals. Listed below are the different types of pamphlets and brochures.
Gatefold Brochure & Pamphlet Template
In gatefold, the paper is divided into three parts. The left part is the front, and the right one is the back. A gatefold pamphlet caters to simple product descriptions. The standard size for this type of template is 8.5-x11".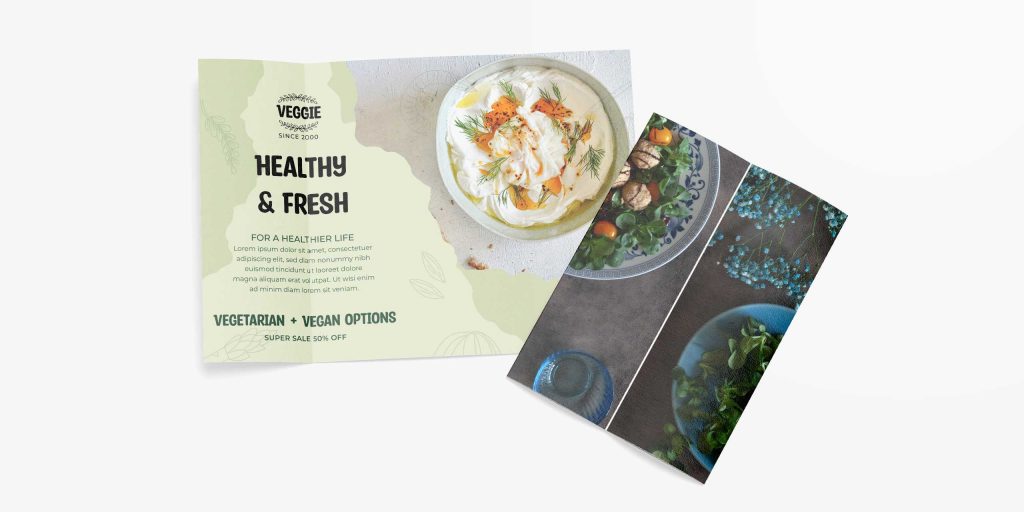 Trifold Brochure & Pamphlet Template
As the name suggests, a trifold is when a single sheet of paper is divided equally into three. This template is suitable for displaying business details and services offered. It is a great printing option to showcase a mix of design and content. The standard size for this type of template should be 8.5"x11".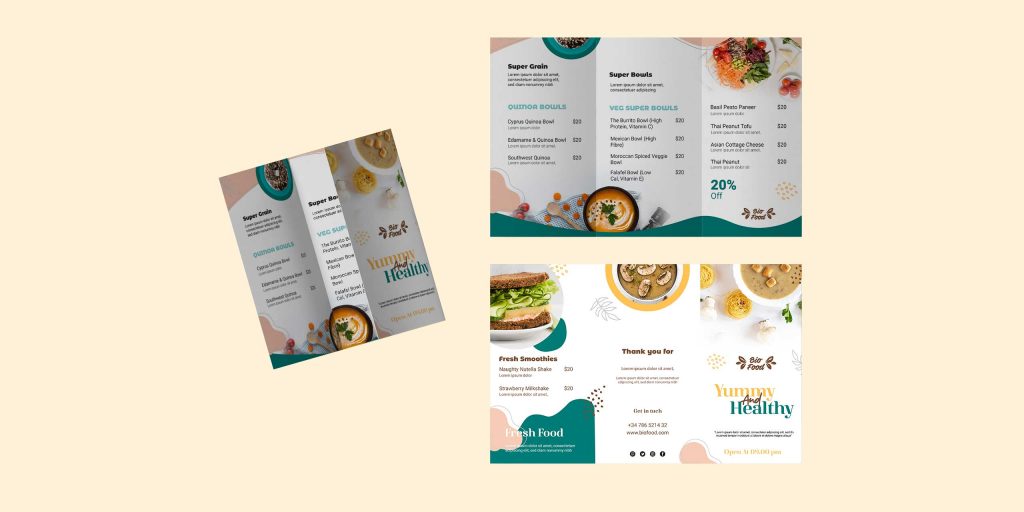 Z fold Brochure & Pamphlet Template
A befitting option for general descriptions Z fold has four folds and takes the shape of Z when opened. All the panels overlap each other. You can design Z fold in a single side or double side. The standard size of the template is 8.5"x11" in length and up to 24" in width.
Accordion fold Brochure & Pamphlet Template
In this, the paper is divided into four panels and takes the shape of an accordion when opened. This is suitable for providing step-by-step instructions. Accordion folds typically have a length of 8.5"x14".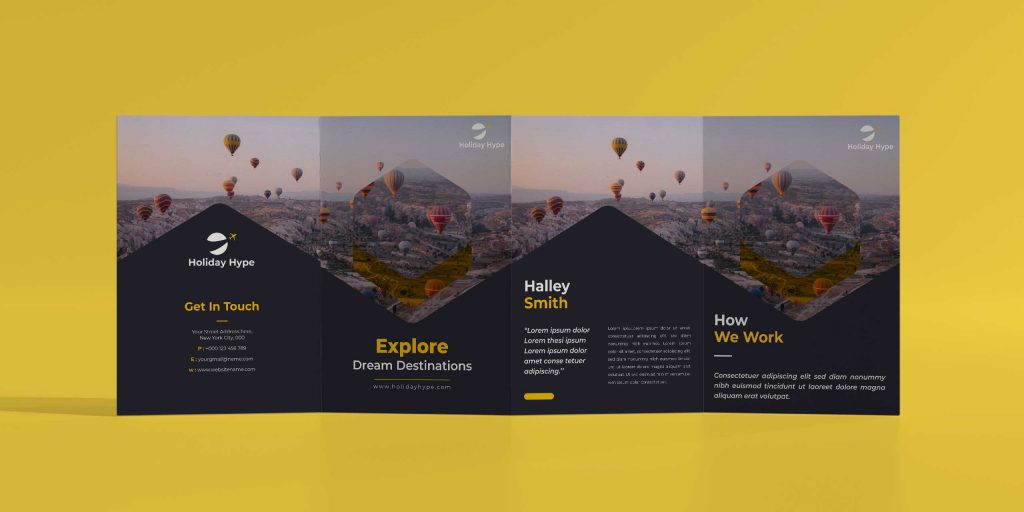 Bifold Brochure & Pamphlet Template
A bi-fold is when a paper is folded in half. You will get four printable sides; Front, back, and two insides. It is an appropriate option for simple product descriptions or explaining a single subject. This document can be designed on a single page or as multi-page booklet. You can also have pockets inside a bifold brochure where your business card or any other important information can be inserted.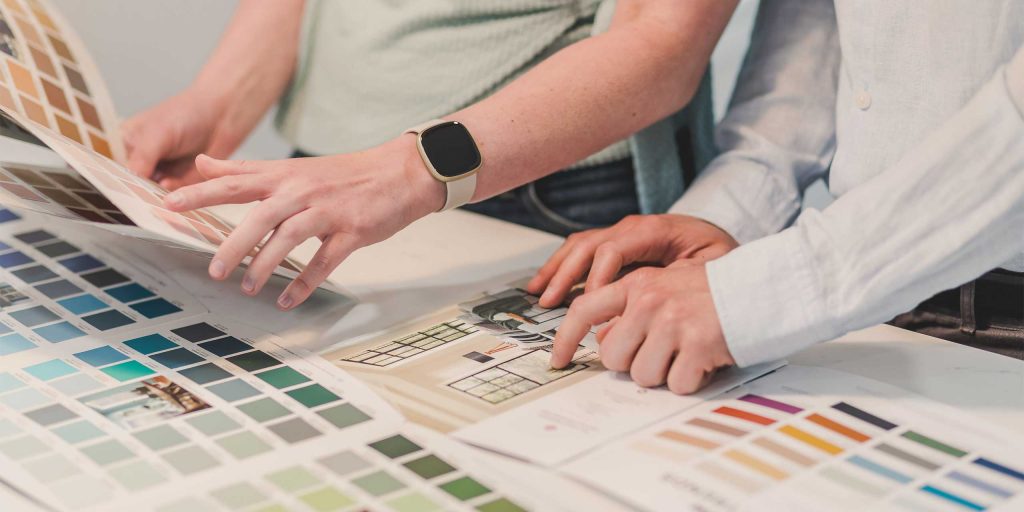 French bold fold Brochure & Pamphlet Template
Also known as the right angle fold, the french bold fold is applicable for both, pamphlets and brochure. In this, you fold the paper in half two times. The second time has to be perpendicular to the first. This is suitable mainly for travel brochures and event invitations. French bold folds have a standard length of 8.5"x14".
You can decide on any of the templates mentioned above to advertise or promote your company, institution, shop, or organization. There are a few things to keep in mind.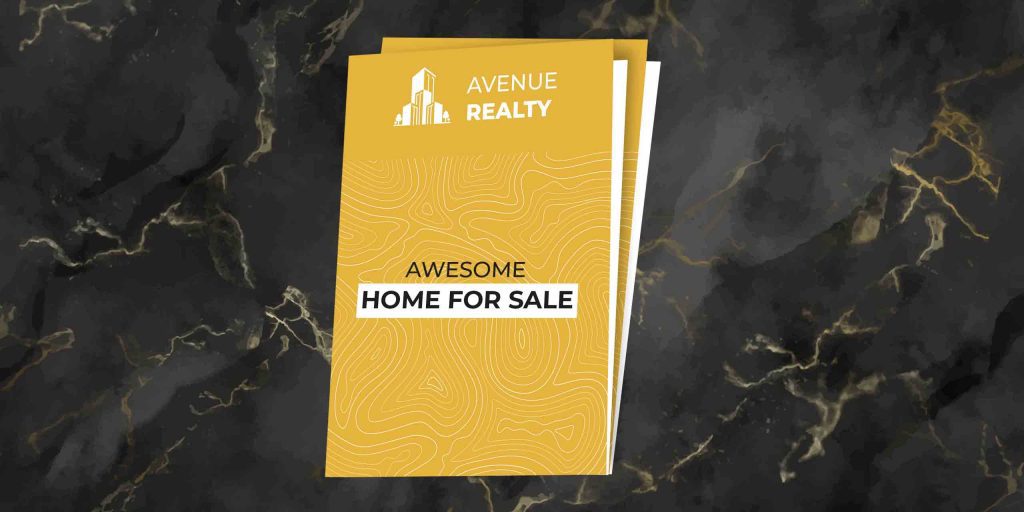 Generally, pamphlets or brochures have a standard length of 8.5"x11".
The front page will have the name, logo, and topic heading it aims to cover.
The inside will have the message in detail.
The back panel is for printing contact information or any call-to-action messages.
For pamphlets, you can take any plain inexpensive paper, but for brochures, you should have high quality, preferably glossy paper, to get the most impact.
Once you have zeroed in on the template type, you need to work on the content and images. Read the following section for a step-by-step account of what a pamphlet or brochure should include.
How to design a pamphlet or brochure
It is essential to understand what to write in a pamphlet or brochure. Listed below are a few vital points to remember.
Firstly, you need to have clarity on the purpose and the target audience for a pamphlet or brochure. When you are clear about these two, the message you want to communicate will automatically be direct and crisp.
The next step is to research the topic you want to cover thoroughly. Ensure to use multiple authentic sources only.
Now comes the part where you decide on the layout of the pamphlet or brochure and then work on an impressive heading for the topic you want to cover. For example, if you are a real estate company, then 'The High Life' printed in a powerful font on the front page of your pamphlet or brochure will intrigue the customers who would like to know more. Here is a link to some similar ideas.
Next comes the main content. The key is to be short, simple, and effective. Use short sentences that are easy to understand but at the same time leave a lasting impression.
After the content, the next step is to find the right images, charts, and graphs to make it look attractive, engaging, and relatable.
Also, you should look for an eye-catching tagline that stays in your customer's mind for a long time. A few examples that anyone will relate to are 'Just do it by Nike, 'Eat fresh' by Subway, 'A diamond is forever by De Beers, etc. The aim is to create something simple yet convincing.
Now that you have all the material ready to create a pamphlet or brochure, ensure that you ideally incorporate everything. The pamphlet or brochure should be structured effectively to make the maximum impact.
For any marketing strategy to work, it is crucial to have a well-designed name and logo of your business beforehand, so make sure you have one ready to use in all your pamphlets and brochures.
The points mentioned above are essential when designing a pamphlet or a brochure. In addition to this, there are some common design mistakes that you should avoid.
It is not enough to select the relevant pictures. You should pay equal attention to the images' quality and print resolution. The intelligent way is to do a test print to check if the final draft has come outwell. Also, ensure to leave enough white space around the design elements.
You should avoid overcrowding the pages with useless content. If you need to share more details, the clever way would be to add a link to the company website FAQ section.
After all the hard work that has gone in, you would not want a small spelling mistake ruining the efforts. So check the draft thoroughly multiple times to rule out any faux pas.
What is a brochure and how does it differ from a pamphlet?
A brochure is a structured, visually appealing printed material that provides detailed information about a product, service, or event. It is usually folded and presents information in an organized layout. While a pamphlet is more concise and informational, a brochure is designed to captivate the reader with its aesthetics and comprehensive content.
How are pamphlets typically used?
Pamphlets are frequently used to disseminate information about a cause, event, or service in a cost-effective and easily distributable format. They are commonly used in public awareness campaigns, healthcare initiatives, and community events to inform and engage a target audience.
What are some examples of pamphlets?
Examples of pamphlets include educational brochures on health topics, event invitations, informational leaflets about local services, and promotional materials for organizations or businesses.
How can a well-designed pamphlet benefit my marketing strategy?
A well-designed pamphlet can effectively grab the reader's attention and convey important information quickly. It can help increase brand awareness, educate potential customers about your products or services, and generate interest, ultimately leading to higher engagement and potential sales.
How does a brochure enhance marketing efforts?
Brochures enhance marketing efforts by presenting a visually appealing, organized, and comprehensive view of a company's offerings. They effectively communicate key messages, showcase products or services, and leave a lasting impression on potential customers, ultimately driving brand recognition and attracting business.
What's the ideal length for a pamphlet or brochure?
The ideal length for a pamphlet or brochure varies based on the purpose and content. Generally, keeping it concise and informative is key. Aim for 1-3 pages for pamphlets and up to 6 panels for a folded brochure, ensuring the content is engaging and easy to read.
Conclusion
We hope this article has been helpful for you to understand what is a pamphlet and a brochure along with the key difference between pamphlets and brochures, i.e., pamphlet vs brochure. To summarize, pamphlets are ideal when you want to advertise or create awareness about a single topic, and brochures are practical for showcasing comprehensive information for marketing or advertisement.
Whatever you decide, you can always count on experts like Design Shifu for all your graphic design requirements. Not to forget, you can always pick from our subscription packages that best meet your needs and budget. What's more, these subscriptions come with 24×7 support, unlimited revisions and a 100%, 14-day money-back guarantee!