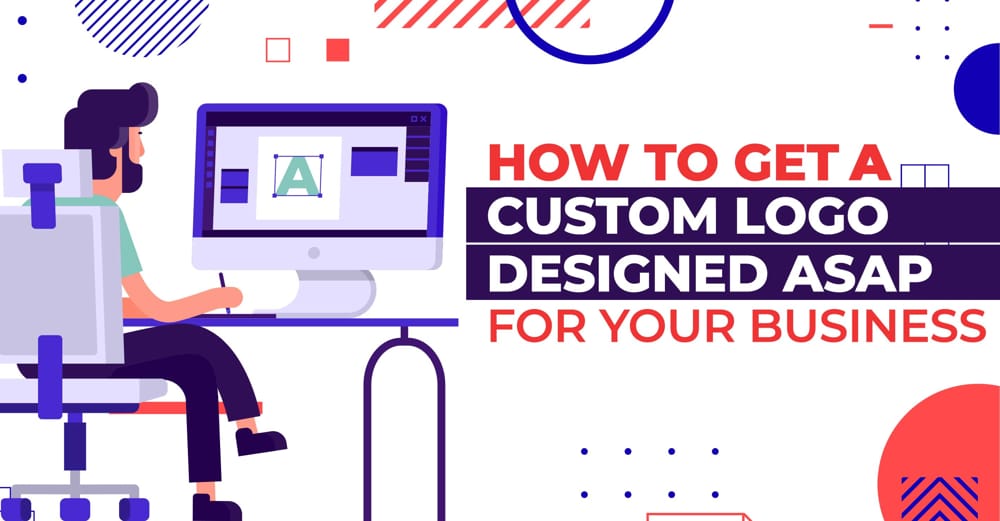 The logo is often the first step in the process of building your brand identity. This is exactly why investing in a custom logo design is crucial. It must represent what your company stands for, while simultaneously setting you apart from your competitors.
The very first impression your consumers will have of your company is greatly affected by your logo and this is exactly why you need to put your best foot forward. Through this article, you will learn all about designing a custom logo design.
How important is a custom logo for a small business?
If you are a small business with limited funds to spare, you would be apprehensive about investing in a custom logo design. However, you must remember that a good brand logo can be the stepping stone to put your brand on the next trajectory.
Not only for promotional purposes but a custom logo design would give your company an edge over the others and make your brand identity stronger than ever. Such a logo would solidify your branding and marketing strategy as well which would, in turn, drive the success of your business.
Where can you get custom logos done ASAP?
These days there are plenty of ways in which you can get custom logos designed for your business, a few of them are mentioned below.
1. DIY custom logo makers
There are several platforms available online where you can yourself create custom logo designs for your business. The process of designing a logo may seem easy on the outside, but the fact remains that expertise is the key to creating a design that actually makes a difference to your brand.
On such platforms, you can pick the template which suits your choice the best and then make all the necessary additions and omissions. Although such online services may help you in creating fairly presentable logos, they fail to help you create impactful and unique logo designs for your business.
Canva is one such platform where you can design your DIY custom logo maker. You can also look at tools like Design Wizard, Stencil, etc.
2. Freelancers / Logo designing contests
To make the task of logo designing much simpler, you can try conducting logo designing contests. This is a great way to get truly unique logo designs for your company as there will be plenty of graphics designers from across the world who would be submitting their designs.
This way you would get many different viewpoints and options compared to just a few when it comes to DIY logo makers online. However, this option would not be suitable for you if you need the logo design ASAP. You can approach individual freelancers in the field of graphic designing for this purpose and request them for early delivery of logo design.

3. Use flat rate subscription-based graphic design services

The above methods of logo designing are indeed very effective, but they do come with their own drawbacks. If you wish to get a powerful logo designed in the minimum amount of time, you can contact a professional graphic designing service like Design Shifu.
If you are a startup, investing in a professional logo designing service can be a big decision to make. However, Design Shifu has multiple subscriptions that are pretty affordable. Get unlimited graphic designing requests and unlimited revisions at no extra cost.
The best part about subscribing to Design Shifu is the 14-day money-back guarantee if our services do not seem satisfactory for you.
How to design a logo for your business?

Given below are some of the important steps involved in creating a custom made business logo:
1. Designing the brief
Before you start with logo designing, you need to understand your business, industry, audience, competition, and your ultimate goal in depth.
2. Research further
Once you have a brief idea about the needs and requirements of the business, you need to dig deeper before you start designing the logo. You need to have answers to questions like:
What sets you apart from your competitors?
What type of services or products do you offer?
Who is your target audience?
What are the types of demographics you plan to target?
3. Try out different logo designs
You can now look for inspiration and try out rough logo designs in black and white. This is the time to try out different word associations, sketch a few logo concepts, and draw multiple mind maps.
4. Refine the logo
After this, digitize your logo, refine it by making a few edits here and there, pick a symbol for the logo and choose an appropriate color.
Conclusion

Businesses don't always have the expertise to make logos themselves, so why go through the grind when you can outsource the work to experts without spending a bomb.
Get unlimited logos custom-made to your specific requirements by our in-house graphic designers within 24-48 hours. Click here to view our subscription plans and get your very own custom logo design now!